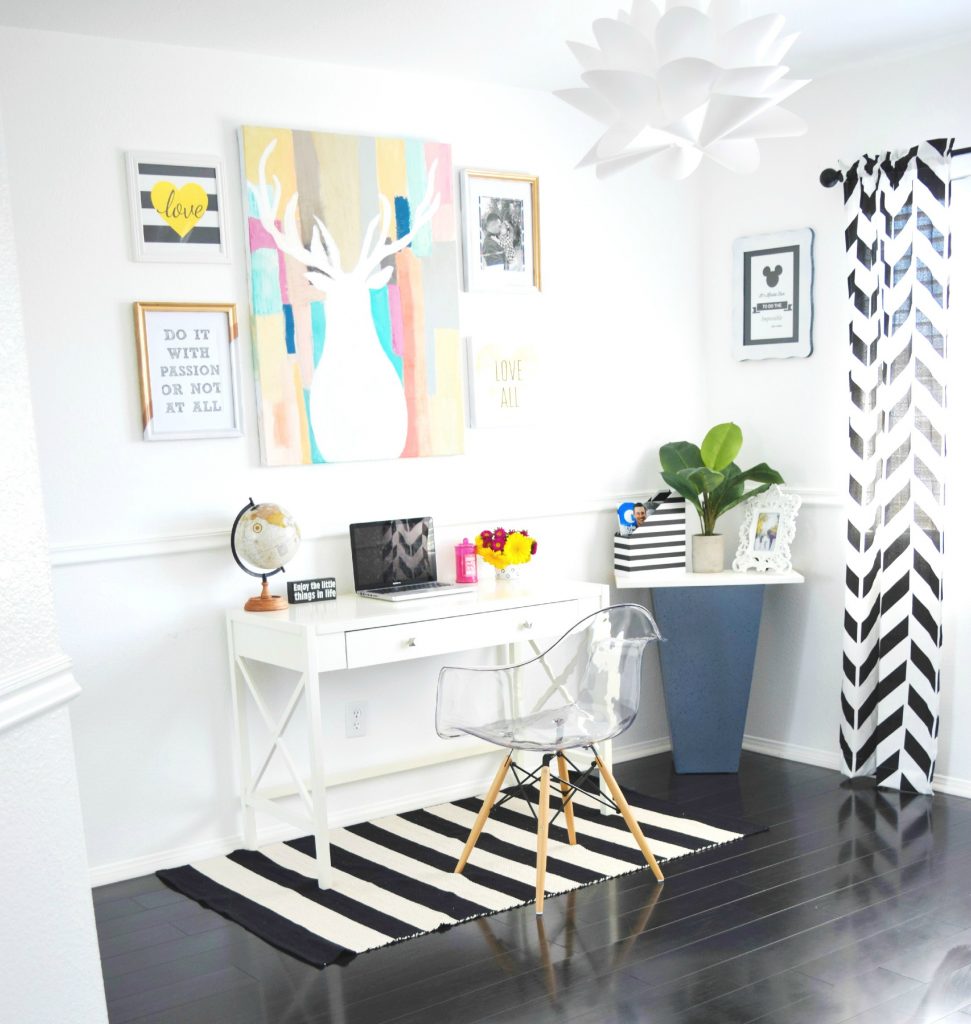 We are truly blessed with our beautiful fixer upper home we purchased three years ago. It has been so much fun decorating it and making it our own. But, I'll admit, at times I wish I could just fix, redo, organize and purchase new furniture all toghether with the help of a little magic fairy wand. One can only dream though, right? I mean working on a fixer upper never stops (or any home for that matter). And forgive me if it sounds like I'm complaining. I really am not. Let me explain.
When I was about 8 months pregnant with Mia, our real estate agent called us and said "Congratulations! They accepted your offer." I was so nervous and excited at the same time as one of the offers we put in was on a house I really didn't care for. It was honestly at the bottom of my list.  My husband, Rey, on the other hand, loved it. And well — Ta da! The offer was accepted on the house I didn't care for.
Rey tried so hard to convince me that we could make it a beautiful home and that the layout of the house was perfect for us. So I gave in. After all, marriage is about compromise, right? Plus, it was a house we could make our own. But since I was 8 months pregnant and not being able to do much to it at the time, it drove me nuts. If you know me, my OCD was on point during those months of renovation. It killed me to not be able to do much; however, if it weren't for my super husband that would come home from work only to go straight back into working on our home as well as our amazing family and friends for helping out, our house would not be the beautiful home it is now. And, trust me when I say it's still a work in progress but it will always be a work in progress.  Our motto around here is "little by little." And this mamá is fully embracing it now.
So after three years of living in our home I finally made time to decorate our home office. My budget was $350 total. Yes, for E.V.E.R.Y.T.H.I.N.G. Keep in mind the only thing our home office had was a curtain rod, white walls and black floor. Here's the breakdown.
Light Fixture: Lowes, Scandinavian design, Clearance $23.98
Curtains: Walmart, Black & White Chevron, $13
Chair: Hobby Lobby purchased in store, Clearance $69.99. They don't sell furniture online but if you're lucky to live near one go check out their chairs. The same chair is sold at dotandbo.com for $169.99!  That's $100 off. 😉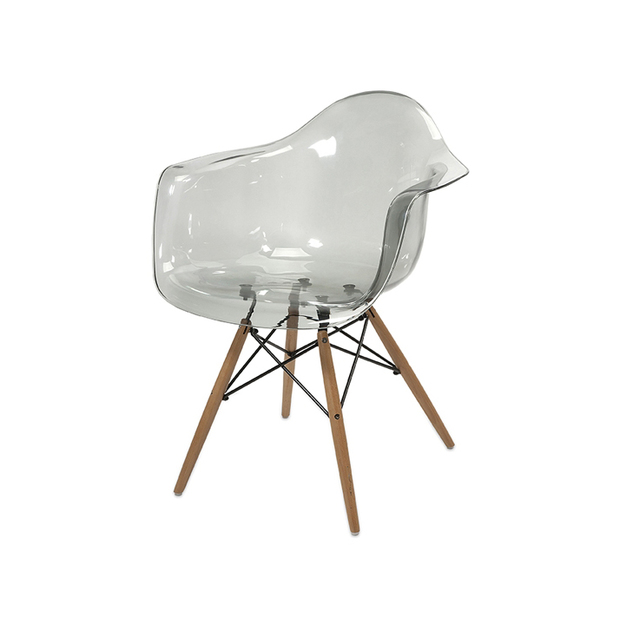 Desk: Target Hamilton X Slat Purchased last December for $99
Rug: Rugs USA, Black and off-white stripes,   $69
$2 Vase: Oh how I love the Dollar Tree! Yes, this vase is from the Dollar Tree! I used self-adhesive reinforcement dots (also from the Dollar Tree) and spray painted the entire vase white. Once paint was dry, I removed the dots. Here's the finished product.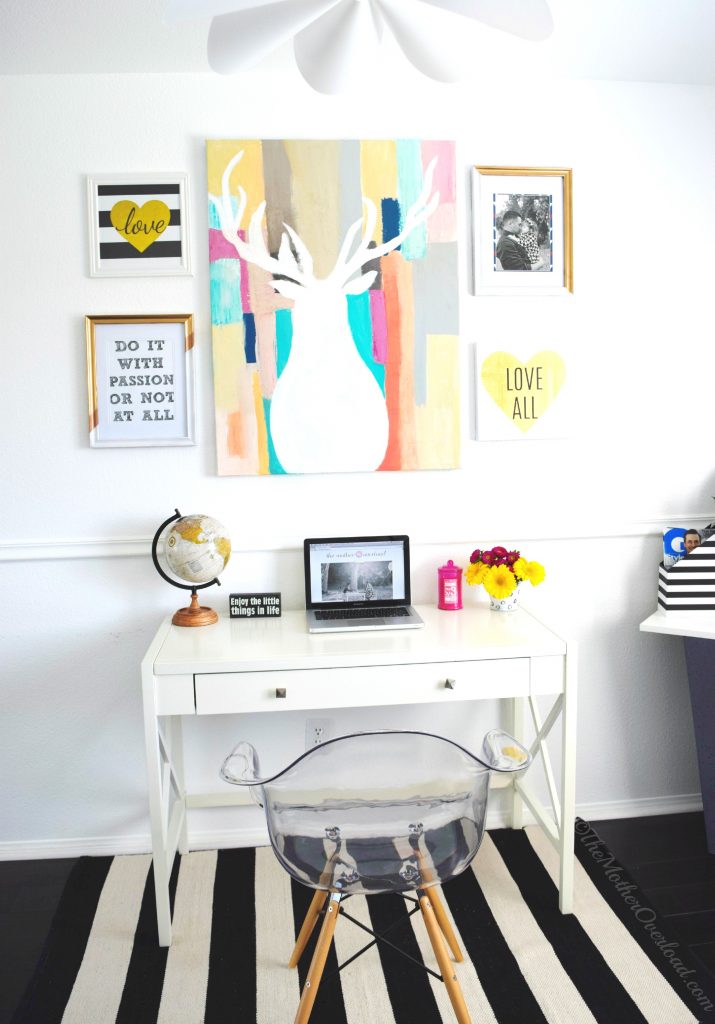 Globe: Purchased at Burlington for $25 but Target Threshold has one for only $14.99.
Corner area: I used a rubber planter and a piece of white wood we had laying around in our garage. Placed the wood on top of the planter and made a table out of it. Added a family frame, plant and magazine file (Room Essentials from Target $4.99) on top. I also made my own Disney quote print, framed it and hung it above the table. We love Disney around here and I simply couldn't resist adding a touch of it into the office. I'll be posting a free downloadable of the print this week.
Canvas Painting: Up-cycled an old canvas painting I had purchased on clearance at TJ Maxx a few years ago. I never hung the canvas as it didn't seem to mesh well with any of our rooms. Fast forward to a couple weeks ago when Michaels had a 40% off coupon for the entire purchase of artist paint and a light bulb went up. I jumped on the opportunity to purchase $10 of paint and up-cycle our canvas painting. I simply painted over the original canvas using oil and acrylic paint. It was so much fun listening to music and getting creative that it didn't phase me getting little sleep for two nights straight. And — let me just say I'm no painter by any means but I really do love how perfectly imperfect it turned out. Best thing in our office hands down.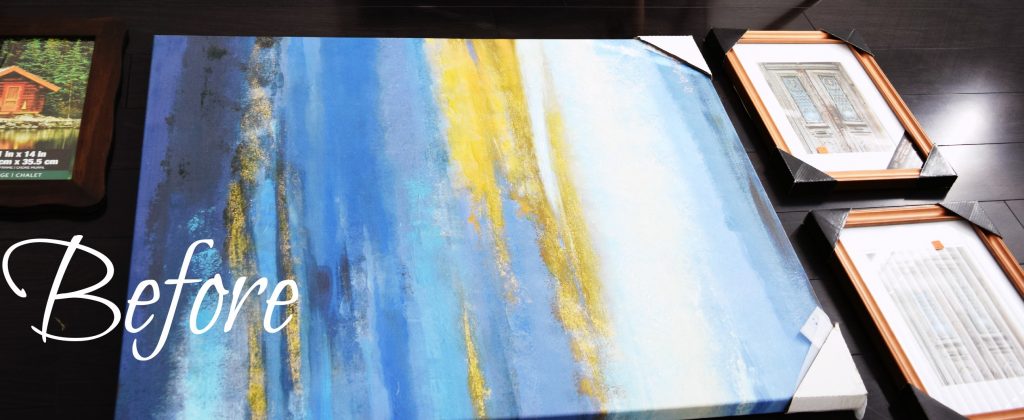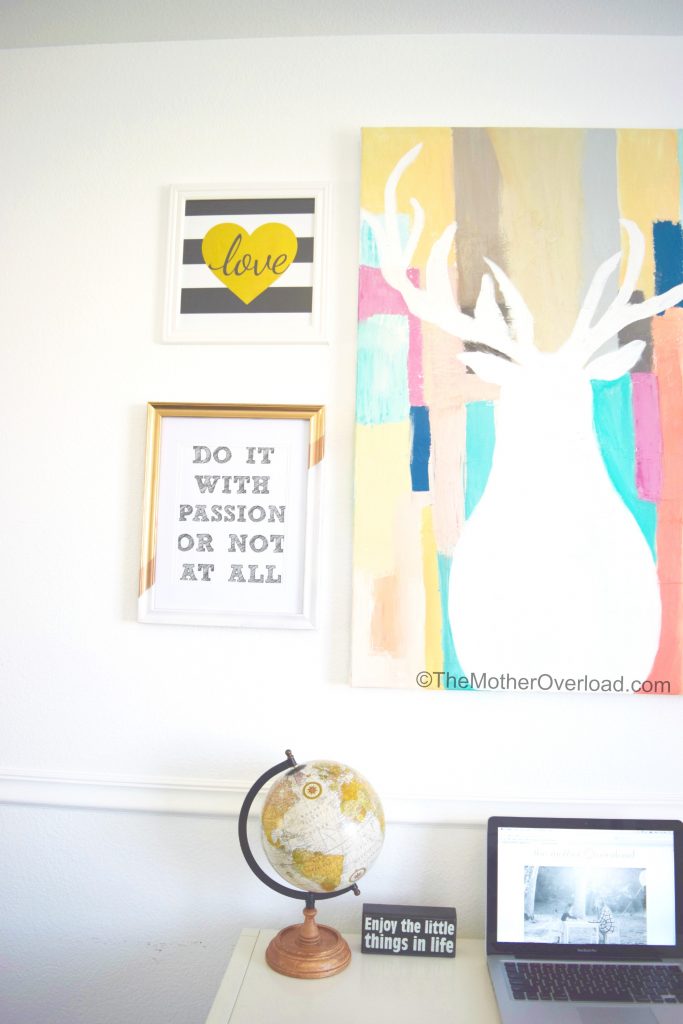 Frames: Purchased 3 frames at Michaels that were on clearance for $8, added painters tape and spray painted them white and gold . Printed out a photo and quotes on our my home printer. Also, I found this cute 'Love All' canvas at Burlington for $7.
Total: $347.96
Cheers to home decorating on a budget! –Gladys