As you all know I strive to make healthy meals at home. But let's be honest here, sometimes it's time consuming to make an elaborate breakfast, lunch and dinner everyday, right? Well, to that I say, let your slow cooker and Herdez® cooking sauces do all the work for you!
My family loves when I make chicken chipotle avocado kale wraps. Uhum – this is one way I sneak in the Lacinato Kale and no one even notices the healthy green veggie. The wraps are ultra healthy, delicious and could be made just as an appetizer as well. We're big on tortillas too so we like using our left overs and making tacos out of them. Perfect for a next day quick lunch or even dinner. So here's the recipe. Enjoy!
Slow Cooked Chipotle Chicken Avocado Kale Wraps & Tacos (Gluten-free)
Ingredients
3 Organic Avocados
½ cup cubed organic tomato
1/4 cup sliced red onion
1 Meyer's lemon
2 Jars of Herdez® Traditional Chipotle (So good!)
4-5 lbs Organic Chicken Thigh Fillets (skinless)
Organic Corn Tortillas
1 cup shredded organic Lacinato kale (click here to find out more about all the benefits of this delicious green)
1 bunch of organic Lacinato kale leafs washed and removed from stems
2 cups of water
1/2 tablespoon salt
Hampton Creek Chipotle Mayo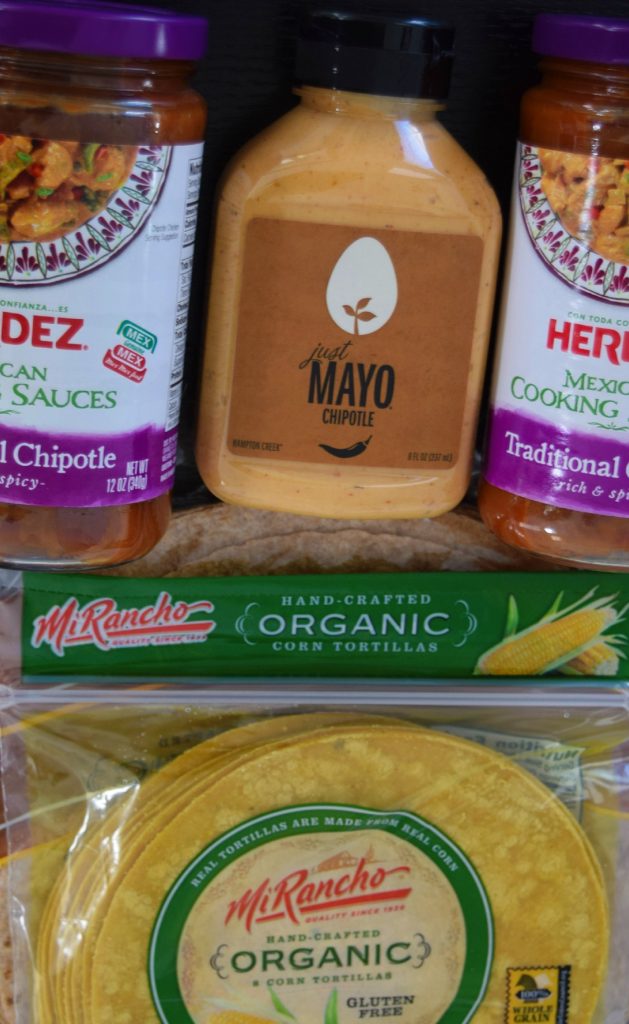 Directions
Wash chicken thigh fillets and place into slow cooker along with the tomato, salt, water and Herdez® Traditional Chipotle sauce. Cook on low heat overnight (min 6 hrs). Place sliced red onion and lemon juice into a container. Cover with a zip lock bag to avoid a strong smell in refrigerator. Leave overnight.
Once the chicken is ready, let it cool down, remove it from the slow cooker and shred. Add shredded chicken and the Herdez Chipotle sauce with juices from slow cooker into a medium size pan and set on medium setting. Spread a tsp of Hampton Creek chipotle mayo down the middle of each individual kale leaf. Then add slow cooked chicken chipotle, a slice of avocado and top with red onions. Done and Done! Delicious!
For the organic corn tacos version:
Simply spread a tsp of Hampton Creek chipotle mayo down the center of each individual tortilla. Then add a couple tablespoons of the slow cooked Herdez® chicken chipotle, a few slices of avocado and top with shredded Lacinato kale and red onions.
Note: I add one cup of water per one jar of Herdez® Traditional Chipotle sauce (1:1) to the slow cooker so that the chipotle sauce is mild and not spicy for our little one. It gives it the perfect flavor for the entire family to enjoy.
Herdez® Giveaway
The HERDEZ® Brand cares about authenticity in both food as well as culture and tradition. In honor of the authentic holiday, Día Del Niño, the HERDEZ® Brand will celebrate the joy that children bring to our daily lives! The HERDEZ brand is holding a #ThrowbackThursday photo contest on its Facebook wall! This promotion will last from April 6th to – April 30th.
Each week, 3 winners will be chosen to win a Día del Niño prize pack. One grand prize winner each week will win a socialmatic camera, film, HERDEZ product, HERDEZ apron and recipe cards. Two runner up winners each week will win a selfie stick, HERDEZ product, HERDEZ apron and recipe cards. #DiaDelNino #Herdez
To enter, submit your favorite childhood photo tagged with #ThrowbackThursday directly onto the Herdez Facebook Contest Page here.