A New Kualoa Ranch Jurassic Adventure Tour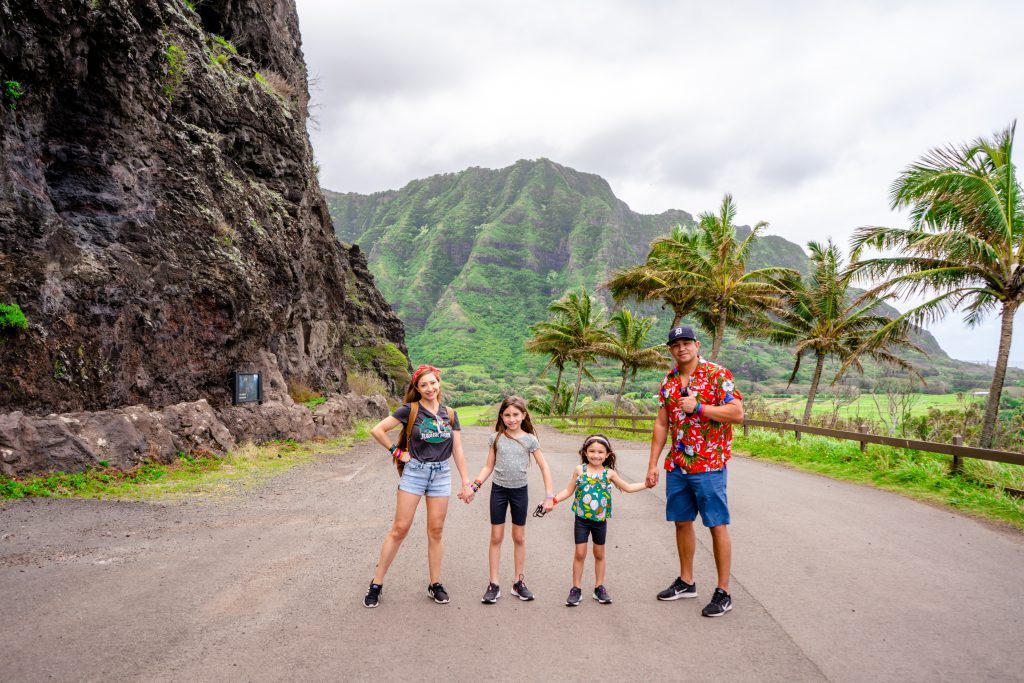 This post is sponsored by Kualoa Ranch. All opinions mentioned within are entirely our own and as always, we only work with brands and services we love.
If you've been following our adventures on Instagram, you'd know that we're big moviegoers. Like many, this past year, we have re-watched some of our favorite films such as the Jurassic World trilogies (we're definitely dino fans!), Jumanji and the new Finding Ohana. So when we heard that all of these films were filmed at the Kualoa Ranch in Oahu, Hawaii, we had to go! The best part? The Kualoa Ranch actually offers movie tours of the films' locations! So while planning our trip to Oahu, we ensured the new Jurassic Adventure tour fit snugly in our itinerary.
What's the Kualoa Ranch Jurassic Adventure Tour?
This NEW deluxe 2.5-hour JURASSIC ADVENTURE Tour takes you to all the iconic movie sites in both Hakipu'u (Kualoa Ranch Jurassic Valley) and Ka'a'awa Valleys. Throughout the tour, you'll be able to see movie sets like the Indominus Rex pen with its 35 foot walls, the Jurassic World Fallen Kingdom bunker and the actual dino cages used in the movies. Pictured below, is the most iconic spot from the movies: the fallen log from Jurassic Park (the coolest props to see in person!) Plus, the bones from Kong: Skull Island which were all made out of Styrofoam!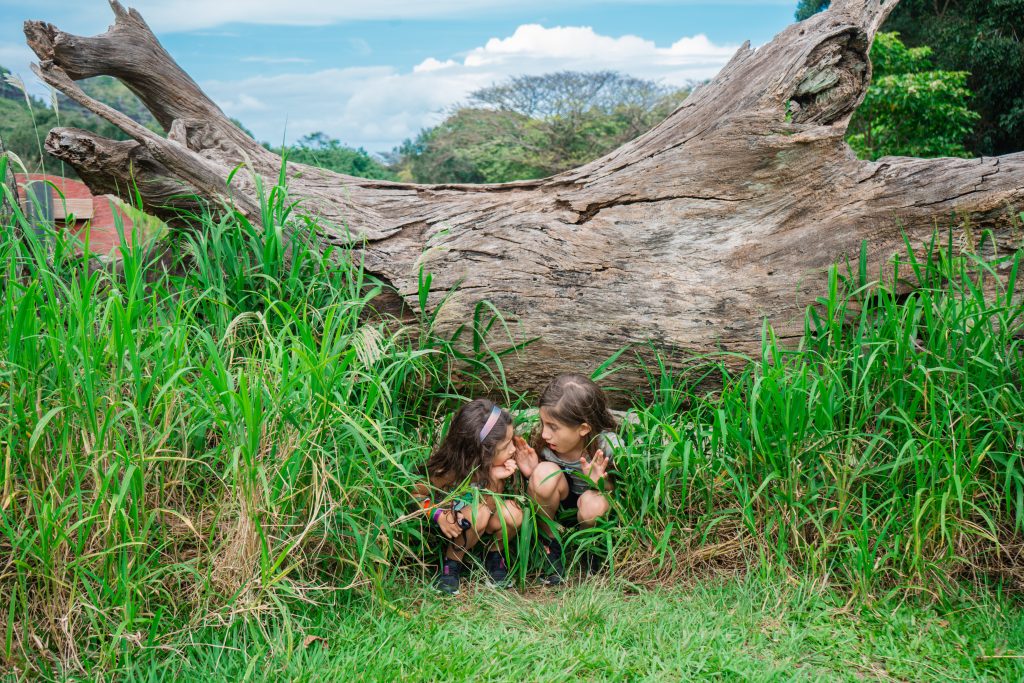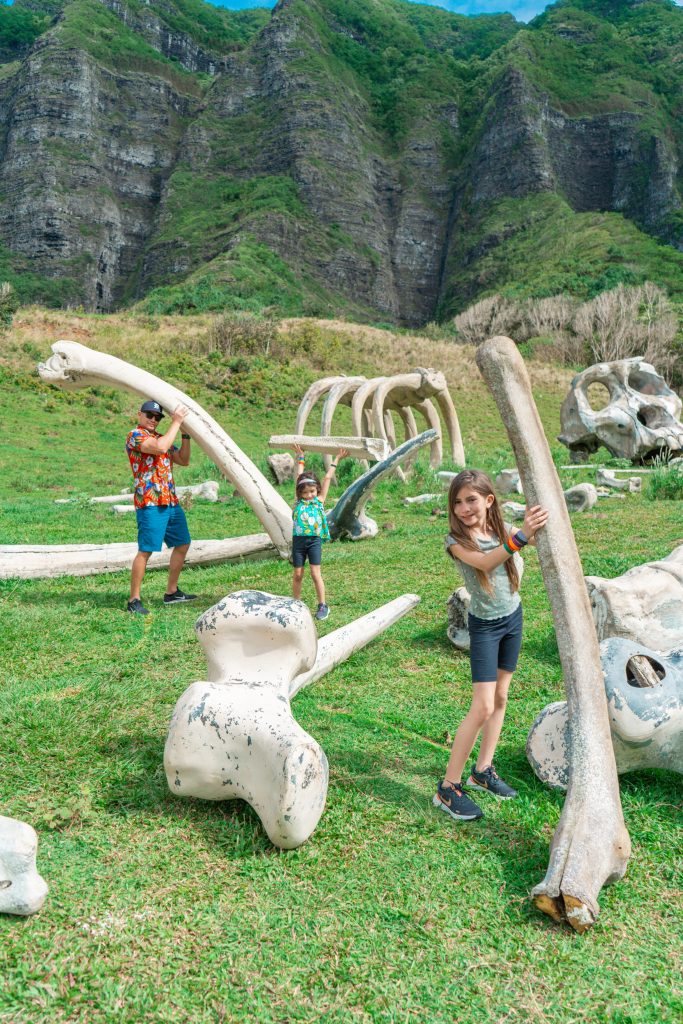 What movies were filmed at Kualoa Ranch?
Over 79 movies and TV shows were filmed at this location alone. During our tour, were able to see movie sets and props from the following movies:
50 First Dates
Jurassic Park
Jurassic World
Lost
Finding 'Ohana
Kong: Skull Island
Triple Frontier
Windtalkers
Jumanji
Jumanji: Welcome to the Jungle
You, Me and Dupree
Mighty Joe Young
Pearl Harbor
Godzilla
Hawaii Five-O
Mike and Dave Need Wedding Dates
Magnum P.I.
Thus, we recommend you binge watch the movies before getting to Kualoa to make the most of your experience. Additionally, the tour includes a quick history of the ranch, a stop to witness an actual WWII Bunker (site of Lost's Dharma Station) and the very first sugar mill in Oahu which was built out of lava rock.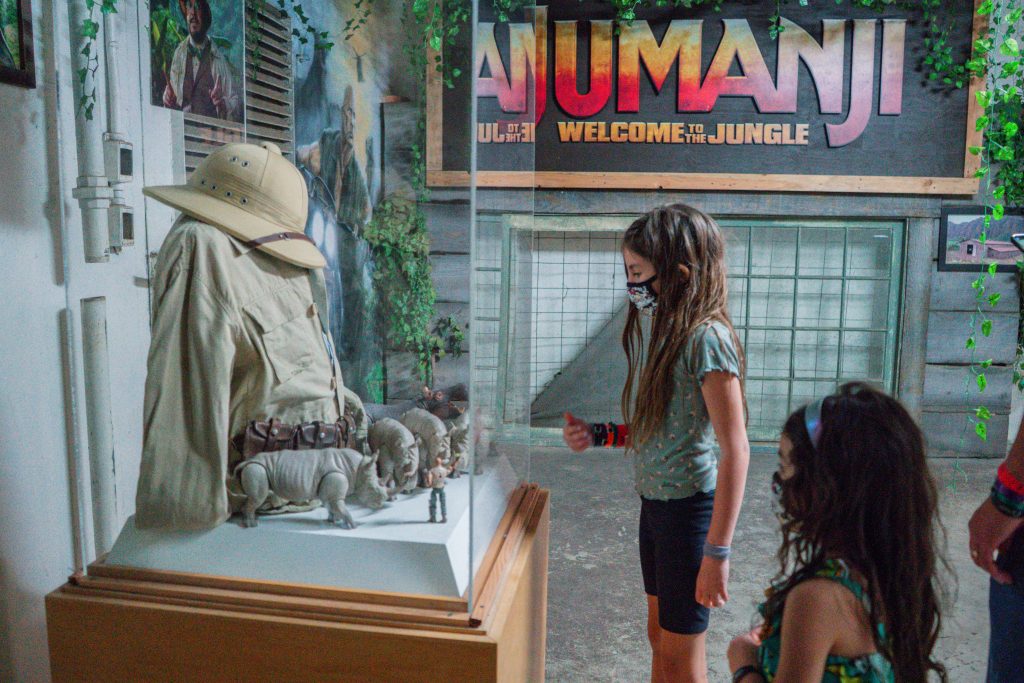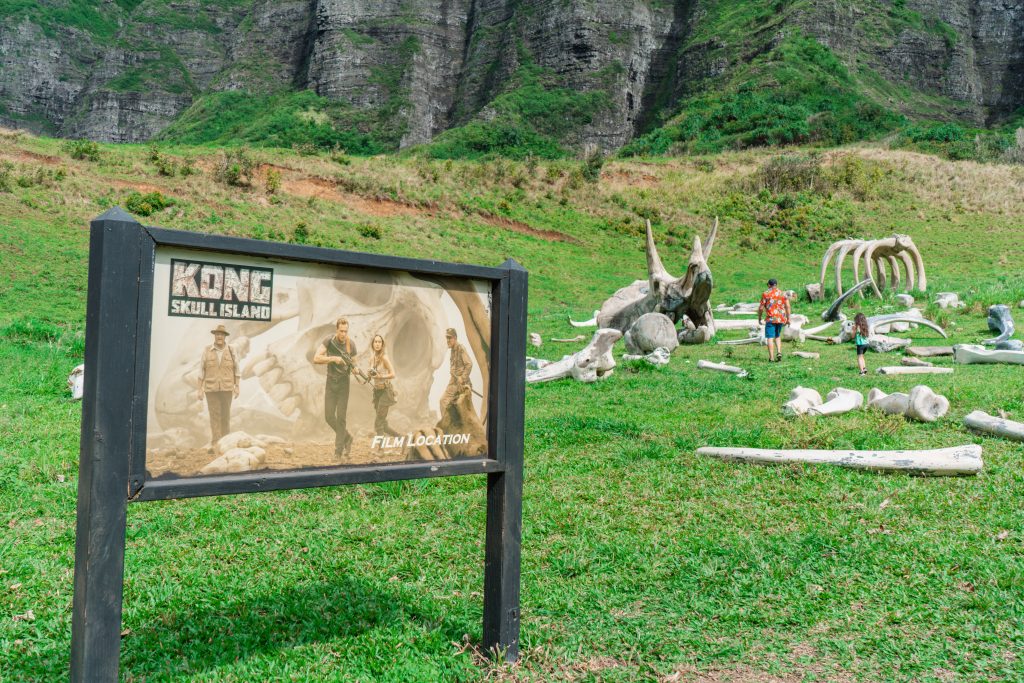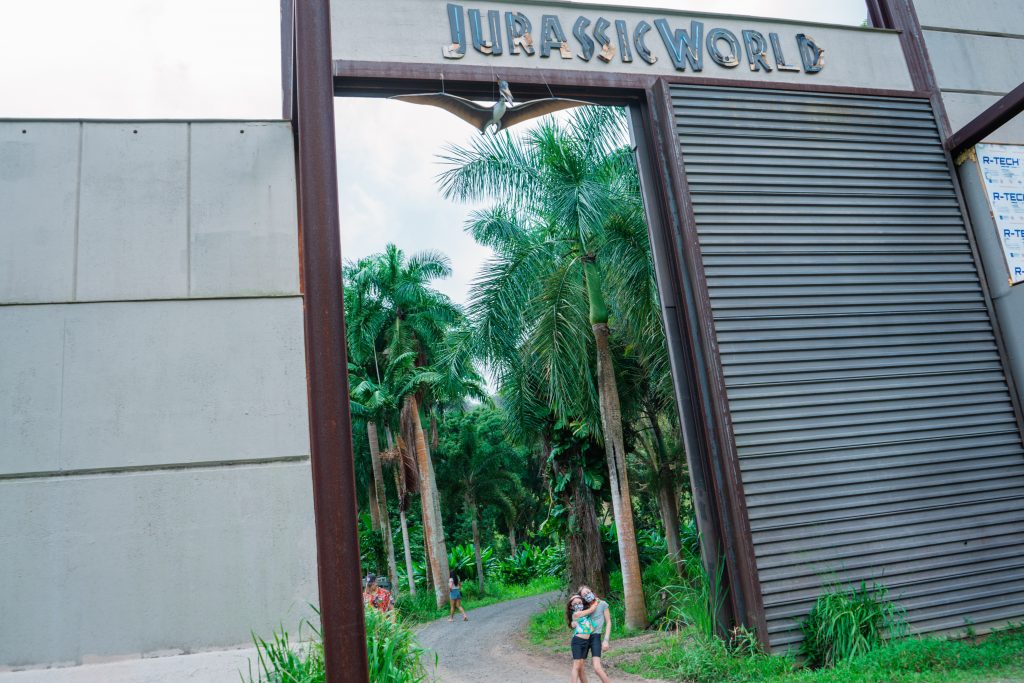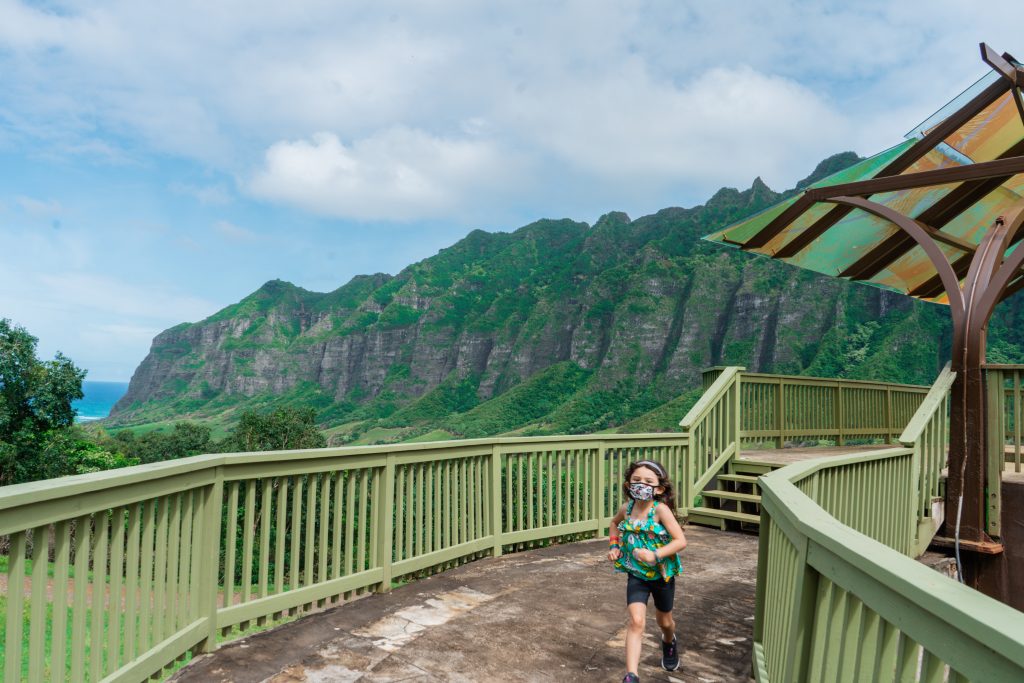 How many guests does the open-air vehicle hold?
The Jurassic Adventure jeeps hold 16-20 people normally, but they've lately limited it to a max of 8 due to covid spacing requirements (lots of room to spread out.) During our tour, the jeep only had one another couple. These open-air vehicles give guests the best panoramic views! We absolutely loved that this tour offers plenty of scenic photo opportunities both on and off the vehicle.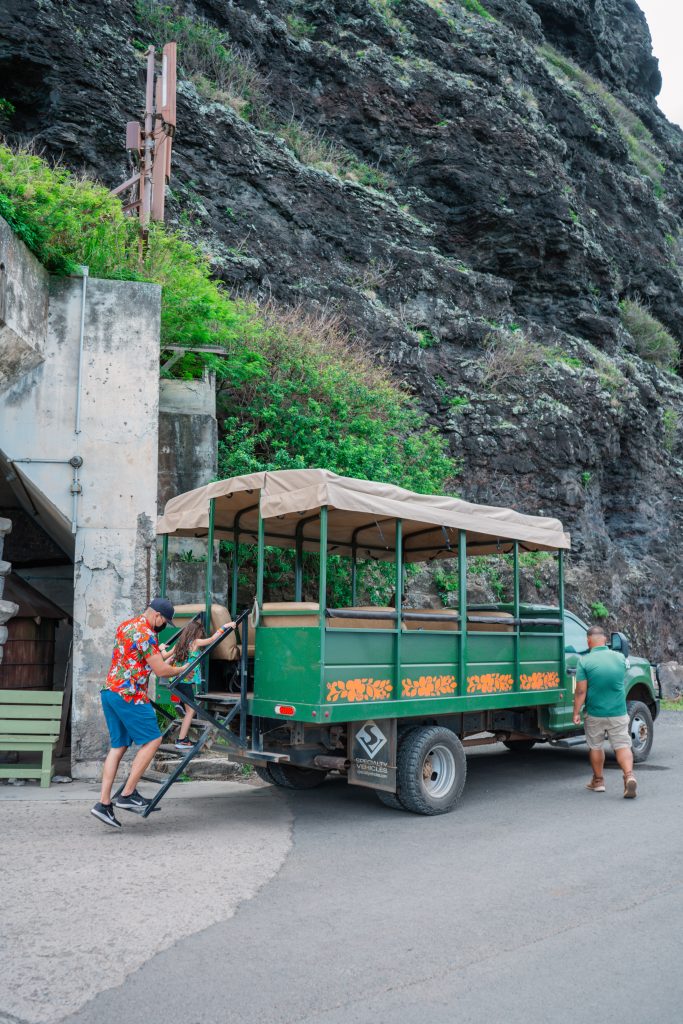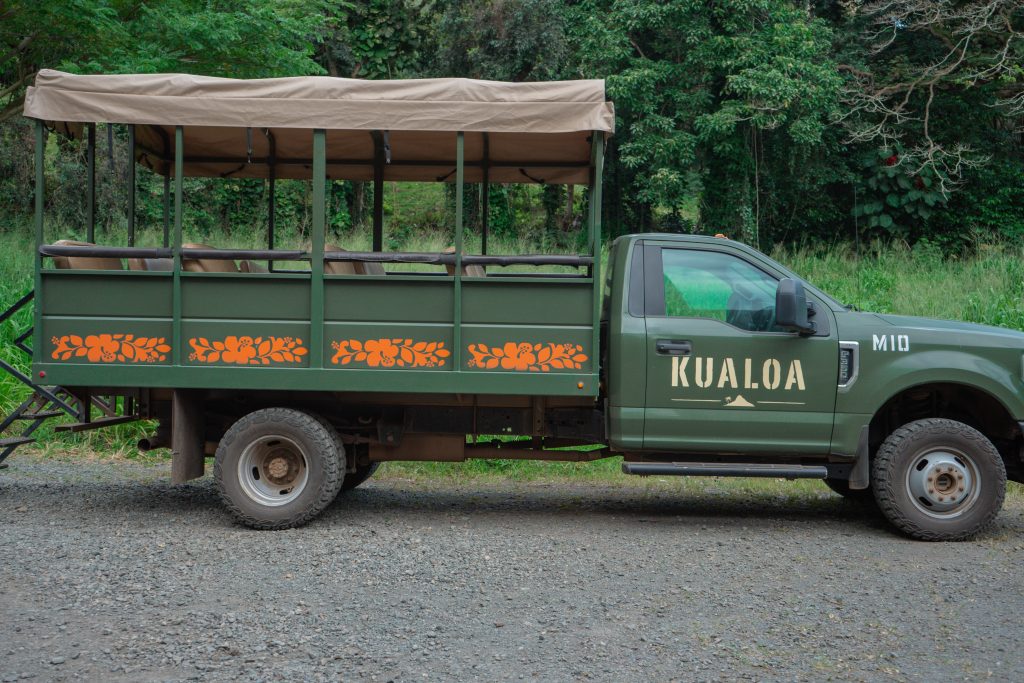 What other tours are good to purchase along with the Jurassic Adventure Tour?
The Jurassic Adventure tour is the only one they offer that covers every area of the ranch. Hence, it's definitely worth it. In addition, the Secret Island Beach Adventure was also said to be a good package to add-on to the Jurassic Adventure tour. And if you're ultra adventurous, the Jurassic Valley Zipline Tour (a minimum weight of 70 pounds) is a must too!
Other Kualoa Ranch Tours
The ranch offers several tours. You can scroll through the current list here. In our opinion, the best Kualoa Ranch tour is the new 2.5 hr Jurassic Adventure tour. However, we can't wait to go back to try the ATV Raptor, Zipline and Horseback tours as well!
Ticket Prices, Restrictions and Requirements
Ticket prices
The Kualoa Ranch Jurassic Adventure Tour 2021 Prices for adults are $129.95 each and children (between the ages of 3-17) are $69.95 each.
Restrictions
Guests must be at least 3 years old to participate in this tour. Children aged 12 and under must be accompanied by an adult on all the tours and at all times. A Photo ID matching the name on your reservation must be shown upon check-in.
Requirements
Visitors need to log onto the Safe Travels App/website (https://travel.hawaii.gov/#/) and verify that the state indicates you are not required to quarantine. If upon check-in your Safe Travels App indicates you are required to quarantine, or that your Covid results are still pending, you will unfortunately not be permitted to enter the ranch. Hence, you must be able to login into your Safe Travels account (screenshots of the bar code will not be valid) at check-in.
Tip: Check-in at the main visitor center at least 45 minutes prior to tour time. We arrived early and were able to squeeze a meal at the Kualoa Ranch Market where we had (hands down the best) Guava Pineapple Teriyaki Chicken meal, and hence highly recommend trying the same.
Deals & Discounts
Check out the best deals at Kualoa here and use our discount code: MOTHER10 now through 5/31/2021. Don't forget to subscribe to our YouTube family channel and catch our vlogs of our Oahu 2021 trip coming soon! And for more ideas and tips for your next Oahu, Hawaii vacation check out our Polynesian Cultural Center: Oahu's Unique Family Adventure blog post and 10 Reasons to Visit Aulani, A Disney Resort and Spa 2021.