Our recent experience was gifted by the Polynesian Cultural Center. All opinions mentioned are our own.
Nearly 10 years ago, Rey and I celebrated our honeymoon in Hawaii (Kauai & Oahu). Two of the most memorable experiences that stood out during our trip were a helicopter waterfalls tour (Kauai) and the Polynesian Cultural Center (Oahu). Both are truly so amazing!

So this year, we decided to go back to Oahu for our family vacation. Naturally we planned to visit the Polynesian Cultural Center and share this amazing experience with them too.
WHAT IS THE POLYNESIAN CULTURE CENTER? 
The Polynesian Cultural Center (PCC) is a family-friendly 42-acre theme park that introduces visitors to the cultures of six island nations of Polynesia. It's also one of the most famous attractions in the state.  
They're a nonprofit organization "dedicated to preserving the cultural heritage, arts, and traditions of Polynesia. 100% of revenue is used for daily center operations and to support the education of student-employees attending BYU University Hawai'i." 
PCC is located on the North Shore of Oahu, Hawaii. If you're staying in Aulani or Waikiki, they're both about an hour's drive to the center.

WHY VISIT
The center offers some of the best hands-on experiences found in Oahu. Also, one of the most authentic venues we've ever visited as the majority of the employees are actually from the islands they're representing. By far, a perfect opportunity to teach kids geography, culture, ethnic diversity and tolerance.
THINGS TO DO
DISCOVER SIX VILLAGES
Get completely immersed by exploring the traditions, language, activities and even humor of these six unique island villages.
Aotearoa (New Zealand) 

Fiji

Hawai'i 

Samoa

Tahiti

Tonga

Within these villages, there are activities for the entire family to do. For example: 
test your eye-hand coordination with the Māori stick game and Poi Māori (ball on string) game at Aotearoa. 

How to crack open a coconut and 'milk' it in Samoa. 

Play a derua bamboo instrument in Fiji. 

Compete in a spear throwing contest in the kingdom of Tonga. Multiple activities for children offered in every island plus a 20 minute show.. *Download PCC app for daily island showtimes.
Favorite village shows: 
Samoan Village — Hosted by comedic entertainer Kap Tafiti, who's a BYU graduate. Kap is beyond hilarious! See his team climb coconut trees and poke fun at each other while learning Samoan culture. 

Aotearoa — The most dramatic show in the center. Watch fierce-looking Maori warriors do an ancient ritual.

Tonga — Watch a drum show and laugh so hard as the audience members participate and try to follow along.

Tahiti — Experience a wedding re-enactment (fashion show) that will make everyone laugh 
HUKI: A CANOE CELEBRATION 
A unique musical production of dancers, singers and storytellers on large double-hulled canoes. Catch this celebration at 2:30p daily. It's definitely one you do not want to miss!
ALI'I LUAU
A royal celebration which includes a court procession, presentation of the imu (underground oven), traditional food, and Hawaiian entertainment. It's held in a covered outdoor venue against a beautiful background with waterfalls. 
HA BREATH OF LIFE SHOW
This is the one thing at the Polynesian Cultural Center that you absolutely should not miss (if the kids can stay awake despite the time change). The show features over 100 Polynesian natives, special effects, animation and surround sound. It walks you through the saga of birth and death, love and family, tragedy and triumph through the cultural lens of each island in Polynesia. 
The best show on the island hands down. Photos and video are not allowed during the show. Sharing these images from the PCC site but be sure to check out their video. 
Tip: If you have little ones, it's important to note that Hā runs 7:30-9pm Hawaii time and might be too late for them when you factor in the time difference. Lexi, our toddler, fell asleep but our 8 yr old stayed awake and loved it! Also, the theater is large and dark and there are some loud parts, so keep that in mind. 
TICKETS
There are many options to choose from when deciding which tickets to purchase for this center. If we can give one suggestion on this it would be to go big and get an Ambassador Package. Especially if you have little ones and can visit one full day. Why? It just makes the entire experience worth it.
There are two Ambassador Packages. Either one is great just depends if you want a private guided tour vs. small group tour plus a couple other VIP perks such as front row seats. 
Super Ambassador Luau Includes: 
Private guided tour 

Lei greeting

Discover 6 island villages

Canoe Tour

"Hawaiian Journey" cinematic experience – A state-of-the-art theater showing stunning cinematic exploration of the Hawaiian Islands. Reserved seating. No photos or filming allowed. 

Huki: A Canoe Celebration – Reserved seating

Ali'i Lū'au — Buffet with live entertainment, orchid lei and reserved seating

Hā: Breath of Life- Ambassador level reserved seating provides seating in the center of the arena with head-on views close to the stage. Super Ambassador provides front row seating.
Our guide, Levi, was from Aoteroa (New Zealand) and treated us like family. He also spoke Spanish which was really cool for our family as we all speak it too. He guided us throughout the day, answered all our questions and shared stories and cultural insights.
See Polynesian Cultural Center site for ticket prices here.
HUKLILAU MARKETPLACE 
Located right outside PCC, this new marketplace offers plenty of shopping and dining options. It's open from 11 a.m. to 9:30 p.m. The best part? There's a pizza making section inside Pounders restaurant. Such a fun experience and one that our kiddos continue to talk about. Plus, the entire staff was amazing. Recommend eating here during your visit.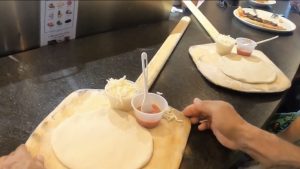 Free 3-Day Pass
Although we arrived at the center at noon, we didn't get a chance to see and do everything in one day. It's great that PCC is now giving a free 3-day pass with every ticket purchase. This means that you can use it for another date and not necessarily now or even the same year! Take advantage of re-admission on a later date. 
Be sure to check out our video on our instagram account to see our entire family experience at PCC.
Mahalo,
Gladys