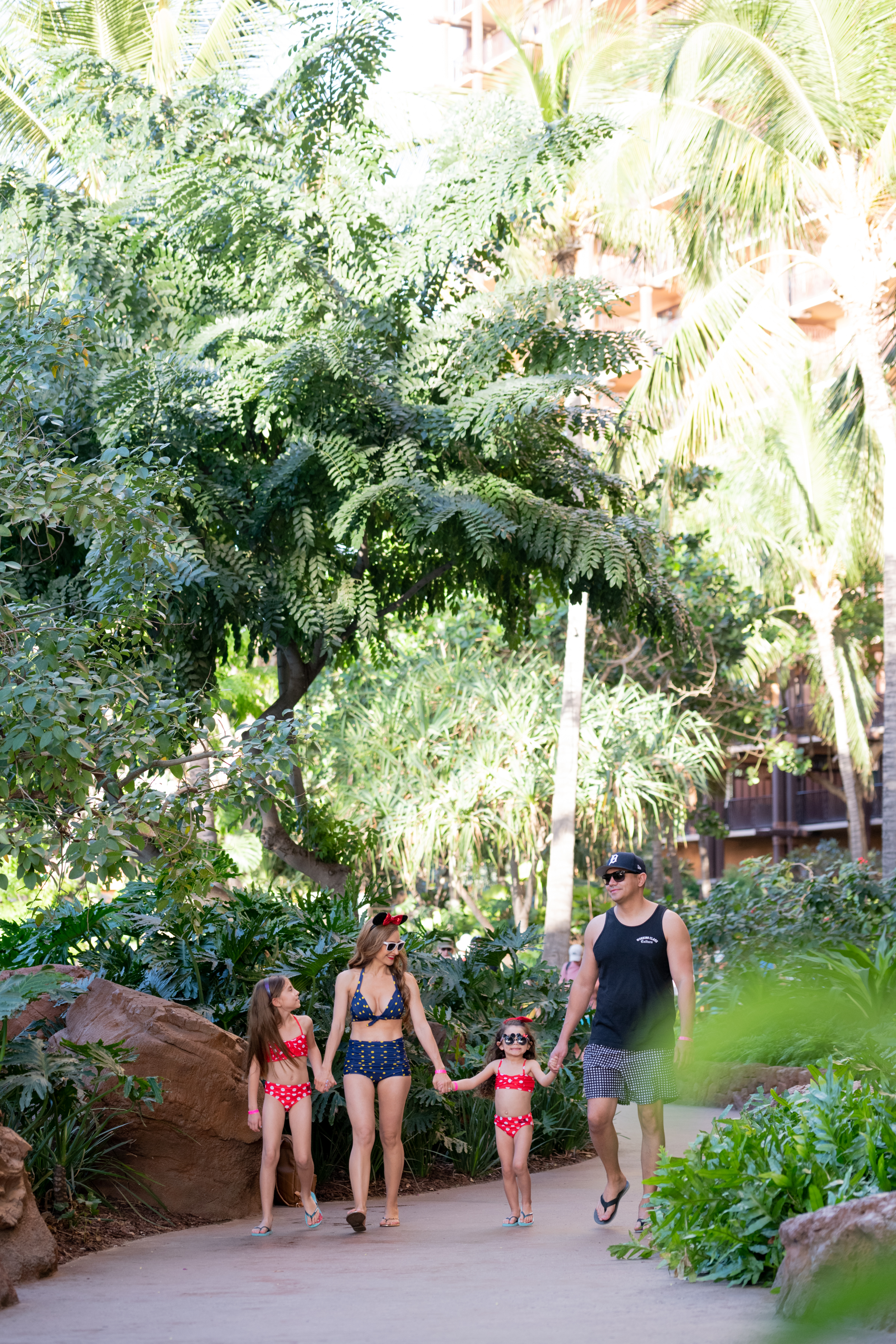 Aulani, A Disney Resort & Spa opened their doors back in August 29th, 2011 which coincidentally happened to land exactly on our first year wedding anniversary and 5 days after Mia, our oldest, was born.
For years, I dreamt of one day visiting with our little family. Truthfully though, I knew that traveling to Hawaii was definitely on the pricier side. That coupled with only having one income, being homeowners of an older home and all the extra expenses that come with it, made this bucket list destination nearly impossible to travel too. But after a little searching, getting tips from friends and family and mostly focusing on saving, I'm here to tell you it's more affordable than you think.
DISNEY'S AULANI: MORE AFFORDABLE THAN YOU THINK
FLIGHTS
There are different ways to save on flights. If you travel often then you might know that using miles and points via airline credit cards and mileage rewards programs are a great way to save. According to Travel US News the top two airline rewards programs are currently Alaska Airlines Mileage Plan and Delta SkyMiles. And recently, Southwest Airlines added Hawaii as a destination so be sure to check out their Rapid Rewards Program and credit card.
Additionally, a family member suggested we check out Escape Flights – LAX. A site that shares up-to-date travel deals departing from LAX and it's surrounding area. We saw an amazing deal from LAX to HNL just one week after we booked our trip!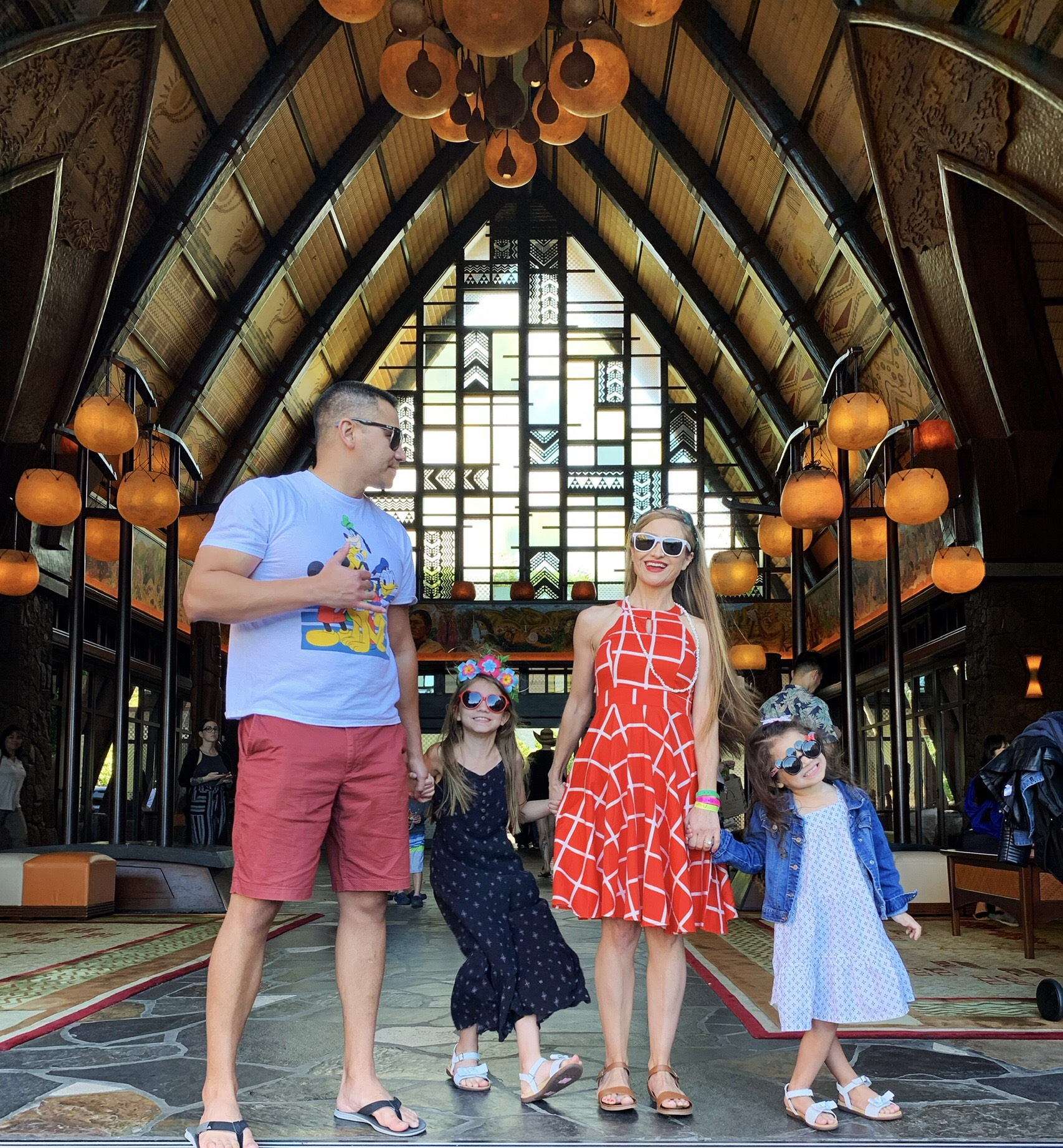 RESORT OFFERS
During Fall 2019, the resort had a 30% plus $250 room credit for our first official visit. Lucky for us, our oldest daughter didn't have school during the offer dates so we booked a 7-day trip right after the holiday rush (January 5th-12th). For our second-fourth visit, we stayed during spring break which was not off-peak season. You can still find offers but you have to book your stay well in advance to get them. Most of the resort offers fall during off-peak season so be sure to visit their special offers page to confirm if the dates listed fall within the time you can visit. They currently have new 2023 offers!
TARGET REDCARD
Target RedCard Offers 5% discount on Disney gift cards. I know it's not much but something you can put towards a meal or those yummy resort desserts.
Tip: Every time we went to Target I'd add a gift card here and there to our cart.
DISNEY GIFT CARDS
Did you know you can use your Disney gift cards to shop, dine and stay at Disney destinations nationwide, including Aulani, A Disney Resort & Spa. You may also use your Disney gift card as a form of payment for Aulani vacation packages. How amazing is that?
Tip: Let your friends and family know ahead of time that you're planning a family trip to Aulani and would love and appreciate Disney gift cards instead of birthday/Christmas gifts. This is by far the best tip I could give you. It really helps lower the cost on the entire stay.
SPECIALTY DISCOUNTS
If you're a Disney annual pass holder, military member or HI resident, be sure to check out the Aulani Special Offers and ask for your respective discount when booking.
RENT DVC POINTS
You can rent a Deluxe Disney Vacation Club Villa through David's Vacation Club Rentals. These rooms, classified by Disney as "Deluxe Disney Villas", are all located in the resort. You DO NOT need to be a member of the Disney Vacation Club to buy points and stay in a DVC Villa. Basically you pay to rent one. We've heard they offer some pretty amazing deals if you book up to 11 months in advance. Unfortunately, there were no points available on the dates we needed. Be sure to check out the DVC site for availability when planning your trip to Aulani.
BREAKFAST/ LUNCH IN ROOM
There are Villas equipped with full kitchens but they can get pricey. We've stayed in a one bedroom villa and a Deluxe Studio. A Deluxe Studio is less expensive and comes with a kitchenette (small refrigerator, bar sink, toaster, microwave, blender, disposable cups, plates, and utensils). It helped us make a quick breakfast especially with the time difference and the girls waking up at 4am (gulp!). Also, there's a market walking distance from Aulani (across the street from the resort) where we grabbed meds (Rey and Lexi were sick during our trip!), snacks, fruit, noodles and items to make sandwiches during the day. They have pretty much everything you'll need for your trip at a reasonable cost.

Saving Money
This one is a no brainer but wanted to share a few things that helped us along the way. Prioritizing for our trip meant cutting back on things such as those Starbucks runs, Uber Eats, and eating out frequently. Making more meals at home and staying away from making purchases we truly do not need. We highly recommend setting aside money into a separate account to fund for your trip.
INCLUDED DURING YOUR STAY
All the amazing pools, exhilarating water slides, splash pads and the best lazy river we've ever seen.
For the little ones:
Menehune Bridge – An interactive Splash Zone w/ two small slides
Keiki Cove – Baby and Toddler

Splash Zone
For the entire family:
WAIKOLOHE POOL – S

plash around and swim in this 8,200-square-foot, zero-entry pool. The pool also has a thrilling tunnel body slide (Volcanic Vertical).

KA MAKA GROTTO- An infinity edge pool overlooking Ko Olina Beach—with breathtaking ocean views.

A misty grotto and an after-dark experience with thousands of glittering lights.
Whirlpool Spas – Located throughout the resort. Be sure to check out the two whirlpool spas reserved for adults only. They offer a breathtaking infinity edge view.
Character Pool Party – A pool party with Disney characters?! Sign us up. The day we went to one it started pouring rain right before the show start time so it got canceled. Keep in mind, many shows and outdoor activities are weather permit. Catch this party at WAIKOLOHE pool.
Mo'olelo Fire Pit Storytelling – Hear stories about the Menehune
Movie Night Under The Stars – Catch a Disney movie on the lawn

Free Disney DVD rentals – Grab a Disney DVD at the Pau Hana community center
Menehune Outdoor Adventure Trail –
Grab a tablet at the Pau Hana community center, located on the first floor of the Ewa Tower. Your kiddos will learn all about the Menehune—the legendary "little people" of Hawai'i, known for their magical powers and mischief. Such a fun activity! We did the outdoor one at night. Highly recommend it!
Disney Character Meet-and-Greets – Download the Aulani App to access daily character line up starting at 8a. The character line up rotates daily so be sure to check app first thing in the morning and find out who's making an appearance that day.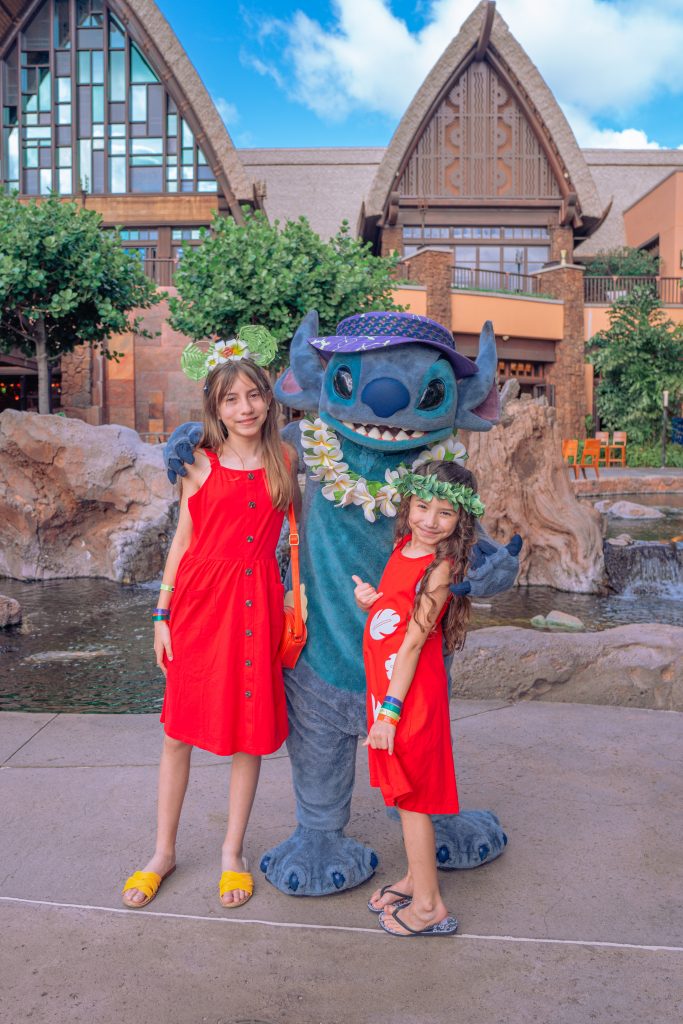 Sunrises and Sunsets – There's a sunrise and a sunset every single day, and they're absolutely FREE. Especially during your stay at beautiful Aulani!
Entertainment – Nightly music with some of the best musicians in Hawai'i at the beautiful 'Ōlelo Room
Hit the Beach – Complimentary Beach chairs, umbrellas, boogie boards, sand toys and life jackets.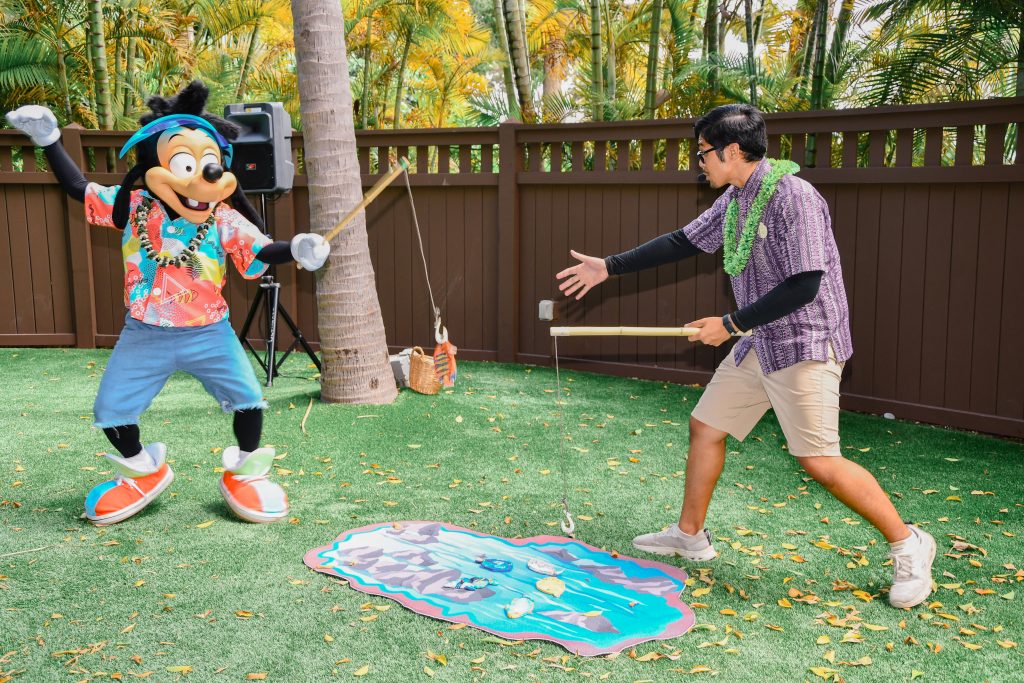 AUNTY'S BEACH HOUSE – A state-of-the-art kids club for children ages 3 to 12 and teens, offering interactive activities and magical surprises. There's complimentary activities as well as premium activities to choose from. The kids loved the SURF'S UP! – A Surfin', Fishin' and Dancin' Party! which included their own mini wooden surfboard to decorate or use as a character autograph souvenir.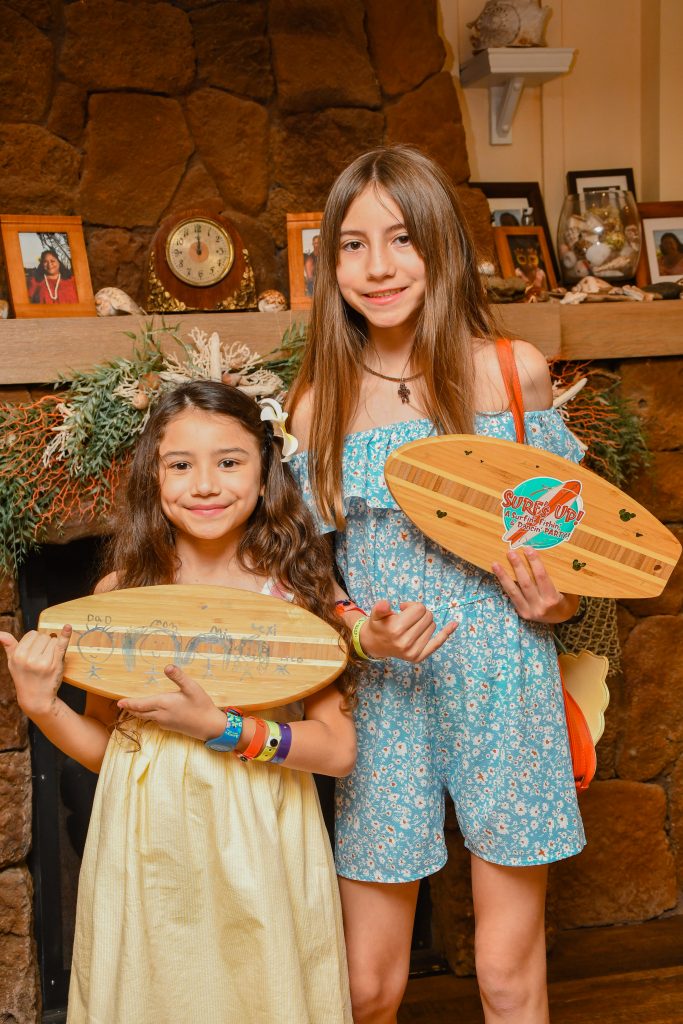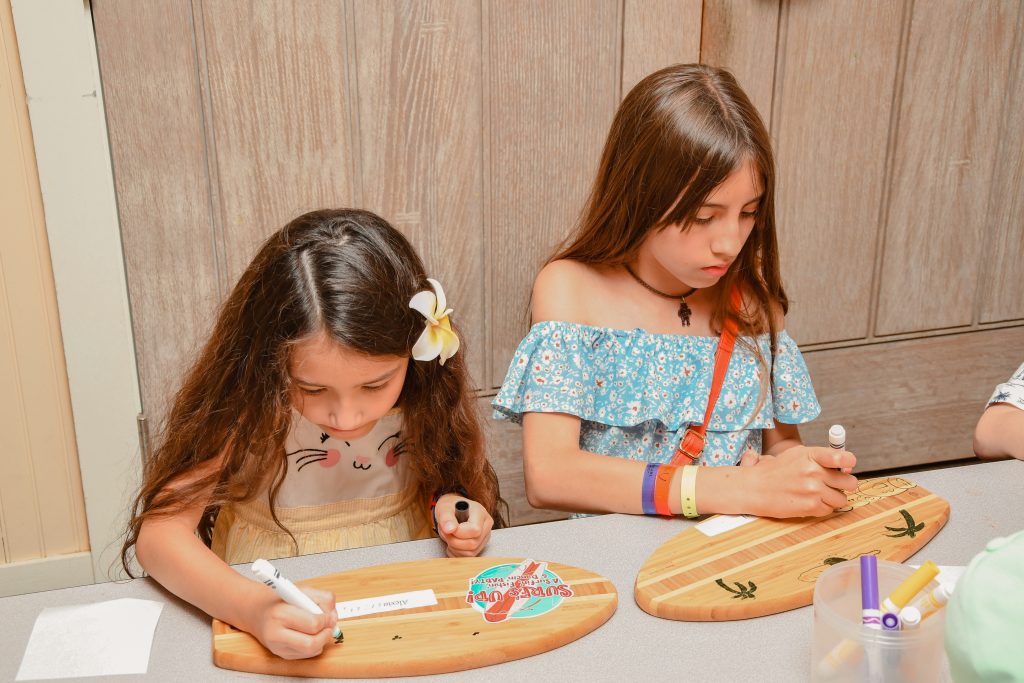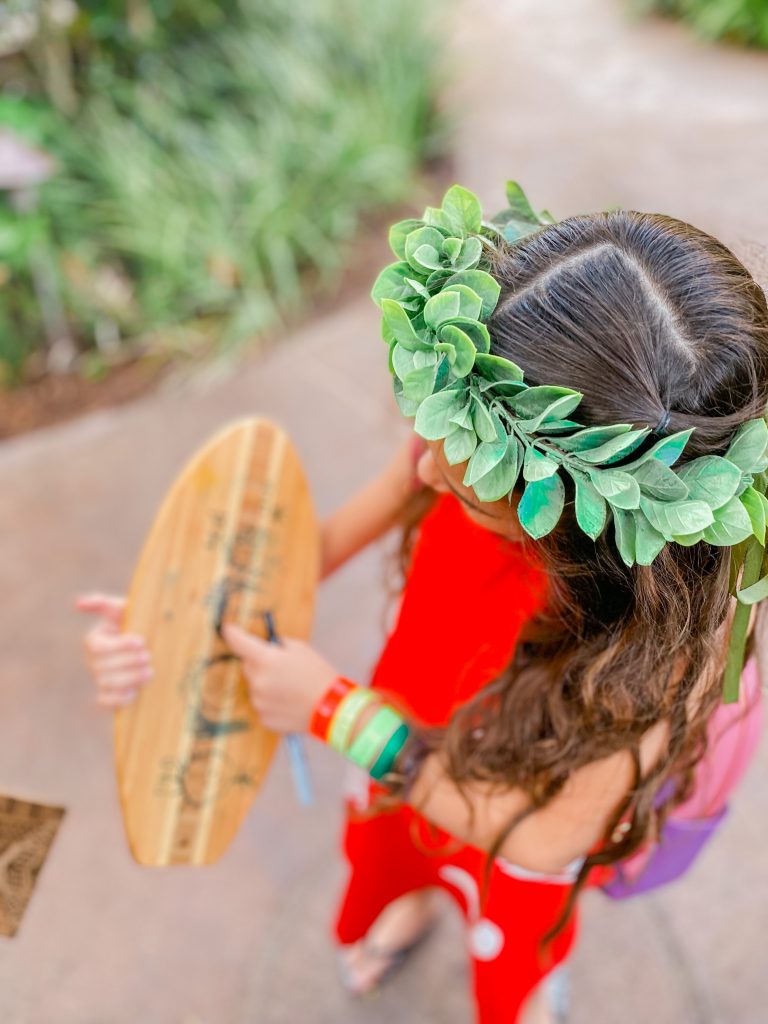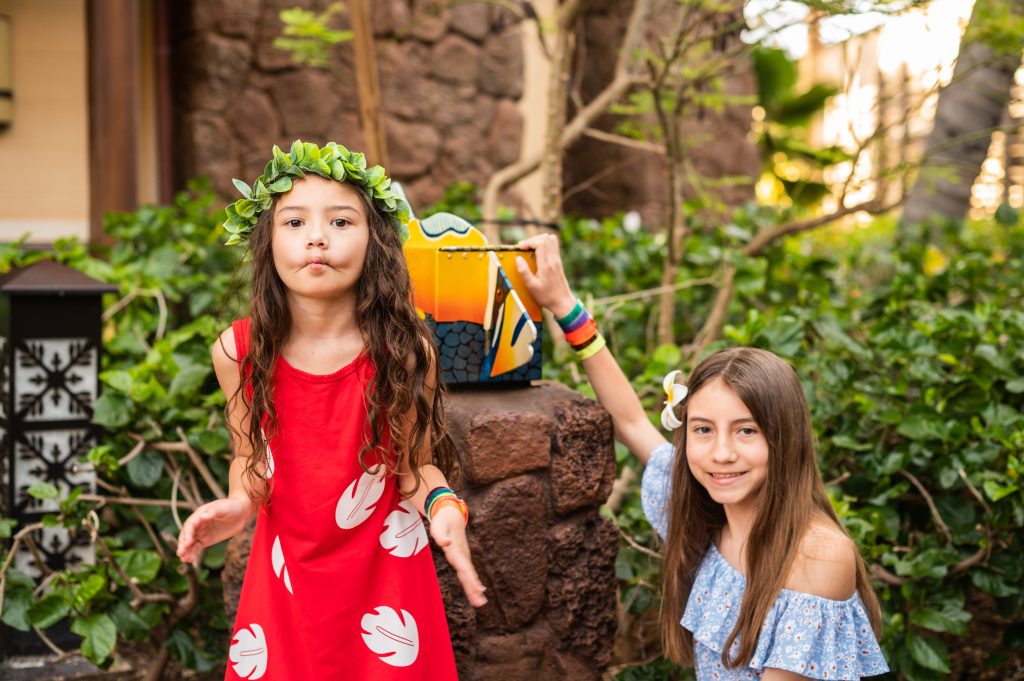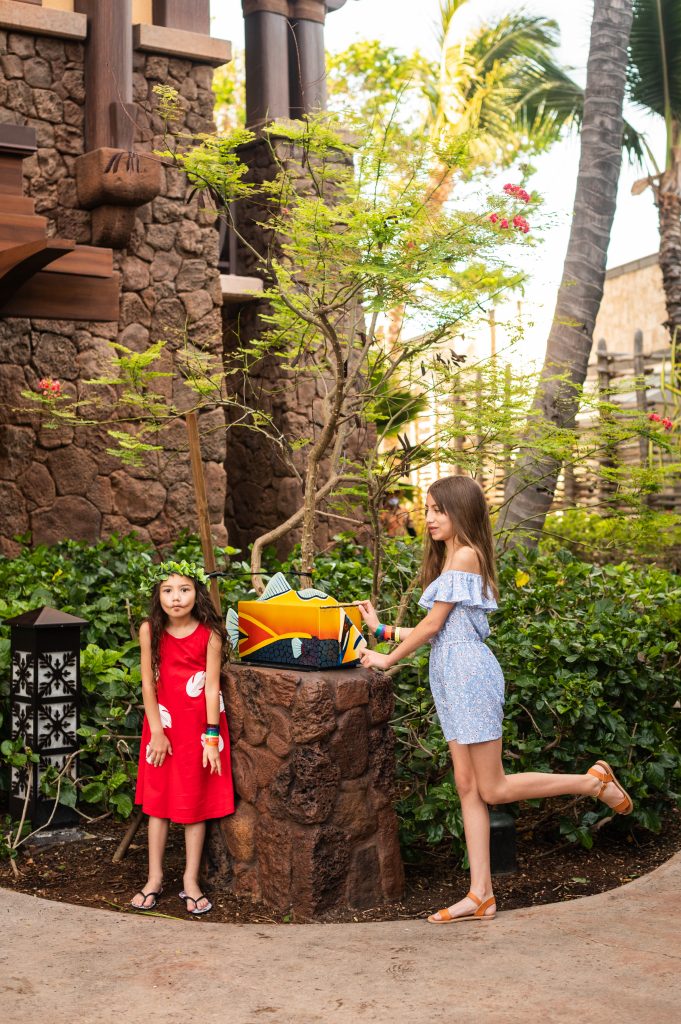 Aulani App – Download the FREE Aulani app to find out what classes are being offered daily.
THINGS NOT TO MISS

KA WA'A
This Lū'au at Aulani is a must! Included with your KA WA'A paid entrance:
Pre-show activities (kapa printing, flower arranging, temporary kakau tattoos and paʻi ai taro pounding)

Leis

Cocktail (or non-alcoholic Moana punch)

A buffet dinner

Dessert bar
The show lasts about 3 hours and there's special guest appearances (Mickey, Minnie and/or Moana). Don't forget about the time difference (Lexi fell asleep towards the end) and if you're going during winter-early spring, be sure to bring a sweater as it can get chilly at the tailend part of the show.
Preferred Seating – $204 Adults/$124 Keiki (ages 3 through 9). There is no charge for keiki under 3.
General Admission – $175 Adults/$104 Keiki (ages 3 through 9). There is no charge for keiki under 3.
RAINBOW REEF
Rainbow Reef at Aulani Resort is a private saltwater snorkeling pool and home to thousands of tropical fish. It's located within the resort and truly such an amazing experience! Snorkeling equipment is included with your entrance fee. It's free to watch—and take pictures—as friends and family snorkel through a viewing window. Keep in mind, if you've never done this (our first time) the water is on the chilly side and the equipment takes awhile to get use to. Ask a cast member to spray your kids goggles so they don't get foggy and per Mia, our 8 yr old, the blue goggles are better. Follow us on IG (themotheroverload) to see this experience all our recommendations under our Aulani Highlight.
Rainbow Reef Cost:
One-Day Access: $25 per adult (ages 10 and up); $20 per child (ages 9 and under)
Length-of-Stay Access: $45 per adult (ages 10 and up); $35 per child (ages 9 and under)
DISNEY CHARACTER DINING
Character Breakfast at the Makahiki – Recommend starting at least one of your days with this breakfast. Plus it's less expensive to have breakfast vs. dinner.
Be sure to let your server know of any food allergies or dietary needs. The restaurant has an allergy friendly menu and the best part? A chef will walk you through the buffet to let you know what you can eat and what you should avoid. They also made fresh Mickey waffles for us to avoid buffet cross contamination. This is a huge plus for our family as our kids have food allergies. Look at our 2020 photos vs. 2023. Sigh, they grow so fast!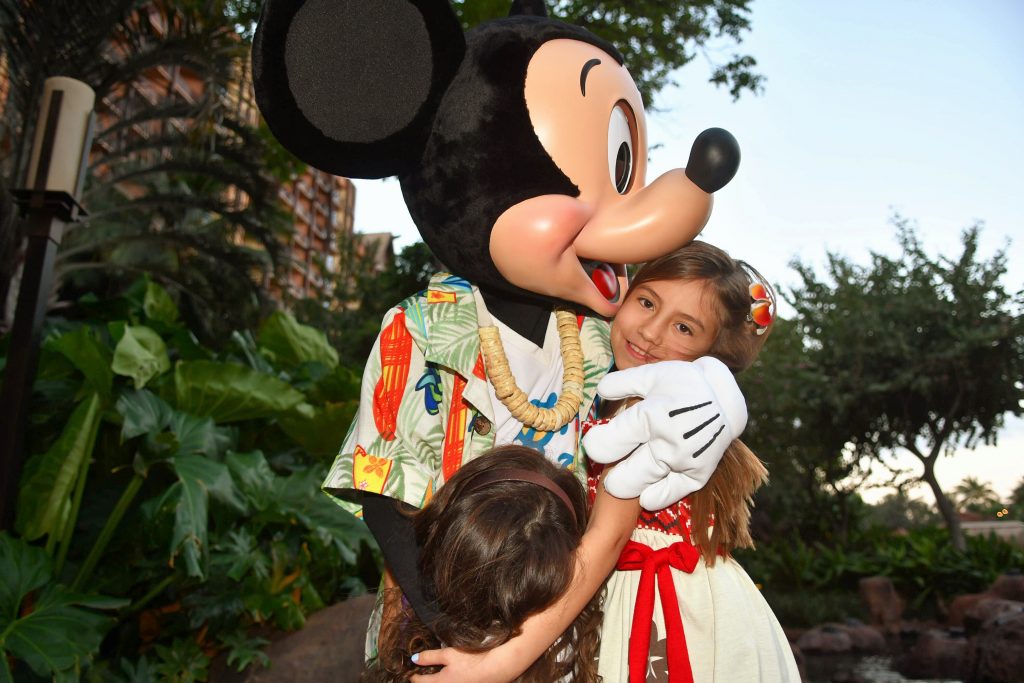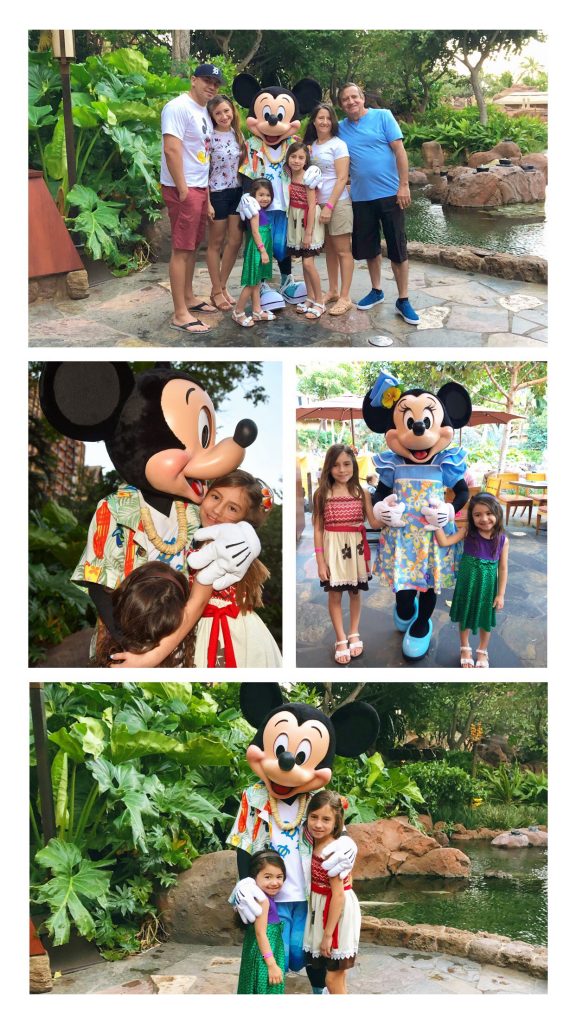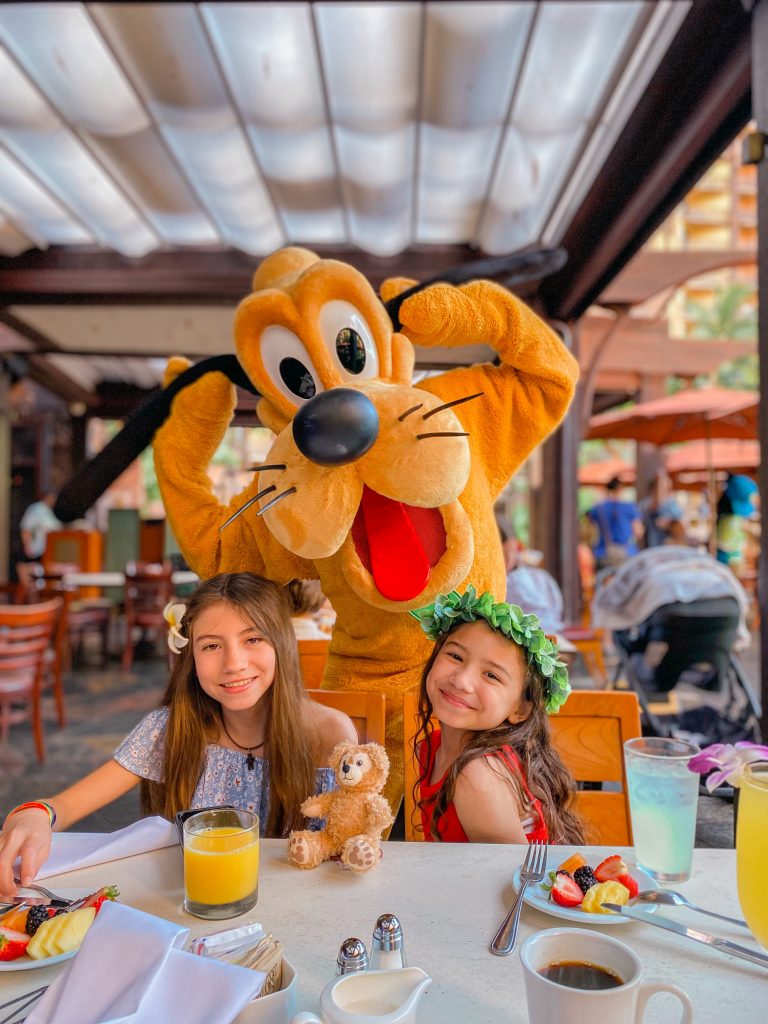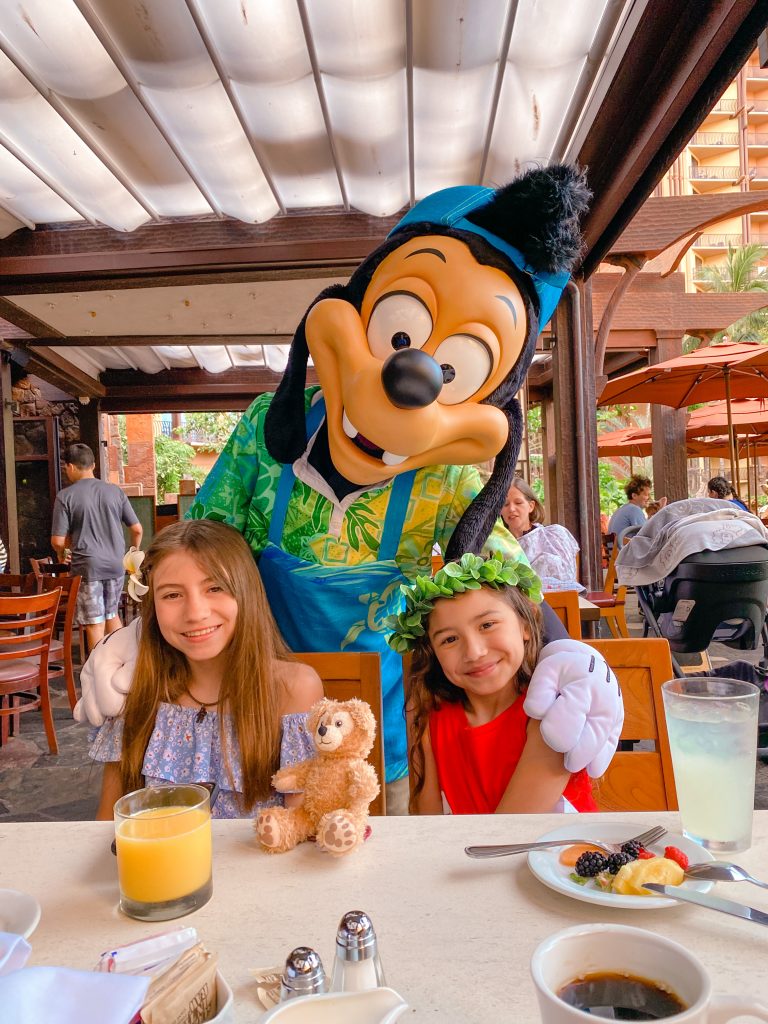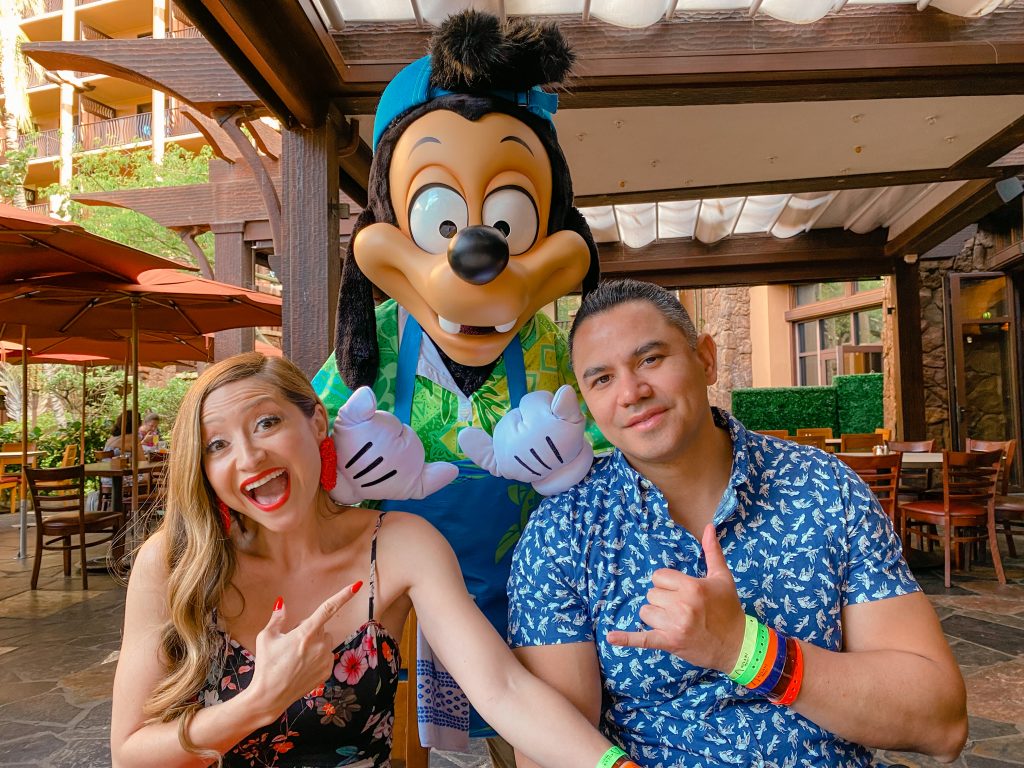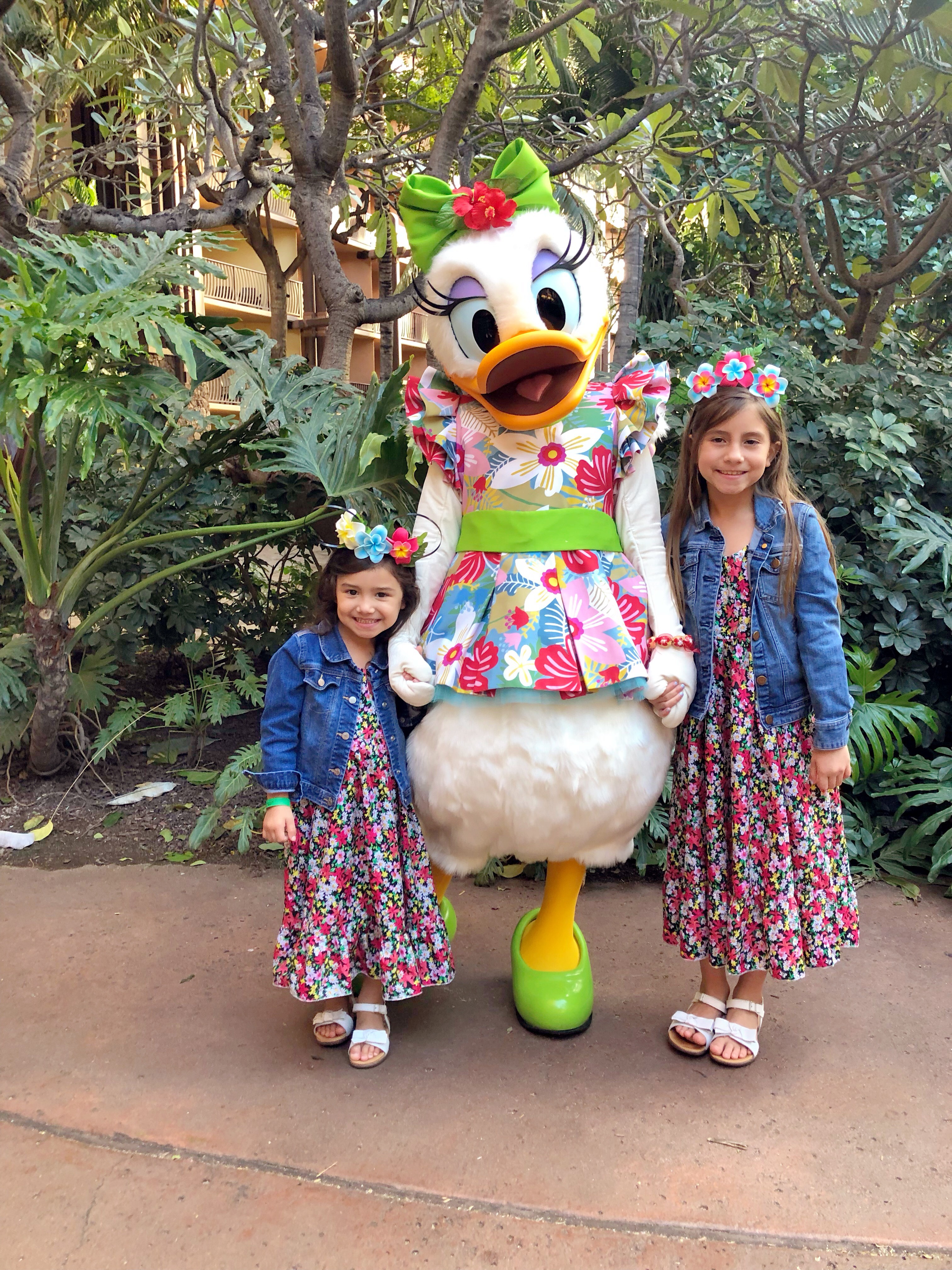 MAKE YOUR OWN MICKEY EARS
For an additional cost, you can make your own traditional ears. Our kids made these with my mom, sister and myself. Such a fun family experience and a perfect souvenir to take home. Tip: Visit the Pau Hana Room when you first arrive to book premium experiences as they tend to get booked quickly.

USE ALL YOUR DISNEY GIFT CARDS
We gave our kids they're birthday/ Christmas Disney gift cards to buy Mickey snow cones, souvenirs, dole whips and even pay for things we charged to the room (I.e snorkeling day passes and classes). But you can use them for pretty much anything on the resort.
ADDITIONAL ACTIVITIES
We stayed 7 days but even that wasn't enough time to see and do everything we wanted. Check out all the amazing activities here to plan your visit.
So there you have it, tips on how to make Aulani more affordable plus what's included in your stay (so many free perks!) and things to not miss.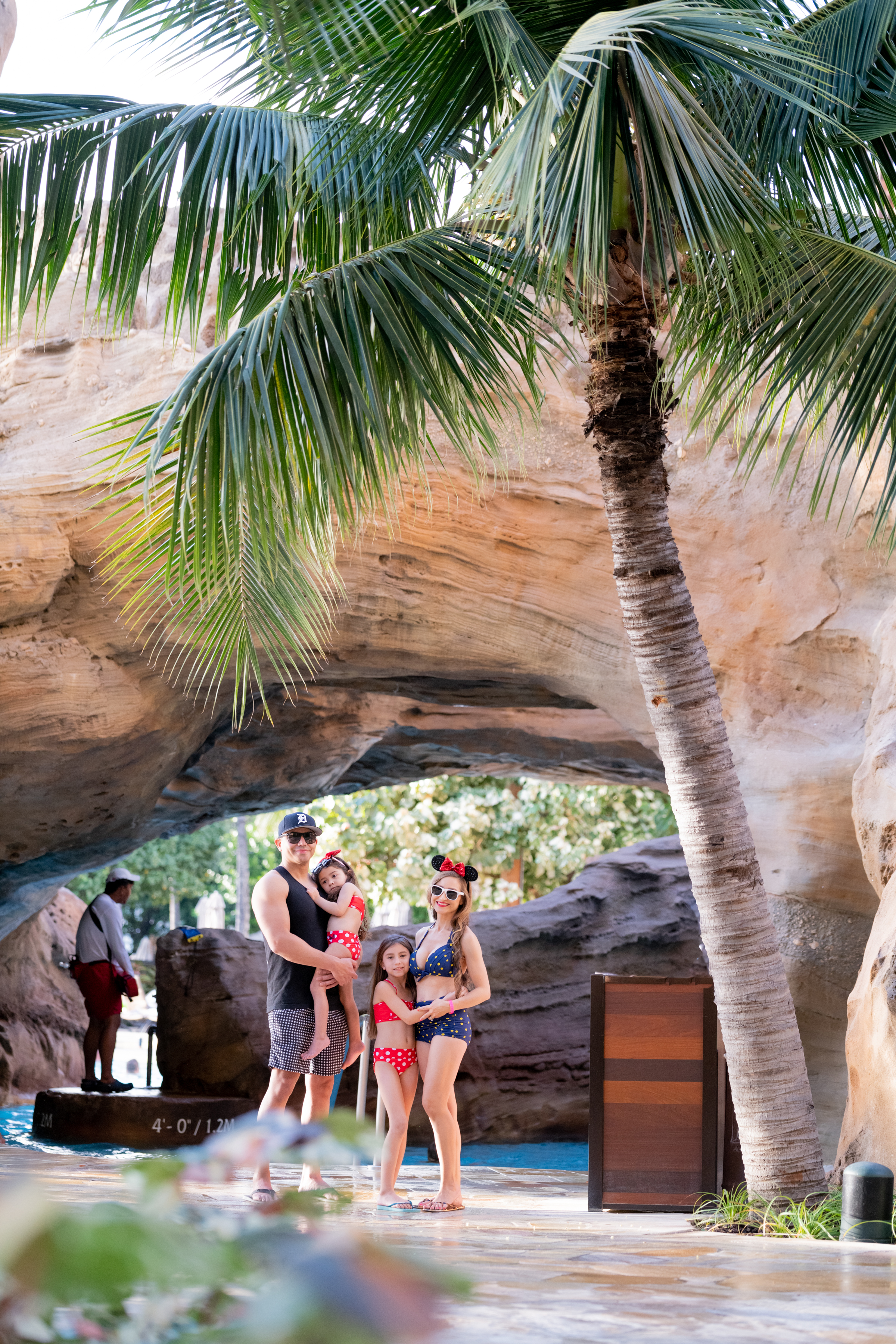 Speaking of, be sure to check out our Aulani Luau Review, 10 reasons why you should stay at Aulani, and things to do on the island during your Aulani stay. Plus, stay tuned on our instagram account TheMotherOverload to find out where and how to get the best family photos in Aulani. Stay tuned friends!