10 Reasons to Visit Aulani, a Disney Resort & Spa 2021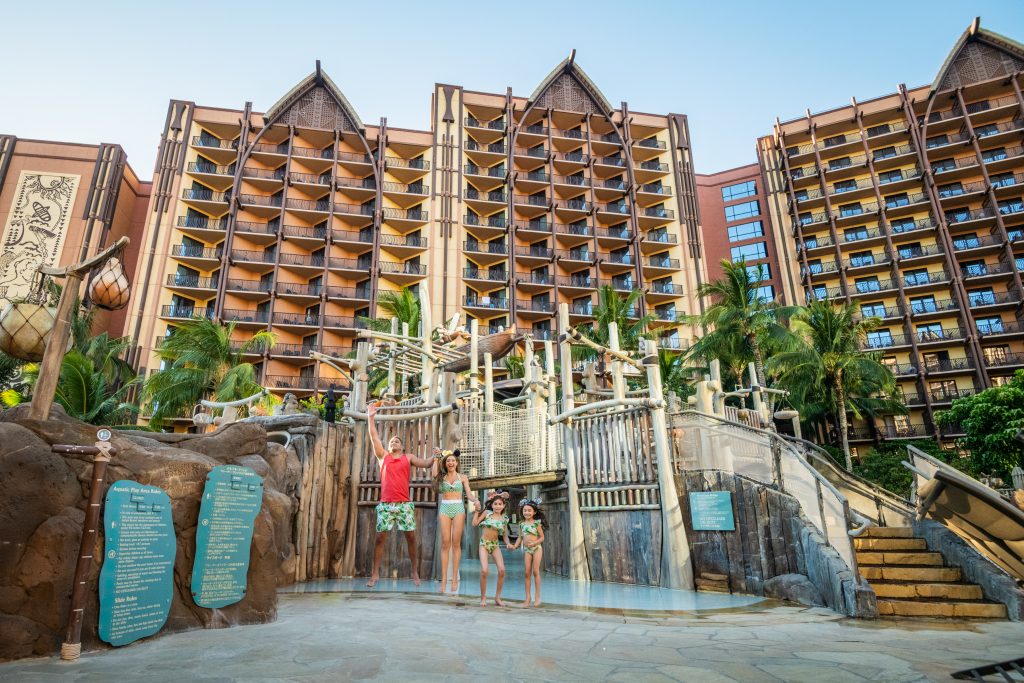 Health and Safety
We felt safe traveling to Aulani knowing that the island of Oahu is enforcing strict travel restrictions. To quote GoHawaii.com, "Hawaii continues with the state's Safe Travels pre-travel testing program, even for fully vaccinated passengers. Travelers must have their negative test results prior to departing as an alternative to Hawaii's mandatory 10-day quarantine."
As we prepared for our trip to Oahu, we created two separate accounts (one account for one adult and one account for second adult with children) on the State of Hawaii Safe Travels online system. Upon creating these accounts, we then searched for a nearby approved Trusted Testing and Travel Partners center. However, once we made our appointment and paid, we realized we made a huge mistake!
Here's the thing, since our flight was departing on a Wednesday, this meant that we'd have to take our in-home virtual test no later than that previous Sunday (in order to meet the 72 hr reporting timeline). We quickly checked the trusted testing partners site again to make an appointment for a rapid test instead in order to receive our results on time. The new testing place required a nasal swab (the previous was a mouth swab) and we were worried how the kids would take it. Fortunately, we had a talk with them ahead of time and made it seem as if the swab would quickly tickle their noses. The conversation, along with us parents remaining calm during the entire process seemed to really work for us!
Visit GoHawaii.com for updates and remember that each island may have different restrictions.
The Aulani resort has made adjustments to ensure the health and safety of the cast and guests. Please see the resort's website for additional safety measures and guest requirements.
The Entertainment
It's no surprise that Disney's entertainment is top-notch. You'll be pleased to know that Aulani is still going above and beyond to deliver the Disney magic we all know and love!
KA WA'A Luau
After hearing about the KA WA'A Luau reopening on March 27th, 2021 at Aulani, A Disney Resort & Spa, we were thrilled to return to the resort and share our family's experience. We were especially excited for the well-known KA WA'A Luau, one of the very best on Oahu. Even with the modifications, it is an experience that can't be missed! Considering that the new layout is more spaced out, we highly recommend purchasing preferred seating this time around. Find the latest updates, pricing information, and our 2021 review of KA WA'A – A Disney Aulani Luau here.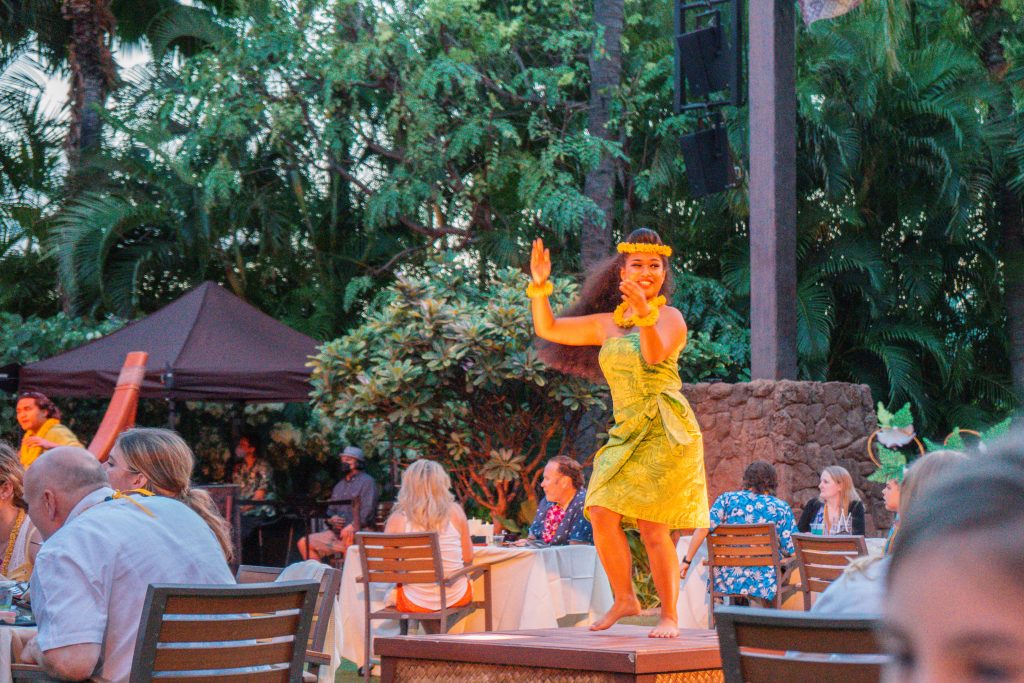 Live Music
Believe it or not, you can still hear some of Hawai'i's best musicians at the beautiful 'Ōlelo Room during select nights. There was nothing quite like leaving our balcony doors open and listening to the live music and calming sounds of the ocean.
Storytellers
We're so glad we could listen in on one of the storytellers at the Waikoloa pool. Check with Guest Services to see if this poolside experience is available during your stay.
Disney Character Breakfast
This year, Disney Parks Blog just announced that the Aulani character breakfast is returning on May 7, 2021 with new health and safety rules.
You can find Mickey Mouse and his friends with either an aunty or uncle singing and entertaining guests. During the month of May, resort guests will have photo opportunities with the characters on Mondays, Fridays and Saturdays. Starting April 26, you can call Aulani Resort at (808) 674-6200 to make your breakfast reservations! Take note that the original buffet-style breakfast is now a three-course meal. Pricing for this breakfast experience has not been announced yet, so keep an eye on Aulani's site for updates.
Character Meet & Greets
Using your in-room phone, dial front desk to get connect to a hotline that gives you exact times and locations for each character. The character line up rotates daily so be sure to call first thing in the morning and find out who's making an appearance that day.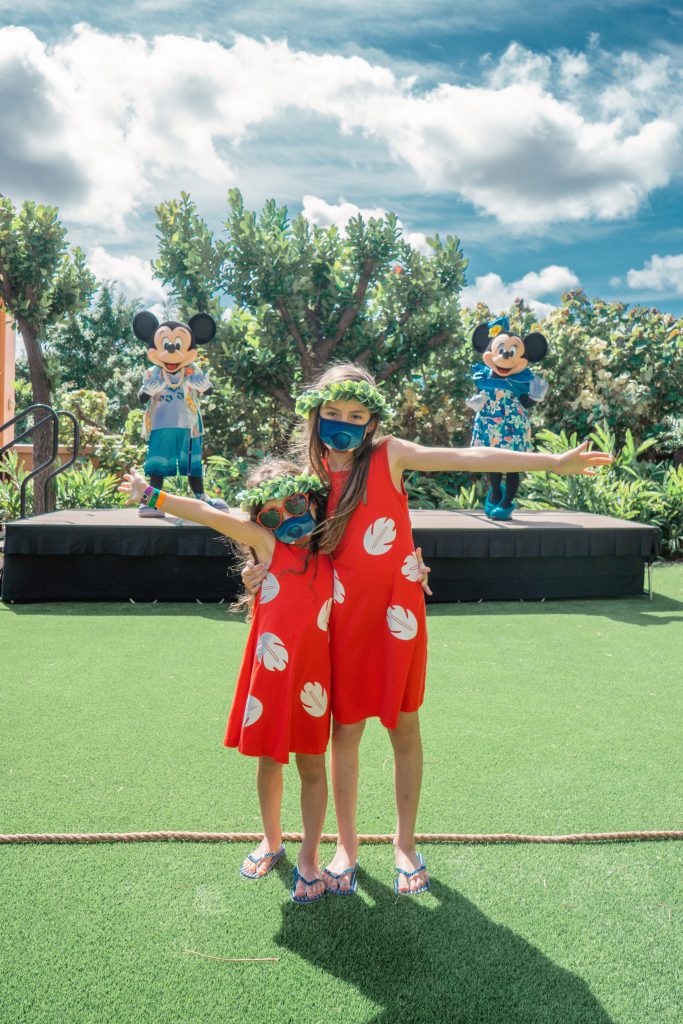 Menehune Outdoor Adventure Trail
Grab a tablet at the Pau Hana community center, located on the first floor of the Ewa Tower. Your kiddos will learn all about the Menehune—the legendary "little people" of Hawai'i, known for their magical powers and mischief. Such a fun interactive activity! We did the outdoor one at night. Highly recommend it!
Make Your Own Mickey Ears
For an additional cost, you can make a reservation to craft your own traditional ears (with LED light options, no less!) This year, a cast member met us at the Pau Hana room and checked us in, gave us ear kits, and escorted us to the AMA AMA restaurant (currently closed for dining). Upon arriving there, we were seated at our table away from three other families. Our table was prepped with all the items needed to make our ears, including battery operated glue-guns. The best part? An unbeatable oceanview and the perfect souvenir to take home! See our Instagram story hightlight.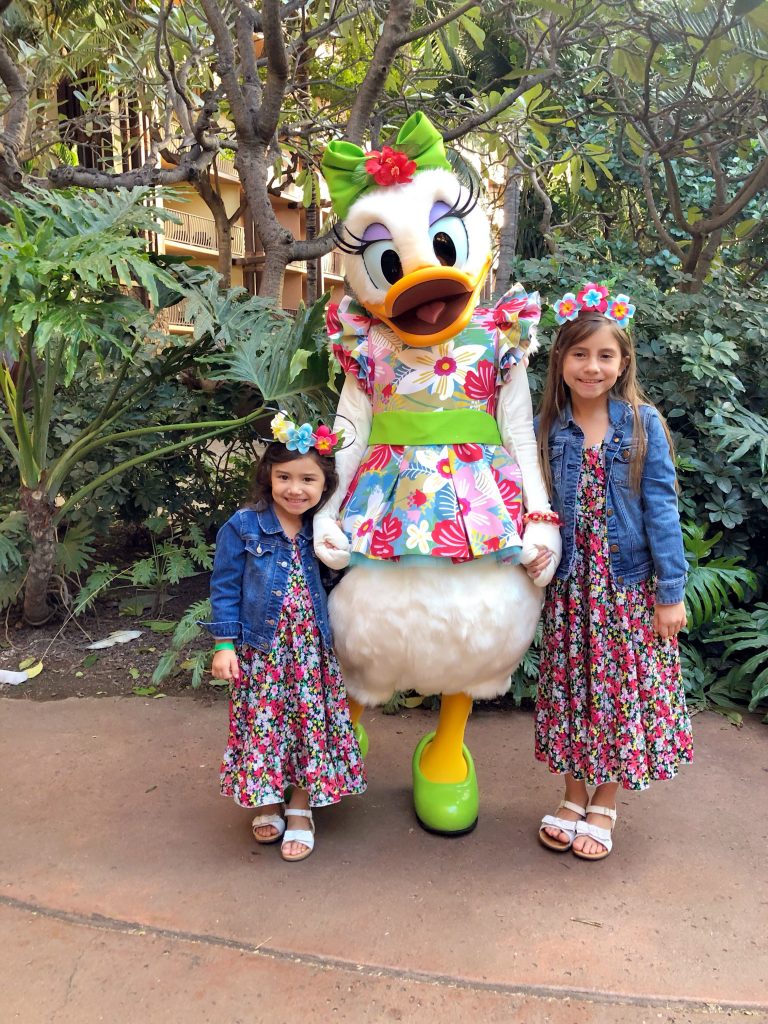 Painting With Light
This easy activity is currently free and perfect for the entire family. If you choose to purchase a photo afterwards, you can do so via PhotoPass on the Disneyland app for an additional fee. The cast members will greet you and walk you through the entire process. We simply stepped in front of the camera and individually waved a different color light-up wand at different times. The resort camera captures the light with a long exposure, creating a unique photo souvenir! Tip: Recommend downloading the Aulani app to see what activities are available during your stay. At times, not all activities are listed so it's also a great idea to head to the Pau Hana center on your first day to reserve all the activities ahead of time (daily time slots are limited).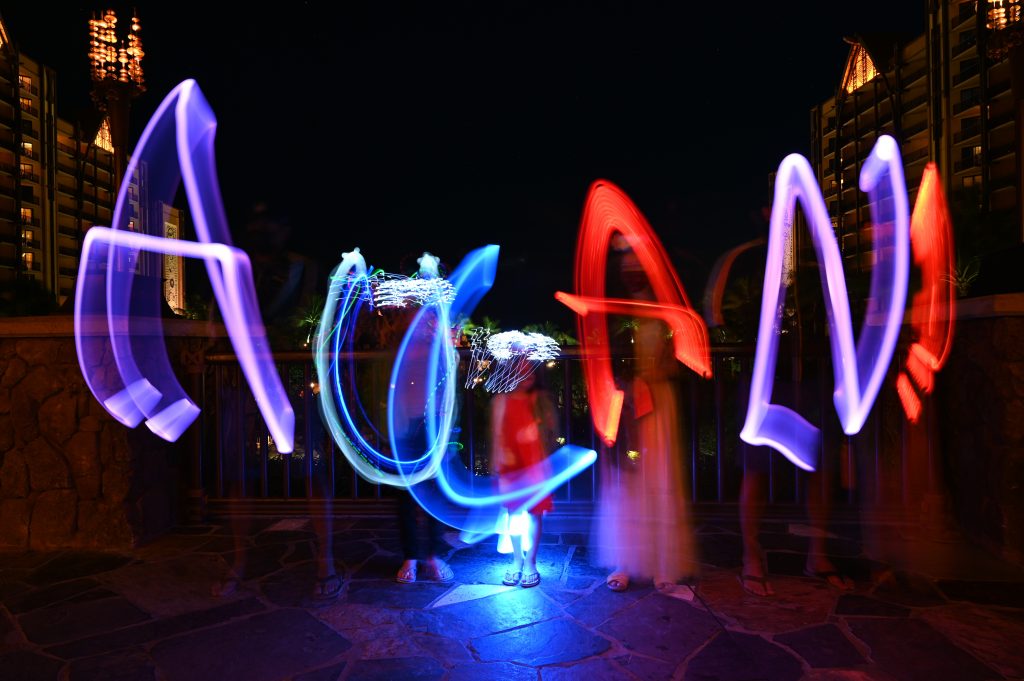 Disney Food & Drinks
From delicious Mickey-shaped treats and pineapple vanilla swirl Dole Whips, to mouth watering three-course meals and tropical poolside cocktails, this alone is a major reason to visit. We hope to experience the character breakfast later in the year.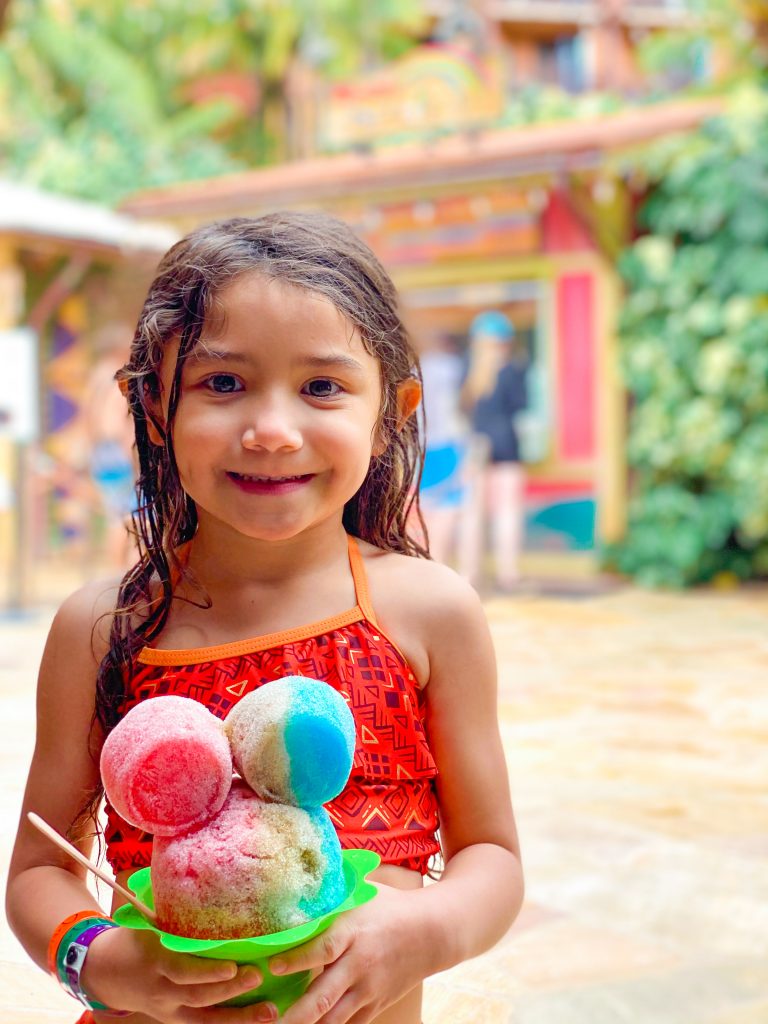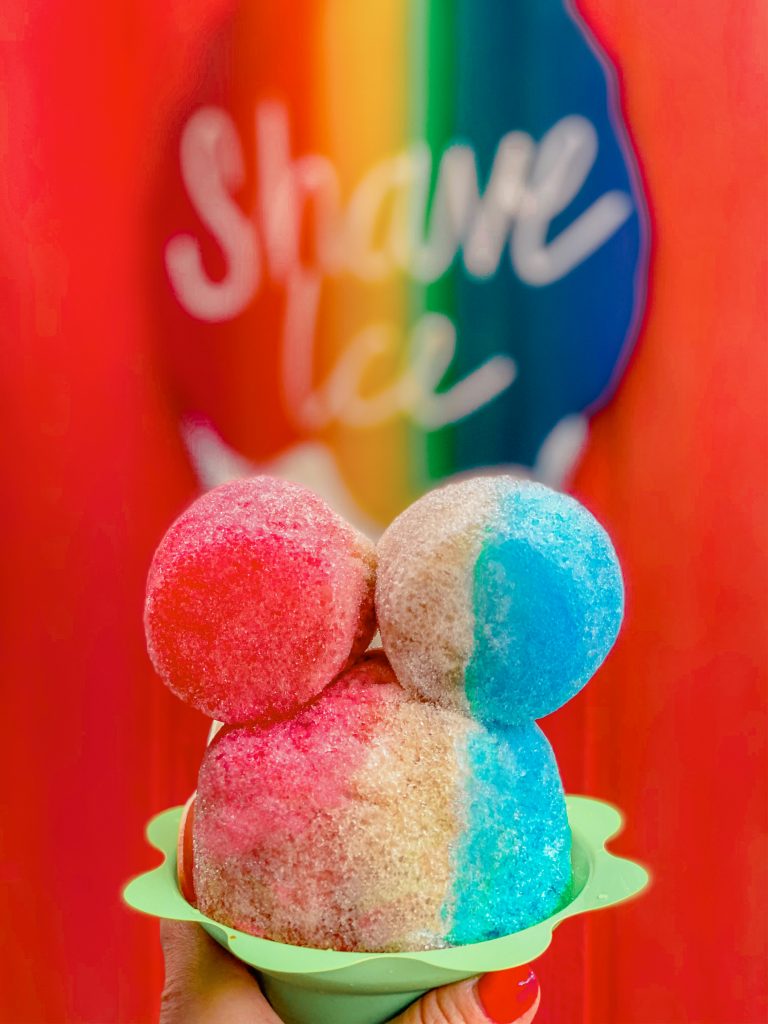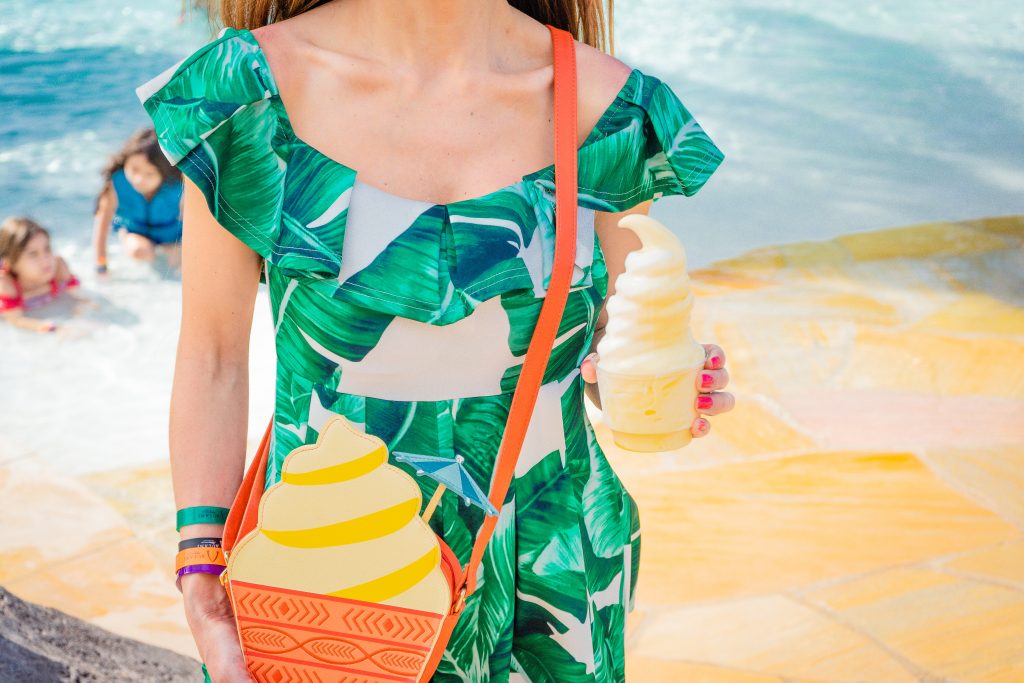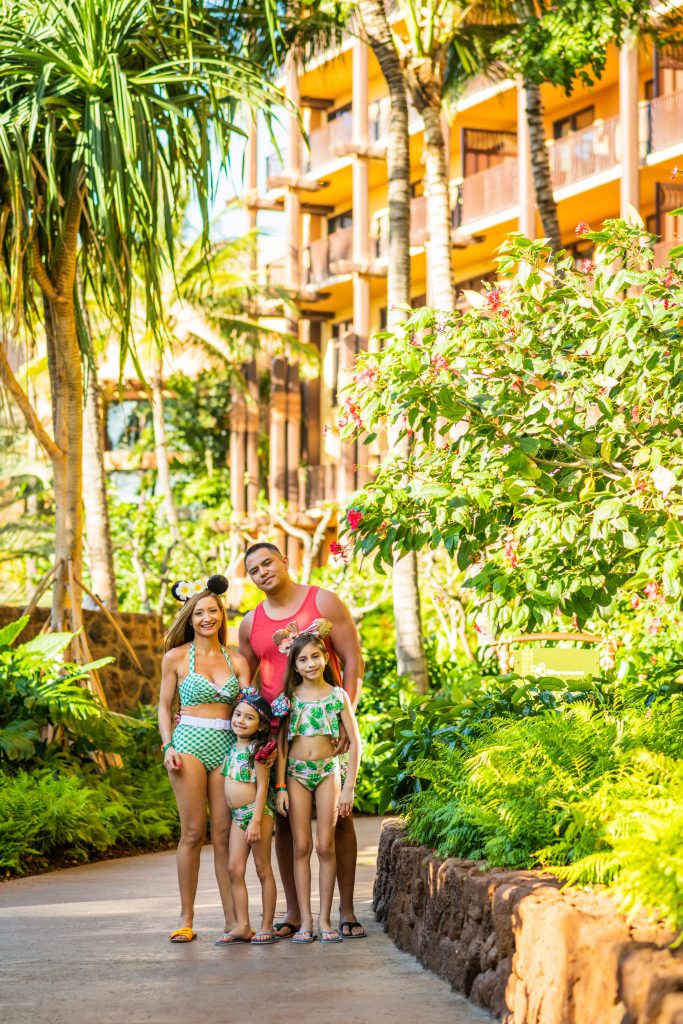 All Pool Areas Are Currently Open
Menehune Bridge
A 2,100 square feet water play area & includes:
2 water slides
Interactive water elements
Spinning gourds
A climbing play structure
Throughout this splash zone, kids also encounter the Menehune—the legendary "little people" responsible for mysterious happenings on the islands.
Ka Maka Grotto
This infinity edge pool overlooking Ko Olina Beach—offers breathtaking ocean views. And at night, it lights up with thousands of glittering lights. Going on a night swim here is a favorite for us! There's also a beatiful whirlpool spa for families in this area.
Keiki Cove
An interactive splash zone that's inspired by the tidal pools surrounding Aulani.
Waikolohe Pool (Waikolohe is Hawaiian for "mischievous water")
A 8,200-square-foot, zero-entry pool connected to the Waikolohe Stream.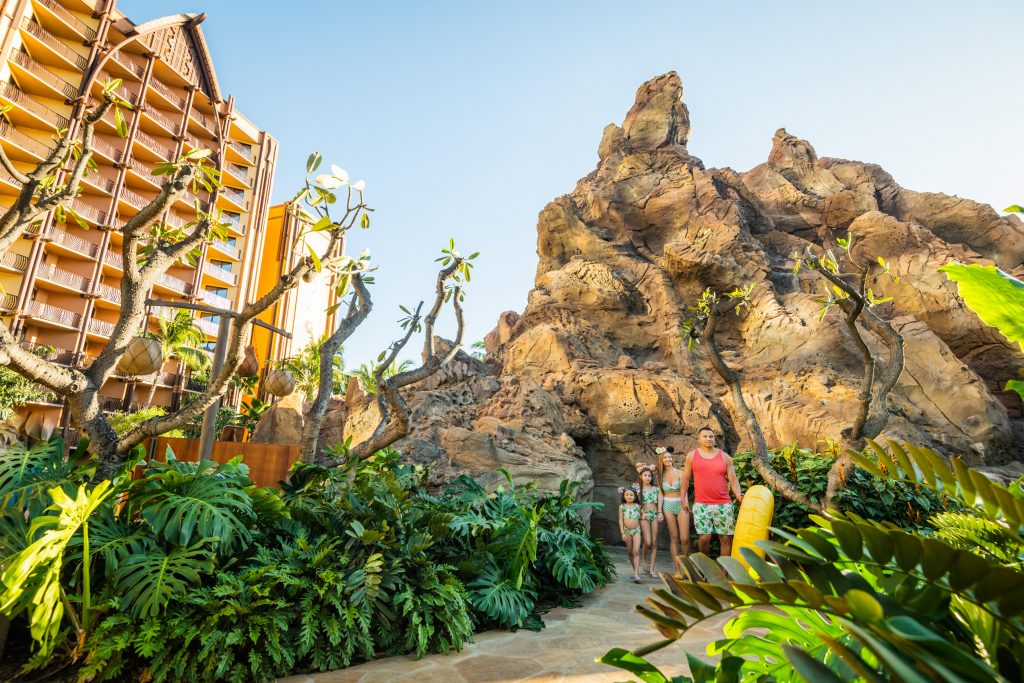 Waikolohe Stream
Features a beautiful Lazy River and Rapid Adventures.
Lazy River – Grab a tube and let the gentle current carry you through the Waikolohe Valley. Designed with rock formations and natural details inspired by Oʻahu, the course features caverns and fountain springs that offer bursts of cooling refreshments.
Rapid Adventures – Volcanic Vertical: An enclosed, extreme body slide that plunges you into Waikolohe Pool. Tubestone Curl: An open-air, twisting and turning tube adventure that eventually launches you into Waikolohe Stream.
Wailana Pool
A 1,500-square-foot, tension-edge pool (CURRENTLY a family pool but previously an adult only pool).
Whirlpool Spas
Find two whirlpool spas at 'Alohi Point—a scenic oceanfront overlook exclusive to Guests ages 18 and older. Plus a few more near Waikolohe Pool, Waikolohe Stream, and Ka Maka Grotto.
Bonus Holiday Activities
If you're planing to visit Aulani during the holidays, you're in for a real treat. Cast members create additional magic for guests during select holidays. During our stay April 2021, the kids did two free Easter egg scavenger hunts which were tons of fun and included a prize. Cast members also confirmed that the next activities coming up are for Mother's Day, Father's Day and Halloween!
Flexible Cancellation & Discount
To provide additional flexibility, you may cancel your Aulani Resort reservations up to 24 hours prior to your arrival date for stays through June 10, 2021 without Disney-imposed cancellation fees. And if you book a stay now through May 28, 2021 (Valid Travel Dates Most nights March 12, 2021 through June 10, 2021) you can save Up to 30% on a 5-Night Stay. We called in and they added a room credit too!
Even with the safety modifications at AULANI, A Disney Resort & Spa, we would absolutely make another trip! All in all, there is still so much for your entire family to experience.
Be sure to subscribe to our YouTube family channel to watch our entire 2021 experience! To learn more, check out our posts, KA WA'A – A DISNEY AULANI LUAU REVIEW 2021, Disney's Aulani: More Affordable Than You Think and Aulani's Most Instagram-Worthy Spots.