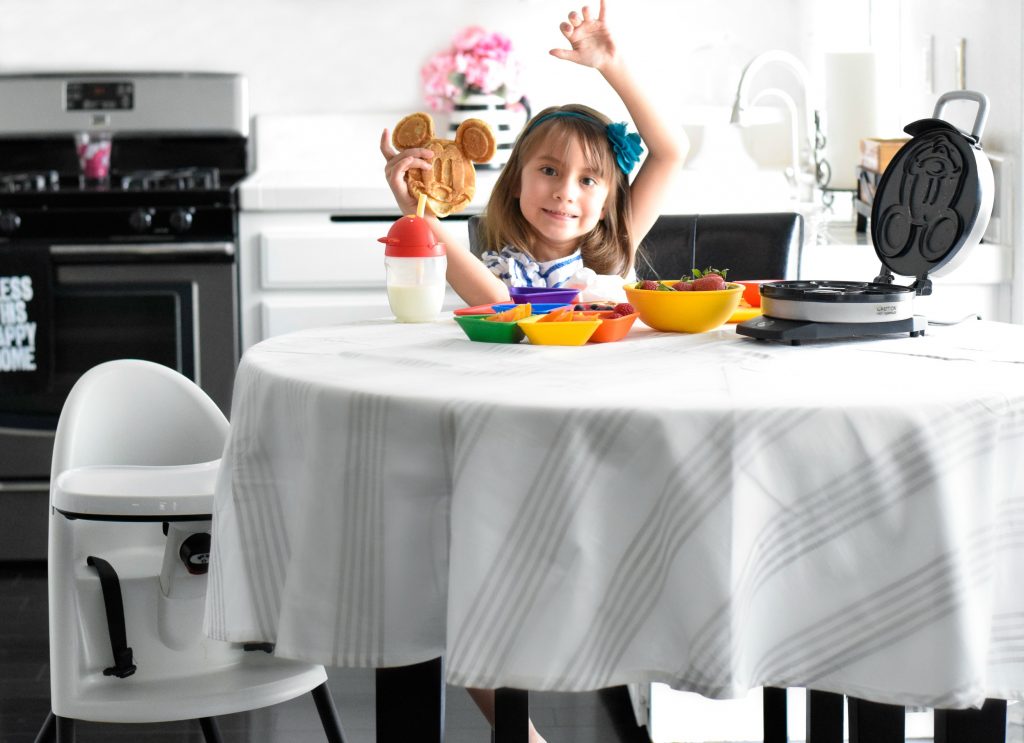 Mickey Mouse Waffles Eggless With A Healthier Twist
It's no surprise we're pretty big Disney fans over here but what you might not know is that we usually make Mickey Mouse waffles for our girls on Fridays. Definitely a great way to kick off the weekend, right? And although waffles are not necessarily the healthiest, I don't feel one bit guilty making these as I sneak in a couple ingredients that are on the healthier side.
The "Secret Ingredients"
Organic Ground Flax Seed – which has Omega-3 essential fatty acids, "good" fats that have been shown to have heart-healthy effects. Contains both the soluble and insoluble Fiber types. And "recent studies have suggested that flaxseed may have a protective effect against breast cancer, prostate cancer, and colon cancer. " – WebMD
Organic Chia Seeds – Chia seeds are a good source of omega-3 fatty acids, fiber, antioxidants, iron, and calcium. "For every 1-ounce serving of chia seeds also contains 5.6 grams of protein." – Medical News Today And when mixed with warm water, they can replace eggs in most baking recipes. We use chia seeds on the regular as our daughters are allergic to eggs.
Also, in case you're wondering, there is a difference with eating whole seeds vs grounded seeds. "Flax seeds offer superior nutritional benefits when consumed after grinding, ground chia offers identical benefits to whole chia seeds." So basically you get the same exact benefits from eating whole chia seeds or ground chia seeds. Flax seeds on the other hand, are better when grounded. And when ground flax seed or chia are mixed with warm water, they can replace eggs in most baking recipes. We use both on the regular as our daughters are allergic to eggs.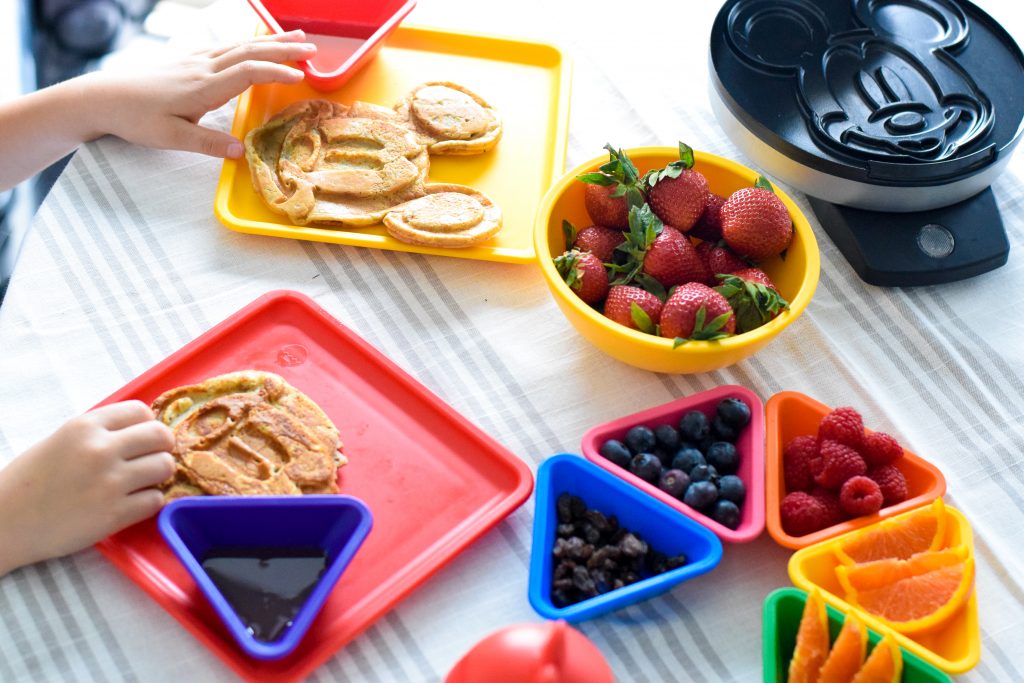 Mickey Mouse Waffles With A Healthier Twist
Ingredients
1 1/2 c milk of preference
1 1/2 c organic flour
1 Tbs organic chia seeds
1 tsp organic ground flax seed
1/2 tsp cinnamon
3/4 tsp baking soda
1 tsp apple cider vinegar
Instructions
Connect waffle machine into outlet.
In a large mixing bowl, add flour, chia, flax, cinnamon and mix well together. Slowly add in the milk while mixing. Mix for a minute. Add baking soda and then quickly vinegar over it and mix again. Pour into large measuring cup with spout or batter dispenser.
Spray coconut oil (or avocado oil) inside waffle machine so that batter does not stick to waffle machine.
Pour batter into waffle cavity and close. Let it cook for 5 minutes. Open waffle machine and make sure waffle is cooked thoroughly. Serve with fresh fruit and side of honey or syrup.
https://themotheroverload.com/mickey-mouse-waffles-eggless-healthy/
Find this cute Mickey Mouse waffle machine plus these adorable Lollaland dinnerware that come in the cutest rainbow colors on our Amazon Storefront.
And be sure to check out our eggless sugar cookie recipe! So good!