Project Lunchbox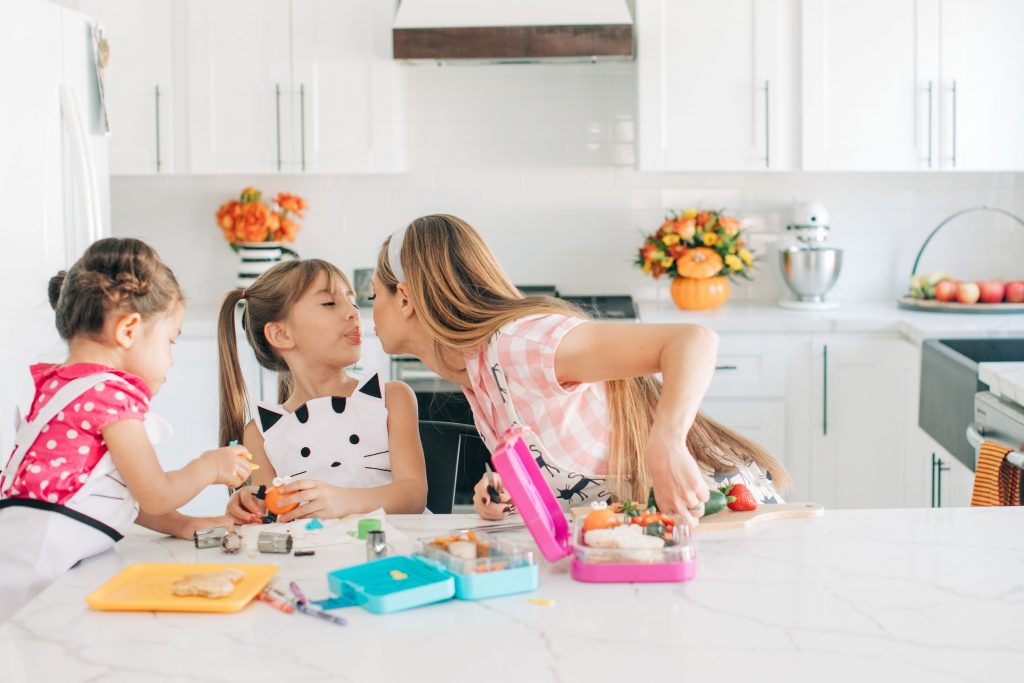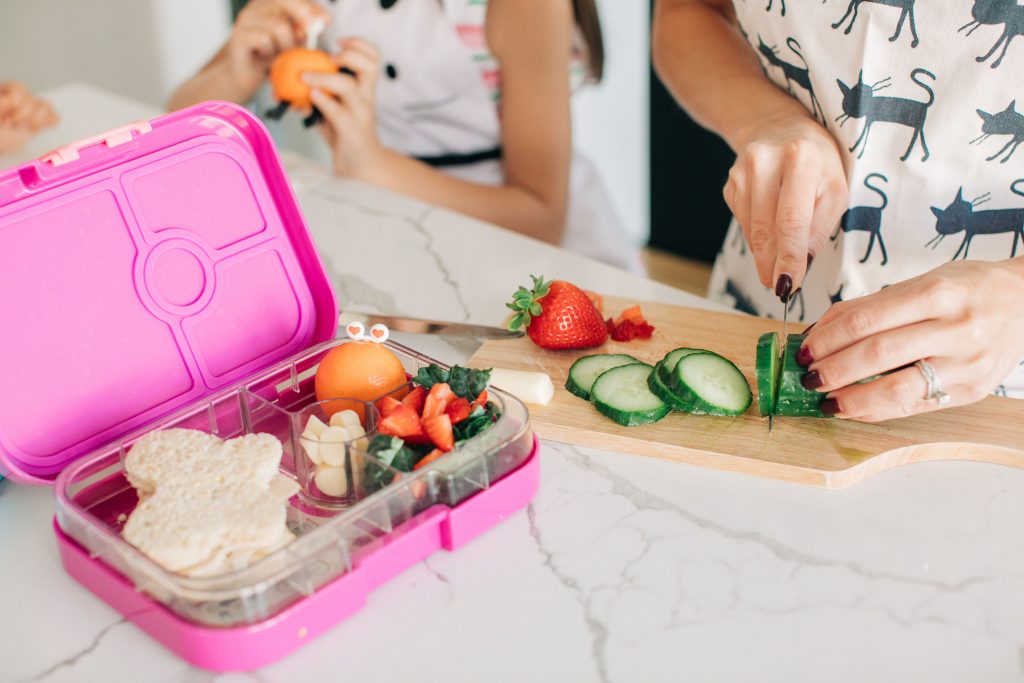 School's been in session for a few months now (seriously, where does the time go? We're halfway through the school year!) and if your kids are anything like mine, they're already bored with lunch. And sure, we've all hit those beautiful Pinterest boards looking for a little lunchbox inspiration — aka intricately designed sandwiches and "fast and easy!" but oh-so-complicated recipes — but we (ahem, I) then get smacked with a healthy dose of morning rush reality, aaand we're back to the basics. Add in a nut and egg allergy (yep, we're that household) and now we're really in the boring lunch business. Yawn.
I've been packing meals and school lunches for more than five years now, and the task is definitely up there in my list of mom challenges. So it's become kind of this ongoing project-borderline-obsession of mine to create new lunch options that I can easily make and that my kids will actually eat. And for two good reasons: one, I myself can't eat the same lunch five days a week, so I know my kids wouldn't want to either. Two, I actually like creating a list of safe, healthy items that I can swap in and out throughout the school week (key word here is "swap," because to be completely honest, some days my kids love bananas, and other days they announce that bananas are the worst thing since crusted bread and anchovies.) I may not have all the secrets, but I will say that switching things up on a regular basis is how I currently survive packing those lunches. Along with this cheat sheet I'm calling "Project Lunchbox," prepared by yours truly.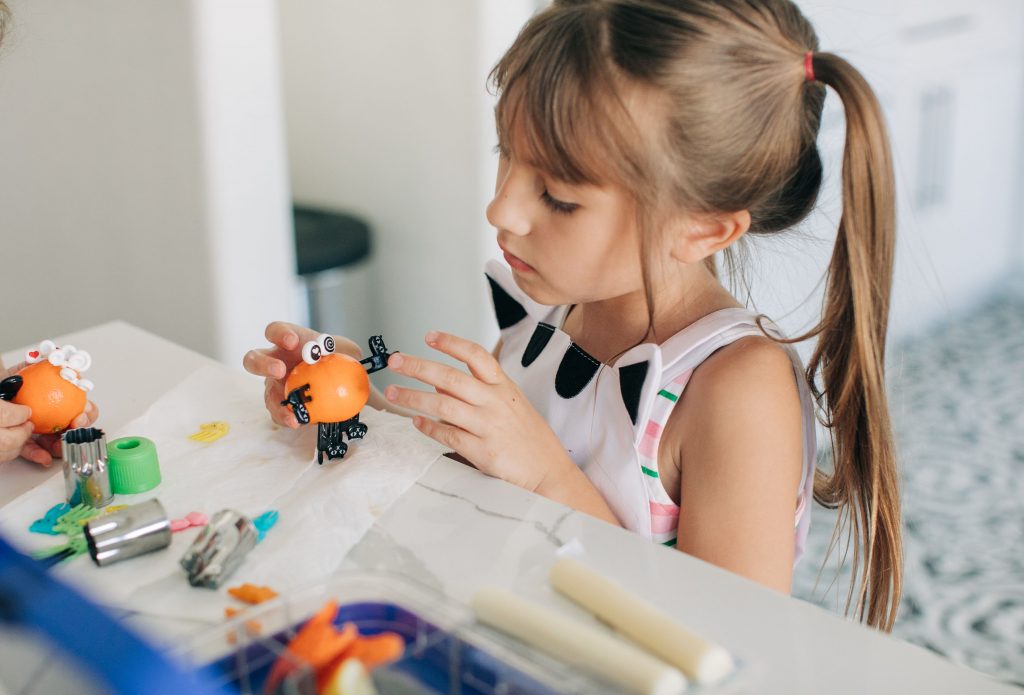 1. Create a list of healthy items your kids currently love. Fruits, veggies, cheese, yogurt, whatever. Make sure these are all items that can stay fresh in a lunchbox for a few hours (with the help of an ice pack).
2. Group the items you think would go well together. For example: My kids love strawberries, cucumbers and Lacinato kale. I make a quick salad using all 3 ingredients and add an orange poppy seed dressing. (Psst: not all kale is created equal. I'll explain later on why we use this specific kind of kale.)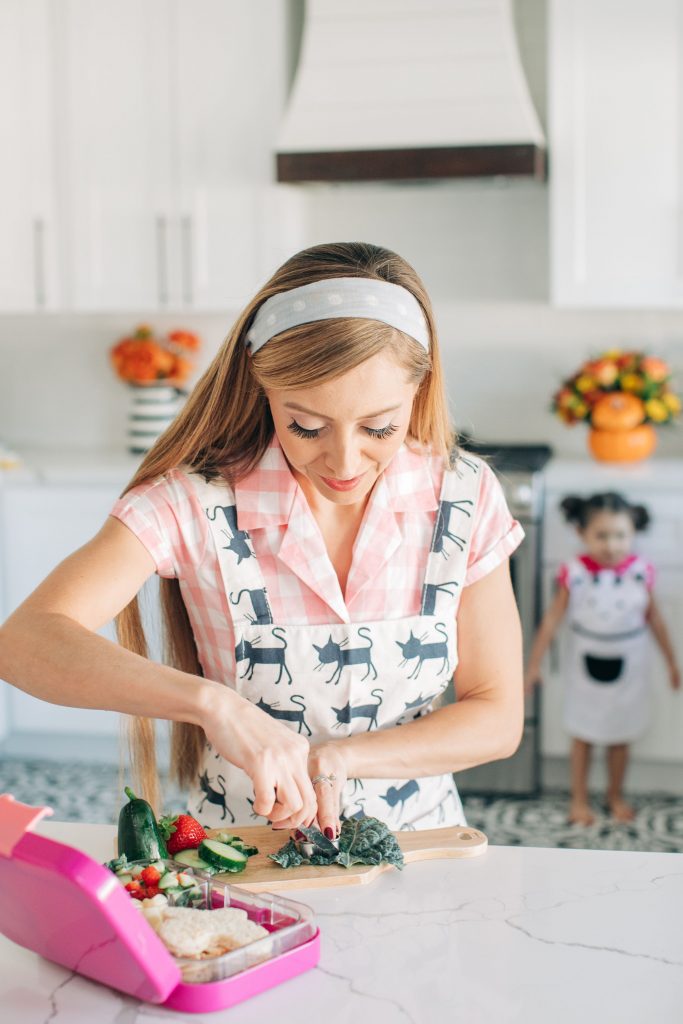 3. Do a weekend taste test. Let your kids snack on the items you grouped together over the weekend and find out which ones they love the most. You'd be surprised to see they might love a vegetable they didn't before or one they've never tried before. Make some weekly lunch menus with these items and rotate them.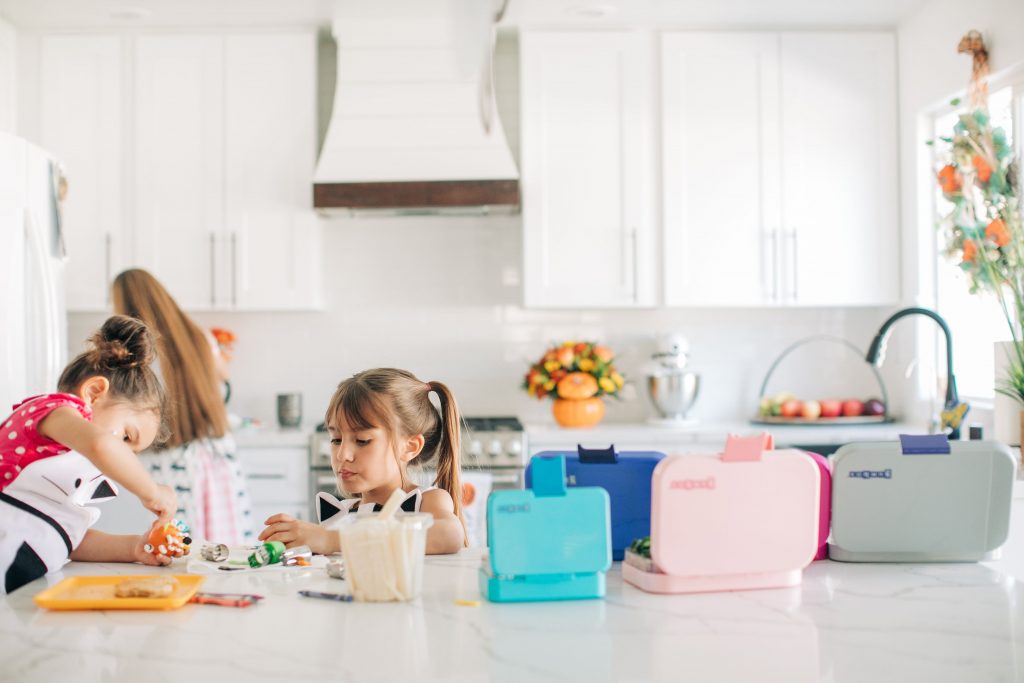 4. Buy fresh produce and cut them up the night before (or save a step and buy pre-cut veggies and fruit) whenever possible. A little evening prep saves a ton of time during those hectic mornings when all you have time for is grab-n-go.
5. Make lunch visually appealing and fun. I'm not a Pinterest lunch mom, but packing it all up (in a pinch!) in an adorable lunchbox and bento box accessories is my hack. We're loving our YUMBOX lunchboxes. They're perfect for kids and parents because they cover everything on our checklist:
● Child-friendly, easy-open latch
● Fits into standard-size thermal lunch totes
● Trays are removable for easy cleaning
● Made with all food-safe materials, BPA-free and phthalates-free
● Molded silicone lid holds wet food like yogurt and dips
● Cute, pre-portioned illustrated educational trays that help guide you to pack a
healthier hassle-free lunch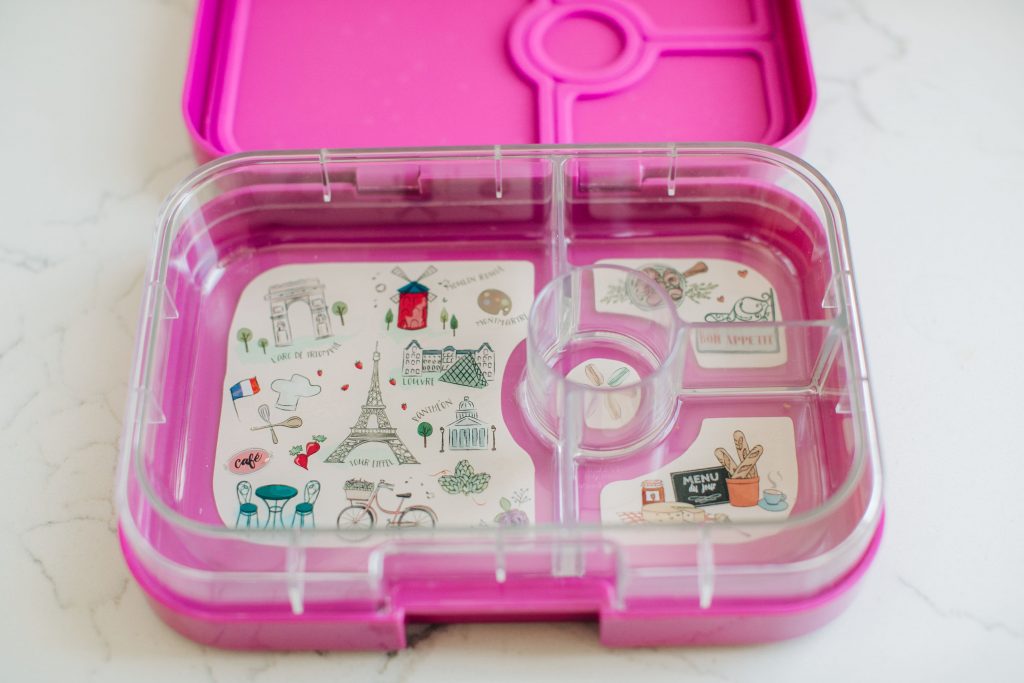 Here are five of my favorite healthy lunch box ideas. They're easy to make and even easier to pack!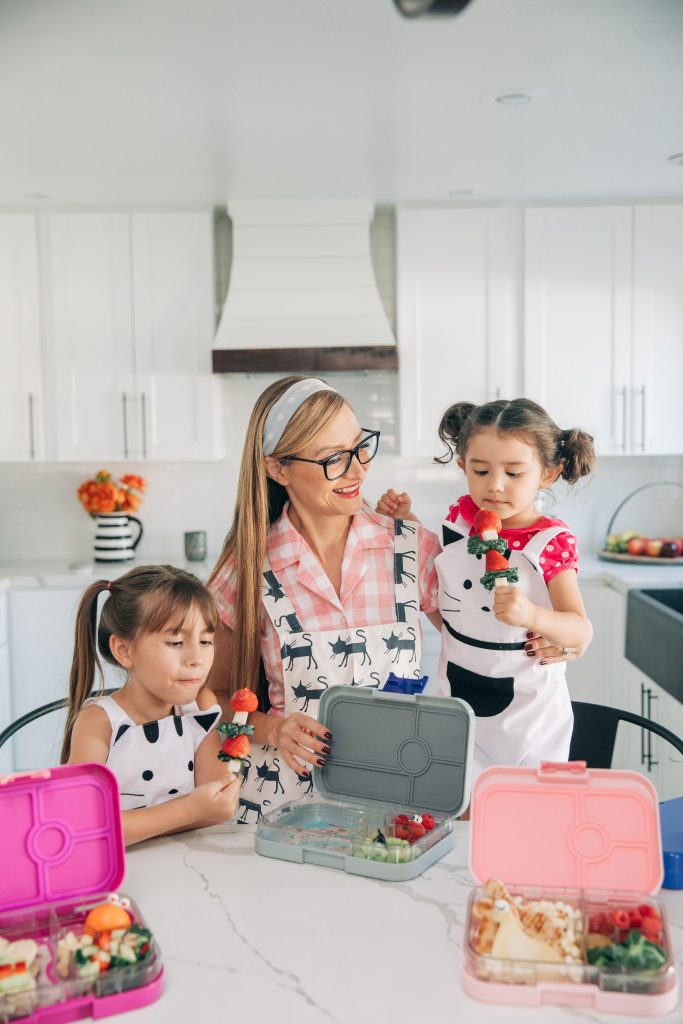 Butterfly lunch
Lacinato Kale
Strawberries
Cucumber
1 Cutie
2 slices organic bread (gluten-free or bread of preference)
1 slice hormone-free rotisserie chicken breast
1 organic cheese stick
Pre-cut the kale, strawberries and cucumber. Mix together with an orange poppy seed dressing and place into YUMBOX compartment. You can leave in refrigerator overnight as Lacinato kale is thicker in texture and will not get soggy as other kale varieties. Place chicken in between slices of bread and use a butterfly cookie cutter to create shape. Add a cutie with reusable eyes and sliced cheese stick.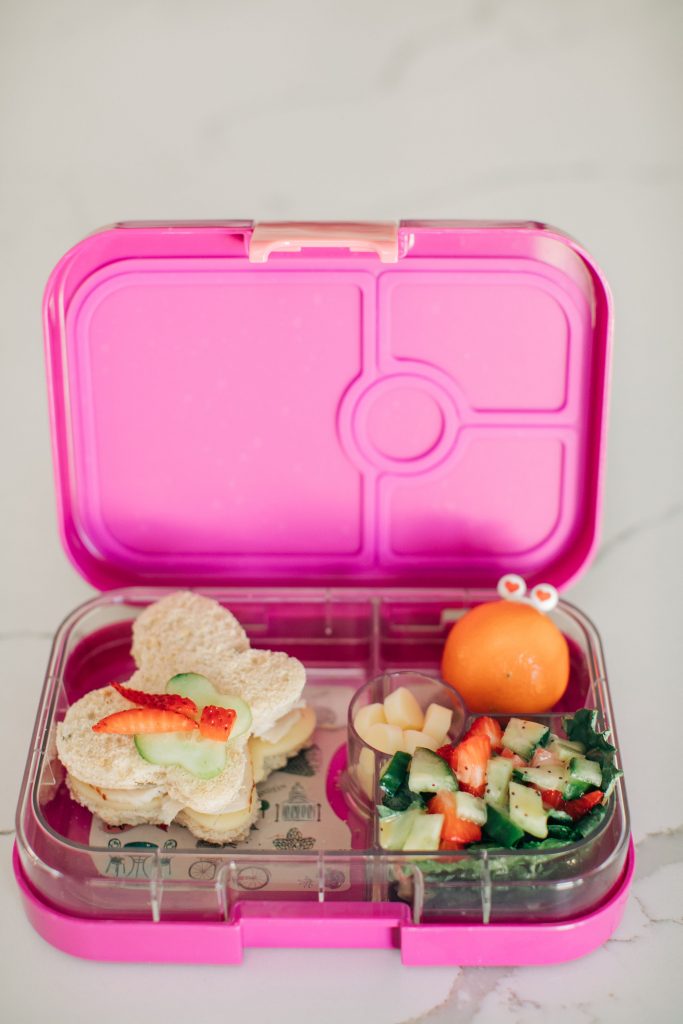 Out of this world
Jicama
Lemon wedge
Cherry tomatoes
Carrots
Hummus
Multi-grain gluten-free crackers
Hormone-free rotisserie chicken breast
Place pre-cut jicama sticks with wedge into a compartment. If your kiddos like a bit of spicy and tangy flavor, add Tajin as well. Add tomatoes and pre-cut carrots or any veggie of preference that goes well with hummus. We also added gluten-free crackers and cut out some chicken using fun star shapes. Add hummus into dip compartment.

Fruit Kabobs
Strawberries
Jicama
Lacinato Kale
Raspberries
Celery
Bamboo sticks
This is simply another way to use the same ingredients and create a completely different presentation. Slice jicama and kale and remove strawberry stems. Place onto bamboo stick. Add orange poppy seed dressing into dip compartment. Slice or use pre-cut celery, and place along with raspberries into YUMBOX.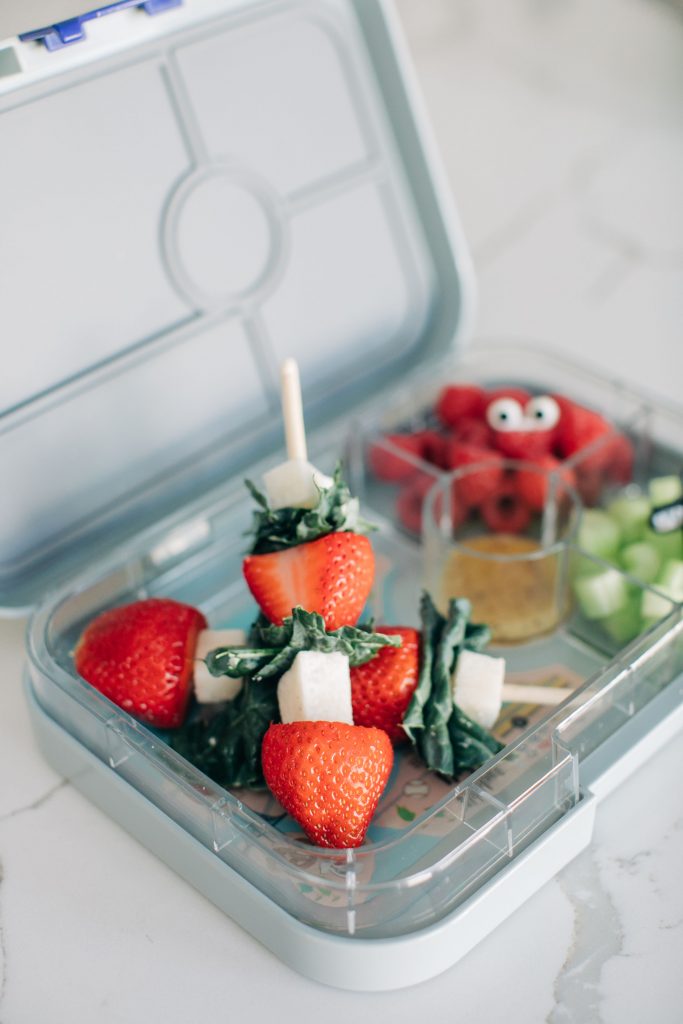 Roarsome Lunch
Pita bread
Dino cookie cutter
1 slice organic Mozarella cheese
Organic kettle corn popcorn
Raspberries
Sliced cucumber
Humus
Using dino cookie cutter, slice pita bread to create 2 dinos. Do the same with the mozzarella cheese. Add an eye the cheese slice. Add hummus, cucumber slices, and raspberries into different compartments. Place popcorn with pita dinos. Make sure they're away from the cheese slice so that they don't get soggy.

Toddler Snack
Organic Sweet Potato Crackers
Hummus
Pre-cut carrots
Pre-cut organic mozzarella cheese
Annie's Cheddar Bunnies (replace with cheddar bunny tails for gluten-free)
Add all items into different YUMBOX compartments and voila! Easy peasy. The key here is having all the items pre-cut before hand.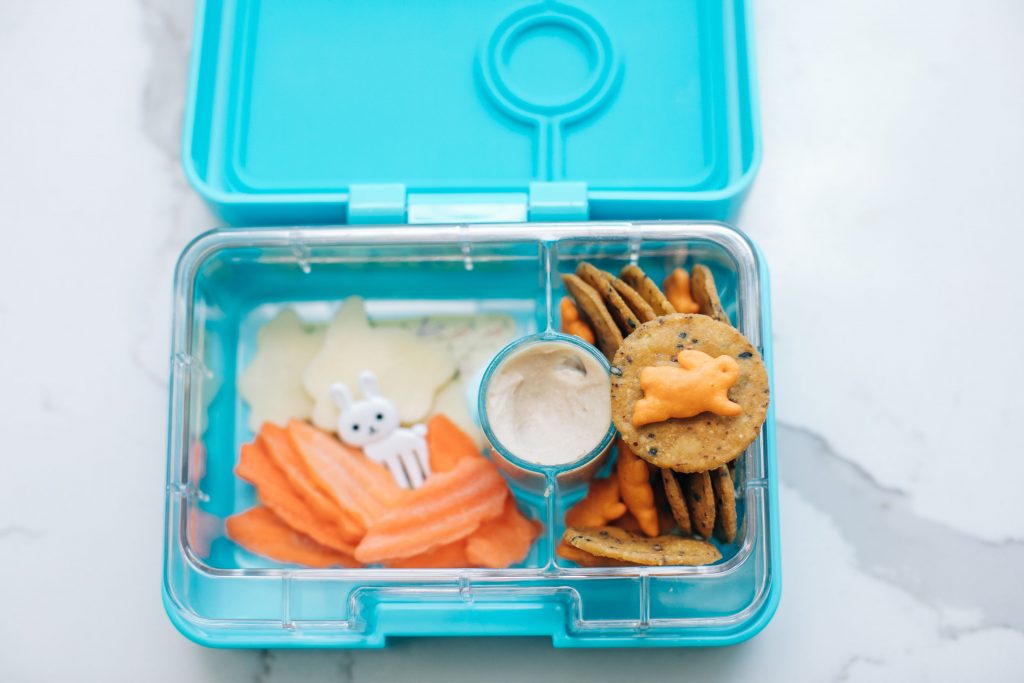 All right, moms – I think we can all banish school lunch boredom and conquer Project Lunchbox together.
Abrazos (Hugs),
Gladys