7 Must-Read Tips For A Touch of Disney
23-19!! A Touch of Disney was surreal. I'm still pinching myself thinking opening day was all just a dream. Being that I attended the first day of A Touch Of Disney and as with any opening day, there were bound to be some hiccups. So thought I'd share 7 must-read tips I wish I'd known prior to attending the event.
7 Must-Read Tips For A Touch of Disney
Tip #1 Parking
Park at Simba lot or another nearby lot. Here's the thing, parking is included with the $75 event ticket price; however, it can only be used at the Mickey & Friends Parking structure and the structure does not actually open until 30 minutes before the event starts.
It seemed as if everyone arrived at the same time (noon) and it took us a rather long time to go through the parking booths and actually park. Also, parking attendants instructed us to leave a parking space empty in between cars (love that they're doing this!). And be prepared to walk along  space that is usually used as a tram route shuttling visitors to and from the parking area.
If you plan on maximizing the full 8 hours for this event, we suggest arriving at 10am and parking at the Simba lot. It's an additional $10 but might save you about an hour or so. Why get there at 10am? Highly recommend heading to Downtown Disney's EGGstravaganza with the kiddos first. It's our favorite and only $7.99 to do.  From there, you might need to jump into another queue if entering the event through Downtown Disney but potentially avoiding the longer Mickey & Friends crowds, saving some time and doing a fun Easter activity.
Regardless of which lot you park at, keep in mind that you will go through a temperature check area followed by security.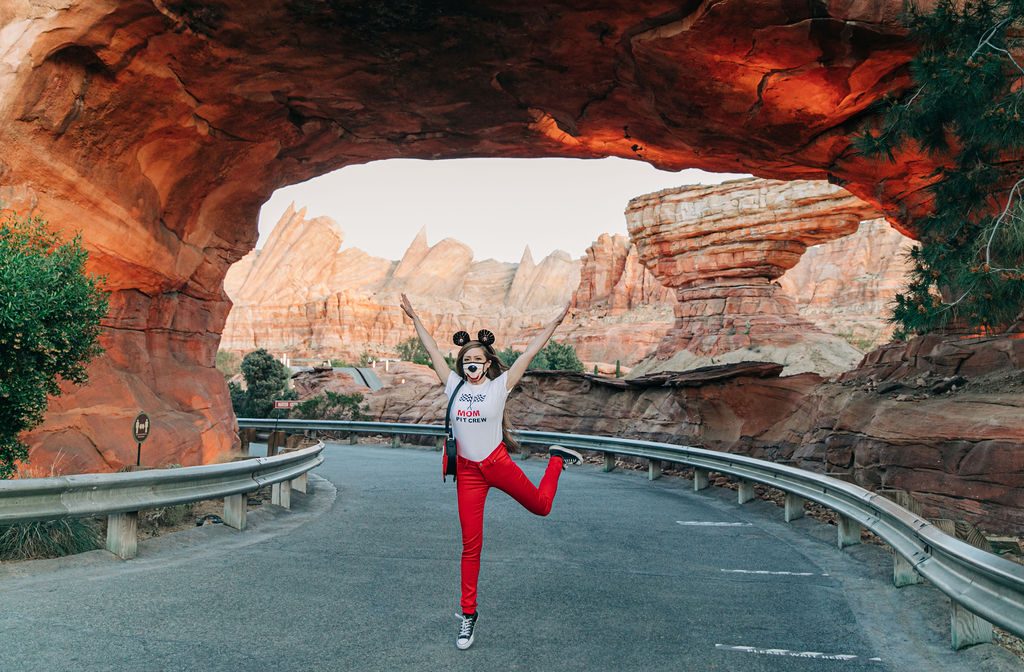 Tip #2 Disneyland App
Download the Official Disneyland App for all mobile ordering. There's also Marketplace cashiers that can place your orders for the locations all at once. My app was actually glitchy and come to think of it, it might be better ordering everything you want up front to try at once. It might be a safer bet (some items ran out) but keep in mind you will still need to stand in another line to pick up food per location.

Tip #3 Disney Photopass
Scan your admission ticket into the Disneyland app to access photos captured by Disney Photopass during your visit. You'll have 45 days after initial capture to download photos.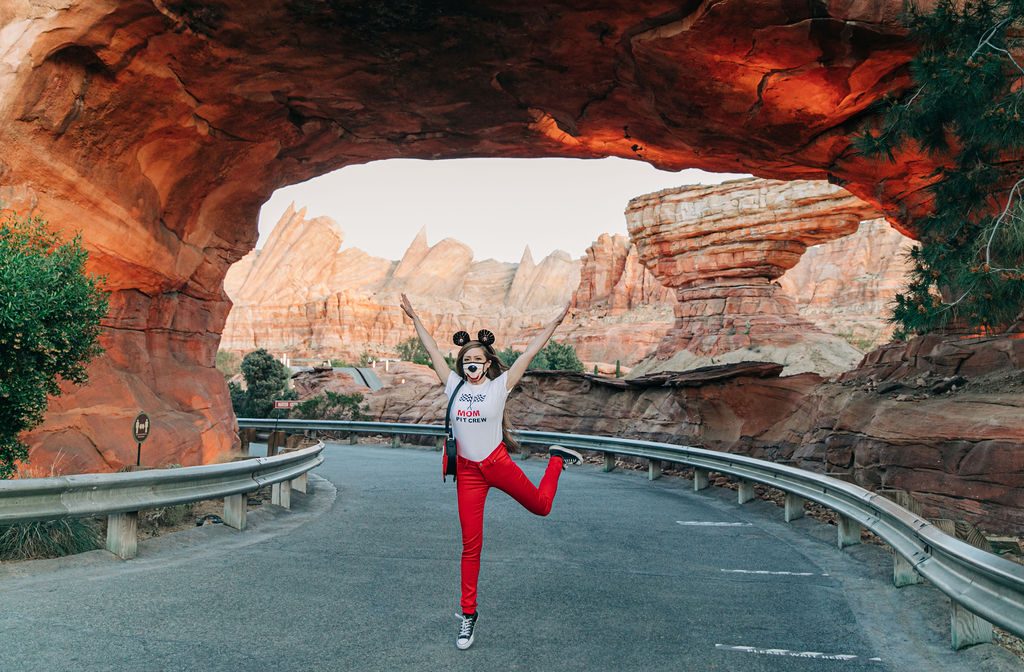 Tip #4 Legacy Passholders
If you were an AP passholder before the parks shut down, you're now considered Legacy Passholders. And for this event, they have a photo opp for Legacy Passholders which includes a button and a magnet.

Tip #5  Read the Disney Parks Blog Foodie Guide
Check out the@disneyparksblog foodie guide ahead of time! It includes details on all the food, drinks and novelties available. Make a list of your top picks and order those first thing at the park. Side note: There's more plant-based food items on the menus! They are all delicious but my favorite are the Tacos Dorados from Cocina Cucamonga. So mouthwatering good! They also have an Impossible Cheeseburger Mac 'n Cheese, Petite Impossible Burger and Impossible Chili Waffle Fries with spiced Impossible™ chili.
As for drinks, I absolutely loved the Sparkling Greyhound from Sonoma Terrace (so refreshing!) and the Michelada from Award Wieners (pictured below).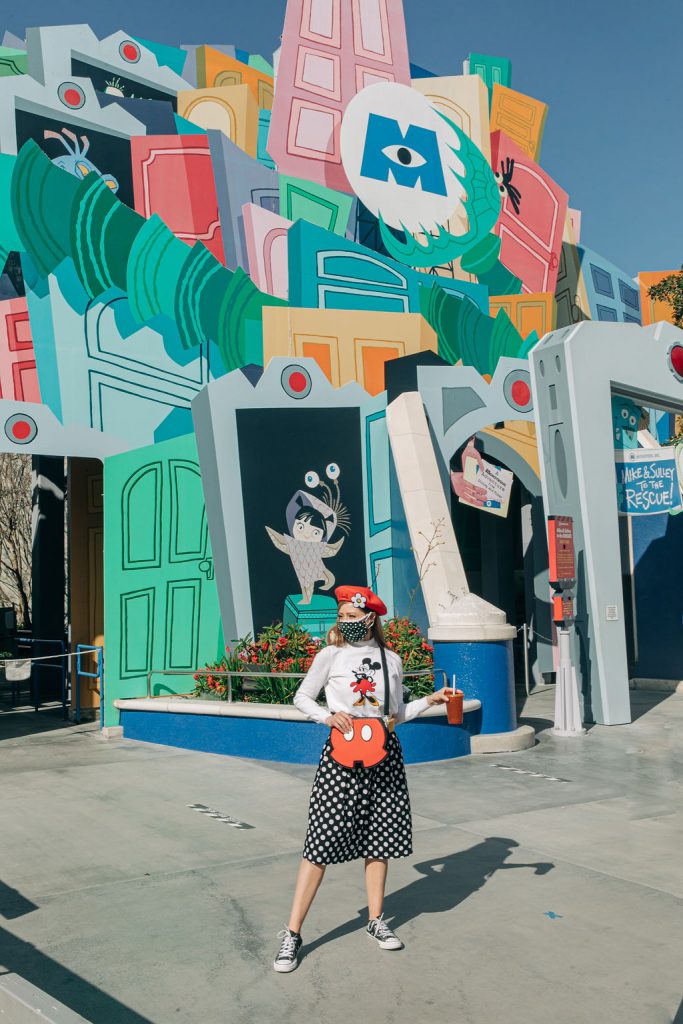 Tip #6 Make Dining Reservations Ahead of Time
The two restaurants open at Disney California Adventure require reservations. Be sure to make your reservation for Lamplight Lounge and/or Carthay Circle. You can also join a mobile dine walk-up list the day of but sadly we had no luck with this one on opening day.

Tip #7 Check The Weather
During the day, it can get a bit warm but be sure to bring something warm to throw on for the evening as temperatures tend to drop.
Bonus Tip
Aside from the rides being closed, some of the restrooms at Disney California Adventure are also not open. Not sure if this was only the case for opening day but we noticed the restrooms in Carsland were not all open. And speaking of Carsland, some of the shopping locations were closed. The Starbucks inside the park is also still closed but if you're looking for coffee, the Cappuccino Cart is open (via Mobile Order).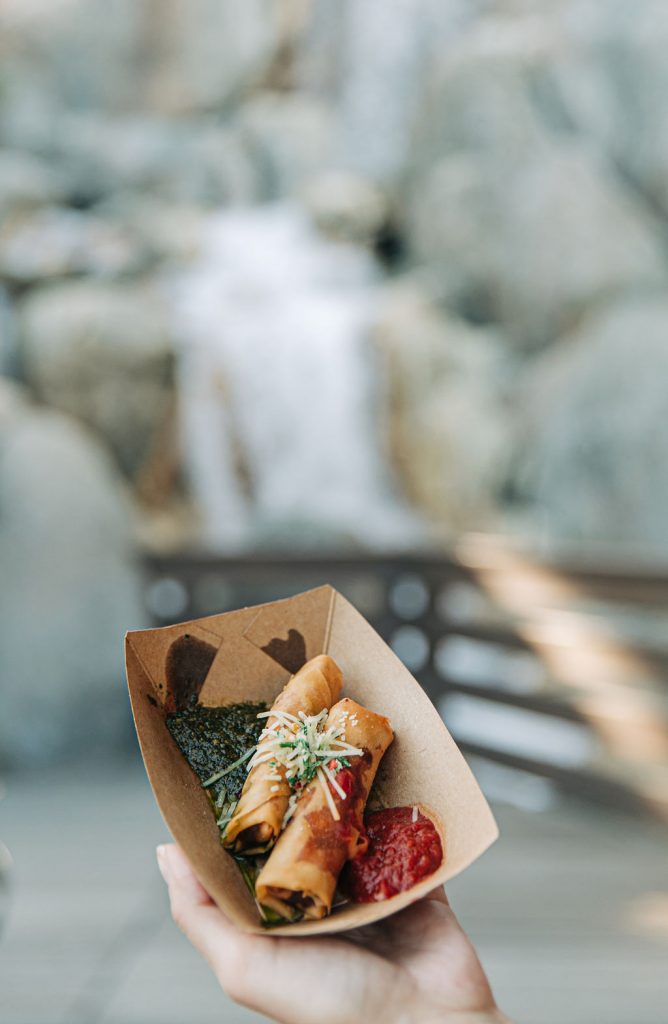 TOP Popular Food Items
½ Monte Cristo Sandwich – sliced turkey, ham and swiss fried in a light batter, dusted with powdered sugar and served with berry purée (from Blue Bayou Restaurant)
Asian-style Beef Barbacoa Street Tacos – Braised Beef with Pickled Onions, Ginger, Cucumber and Serrano Peppers in Corn Tortillas (Pictured above)
Torta de Papas Street Tacos – Crispy potato, cabbage slaw with grilled corn, onions, and cilantro, salsa de molcajete in corn tortillas (plant-based and my absolute favorite) Note: These were sold out an hour before the park closed on opening day.
Fluffernutter Churro – Cinnamon-sugar churro topped with peanut butter sauce, marshmallow sauce, and chocolate chips
DOLE Whip Pineapple and Lemon Soft Serve Swirl (plant-based; from Tiki Juice Bar)
Carrot Cake Funnel Fries – Coated with cinnamon-sugar topped with crumbled carrot cake, cream cheese icing, and whipped topping (new)
Pepperoni Pizza Egg Rolls
Brisket Mac 'n Cheese – Creamy mac 'n cheese, smoked barbecue brisket, pickled red onions and crispy fried shallots (new)
Sweet-and-Spicy Chicken Wings served with Togarashi aïoli (from Trader Sam's Enchanted Tiki Bar)
Chili Cone Queso – Beef chili, cheddar cheese and corn chips served in a bread cone
Bacon Mac & Cheese Cone – Creamy mac 'n' cheese mixed with roasted bacon served in a bread cone
Very Very Berry Mickey Waffle (new)
And pretty much all the food and drinks at Lamplight Lounge, Carthay Circle and Bing Bong's Sweet Stuff treats.
Follow us on Instagram to see our all our IG Stories and Highlights for additional info! And if you're looking for a family vacation destination, check out our Aulani More Affordable Than You Think blog post.
Location: Disney California Adventure Park, Event: A Touch of Disney, Photography: Lilyro