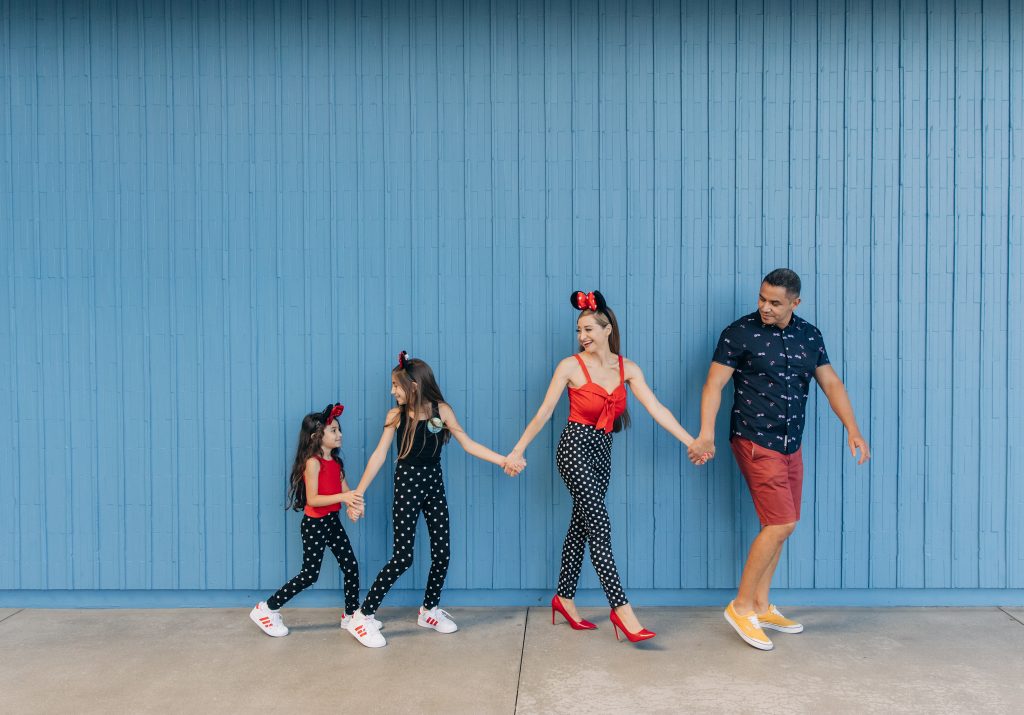 If you're reading this, chances are you're also a big fan of all things Disney. And you might be wondering for some time now if it makes sense to splurge a little by staying at one of the Anaheim, CA Disneyland resorts or opting for a more affordable option.
Well we're here to let you in on a few reasons as to why you should totally splurge. Keeping in mind we've actually stayed at an affordable good neighbor hotel too!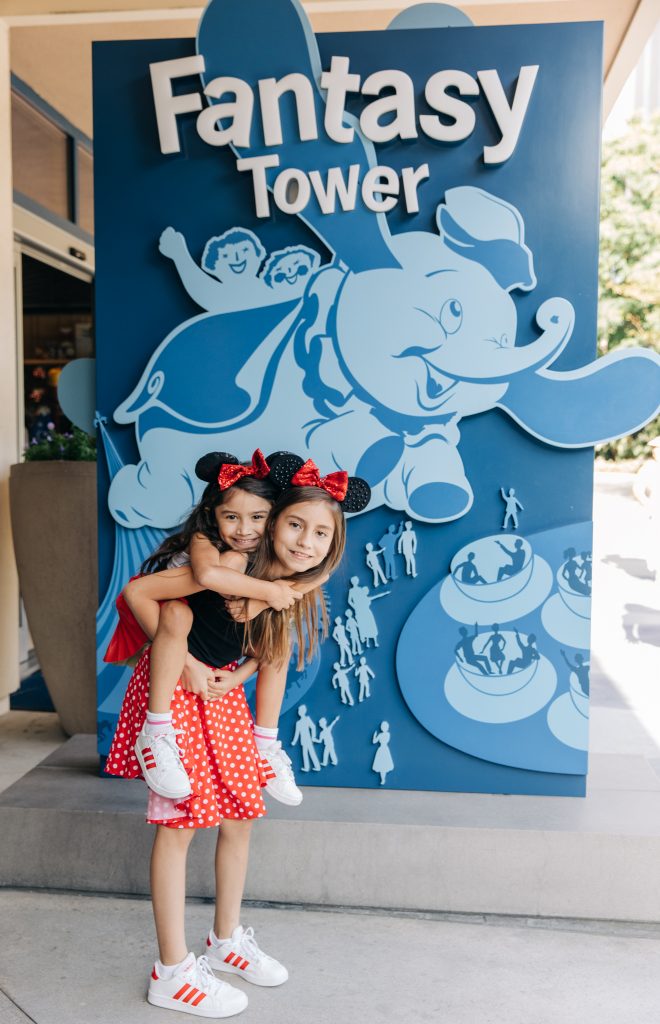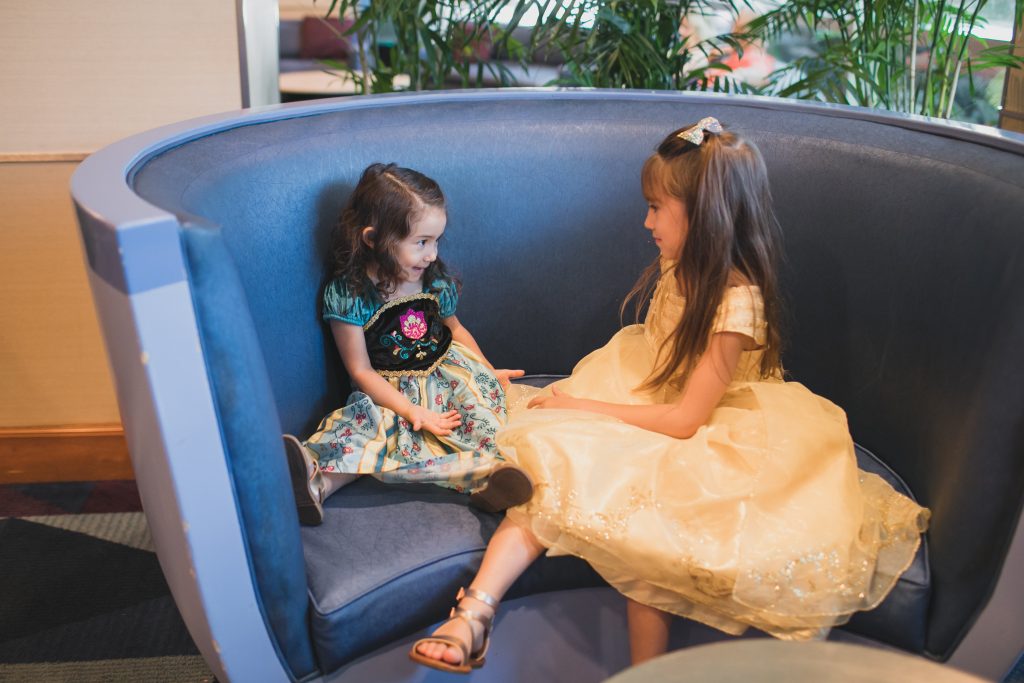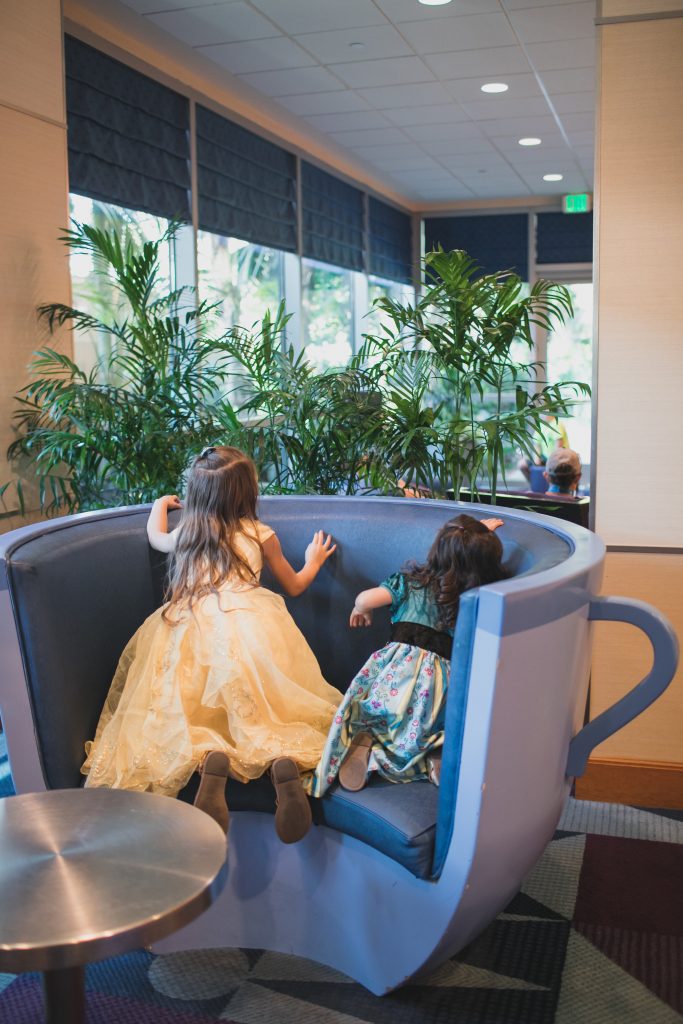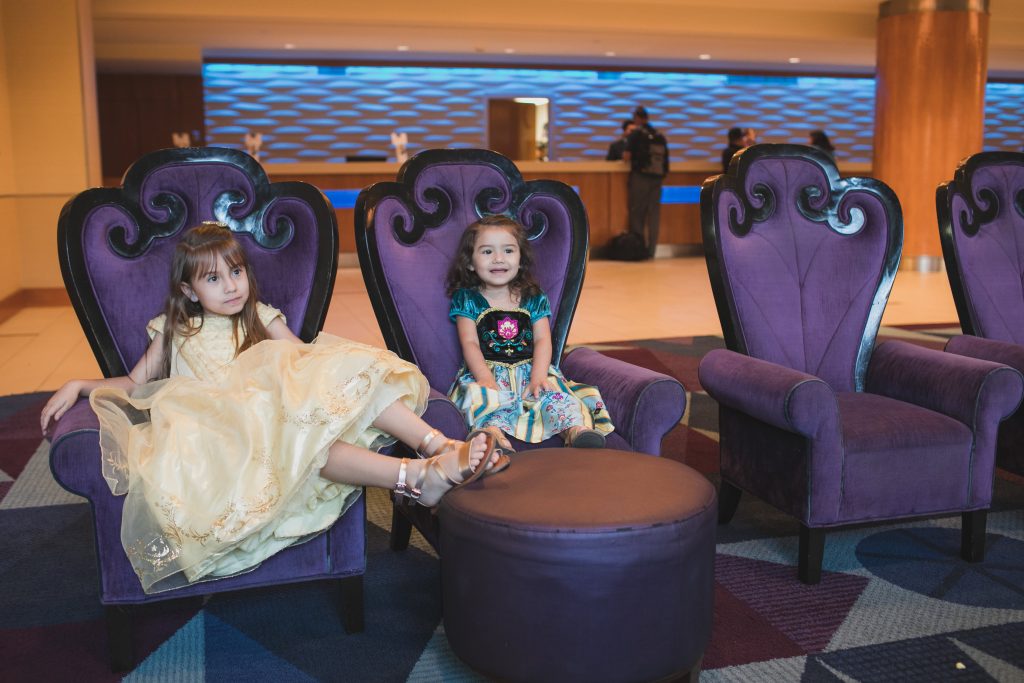 Top 5 Reasons to stay at the Disneyland Hotel Resort
The Convenience Factor
This ones a given but nothing beats being able to leave the parks and walk straight back to your room to just hit the sack. It's also super neat to be able to take a quick nap or freshen up. Or better yet, to simply cool off poolside and then go back to the parks.
Extra Magic Hours & Early Access to FastPass+
Did you know the park is literally opened earlier just for hotel guests? Additional hours at the parks each day provide more time for fun with your family and friends. Check with a cast member to see which park is open as they alternate on certain days of the week. Learn more about Extra Magic Hours Here. Plus, secure up to 3 FastPass+ experiences at one park per day per guest of your visit in advance—at no additional charge. Once they're redeemed, simply visit a FastPass+ kiosk in the park to reserve more—subject to availability. Again, saving the family more time. Update: Disneyland Extra Magic Hour and Magic Morning are temporarily unavailable. Head to the Disneyland Hotel site for the latest news, including details about Genie+, which replaces the retired FastPass+ services.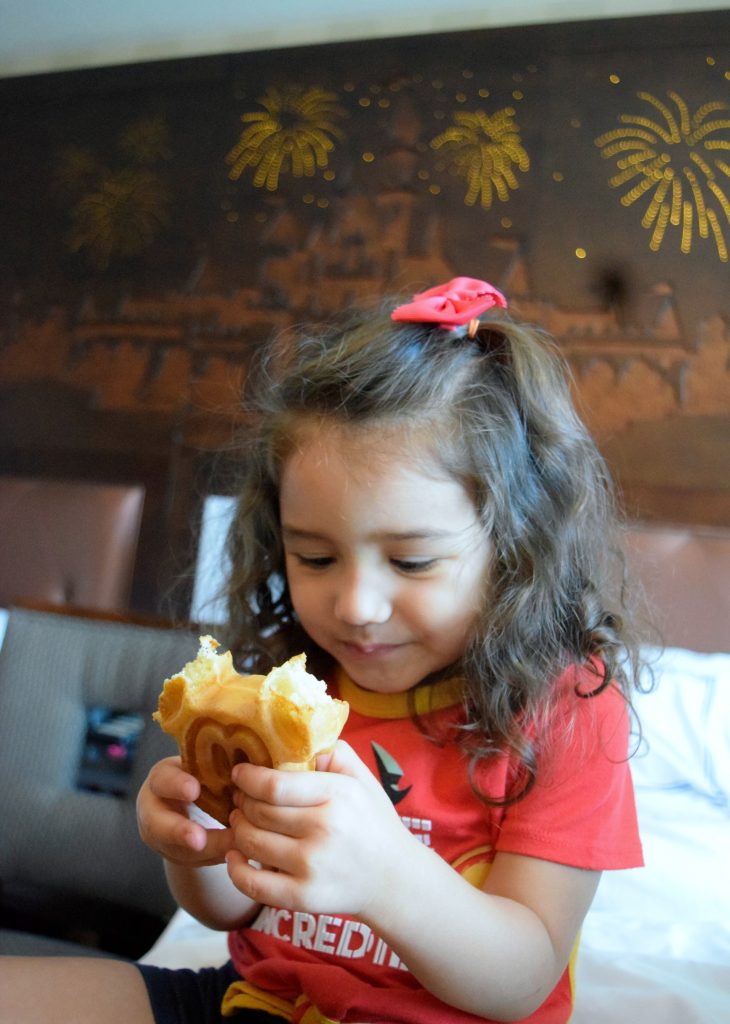 Fireworks Show Viewing
If you have little ones that probably won't stay up past 9p then what I'm about to tell you is key! When you book your stay at the Disneyland Hotel, request to stay in the Adventure Tower overlooking Downtown Disney (there's three towers: Fantasy, Adventure and Frontier). The best part of staying in the Adventure tower is that you can come back to your room before 9p, get the kids bathed/showered and sit back in the comfort of your own hotel room to watch the spectacular Disneyland firework show. Hands down the best experience ever. Be sure to request a room facing Downtown Disney. See it all in our IG stories here. And head to Disneyland Hotel to see all the shows scheduled per season.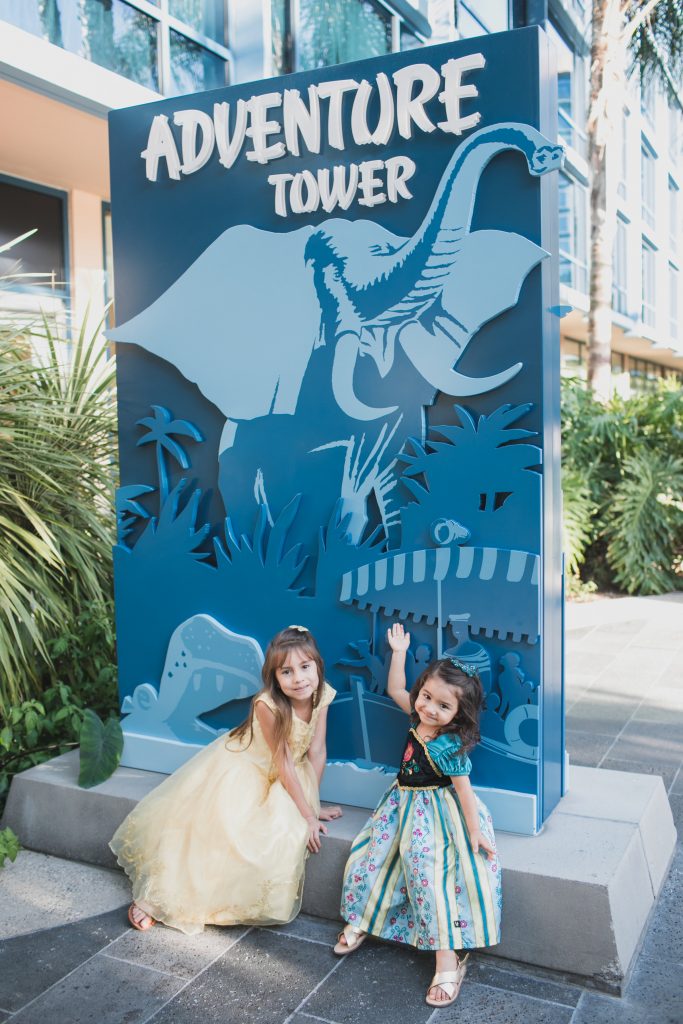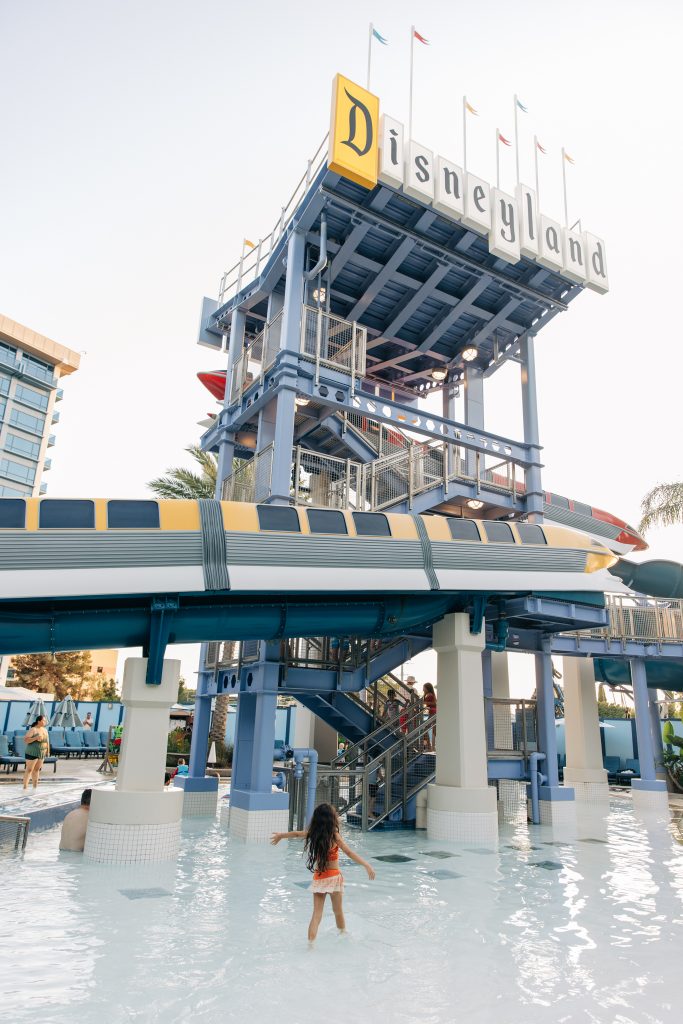 Monorail Waterslides & Cabanas
Our oldest, Mia, is a summer baby and she absolutely loves being in the water. I can honestly say we think Mia wants to stay at the Disneyland hotel for her birthday more so because of the retro-themed pools and monorail waterslides. Which by the way, the waterslides are for all kid ages and there's even an area for the little ones to splash around. As you can see, we've been celebrating Mia's birthday at the Disneyland Hotel for a few years now. And we're here to let you in on a little secret! The cabanas are so worth renting for a special family ocassion!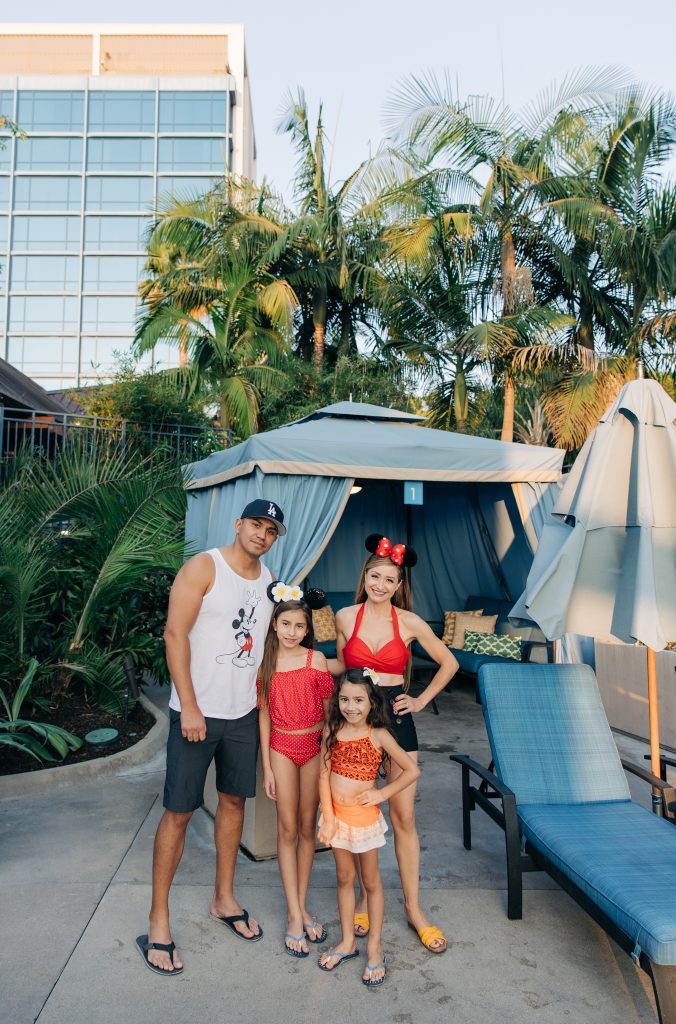 There are currently 6 pool cabanas.
CABANAS INCLUDE:
Private shaded area w/ ceiling fan
2 chaise lounge chairs
Love seat & sofa
Coffee table
LCD television
Safe
Telephone for internal Resort calls Mini refrigerator w/ complimentary water bottles & fruit platter
Towel Service
Complimentary pool diapers for the little ones (score! This is actually offered to all hotel guests. Not just cabana rentals.)
Cabana server for food and beverage orders.
CABANA RATES:
$299 for a full day (9:30a-6p) , or $259 for a four-hour time block (9:30a-1:30p, 2p-6p) and can be booked 60 days out. Seasonal pricing may vary.

TIP: Request a cabana near the 🚝 monorail waterslides to keep an eye on the kiddos. We love these retro inspired waterslides! You can also order Dole Whips and delicious food options from Tangaroa Terrace with your cabana server.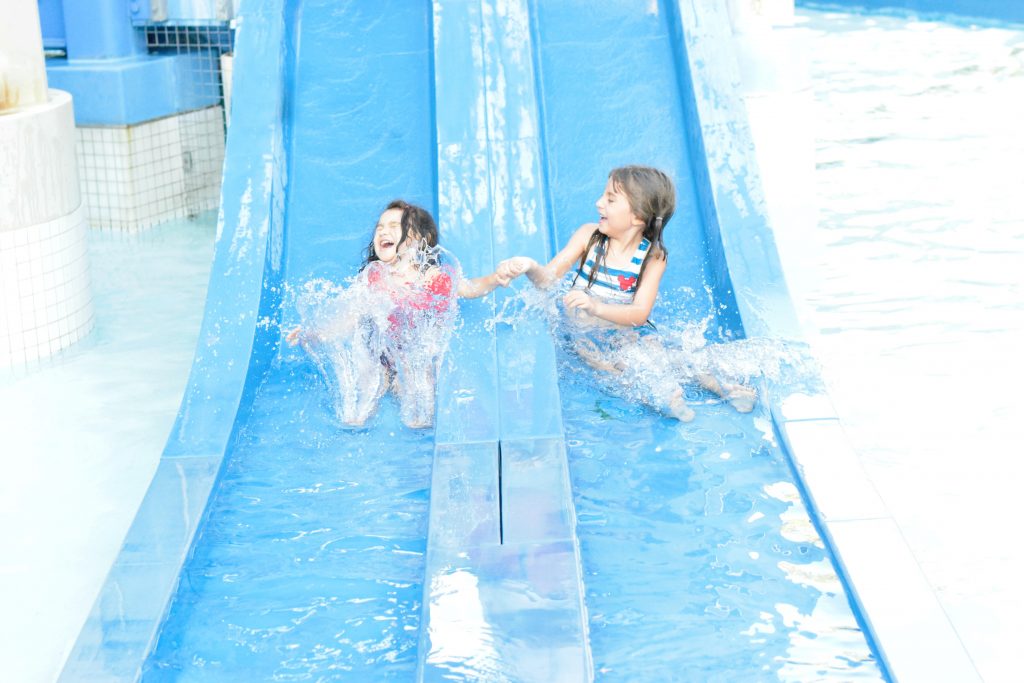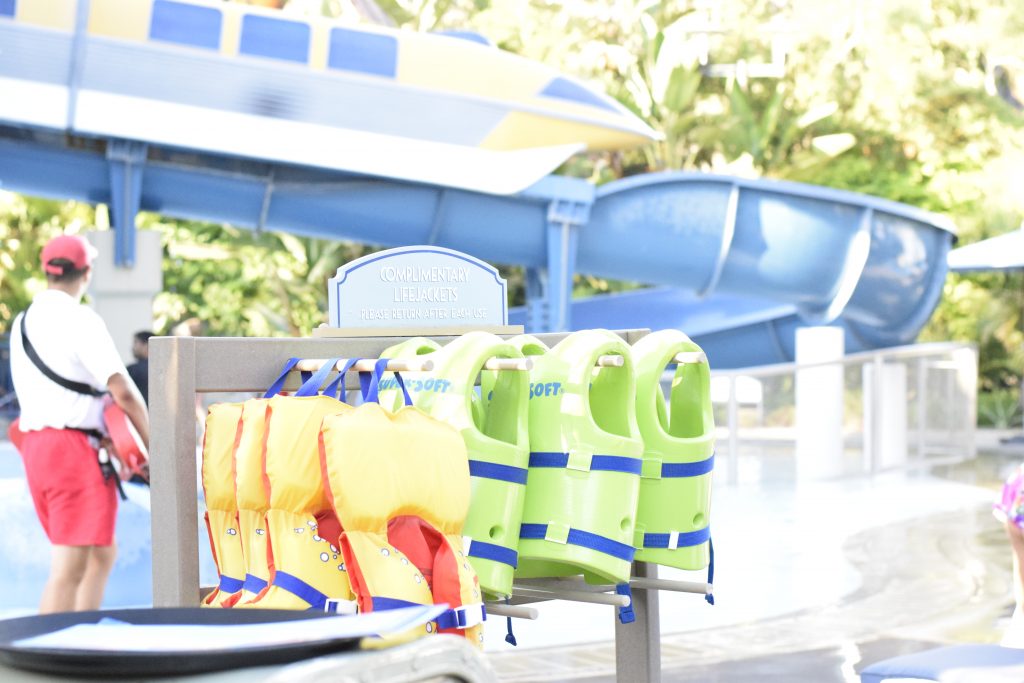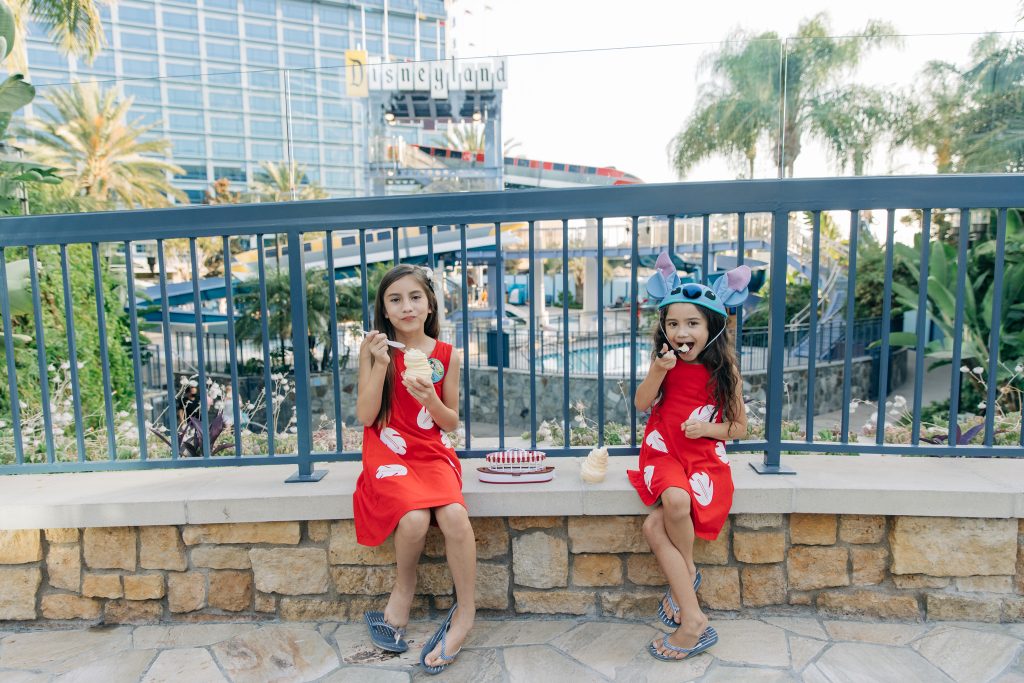 Pineapple Dole Whips
Yes, you read that correctly. If you're a fan like us, guess what? You can mobile order Pineapple Dole Whips via the Disneyland app at Tangaroa Terrace or with your cabana server. For adults 21+, you can request a splash of rum be added to you Dole Whips.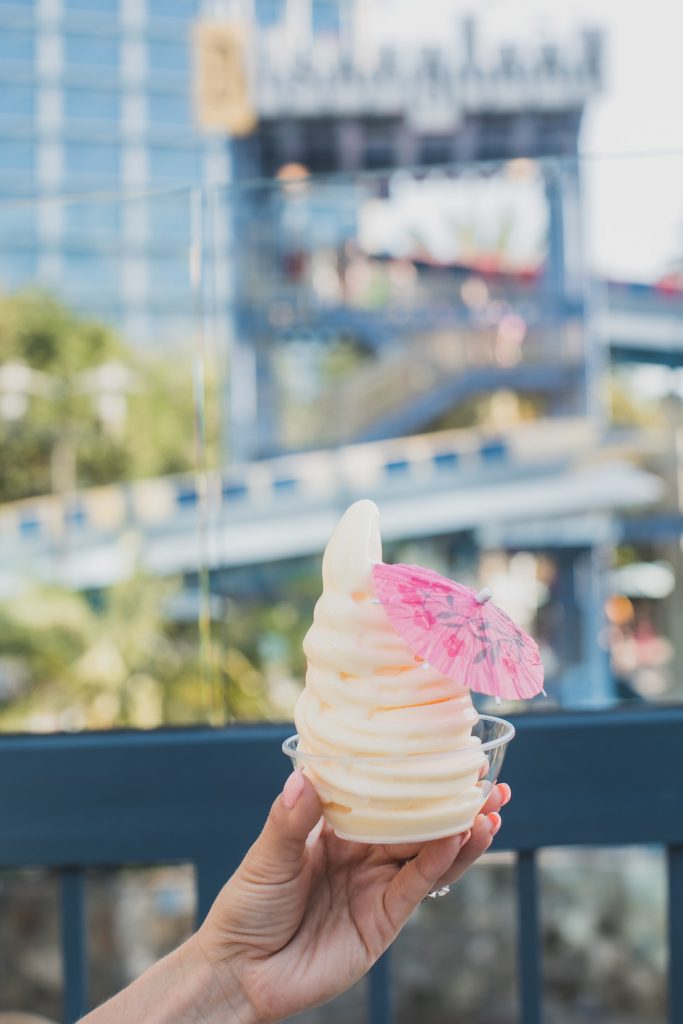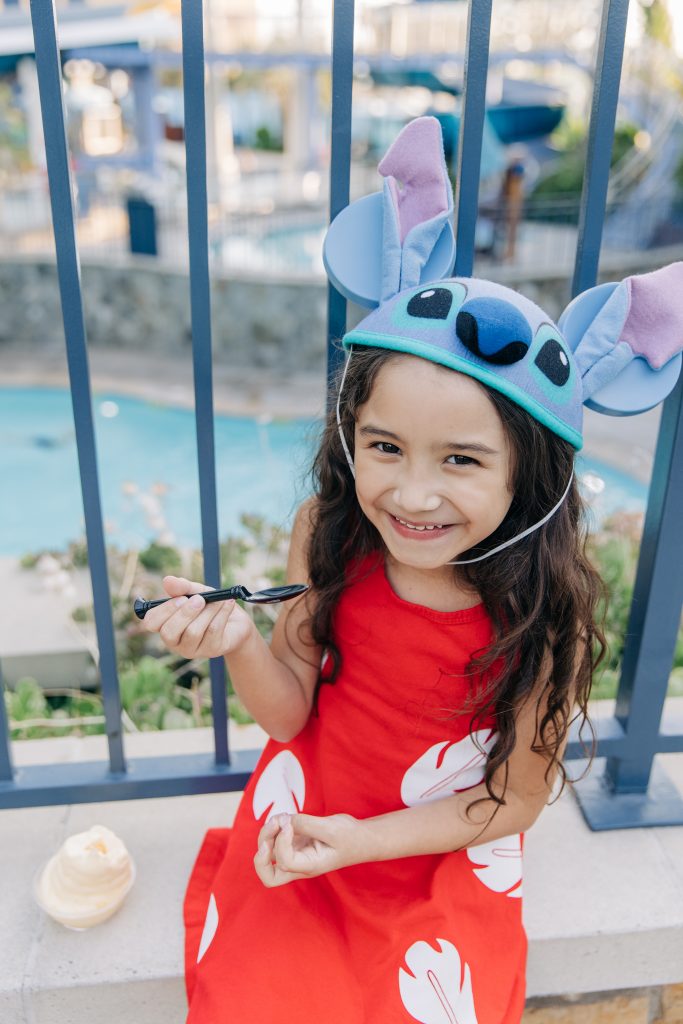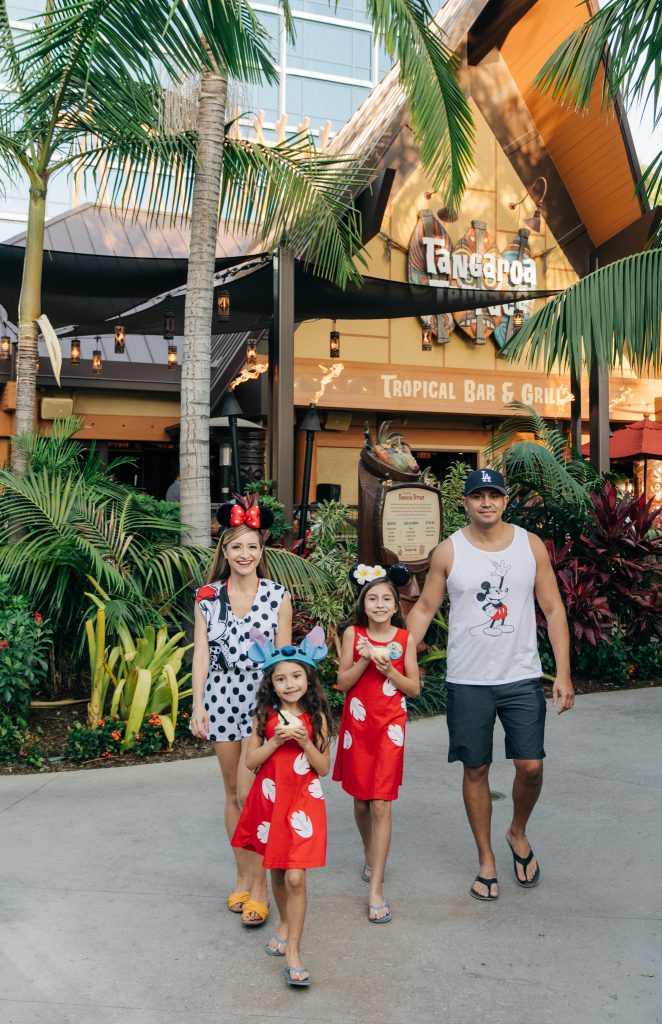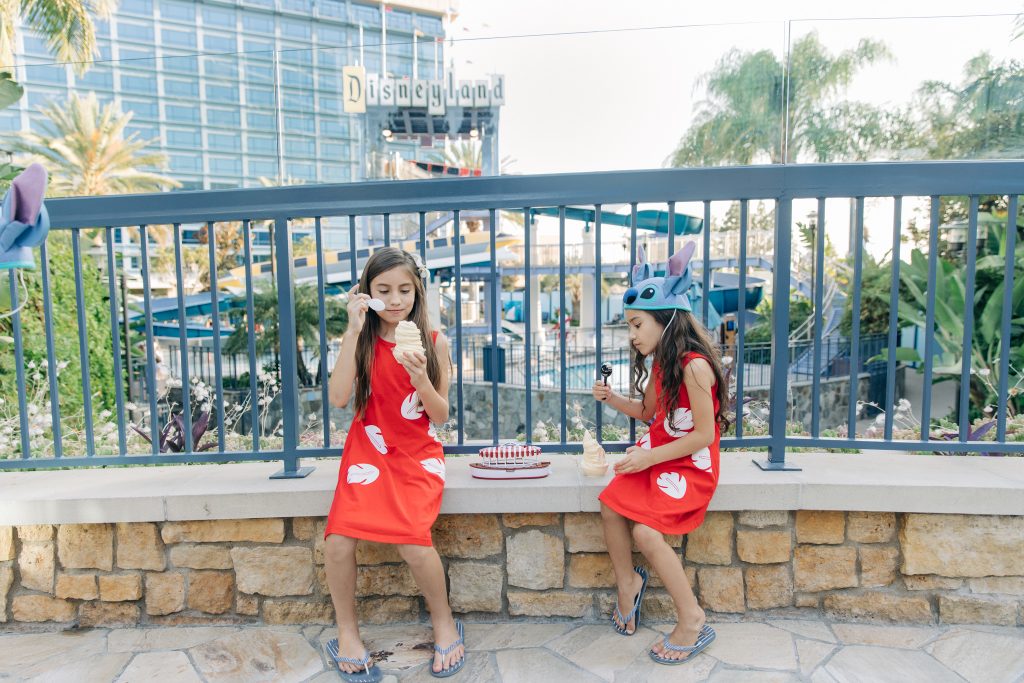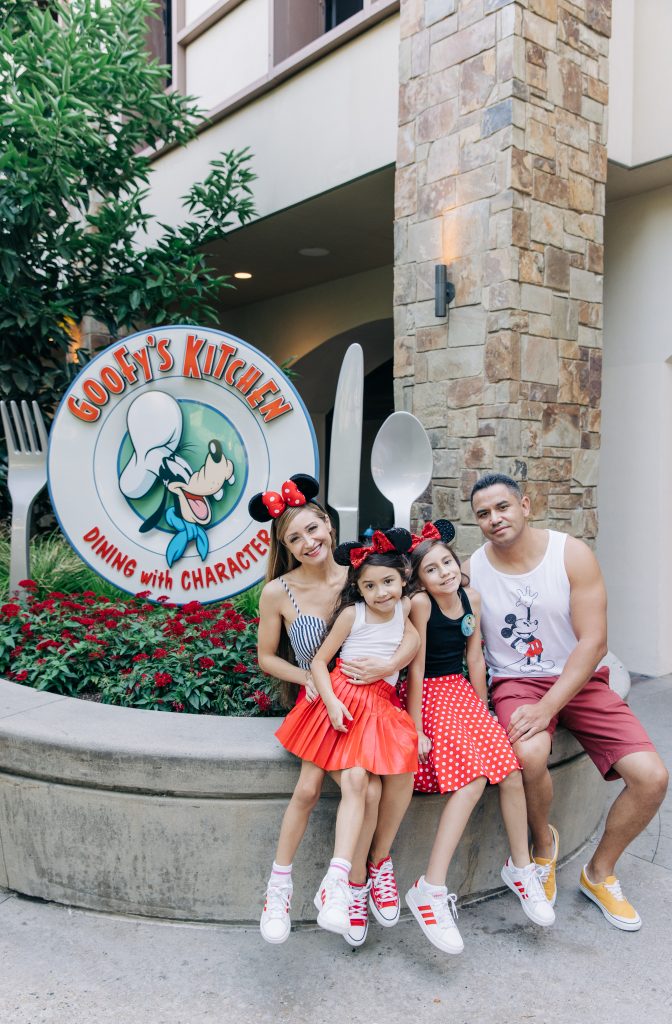 Goofy's Kitchen
And as a bonus, we have to share that we absolutely love Goofy's Kitchen which reopened August 2021. This restaurant offers a breakfast and dinner buffet. The breakfast is a favorite of ours as you can enjoy made-to-order omelets, Mickey Mouse waffles and pancakes, French toast, sausage, bacon, eggs Benedict, smoked salmon, pastries and fresh fruit, Goofy's famous PB & jelly pizza and more. Pose for a photo in Goofy's zany kitchen before you enter as the photos are currently complimentary. Update: The Character Dining experience is still currently modified at this location.
Advance reservations are highly recommended. Guests can make advance dining reservations up to 60 days out online or via the Disneyland app. If you don't have a dining reservation, you now have the opportunity to add your party to the mobile walk-up list at select table-service restaurants (subject to availability). For pricing and further info head to the Disneyland Hotel site.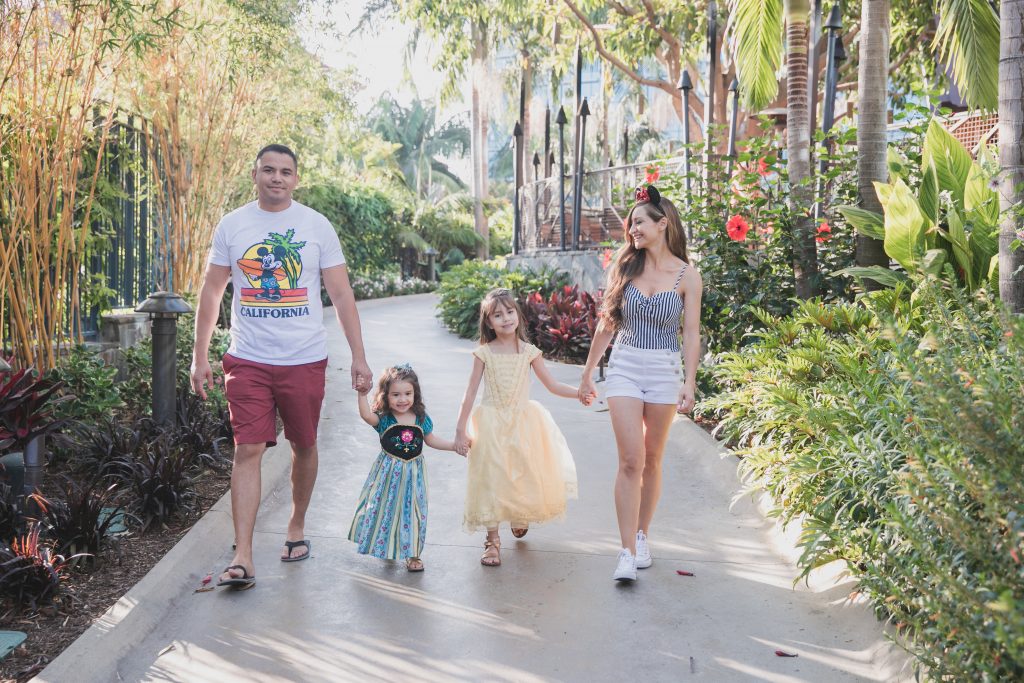 So there you have it, our top 5 reasons to stay at the Disneyland Hotel in a nutshell. Have you stayed at the Disneyland Hotel? What are some your favorite reasons you'd stay again? Be sure to check out our Celebrate A Birthday at Disneyland Post and get the full scoop on all the reasons to celebrate your kids birthday at the hotel. Trust us, this is a good one to read!