I love traveling but I'm beyond terrified of cruises. I know, crazy to think I'm absolutely fine flying but cruises, not so much. I've joked with friends and family that the only cruise I might consider going on is a Disney one. And that's exactly how it happened. 
We were invited by the Disney Creators Celebration and Disney Cruise Line to cruise on the Disney Dream. All information mentioned within is solely based on our experience aboard the Disney Dream for 4 days. So grab a cup of joe or your favorite drink and read along as we share our tips for anxious parents that are considering a family vacation aboard the Disney Dream.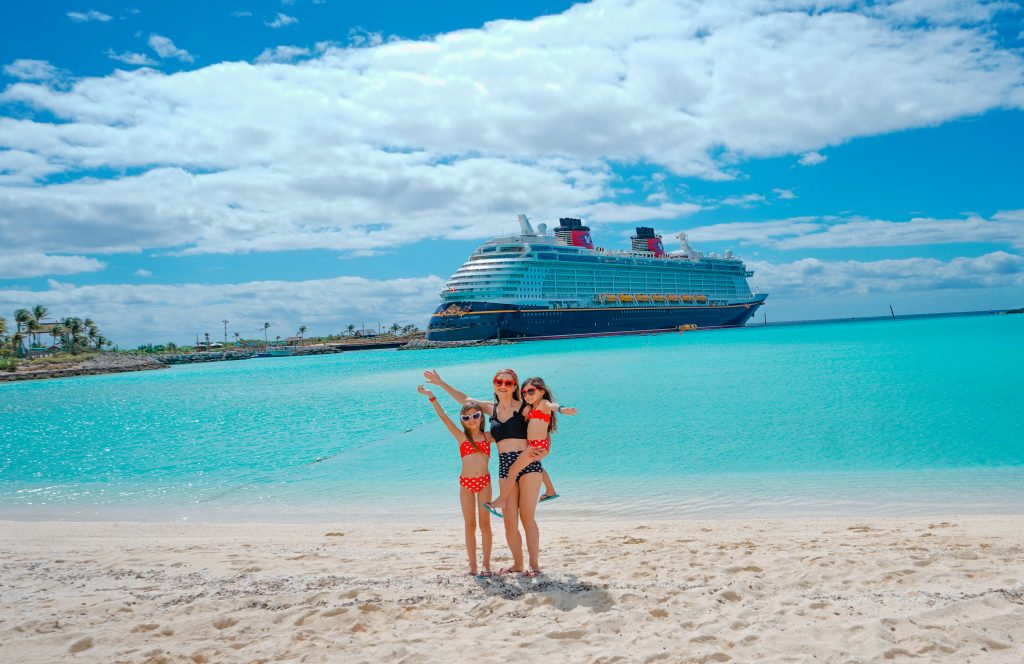 Disney Cruise Line Is A Top Cruise Line For Families 
Disney Cruise Line has received 4 separate awards as a top cruise line for families. From "themed play spaces overflowing with activities for the kids, nightlife and intimate dining for adults, to Broadway-quality live shows" and family firework deck parties, there's always something for everyone to enjoy.  
When Are The Best Times To Go On A Disney Dream Cruise? 
Based on the average rainfall on this cruise route, February – May. Recommend avoiding hurricane season June 1 – November 1.  


Travel Insurance
That's a hard YES! 
One of the top reasons why I'm terrified of cruises is medical emergencies on board including my kids getting anaphylaxis due to their food allergies.
But I'm here to calm your nerves as all Disney Cruise ships have medical centers with a doctor and nurse on call 24 hours a day, 7 days a week to respond to on-board emergencies. And if necessary, a patient can be disembarked and transported to a medical facility.
This also means that because onboard medical services are considered care outside the United States, you will be responsible for paying any such charges prior to leaving the ship.
Tip: Highly recommend purchasing travel insurance to ensure you do not end up with a medical bill your personal medical insurance will not cover.
EpiPens
Speaking of medical emergencies, if you suffer from life-threatening food allergies, EpiPens are available at the Medical Center and at First Aid on Disney's Castaway Cay. 
Tip: If you have food allergies in your party, ask your server for the new allergy-friendly menus available at Enchanted Garden, Royal Palace, and Animator's Palate restaurants.

Information About The Disney Dream Ship
Another reason why I had so much anxiety and was terrified to go on a cruise was simply due to safety. But we found out that the Disney Dream has stabilizers and other high-tech controls that minimize the ship's movement. Also, weather tracking devices help to keep the ship in calm waters as much as possible. 
"At Disney Cruise Line, nothing is more important than the well-being of our guests and crew members, and the safe and secure operation of our ships. From regular crew training, safety drills and equipment inspections to the latest navigational technology, we employ multiple processes and procedures to uphold high standards of safety at all times, whether at sea or in port." – DisneyCruiseLine.com
Also important to note, all guests must participate in a pre-departure assembly drill to comply with U.S. Coast Guard and international safety regulations. You will be notified when the drill will begin and everyone on board is required to take part.
What Does A Stateroom Come With? 
There are ten stateroom options designed with families in mind. The staterooms are also considered some of the most spacious in the industry. Be sure to check out our YouTube video to see a tour of our ocean view deluxe verandah stateroom. It comes with two closets and a safe, queen bed (raised to allow storing luggage underneath), sofa (can be turned into a single bed or bunk beds), desk with drawers, wave phone (to communicate within the ship or mainland for additional fee, coffee table, T.V., mini fridge, blow drier, verandah with two chairs and a small table, split bathroom with a toilet/sink on one side and bathtub/shower/sink on the other.
Tip: If you're worried about motion sickness, choose the most central part of the ship and the lowest deck you can get as there is less movement there.
Irons 
It's also important to note that there are no irons inside staterooms for safety reasons. Tip: Every deck has a laundry room equipped with washers, dryers, an ironing board and iron. If you're like me and prefer wrinkle-free clothes, ask for a stateroom near the laundry room so that you don't have a long walk to it.
What's Included In The Cruise Price? 
Everything from onboard programming, entertainment, breakfast, lunch, dinner, snacks, all day room service, unlimited soft serve, movie theater,  kids club, miniature golf and even the fitness center.
Not included – spa, salon, photos, video games, mainland phone calls, internet, alcoholic/specialty drinks, dining at Palo or Remy (adults-only restaurants), nursery and gratuities, etc..

What To Do Before The Cruise? 
Download the Disney Cruise Line Navigator app. While at home, use it to plan your trip, book activities, make special requests, modify dining seating, make payments and check in online. Once on board, you can chat with other guests, get access to your entire cruise schedule, info about locations on the ship and more.
What To Pack? 
Passport – All U.S. and Canadian citizens must travel with a valid passport. If you use medications on a daily basis, be sure to bring those with you as well. 

Clothing – As for what to pack in terms of clothing, the entire ship is "

cruise casual

" but there are exceptions. 
Casual attire, such as shorts and T-shirts, are permitted in restaurants. No swimwear or tank tops.

With the exception of the adults-only dining restaurants

Palo & Remy

which have strict dress codes.

Swim attire for pool, spa and beach activities. 

Pirate night themed deck party  

One optional "dress-up night"—jacket for men, dress or pantsuit for women. Dress-up night is the last night on the cruise.

A light jacket and sweater. It tends to get windy and chilly at night.
Tip: Bring a comfy backpack with essentials for the first day as your luggage may not be delivered to your stateroom until later in the day. 
Where Does The Cruise Stop? 
The Disney Dream departs from Port Canaveral, Florida and stops at Nassau Bahamas and the Disney Cruise Line's private island in the Bahamas, Castaway Cay. 
What Is There To Do At Nassau? 
There's many excursions and things to do at Nassau! However, we didn't have the opportunity to explore much aside from the main port shopping area due a Disney Creators session. But here's a list of activities to use when planning your trip.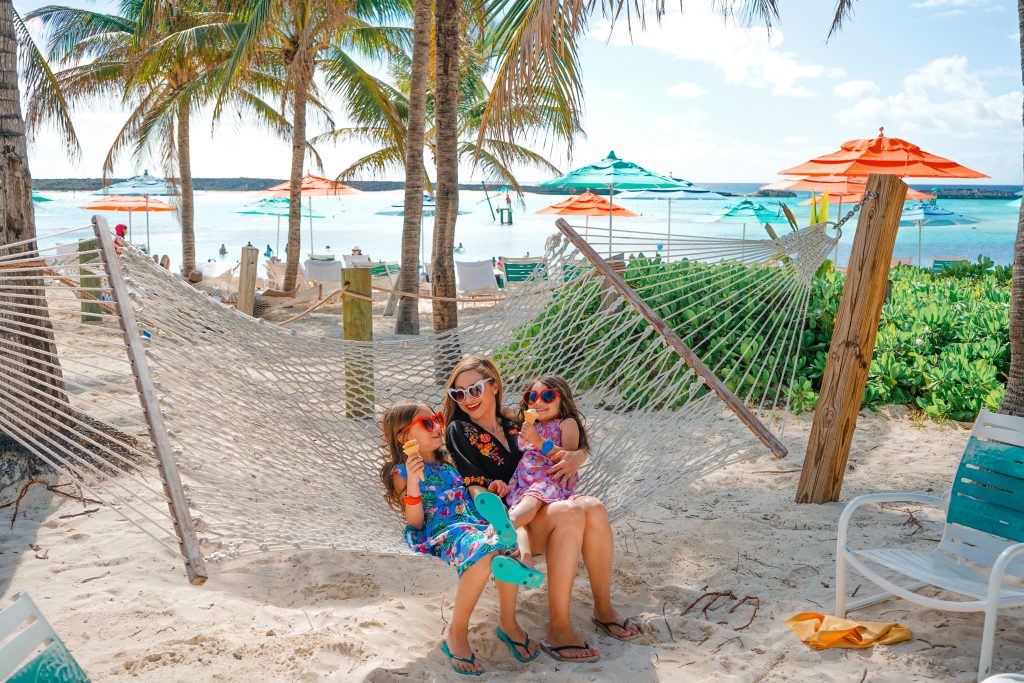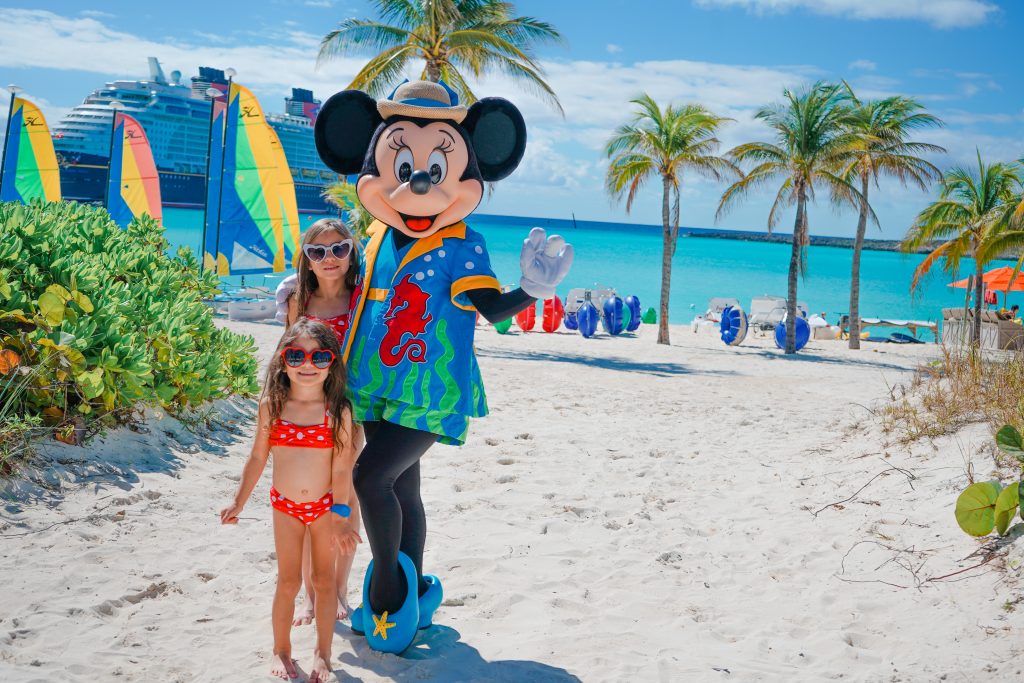 What Is There To Do At Castaway Cay?
Character Meet and Greets – By far my favorite as Disney characters are dressed in Castaway Cay attire! I mean look how cute, right?

Rent a cabana – There's a limited amount of private cabanas available to rent on Castaway Cay. If you're looking to lounge around with comfort be sure to book this early as they sell out quickly. Although we were able to find a couple of the free lounge chairs by the beach with an umbrella, I wish we had a little more shade. The cabanas are 325 sq ft and include lounge chairs, a dining table, a sitting area, a fridge, a locker, towels and sunscreen.

Snorkel – Rent snorkeling gear on the island and find all the hidden Disney items underwater! We tried to do this but one of our kiddos had to go to first aid and she fell on some rocks and scraped her knee pretty bad. We ended up just lounging and eating.

Excursions – Book an excursion to go swimming with stingrays, parasailing, deep sea fishing, banana boat rides, sea kayaks, glass bottom boat and more!

Rent a bike – You can also rent a bike to explore the island! The views alone are so breathtaking. Adding this for our next trip.

Water attractions – Pelican plunge (floating water slide and play platform), Spring a Leak (water play area for kids), Hide Out (beach area for teens)

Eat, Drink & Lounge –

Enjoy an island family style BBQ lunch with delicious chocolate chip cookies. Plus the specialty drinks are a must. I had a coconut milk drink with rum and I'm still dreaming about it. 
Tip: If you or your kiddos have food allergies/ restrictions, you can order your meal for Castaway Cay the day before with your server. It was so awesome that they made allergy-friendly hot dogs with fries and fruit for the girls. But more importantly, our server made them feel extra special by ordering chocolate chip and snickerdoodle cookies. They used them to make ice cream sandwiches with the self serve soft serve on the island!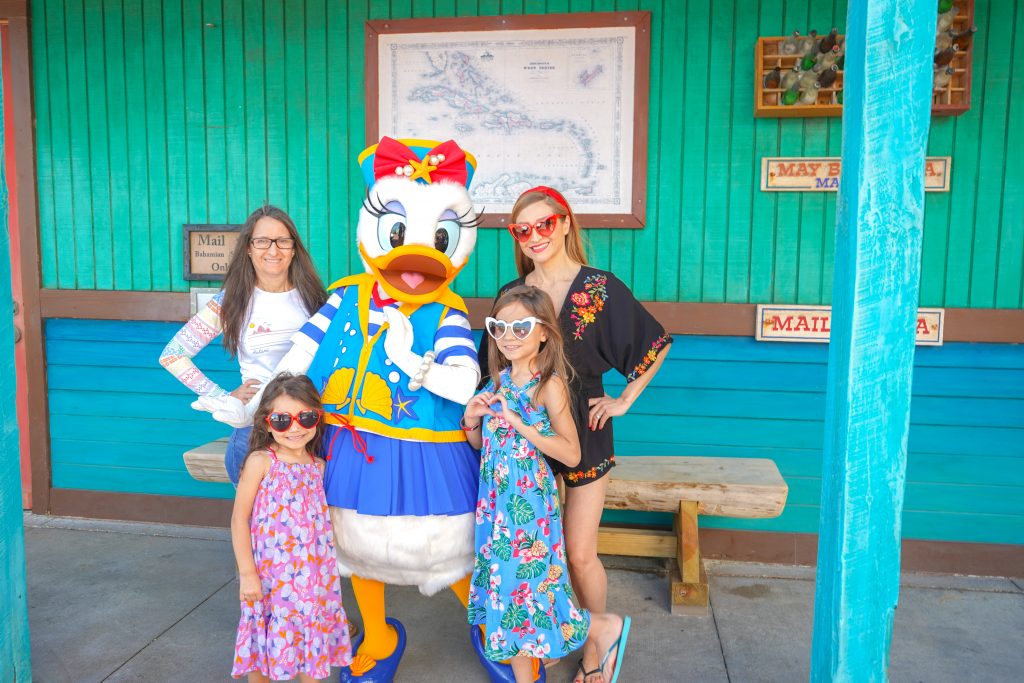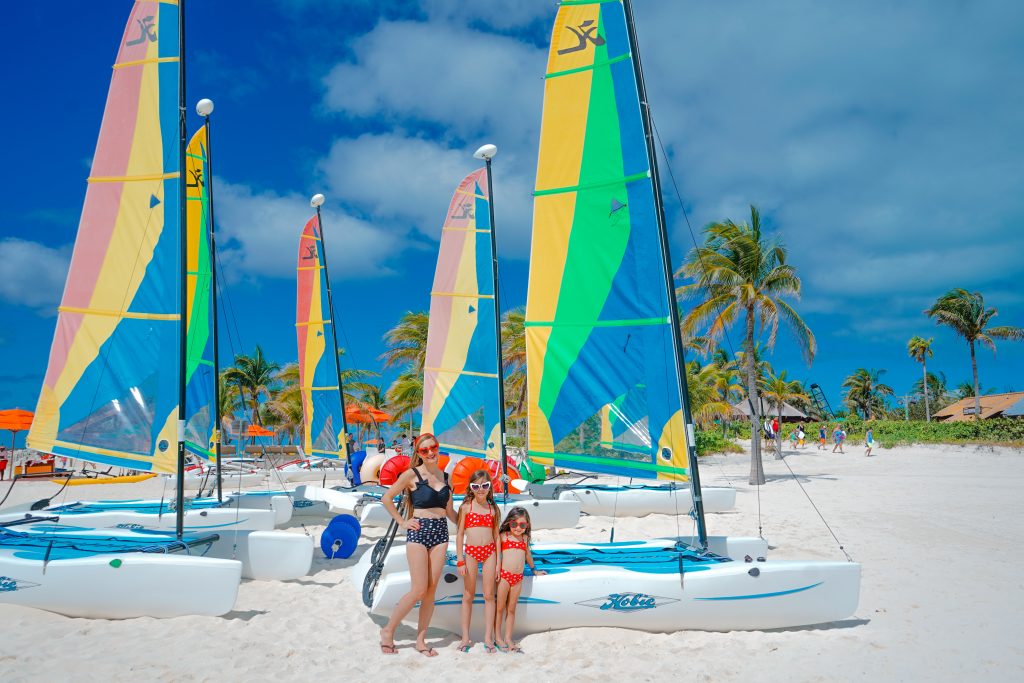 Our top 10 things while cruising Disney Dream
The programming and entertainment. Amazing broadway style award winning shows and a movie theater showing Disney Movie screenings and latest releases. 

Character Meet and Greets  

Pirate Night and Fireworks.

Disney is currently the only major cruise line offering fireworks at sea. 

Service – Excellent all around! Our server Andrea rotated along with us at each restaurant (

Enchanted Garden, Royal Palace, and Animator's Palate)

. We were treated so well and cared for by Andrea especially with our food allergies. The first night while at dinner, the girls got seasick the minute their food was placed in front of them. The service team along with the chefs coordinated to get all our food delivered to our stateroom! Our stateroom hostess made sure our room was cleaned daily and even made fun animal shapes out of our towels and blankets every night.

Castaway Cay – It truly is breathtaking! I wish we could have stayed one more day. We can't wait to come back and find all the hidden Disney items undersea and get more activities checked off of our list.

Disney Dream Water Play – We loved

Mickey's Pool, Nemo's Reef (splash pad), and Mickey's Slide and best of all the AquaDuck. The AquaDuck

is a slide that goes around the

Disney Dream ship

and is

the very first water coaster at sea.

It is the most amazing experience I got to do with our 8 yr old daughter. You literally are racing down a clear slide that feels like a roller coaster with breathtaking views of the middle of the ocean and boat deck!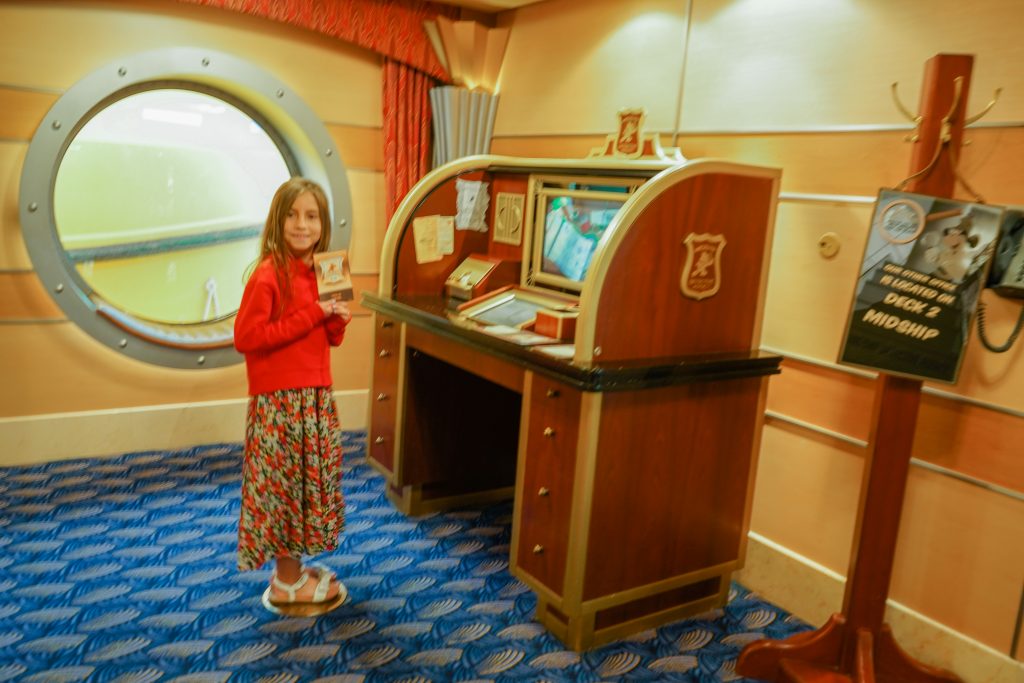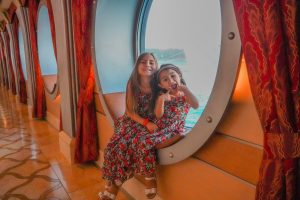 7. Midship Detective Agency – This self-guided, electronically-aided interactive game is tons of fun! It takes the kids through most of the ship finding clues to solve a mystery. Start at the Midship Detective Agency near the "small world nursery" and pick 1 out of 3 mysteries to solve.  
8. Funnel Vision – Huge screen on the pool deck to watch movies.
9. Goofy's Golf – The cutest 9-hole miniature golf course. 
10. Unlimited soft serve ice cream on the ship and Disney's Private Island Castaway Cay.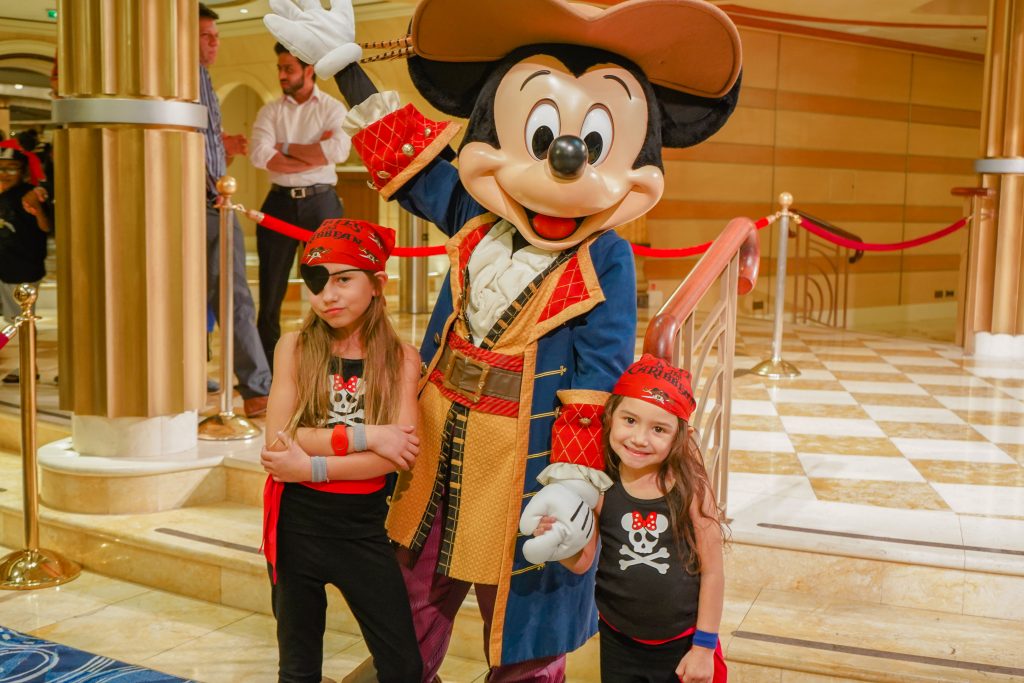 Lastly, my girls did get a chance to visit the kids club (Oceaneer Club and Lab) but they just wanted to spend time together as a family. I'm seeing that as a plus because I'm sure it will not be the case during their teenage years. Ha! There's so much to do on the ship though for everyone including kids, teens and even adults. I can't wait to try the adult spa next time my husband joins us. 
Abrazos (hugs),
Gladys