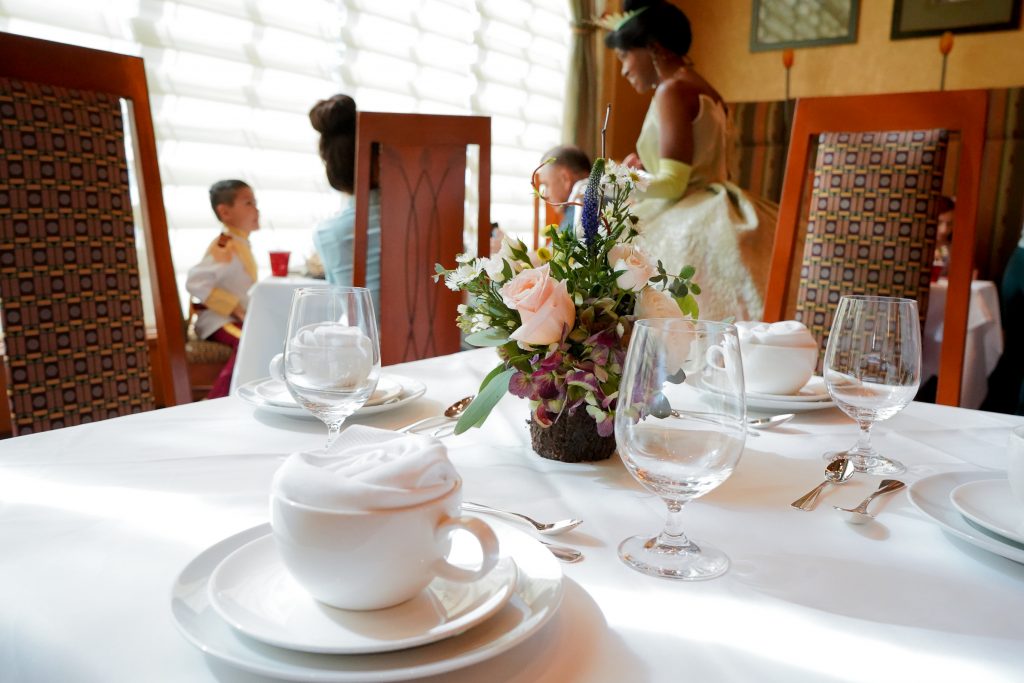 This past Wednesday, we were invited to attend a media preview of the upcoming Disney Princess Breakfast Adventures at the Napa Rose Restaurant located inside Disney's Grand Californian Hotel. To say we were ecstatic to attend this breakfast would be an understatement. More so as we loved Ariel's Grotto over at Disney California Adventure and couldn't wait to do another character dining with Disney princesses. But to be honest, I was a bit concerned about the $125/person price tag on the breakfast (kids under 3 are free). As a Disney mom and lover of all things Disney, I figured they must of created something truly special and extraordinary. And that's exactly how it was!
Top 5 Reasons Why The Price Is Well Worth It
The Experience
The entire experience from start to finish is unlike any other we've been to at any of the Disney parks nor resorts. Upon entering, we were greeted with a guitarist playing a Disney princess song while waiting in line to check-in. Once we checked in, the hostess re-confirmed our food allergies (you can provide this info ahead of time when making your reservation). Mia and Lexi were given the option to pick a princess or Mickey and friends autograph book with a pen. Then we were immediately taken to our table which had the cutest table set up including place cards with Mia and Lexi's names on them. Shortly after we sat down, our adventure guide gave us a preview of our adventure and handed the girls a tic tac toe board game.
A Superb 3-course Meal and Fun Themed Drinks
Prior to the first course meal, a chef came to our table to say hello and to let us know they made special meals to accommodate our food allergies. This made our experience completely stress-free and best of all extra special. Our server then brought the table egg-free and nut-free scones and pull apart lemon monkey bread. Both were absolutely delicious! We also received a drink menu which included alcoholic and non-alcoholic fun princess movie themed beverages (included in breakfast price).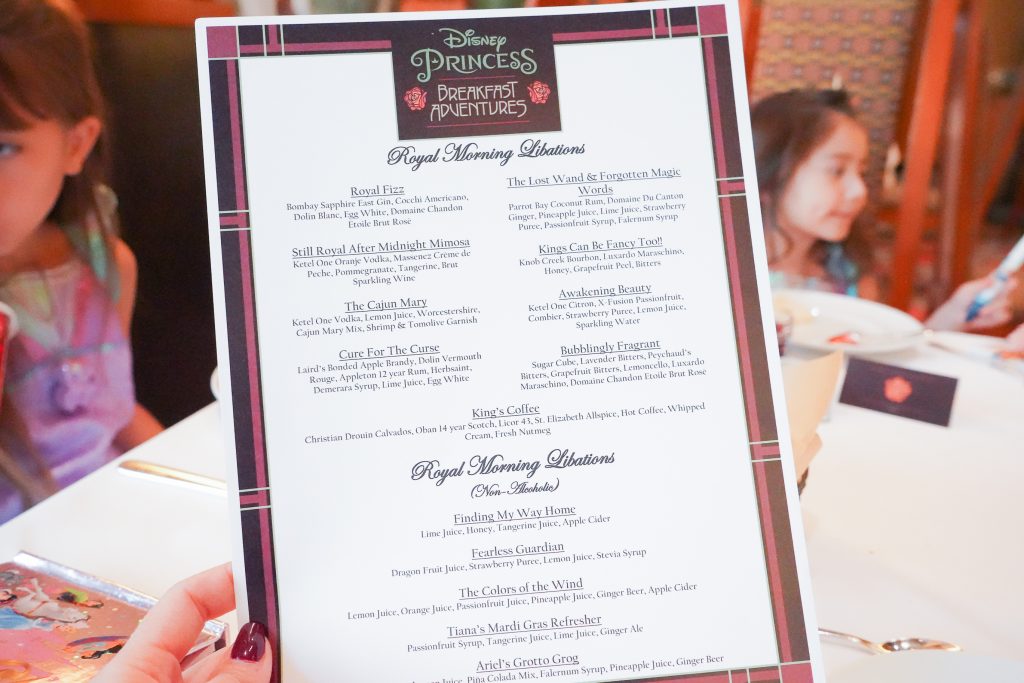 The first course included:
Abu's Banana Wrap – Nutella crepe with banana carmelized sugar and a berry compote

Tangled Sandwhich – White bread, ham with cranberry cream cheese

Magic Carpet Parfait – Kiwi, chia pudding, mango, strawberry topped with granola and coconut Lobster Roll – Lobster salad in a roll topped with a mayo garnish

Famous Beignets – beignets with a little bit of caramel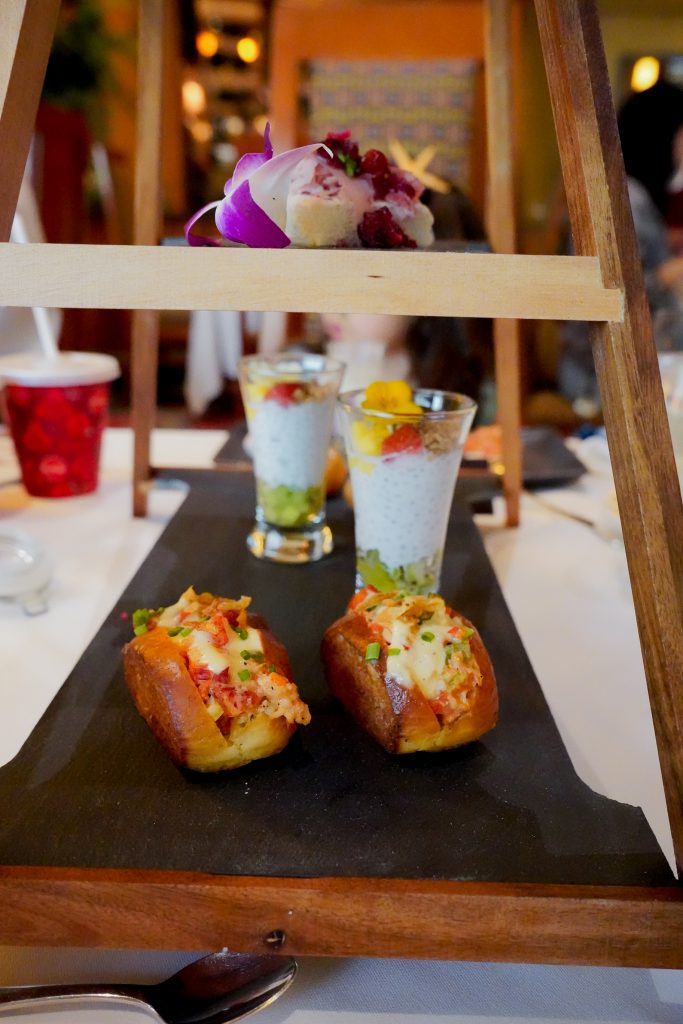 As for the girls, they got individual plates that included a modified version of a regular meal.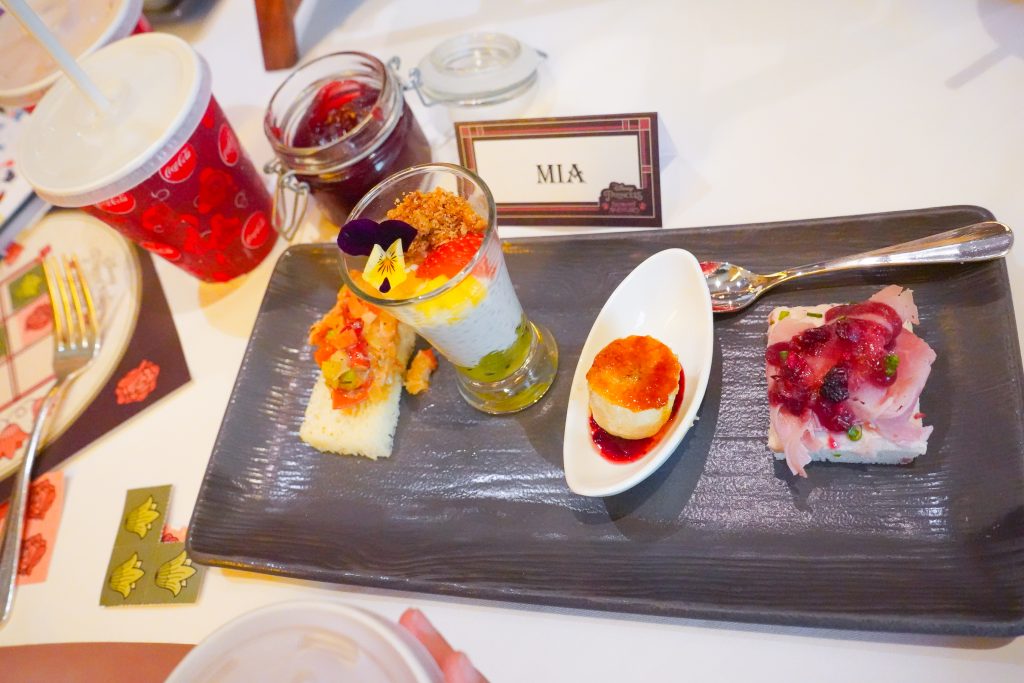 Once our first course arrived, princess Tiana stopped by to chat with the girls about being brave and trying new types of foods.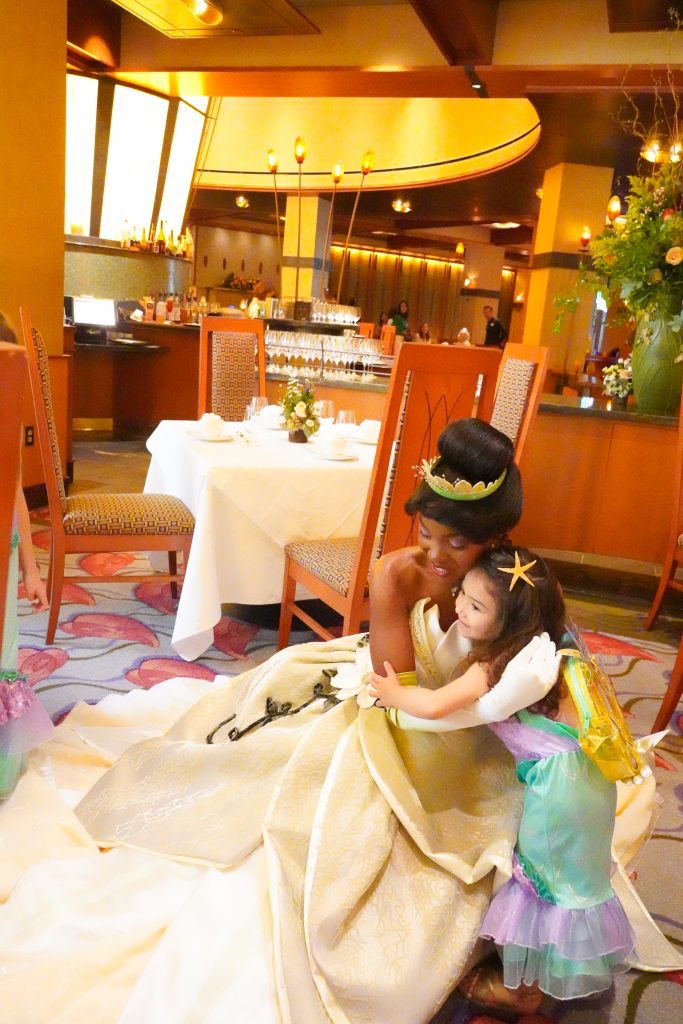 We then walked over to our second course which was buffet style. We talked to the chef again about what the girls could have and then quickly put a couple of plates together for the girls with adorable vegan Mickey waffles, bacon and fruit skewers. The actual buffet included, scrambled eggs, Mickey chicken and waffles, fresh fruit skewers, bacon, sausage, braised short ribs, mac n cheese, bbq beef sliders, and roasted tomato asparagus. Once seated, Jasmine and Belle came by.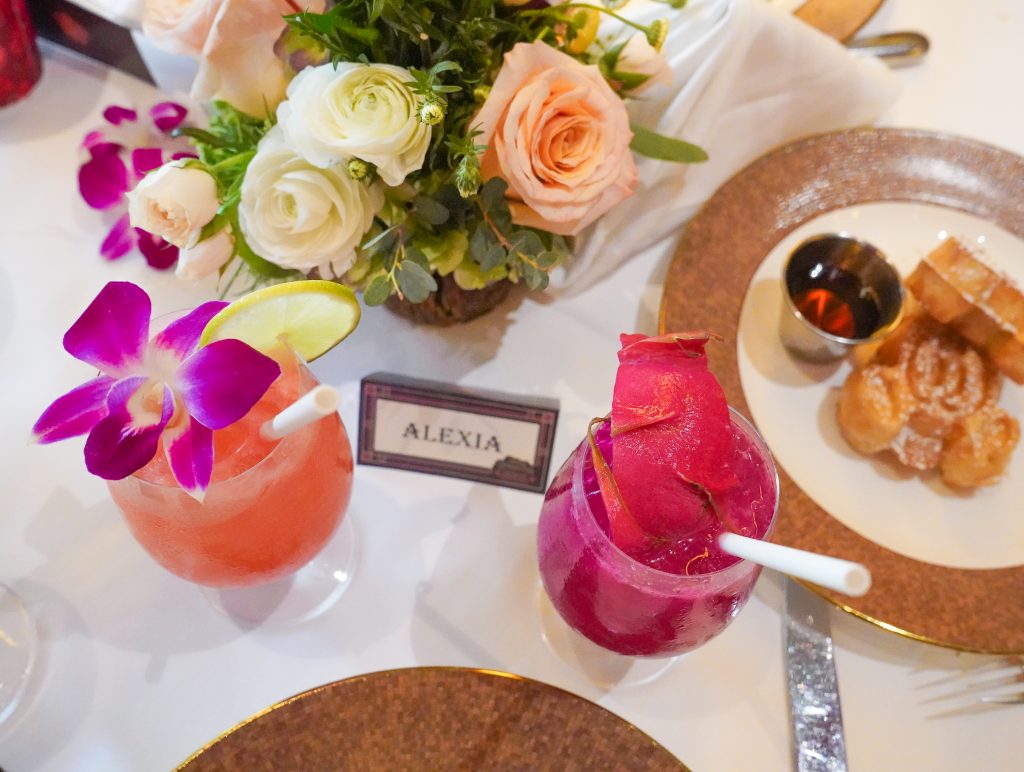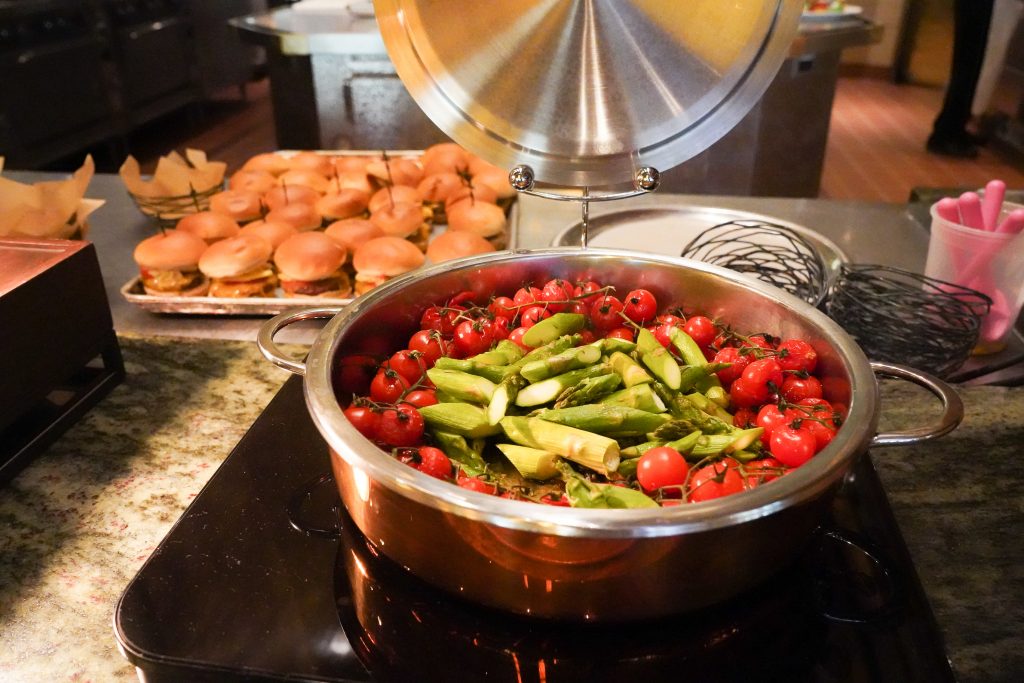 Meet-and-greet With 7-8 Princesses
I love that the entire time the princesses stopped by our table, they took their time with us. It never felt rushed whatsoever. During the 3rd and final course, which happened to be a tower of delicious desserts, the girls got to twirl and dance with Aurora.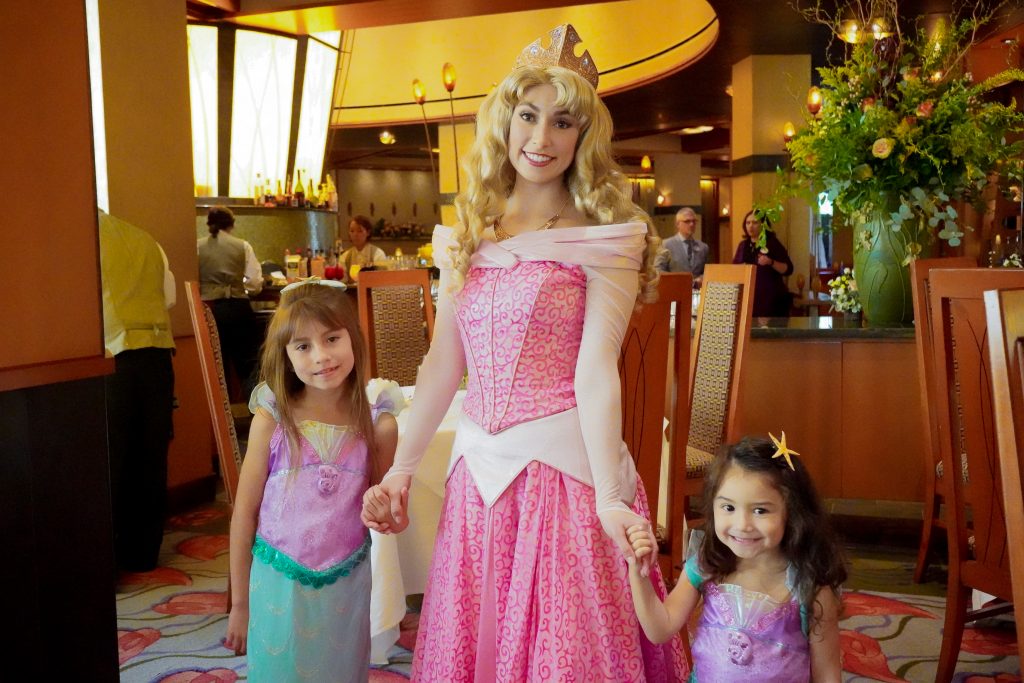 In case you're wondering, some of the desserts include:
Chocolate Princess Cake Pops, Petite Raspberry Tarts, Sea Shell Macarons with Mango Passion Fruit Ganache, Strawberry Honey Sorbet, Cotton Candy Fruit-Fresh Strawberry and Almond Crunch and Vanilla Chantilly. We opted for the egg-free/gluten-free and nut-free options. All of which were so good!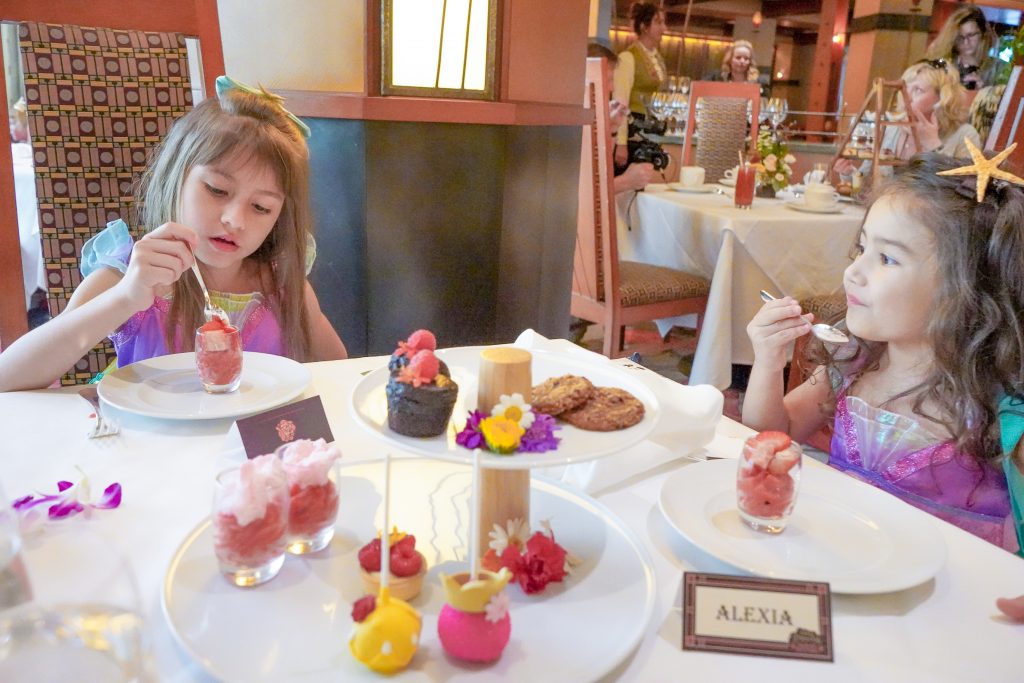 Soon after, our adventure guide, Donald, walked us outside. The girls got to walk with Belle over to her reading area. They sat  and then Belle began to read an entire story to them. Mia and Lexi felt so special more so as they're huge fans of the princess and reading books. It's something they're still talking about and will surely never forget. But our adventure didn't end there.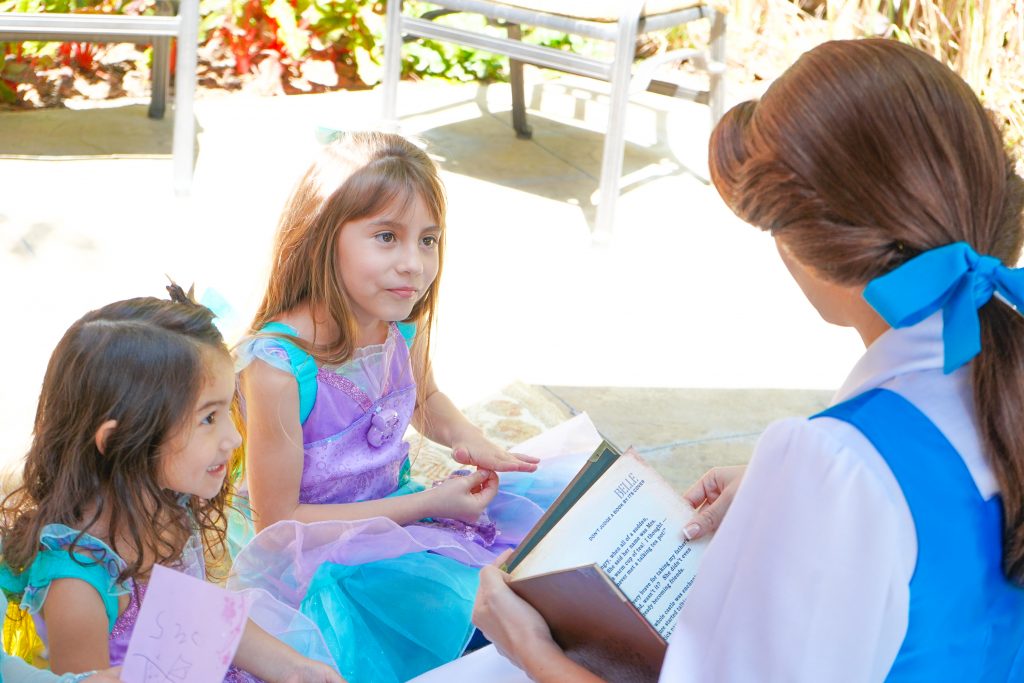 Our guide walked us over to meet Pocahontas. She greeted the girls with a warm welcome and taught them how to row a canoe and to always be brave. Once they were done chatting and taking photos, our guide took us to have a PhotoPass opportunity with Repunzel. On our way out, the girls received beautiful tiara necklaces and a backpack. And while signing the guest adventure book, Ariel surprised the girls. The girls were beyond excited and this was yet another magical moment for sure.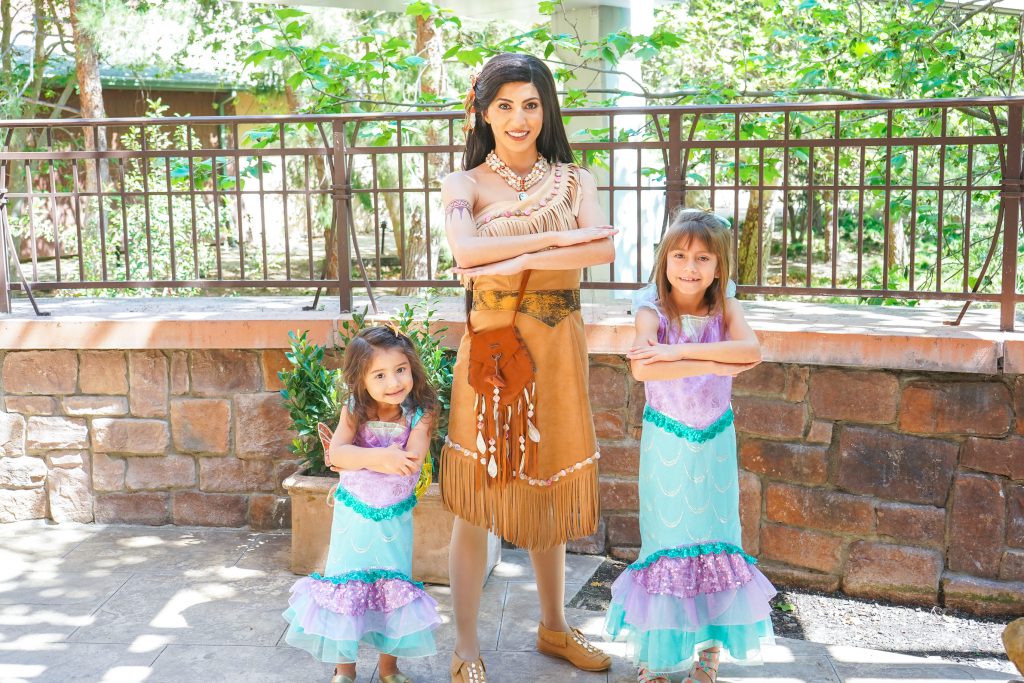 A Completely Fun & Stress-free Breakfast
Throughout the breakfast, as previously mentioned, we never felt rushed or pressured to move onto the next course or adventure. I loved that there were no lines to meet the princesses. Such a unique experience! Also, being an allergy food family, eating out is always so stressful. We're so grateful that Disney is allergy food friendly. We've always felt a huge load off of our shoulders when we dine at that parks and resorts. And that itself is another important reason why we felt we needed to include it on our list.
Keepsakes
I was surprised to see that the breakfast comes with as mentioned:
An autograph book and pen

A drawstring backpack

A choice of Swarovski crystal tiara necklace or

Sword and shield
So there you have you have it. Our review and top 5 reasons why this princess breakfast is worth the price. Everything was exquisitely delicious and one-of-a-kind experience that went well above our expectations.

Disney Princess Breakfast Adventures Info
The Adventures begin Saturday, March 30, 2019. Be sure to make your reservation.
Available Thursday through Monday between 8:00 AM and 12:00 PM. Our adventure took about 2.5 hours
Includes 5 hours of complimentary valet parking with validation at Disney's Grand Californian Hotel & Spa
Abrazos (Hugs),
Gladys