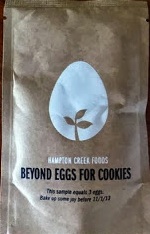 As some of you may know, having a child with a severe food allergy can be a bit stressful more so when attending kid parties. Chasing after your little ones – ensuring they don't take a bite out of their little neighbors cake or simply double checking all the ingredients found in their lunch and goodie bags.
A way to cut down on the stress is by baking egg-free cupcakes or a small egg-less cake the night before and taking it with us to the party. We could also buy vegan baked goods but my daughter is not too thrilled with the ones we've purchased in the past so — I'd rather make them myself.
Ever since our doctor confirmed our daughter had a food allergy (egg whites & egg yolks), I have become sort of obsessed with finding egg replacements. Although some do a decent job, they still fall short in terms of consistency. For this reason, I wanted to share with you all a product that just may be replacing eggs for good.
The product, Beyond Eggs, is a plant-based egg replacer for baked goods developed by Hampton Creek Food's. They've also developed a plant-based mayonnaise.
According to Katie Fehrenbacher from Gigaom, "Beyond Eggs will be 19 percent cheaper than eggs, will last longer on the shelf than eggs, is safer to use than eggs, and is better for you than eggs. There's also all of the feel-good aspects of the product: the poor environmental and inhumane conditions of the egg industry, and the reduced carbon emissions by decreasing the amount of feed (mostly corn and soy) that goes to chickens."
Sounds like this product is healthier and better for the environment. Hard to pass up in my opinion. Plus, Bill Gates invested in this product – another plus!
Hampton Creek is now selling its plant-based egg products at Whole Foods in California. I will definitely be visiting our nearest Whole Foods grocery store soon and can not wait to tryout their products.
I predict future Beyond Eggs recipes up on TMO.
'Till Next Time!
 Reference:
Hampton Creek Now Selling Plant-Based Eggs At Whole Food In California