This post is sponsored by Whirlpool. I received product and compensation, but all opinions are my own.
5 Family Laundry Hacks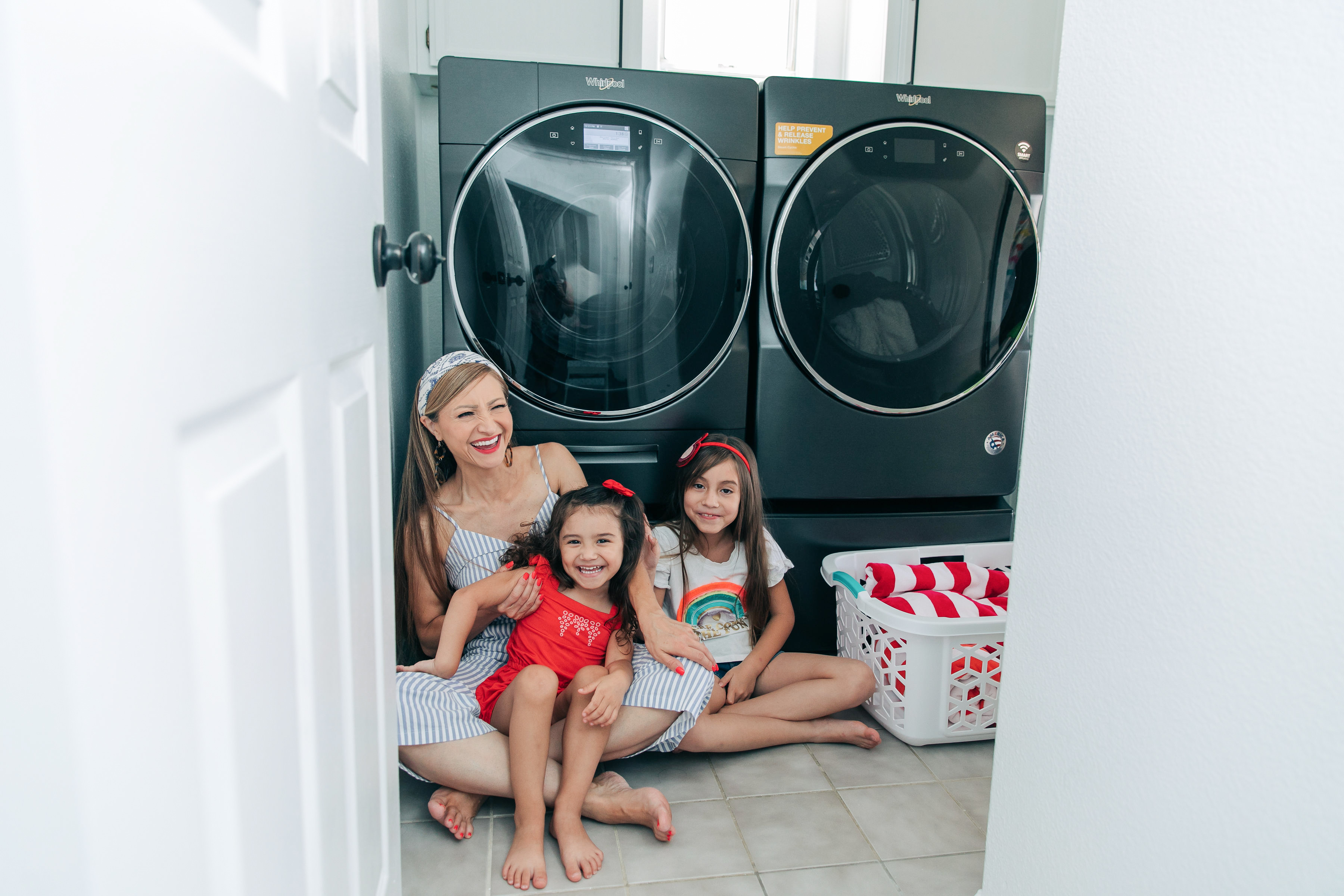 The holidays are upon us, and with that comes the stress of getting everything checked off the to-do list. And just as equally stressful is being able to carve out time to keep up with house chores. Somehow the one chore that gets me stressed out the most is laundry. Anyone else? The large loads of dirty laundry just seem to keep piling up and magically reappearing. So thought I'd share 5 hacks that will help check off more items from your to-do list during this busy time of year. 
Sort As You Go
Be sure to empty out pockets and sort clothes into hampers on a daily basis. 
This will save you time when you're ready to do laundry. I try to do this every night before bed, and it makes a huge difference. Some days are easier to follow through and when that happens; it makes laundry such a cinch to just grab, throw in the washer and go about your busy day.  
Skip Adding Detergent and Softener
Hands down one of my favorite hacks is the Load & Go™ XL Plus Dispenser – a feature of the new Whirlpool® Smart Front Load Washer. This feature allows us to pre-load detergent and avoid having to add laundry soap for up to 40 loads* at a time. The best part? The dispenser knows the exact amount of soap to use based on the size of each laundry load, so we can skip measuring or guessing how much detergent to add.
Start a Wash Remotely
Did you know the Whirlpool® Smart Front Load washer and dryer are smart appliances that can be started automatically using the Whirlpool® app on a smartphone or tablet**? For us, this has helped save time by just throwing in our laundry when we're in a hurry and running out the door. Once we're out running errands, we can go into the app and start the washer. We also get alerts once the washer is done so that we never forget to throw the laundry into the dryer and prevent having to rewash it. Another cool feature is being able to schedule wash cycles in advance so that the laundry is washed when we wake up and it's ready to just throw in to dry.  
Wrinkle-Free Laundry 
There's nothing worse than going to the dryer the next day only to find dry yet super wrinkled clothes, am I right? We've been using the Whirlpool® Smart Front Load Dryer for almost 6 months now and love the Wrinkle Shield™ Plus feature. It helps keep wrinkles from setting into clean, dry fabrics by tumbling and steaming for up to 150 minutes after the cycle ends or until we open the dryer door.
Get the family involved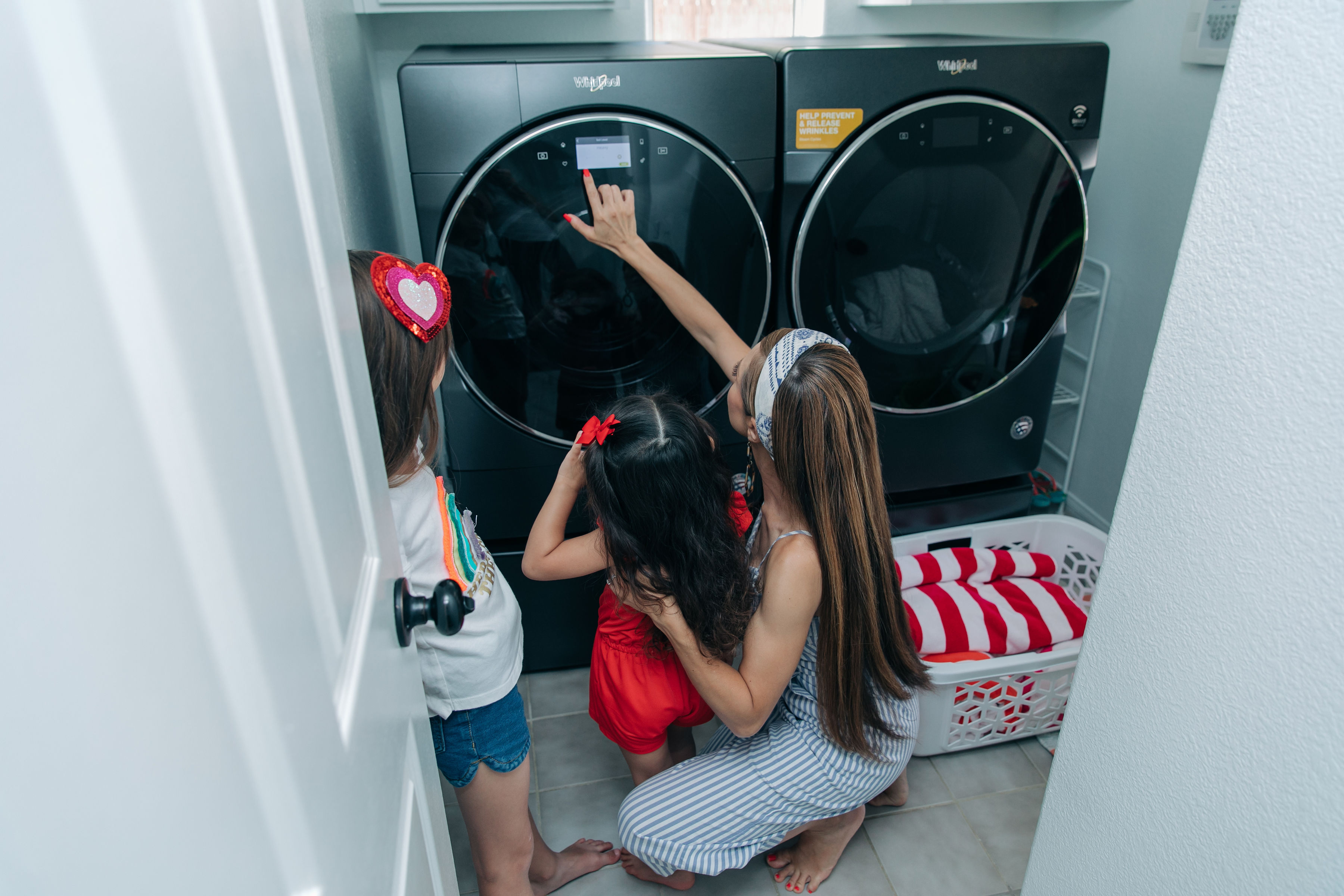 It makes a significant difference if you have all hands on deck. I know, easier said than done but when you turn it into a game somehow the little ones are more receptive to want to help. Especially giving points to finding the pairs of socks because those are always the hardest to find. Or timing how fast we can load all the clothes into the washer.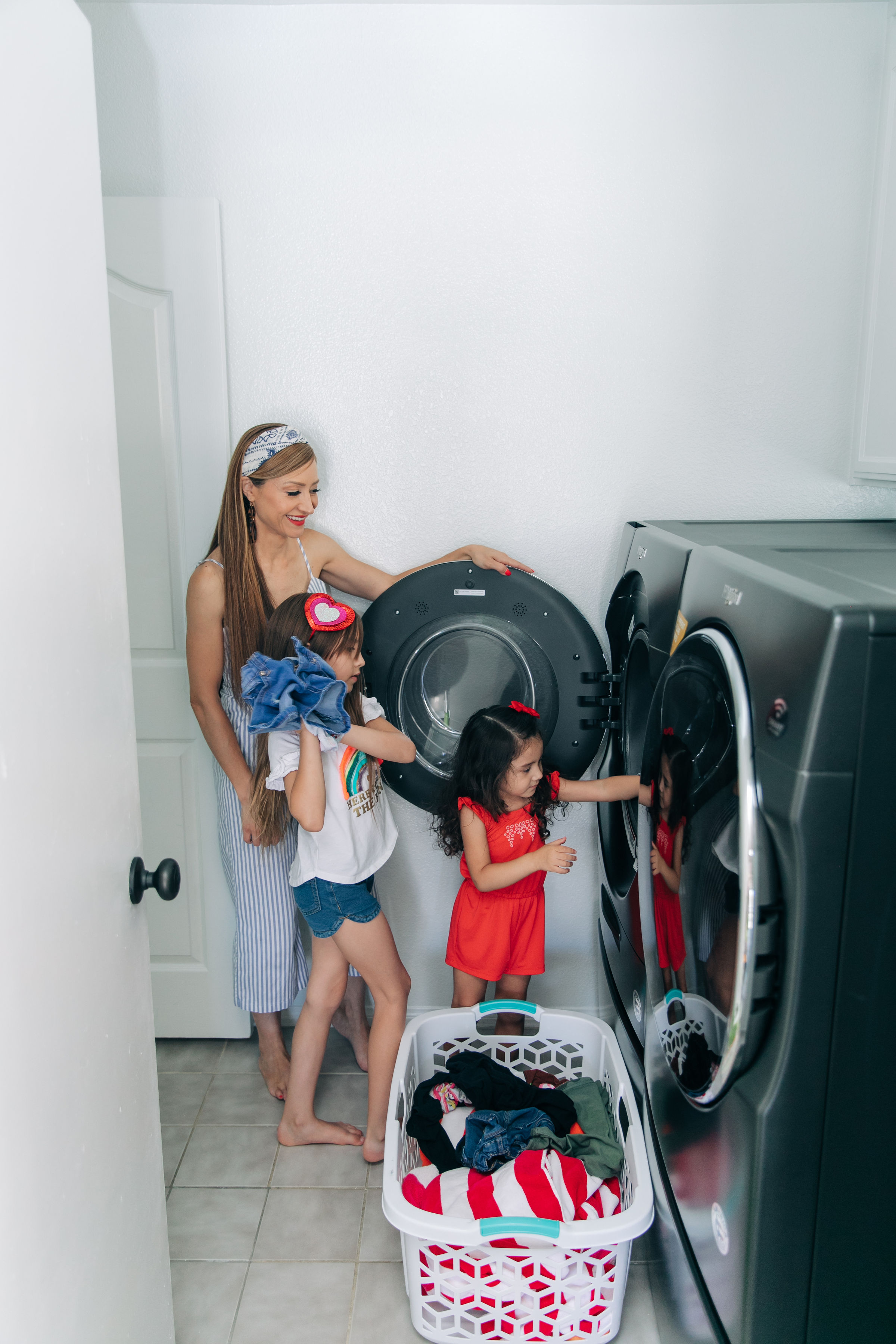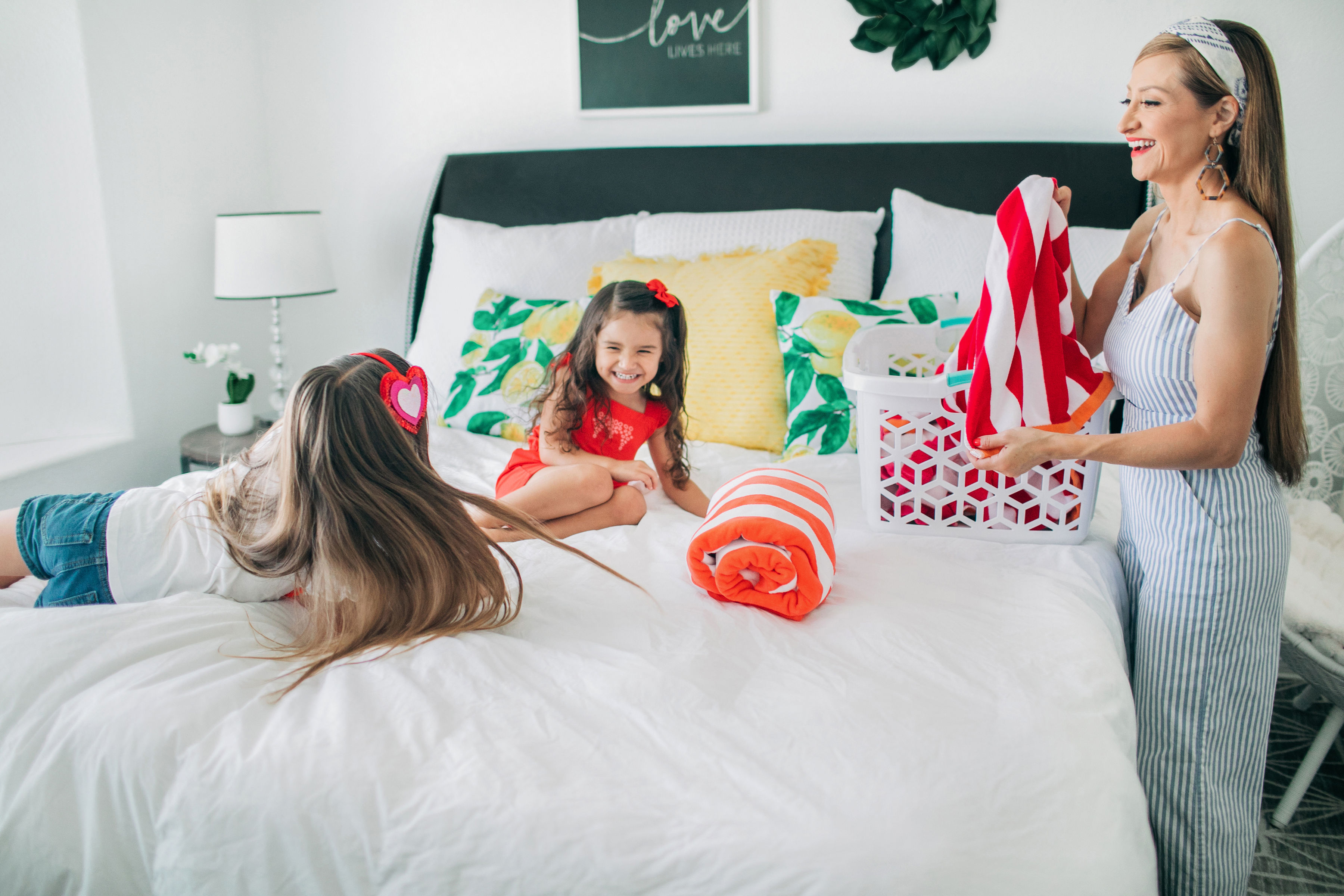 So there you have it. Hope these hacks help with your daily laundry grind. But most importantly, gives you more time so that you can spend it creating holiday memories with your family. For more information on the Whirlpool® Smart Front Load Laundry Pair with the Load & Go™ XL Plus Detergent Dispenser, visit https://www.whirlpool.com/laundry/front-load-washer-set.html.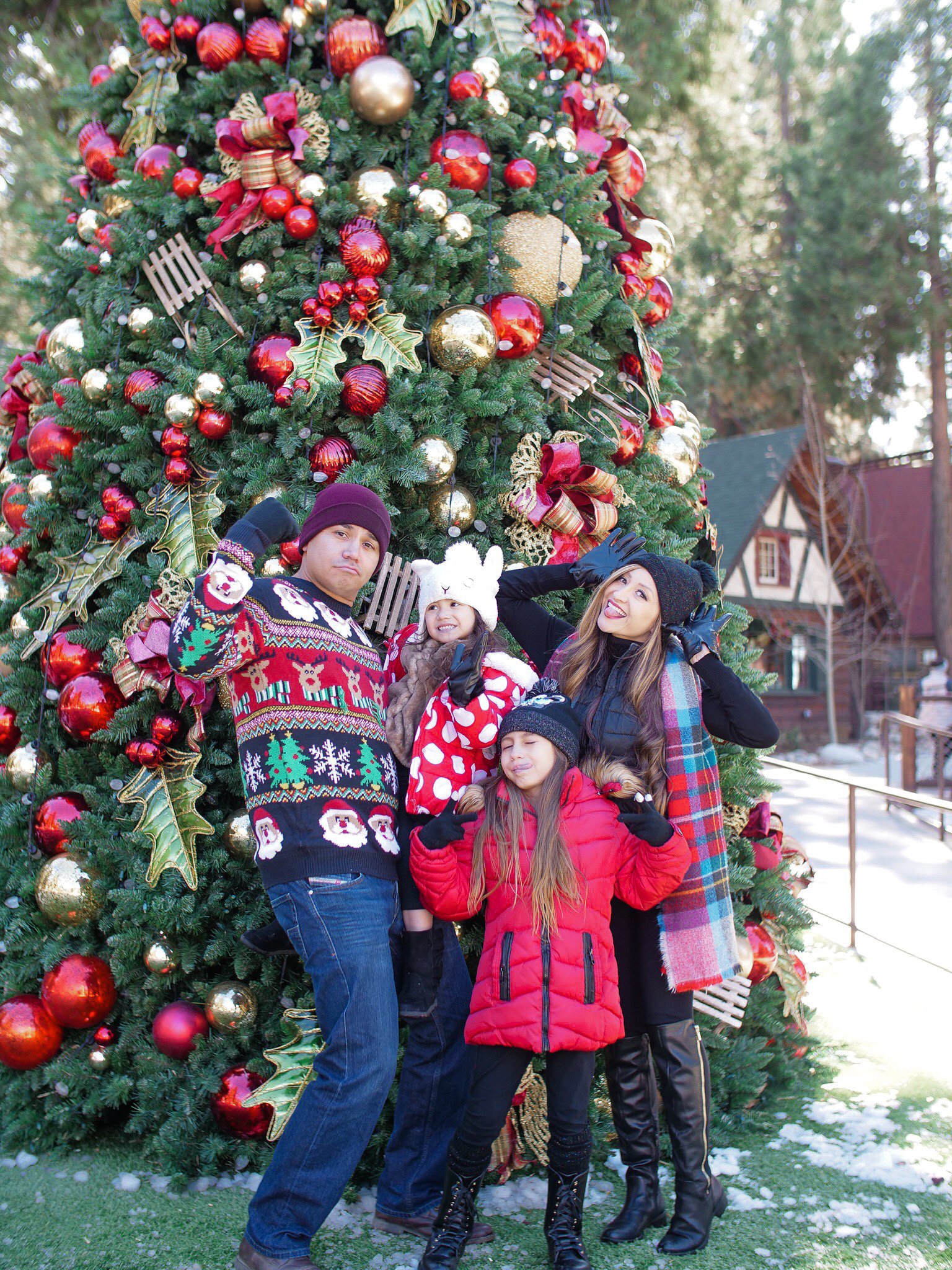 Abrazos (hugs), 
Gladys
* Model WFW9620H. Based on an 8-lb load of laundry. Actual dispenser capacity varies by model
** WiFi & App required for connected features. Features subject to change. Appliance must be set to Remote Enable for remote control capabilities. Voice control availability may vary by region. Select stains only. Details and privacy info at whirlpool.com/connect