This shop has been compensated by Collective Bias, Inc. and its advertiser. All opinions are mine alone. #TryJohnsonsBaby #ChooseGentle #CollectiveBias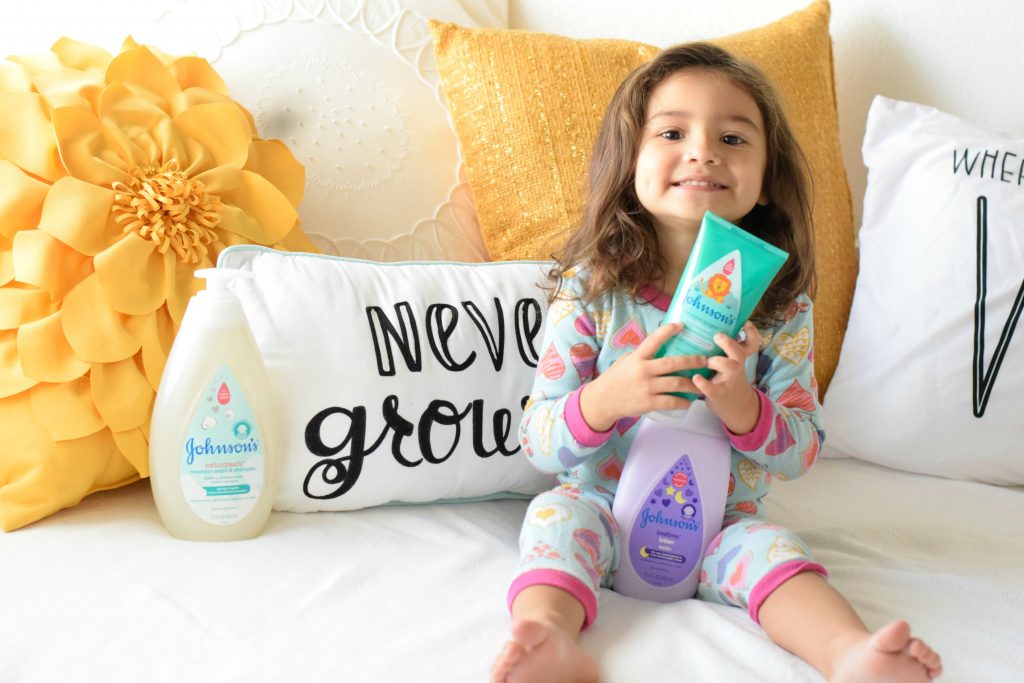 Every time I see the clock approaching 6:30 pm, aka time for our kids bedtime routine, I get an extra burst of energy. Mainly because it reminds me that our girls will soon be counting sheep or that much closer to it. Which means I'll finally be able to get uninterrupted time to work. Although, to be honest, some days I'm just looking forward to also hitting the sack early.  Any one else relate?
And with so many bedtime routine blog posts and tips out there, I've come to the realization that they are not all perfect for every family out there. Certainly not ours. But one things for sure, we can all appreciate a stress-free routine, right?
Tip #1: Your Bedtime 'Routine' Should Be A Routine
I can't stress this one enough. See what I did there? Ok, but seriously, make sure you create the same predictable pattern of pre-bed time activities and stick to them. Be sure to follow them every single night. Did you know that a bedtime routine actually helps signal to your kiddos that it's time for them to wind down and start thinking about sleep?
Tip #2: Start Early
I know, easier said than done but this one is an important one. If you're rushing through the routine your kids might perceive it as another activity. It might actually add on stress to the routine. Instead, relax and just start the process by starting early enough not to rush through it.
Tip #3: Less Bath Tub Toys
I remember swarming our oldest daughter Mia's bath time with so many toys that it overwhelmed her and caused her to not want to get out of the tub. To her, it seemed like it was another fun exciting activity to do. We soon realized that it became such a struggle to get her out of the tub which then added more stress to the routine.
So here's what we did. We removed all the toys and just allowed a couple toys in at a time. At first, she kept asking us where all the toys went. She was not happy about it one bit. So in an effort to calm the waters, we told her a white lie. I know, so bad, right? We said a mouse came to borrow the missing toys. Thankfully she liked sharing so it worked out.
Having less toys in the bathtub helped us with the entire bedtime routine. So we've continued to do this with our youngest and it's been a game changer. She's fine getting out of the bath as well with no hesitation.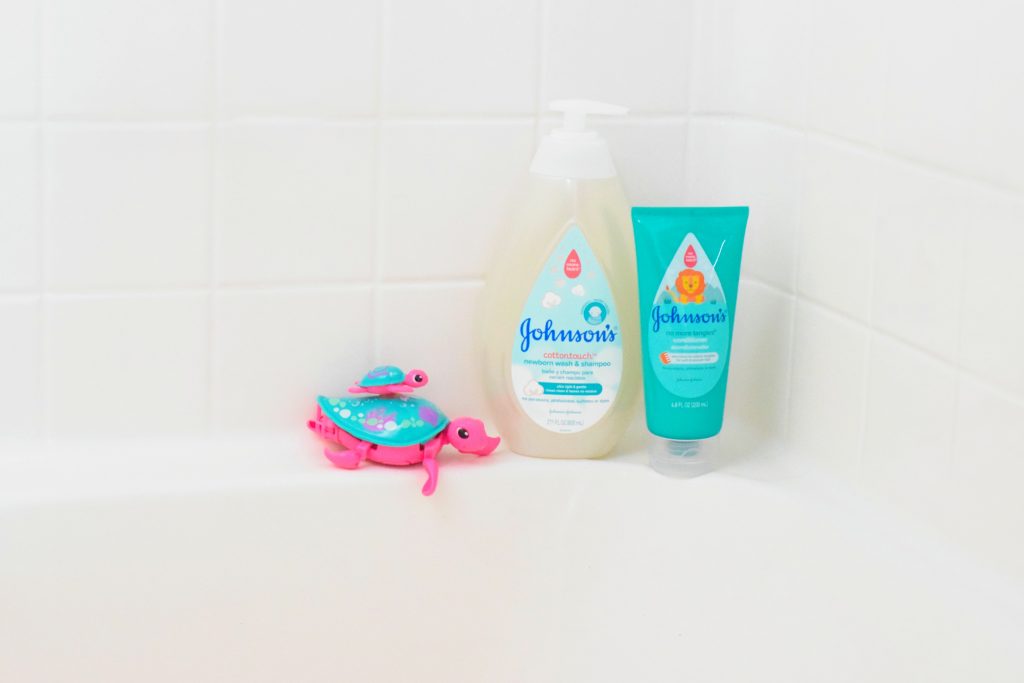 Tip #4: Use Gentle Baby Bath Products
For us, it's so important that we use products that are gentle on our kids skin, eyes and leave no residue behind. Currently loving the new and improved JOHNSON'S® Baby products. Especially the COTTONTOUCH™ Newborn Wash & Shampoo, Johnson's No More Tangles® Conditioner and Johnson's Bedtime Lotion.
Why we're using the new & improved JOHNSON'S® Baby products
Over 90% naturally derived ingredients
They leave no unwanted residue behind, and are easy-rinsing and fast-absorbing.
 100% gentle, and free of parabens, and phthalates.
 Dye free, sulfate free, worry free
They smell so good!
50% fewer ingredients
The detangling conditioner helps us comb our daughters hair with such ease
Enhanced functionality of adding the pump top to the bottles to make it easier for moms to utilize when hands are full.
# 1 choice of Hospitals, now more gentle than ever.
The new COTTONTOUCH™ Newborn Wash & Shampoo is made with real cotton, specially designed for and perfectly pH balanced to newborn's sensitive skin. It absorbs fast and feels incredibly soft. It also helps make babies' skin less slippery during bathtime. For us, shampooing our toddler's hair involves less fuss now as the wash & shampoo don't irritate her eyes. Plus we love how her skin feels so soft and smells divine afterwards.
The Bedtime lotion has relaxing NaturalCalm® aromas that help soothe little ones before bed.
We love stopping by our local Albertsons Grocery Store as it's super easy to just grab all the essentials we need to create our weekly family meals. And it just so happens that they also carry the new and improved JOHNSON'S® products! A perfect one-stop shop experience we're certainly grateful for.
Tip #5: Keep Your Bedtime Routine Short & Sweet
Always remember that less is better. Keep the bedtime routine as short as possible and stick to it.  Our routine consists of; Bath time, pj's, brushing teeth and one bedtime story/snuggles.
So there you have it mamas. Hope these stress-free bedtime tips help smooth your routine at home too! And if you have any additional ones you think we should incorporate to this list, just drop us a comment below.
Abrazos (Hugs),
Gladys