My youngest, Lexi, is a strong willed 2-year-old that has really put my motherhood patience to the test. More so with the free live shows some experts like to call temper tantrums. Extra points if the temper tantrums happen to take place in rather large public settings. And triple points if you're trying to keep the house clean. Because cleaning up a room only to find a tornado went through the rest of the house is surely a test on our patience, right? The truth is, every parent loses it at one point  – it's a fact of life.  You're not alone. I tend to lose it because I start feeling overwhelmed.  More so with the public toddler tantrums. I just want to hide inside my kids stroller. Anyone else relate?
For this main reason, I searched the web hours upon hours – endlessly trying to find answers and tips on how to be a patient mom, a better mom. Trust when I say I read a ton and tried so many things but nothing worked. Well, it didn't until I came across the book Affirmations for Mom, 30 Ways to Bring Peace, Love and Patience into Motherhood by Meagan E. Wavra. Such a powerful title, right? It certainly grabbed my attention and I bought the book instantly on Amazon.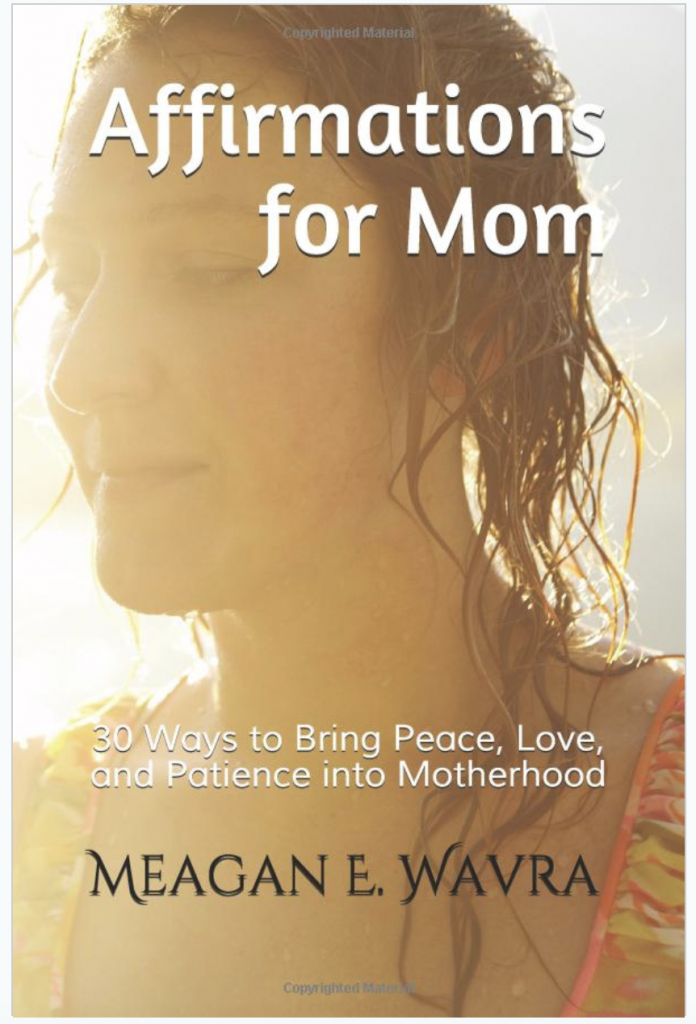 7 Key Takeaways From The Book
Take a few minutes each morning to think about what you have going on, how you'd like to feel and decide to make it so.

Create a daily affirmation that will encourage you and give you confidence when you're feeling exhausted and overwhelmed. Aka, about to lose it! For example:"Today will be easy. For myself, I will be productive, energetic and positive. For others, I will be patient, understanding and considerate." – Meagan E. Wavra
A few more…I wake up everyday filled with energy. Ready to conquer the day.
Today I will see the best in my child and the best in me.
I am a calm confident mom.
Anxiety is contagious and so is calm.
I am a great mom, even as I work to become a better one.
Be sure to tailor your daily affirmations to your personal needs each day and write it out on paper as opposed to your computer or phone. I love using sticky notes so that I can move my affirmation around wherever I go.
Use present tense and positive wording. "I only eat fresh healthy food" vs "I will never eat junk food." And "I'm building a legacy of love" vs "I will build a legacy of love."
"Planning out how you want to feel is useful, because once you notice things going askew or the day becomes challenging, you'll remember how you decided you'd rather feel and can then alter your reaction to bring yourself back into alignment with your intention." –
Repeat the daily affirmation aloud throughout the day as you're washing dishes, doing laundry or a task.
And for those days that are just plain rough, and you can't think of your affirmation quick enough, Meagan E. Wavra gives an awesome trick in her book Affirmations for Mom, 30 Ways to Bring Peace, Love and Patience into Motherhood. It's something that has seriously worked every.single.time over here. I also find that adding humor helps so I'm leaving you with a couple funny one liners I made up to help me laugh and bring me back into alignment with my intention.

My kids can now add professional patience testers to their resumes.

Because motherhood and patience go together like peanut butter and jelly.

Patience, something I knew very little about pre-kids but currently working on getting a Masters on it post-kids.
Try these positive affirmation tips for a week and let me know how it goes. Did you notice a change in your kids and in yourself? I'd love to hear your feedback.
Abrazos (Hugs),
Gladys