As a mom, I'm all about making easy recipes with a healthier twist. But extra points if the recipe provides amazing health benefits when consumed. For Instance butternut squash and shiitake mushrooms. Yes, I know, perhaps two things that never really make it onto most families dinner tables. But here's why they're both so beneficial to eat.
Butternut Squash
Great for Eye Sight
No wonder our Pediatrician mentioned to give our kiddos butternut squash at a very early age. Did you know, "Consuming a small portion of butternut squash's rich yellow-orange flesh supplies more vitamin A than most people need in a day? Vitamin A is important for eye health and immune function, with deficiency causing vision problems and leading to decreased resistance to infections. A significant portion of butternut squash's vitamin A content comes from beta carotene, one of a handful of carotenoids found in fruits and vegetables." Livestrong.com
Associated with Reducing Cancer
And speaking of Beta carotene. It "is the most studied carotenoid, associated with a significantly reduced risk of lung cancer. It also may reduce the risk of macular degeneration, UV-induced skin damage and breast cancer." Livestrong.com
More Potassium Than a Banana
Did you know that a cup of butternut squash also provides 582 mg of potassium? That's more than the amount available in one banana. And if you're wondering, Potassium is known as an electrolyte, which helps maintain a healthy balance of fluids in the body.
Shiitake Mushrooms
Considered the Healthiest Food on the Planet
Shiitake mushrooms where extensively used in ancient Chinese medicine and are known to be the healthiest food on the planet!
Shitake Mushrooms help with "weight loss, cardiovascular health, fight cancer cells, improve energy levels and brain function, reduce inflammation, and support the immune system." draxe.com
Scientists have proven that shiitake mushrooms offer antiviral, cholesterol-lowering and cardiovascular support, and amazingly, properties in just the right amounts to augment the immune system (combats infections), revving it up or leveling it off where needed. – Foodfacts
I can attest to the immune system benefits of this mushroom. When I was in college, I was getting little sleep, not eating as healthy and for that I kept getting sick all the time. Tired of taking antibiotics after antibiotics, I went into Whole Foods and did some research on what vitamins I should be taking.  The knowledge of an employee led me take shiitake mushroom vitamins. I started eating cleaner and taking these vitamins and I kid you not, within a month I was feeling pretty amazing and the sickness went away completely. Shiitake mushrooms are where it's at!
So are you ready to make a super easy and delicious recipe that even your kiddos won't know has these two ingredients?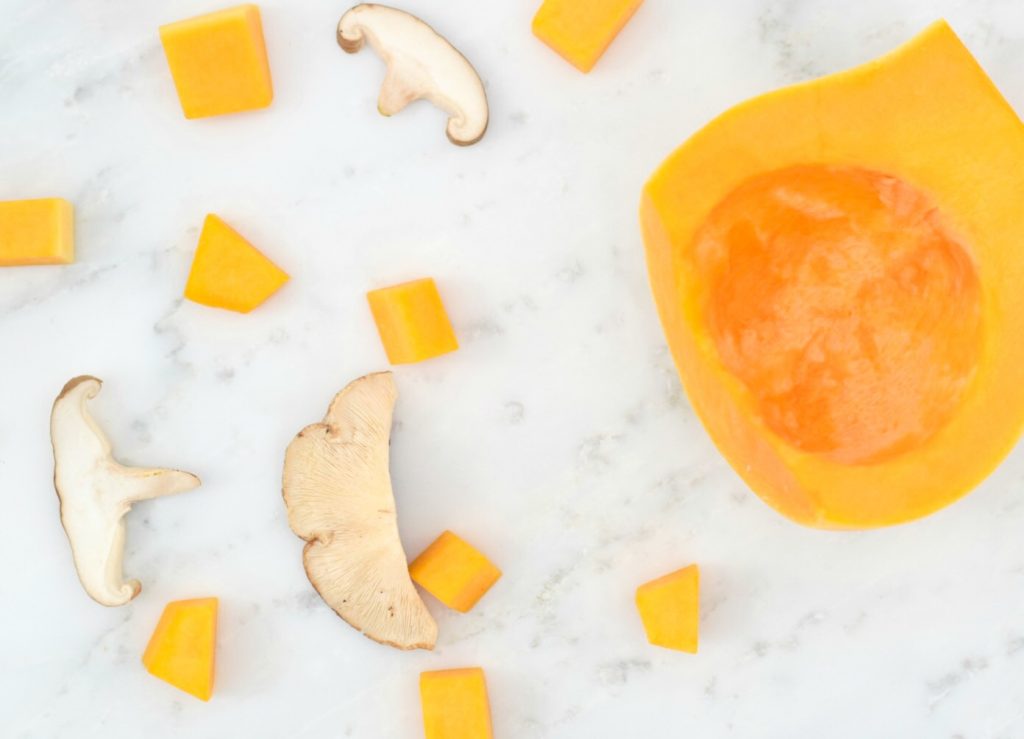 Butternut Squash and Shiitake Rice
Ingredients
1 Tbsp grape seed or EVO oil
1/2 c shitake mushrooms
1/2 c chopped butternut squash
1 c brown rice/ jasmine rice
¼ cup diced red onion
1 garlic clove, minced
3-4 medium sized organic vine-ripened tomatoes diced
1 tbsp sea salt
1 tsp cumin
1 cup organic chicken or vegetable broth
2 c water
Instructions
In a large pot, bring 1 c water to a boil. Add chopped butternut squash and boil for 10 minutes.
Add tomatoes, cooked butternut squash, mushrooms, chopped onion, garlic and 1 c water into food processor/ blender.
In large saucepan, add oil, cumin and rice. Stir all ingredients on medium setting. Stir continuously for 5 minutes or until rice is slightly toasted. Let stand for a couple of minutes. Add mixture from blender into pan but be careful as saucepan is hot (use pan lid to cover the pan and slowly add in the mixture). Stir and bring to a boil on medium setting. Add salt and reduce heat. Cook for about 20 minutes on low. Remove pan from stove top and fluff rice with fork. Serve and enjoy.
https://themotheroverload.com/benefits-of-eating-butternut-squash-and-shiitake-mushrooms/
*Makes 3 Cups Cooked rice
If you think this recipe would benefit a friend, please pass this link along. Sharing is caring!
Cheers to being sneaky chefs! 😉 — Gladys