This post is sponsored by Crockpot™. All opinions are our own and as always, we only work with brands we love.
This past Friday marked the beginning of one of our favorite competitions – the Summer Olympics. And what better way to celebrate this world-wide sports competition than by having a small gathering with some delicious appetizers. So, today, we thought we'd share two of our easy and healthy summer Olympics appetizer ideas that can be cooked at the exact same time – saving you time in the kitchen as well as the amount of counter space needed. 
Two Olympic Appetizer Recipes For All
For our first recipe, we created a mashup dip which includes black beans and salsa verde. This dip continues to be a huge hit and by far the easiest to create. The second dip includes a  vegetable spread – making it a perfect alternative for all guests and their dietary needs. The best part? We were able to cook both appetizers at the same exact time in the same Crockpot™ with the help of our versatile Crockpot™ Choose-a-Crock Programmable Slow Cooker.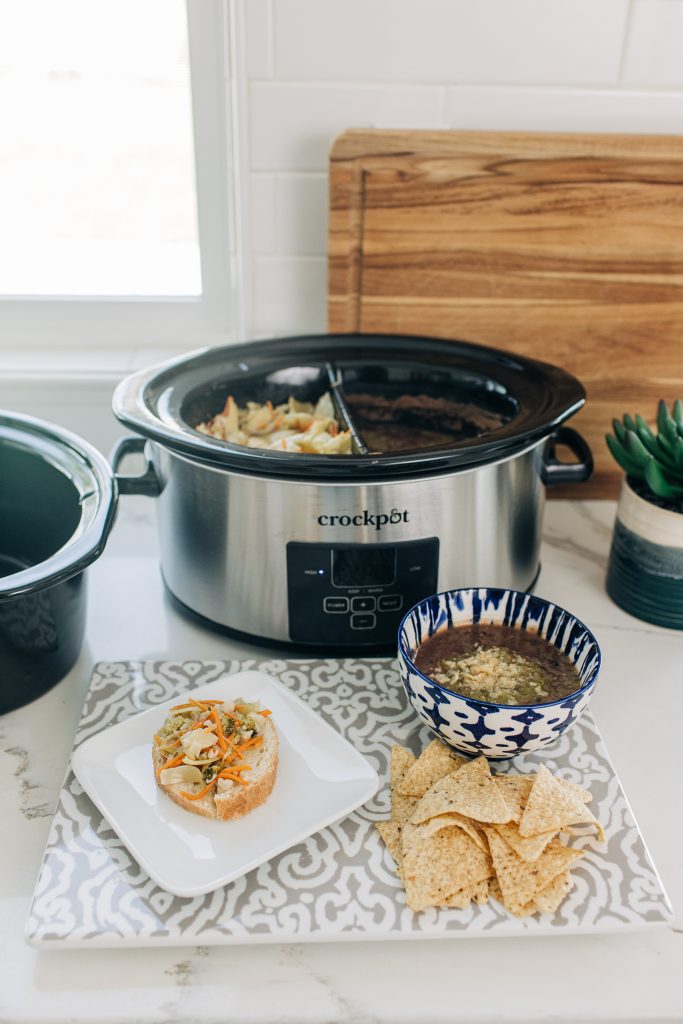 A Versatile Slow Cooker
This Crockpot™ is a versatile slow cooker with interchangeable, 6-Quart, 2.5Qt split stoneware, so you can choose how much food you want to cook! I love that this kitchen appliance is perfect for parties, and entertaining at home or even on-the-go.
It's stoneware conveniently nests when not in use (making it ideal for compact storing). While the stoneware and lid are dishwasher-safe, the stoneware is also oven-safe (up to 400 degrees F). The best part? We love that our Crockpot™ does all the cooking for us – leaving us with more time to hang out with our friends and family while it single-handedly prepares our meals from start to finish. The CrockPot™ Choose-a-Crock Programmable Slow Cooker is available at Target. We hope you enjoy these easy summer olympic appetizer Ideas with your friends and family too! For another Crockpot™ recipe, check out our Summer Corn Chowder recipe which is delicious and so easy to make as well.
Easy Healthy Summer Olympics Appetizer Ideas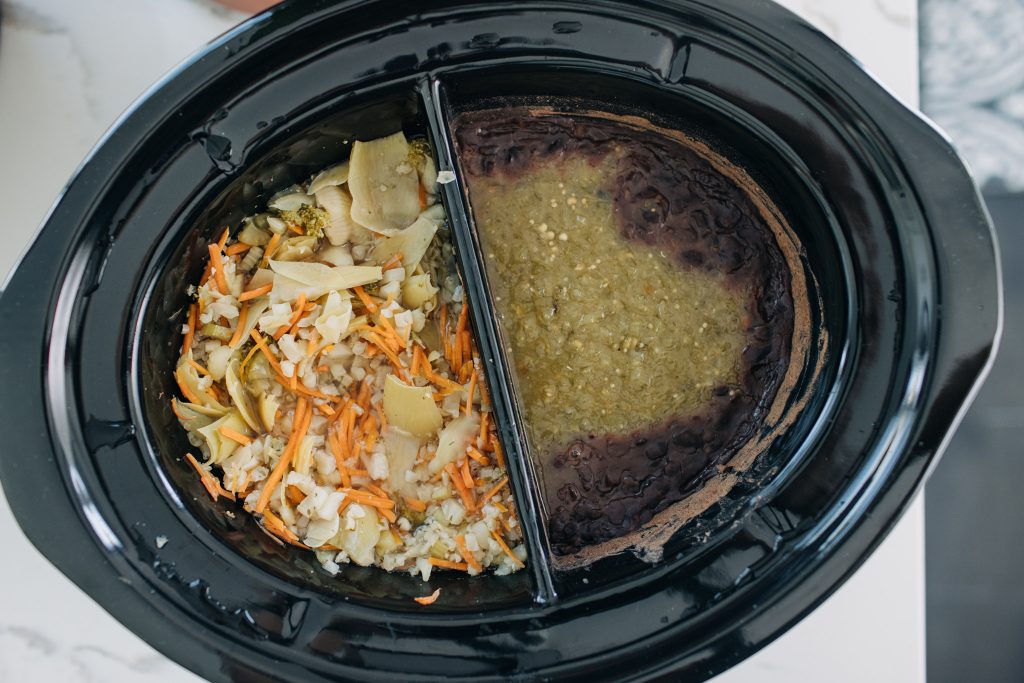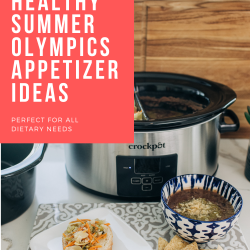 Black Bean Salsa Verde Dip and Vegetable Spread Recipes
Easy Healthy Summer Olympics Appetizer Ideas
Equipment
CrockPot™ Choose-a-Crock Programmable Slow Cooker
Ingredients
1

can

Organic black beans

⅓

c

Broccoli, chopped

1/2

c

Cauliflower, chopped

1/3

c

Carrot, shredded

1/2

c

Celery, finely chopped

3/4

c

Artichoke hearts, chopped

1

tsp

Garlic, minced

1/4

c

Vegetable broth

1/2

tsp

White pepper

4

tbsp

Olive oil

1

tsp

Seasoning salt

1

bag

Corn Tortilla Chips

1

Baguette or pita chips
Instructions
Add black beans to one side of CrockPot™ Choose-a-Crock Programmable Slow Cooker

Add garlic, olive oil, pepper, and seasoning salt to the second side of Crockpot™.

Cover and cook on high for 15 min.

Add broccoli, cauliflower, carrot, celery and artichoke to the garlic side and mix well.

Add vegetable broth to the vegetable side and cover.

Using a potato masher, smash the black beans.

Add salsa verde to black beans. Cover and cook on high for 15 min.

Serve bean dip topped with crushed tortilla chips and side of chips to dip. Serve vegetable spread with baguette slices or pita chips.