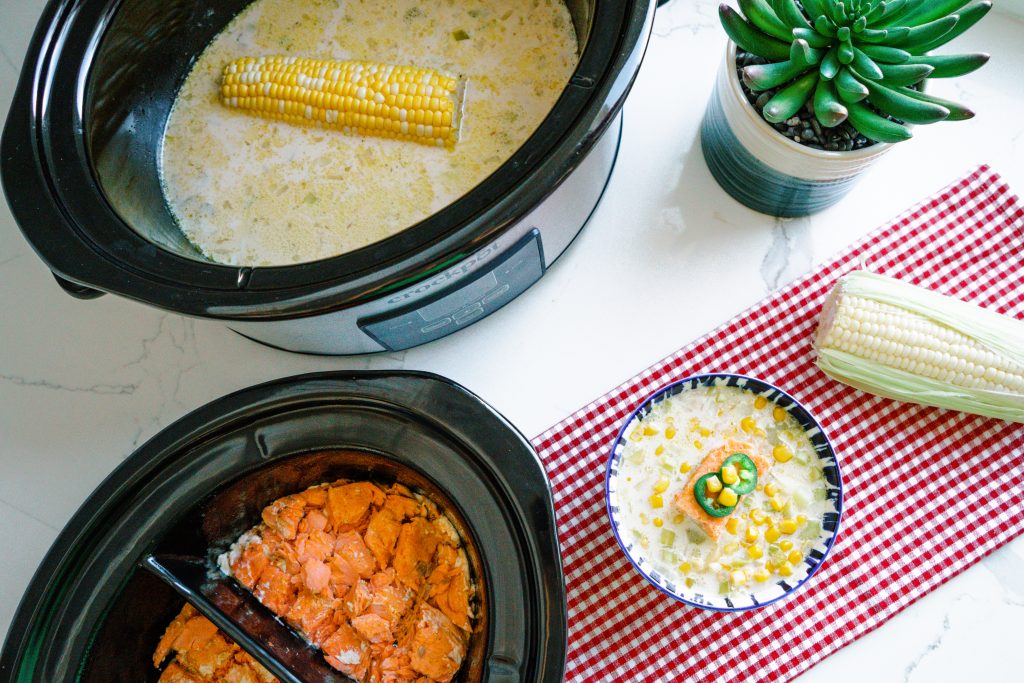 This post is sponsored by Crockpot™. All opinions are our own and as always, we only work with brands we love.
Summer is officially here and we're getting ready to check things off of our summer bucket list. This year, I've decided to include one more item to our usual list and that is to create new flexitarian recipes. And in case you're not familiar with the term, a flexitarian is "a person who has a primarily plant-based diet but occasionally eats meat or fish." The actual name, flexitarian is "a portmanteau of the words flexible and vegetarian, signifying its followers' less strict diet pattern when compared to vegetarian pattern diets."
Jump to Recipe
A Dairy-free Alternative
For my first flexitarian recipe of the season, I decided to recreate the corn chowder since corn has always been a summer favorite. Though the traditional corn chowder recipe calls for cow's milk, I decided to experiment with a dairy-free alternative. If you've been following our recipes, you would know that I'm a huge fan of coconut milk. And so, I wasn't surprised to find out that coconut milk tastes just as well in this new recipe! If you're a fan of grilled corn, cornmeal, corn chowder and all things corn, then this recipe is for you!

For this corn chowder recipe, we topped it off with wild salmon. Here's the thing, I wanted to create a recipe that was flexible for vegetarians, vegans, and flexitarians. Using our Crockpot™ Choose-a-Crock Programmable Slow Cooker, I was able to cook the salmon in the 2.5Qt split stoneware and then the chowder in the 6-Quart. One may choose to skip or add the salmon to their bowls as per their dietary preferences.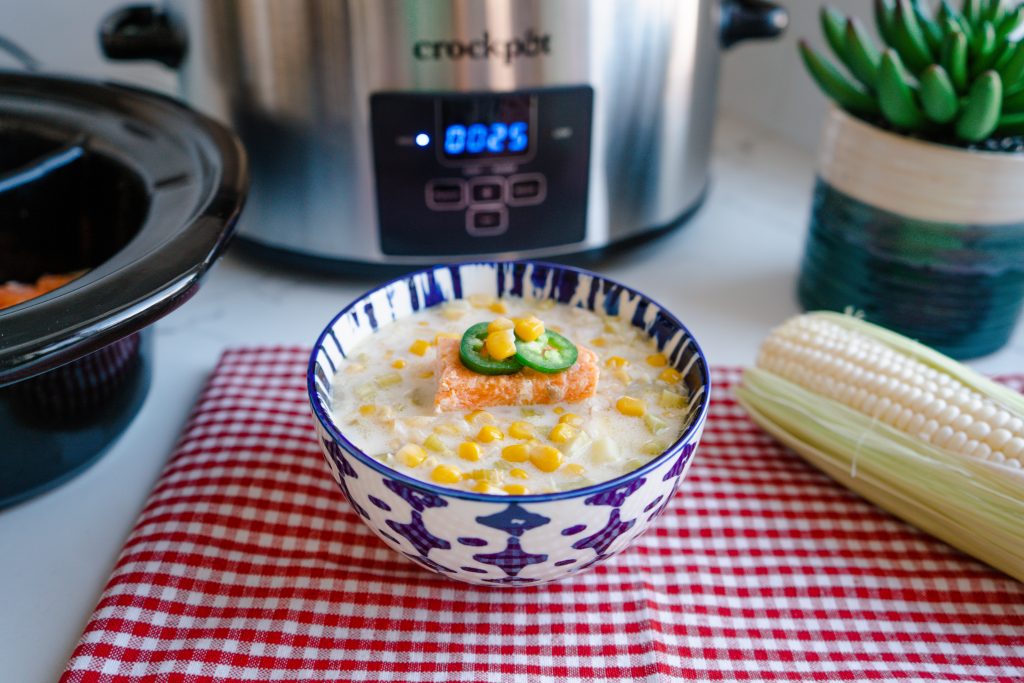 A Perfect Summer Serving
Our flexitarian-friendly summer corn chowder is an ideal addition to any summer bbq gathering. The Crockpot™ Choose-a-Crock Programmable Slow Cooker makes the dish all the more easy to prepare, thus allowing us to entertain large family/friend gatherings easily and enjoyably.
A Versatile Slow Cooker
This Crockpot™ is a versatile slow cooker with interchangeable, 6-Quart, 2.5Qt split stoneware, so you can choose how much food you want to cook! I love that this kitchen appliance is perfect for parties, and entertaining at home or on-the-go.
It's stoneware conveniently nests when not in use (making it ideal for compact storing). While the stoneware and lid are dishwasher-safe, the stoneware is also oven-safe (up to 400 degrees F). The best part? We love that our Crockpot™ does all the cooking for us – leaving us with more time to hang out with our friends and family while it single-handedly prepares our meals from start to finish. The CrockPot™ Choose-a-Crock Programmable Slow Cooker is available at Target.
For another Crockpot™ recipe, check out our Lentil Tortilla Soup which is delicious and so easy to make as well.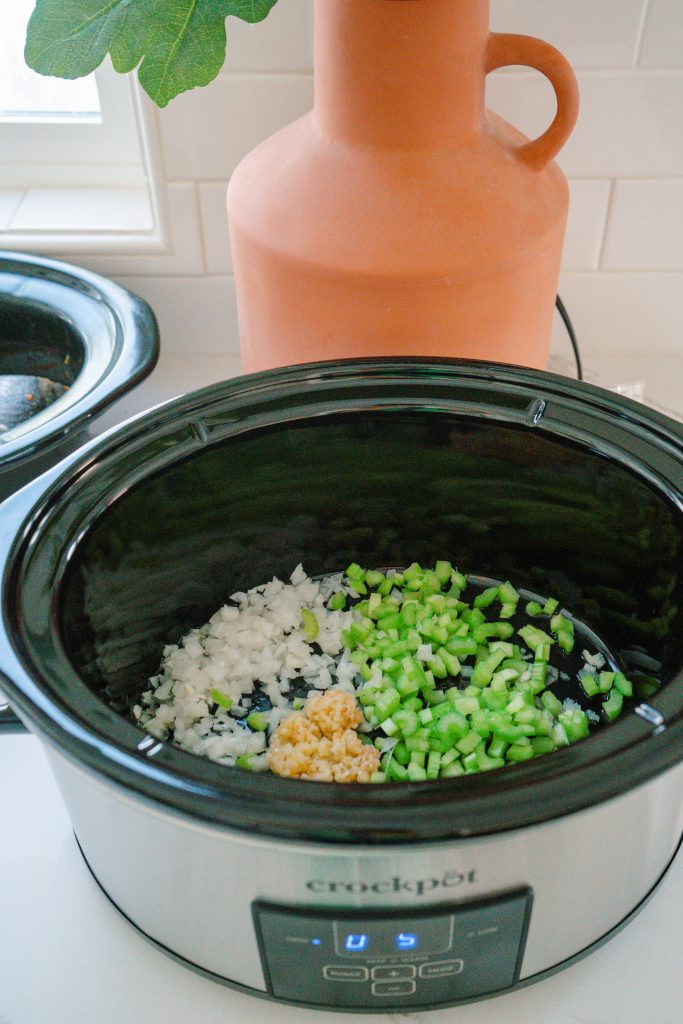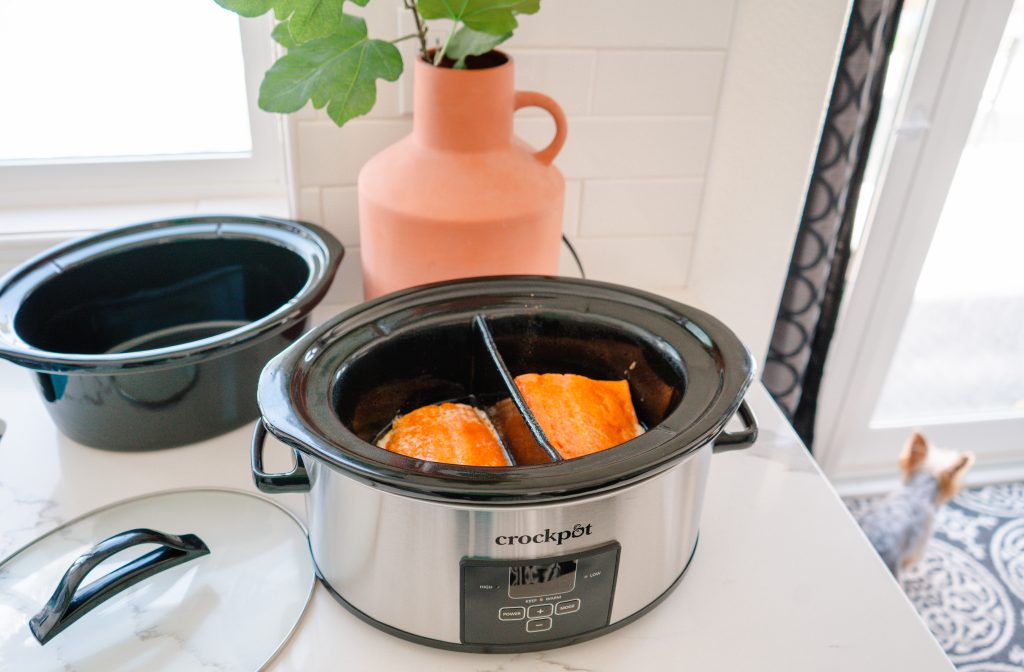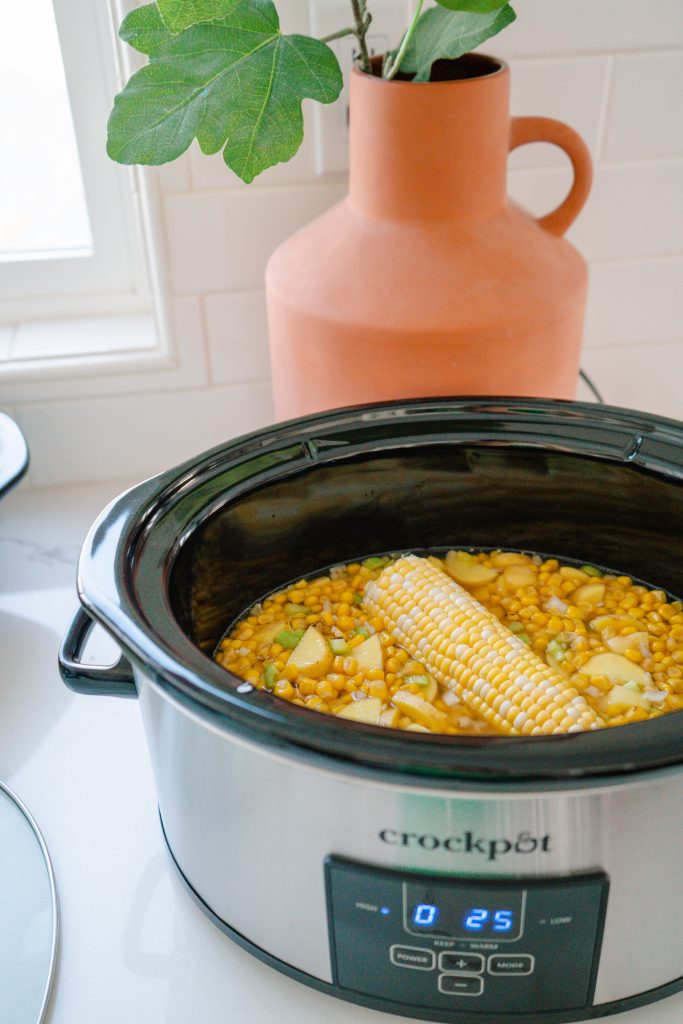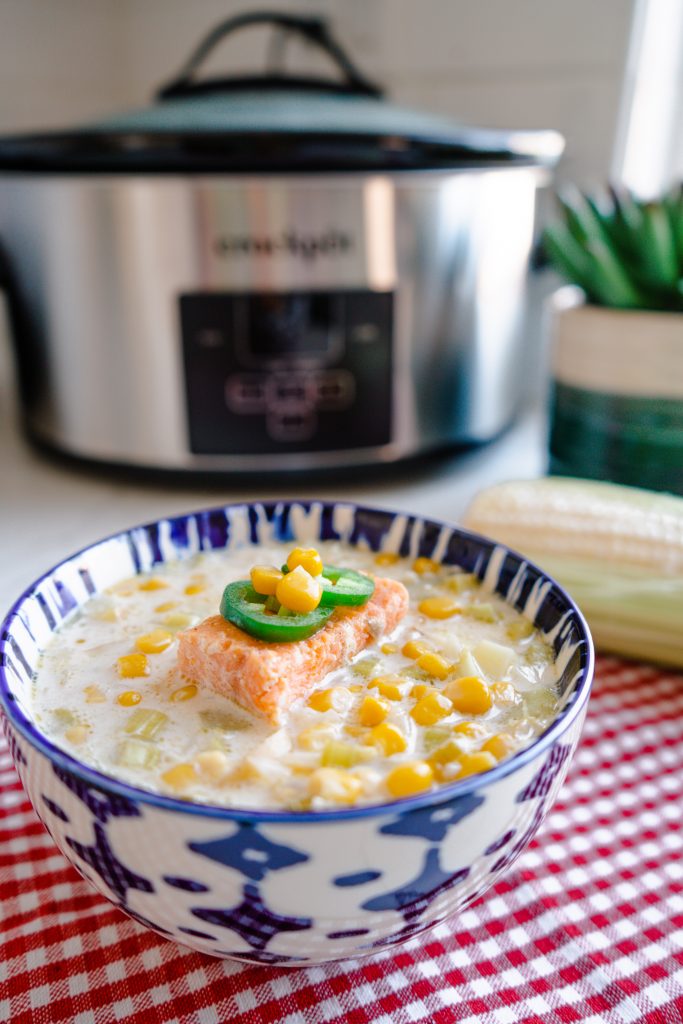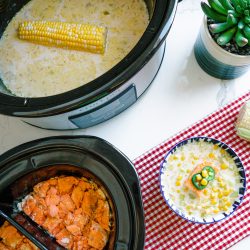 Summer Corn Chowder – A Flexitarian Recipe
Equipment
CrockPot™ Choose-a-Crock Programmable Slow Cooker
Ingredients
2 1/2

cups

corn kernels

1

corn on the cob

1 1/2

cups

baby gold potatoes, diced

1/2

cup

celery, diced

1/4

cup

white onion, diced

1

tsp

minced garlic

2

cups

vegetable broth

1/2

cup

thick coconut milk

3-4

7 oz

 wild salmon fillets, boneless, skin-on

2

tbsp

olive oil

1

avocado oil, spray

1

tbsp

seasoned salt

1

dash

ground black pepper
Instructions
Using the Crockpot™ 2.5Qt split stoneware, add to the slow cooker and set to high.

Spray the inside bottom of the stoneware with avocado oil.

Add salmon and cook for 30 minutes or until fully cooked.

While the salmon cooks, dice potatoes, celery, onion and mince the garlic.

Using the 6-Quart stoneware, set to high and add olive oil, onion, garlic, celery and seasoned salt. Stir and cook for 5 minutes. 

Add vegetable broth, corn, and a corn on the cob for additional flavor) Cook for 20 minutes.

Add coconut milk, dash of ground black pepper and cook until potatoes are fully cooked.

Optional: Top with salmon and jalapeño slices.