First-time Home Buyers & Home Renovations
It is hard to believe that we purchased our first home nearly 10 years ago. At the time, I was expecting our first child and was about 8 months pregnant. And even though finally purchasing a home was a huge milestone and goal for us as a family, I was not yet ready to celebrate. The house was not how I envisioned it to be. It needed some serious renovations.
The house was foreclosed and fully carpeted throughout with a stench of cat and dog urine. Black widows were also found crawling around both indoors and outdoors. Oh! and we had roommates visiting from day one on our roof. These roommates, who we also called pigeons, loved using the roof, driveway, and backyard as their personal bathroom – so much so that our house exteriors were sprayed with pigeon feces. We later found out that there were also pigeon skeletons buried deep in the spacing of the roof as we (my husband) safely cleaned out the areas and bid farewell to the roommates. To sum it all up (without being more graphic) the property needed so much work that I was even hesitant to put in an offer for it.
Yet, I'll never forget what Rey, my husband, said to me when we first walked into this fixer-upper home. "I know it's not a-ready-to-move in home but it's definitely the most affordable and has such a great layout. Plus, we can eventually make it our own."
Focusing On The Positives
They say when it comes to marriage, we have to compromise right? Well, as a 8 month pregnant mother, I felt overwhelmed at the thought of this compromise since it entailed pouring in blood, sweat, and tears towards renovating the house just before the baby arrived. Though I gave in with the condition that we should also put in multiple offers on different homes, I prayed the entire time that we'd secure a good deal on a home that was move-in ready. Long story short though, that never happened and instead the foreclosed fixer-upper accepted our low offer.
The positive side of this story? Our low mortgage payment made it easier for us to fix up the house. We removed the carpet, deep cleaned every corner, removed the black widows, re-painted the indoors and outdoors, and added black laminate floors throughout the entire home. Little by little, we made this house our home, and in retrospect, I have to admit that moving here has been the best decision we've ever made!
Our Easy Modern Dining Room DIY Renovation
However, there was one room that I had been wanting to renovate ever since we moved in: our high-ceiling dining/ living room. And so, I was very grateful when we put together an easy modern dining room DIY renovation plan. The best part? Rey and I were able to work on it ourselves (primarily) – with some help from my dad on our high-ceiling faux fireplace that divides the dining room and living room space. Additionally, what made the whole process seamless and successful was the help we received from Jenny from @loteria_lifestyle. Jenny is an extremely talented designer and a mom of two. She made it possible for us to recreate our vision and today that space is our absolute favorite space in our home!
5 reasons why bringing in a designer to your home projects is a great investment-
They do a walk-through of the room and take all the measurements needed.
Put your vision onto paper.
Help simplify the process by researching for you.
Give additional suggestions to incorporate into your vision.
Provide mood boards, color and finish palettes, renderings and a full list of items with final direct links to purchase for your renovation. Jenny from Loteria Lifestyle can also bring in the right team to get the job done and bypass any DIYs. For us, it made sense to do it ourselves as it was more affordable to do so.
Our dining/ living room renderings from Loteria Lifestyle Design.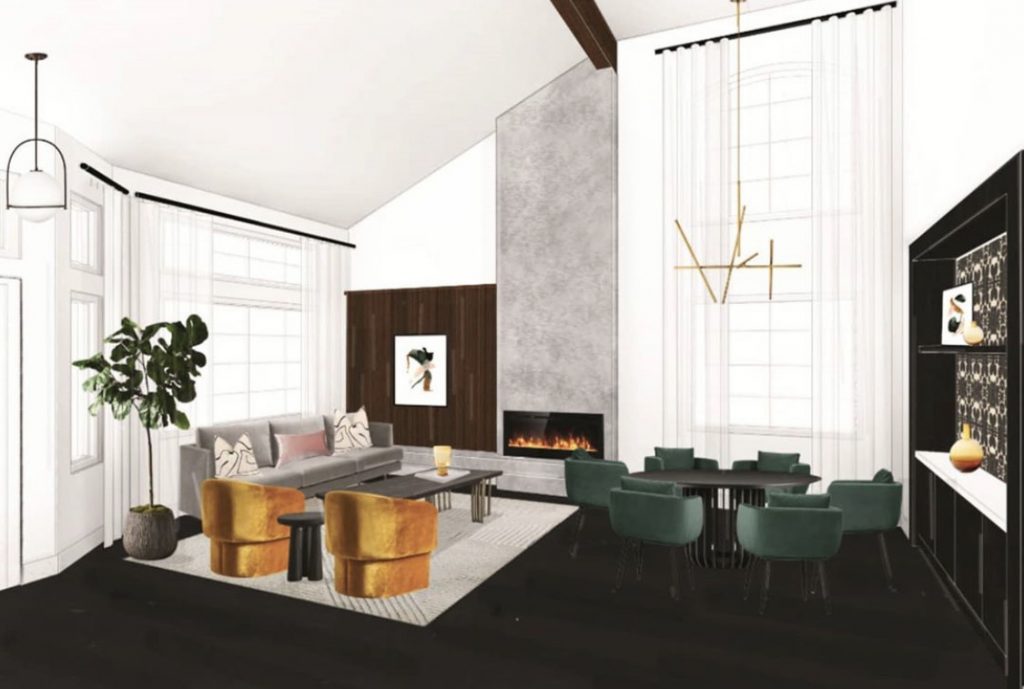 Before and after photos of the space.
Full list of final items we purchased for this Easy Modern Dining Room DIY Renovation: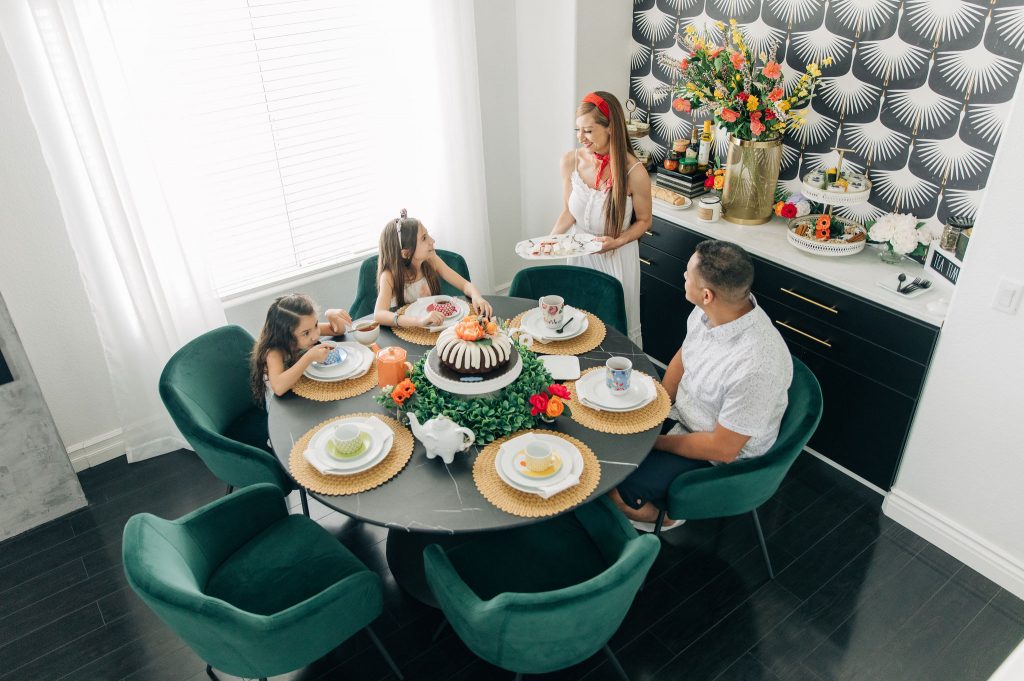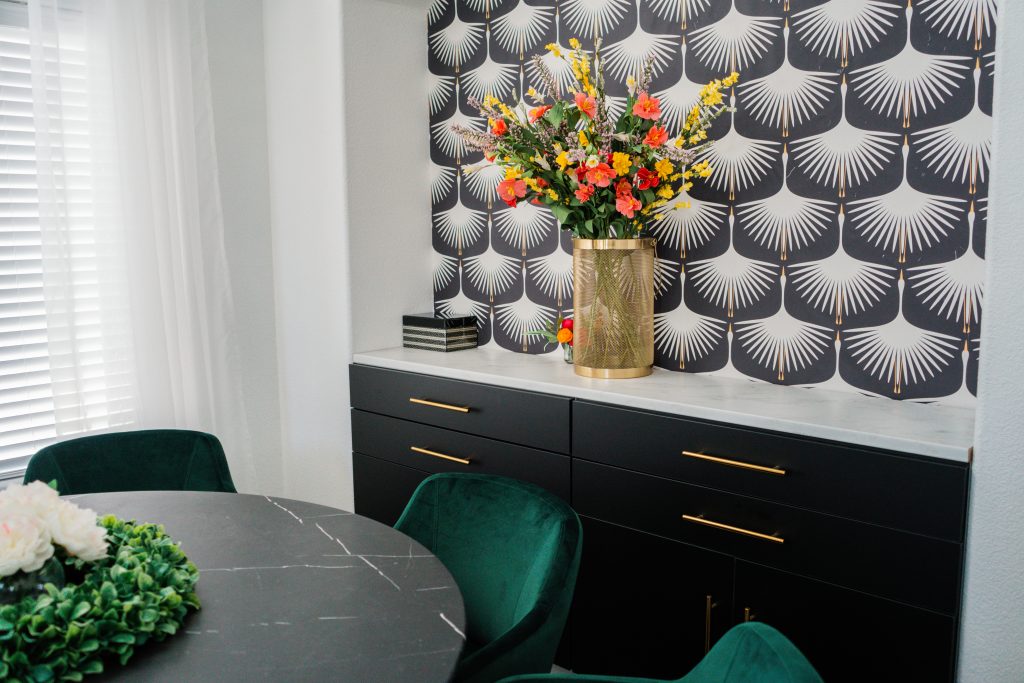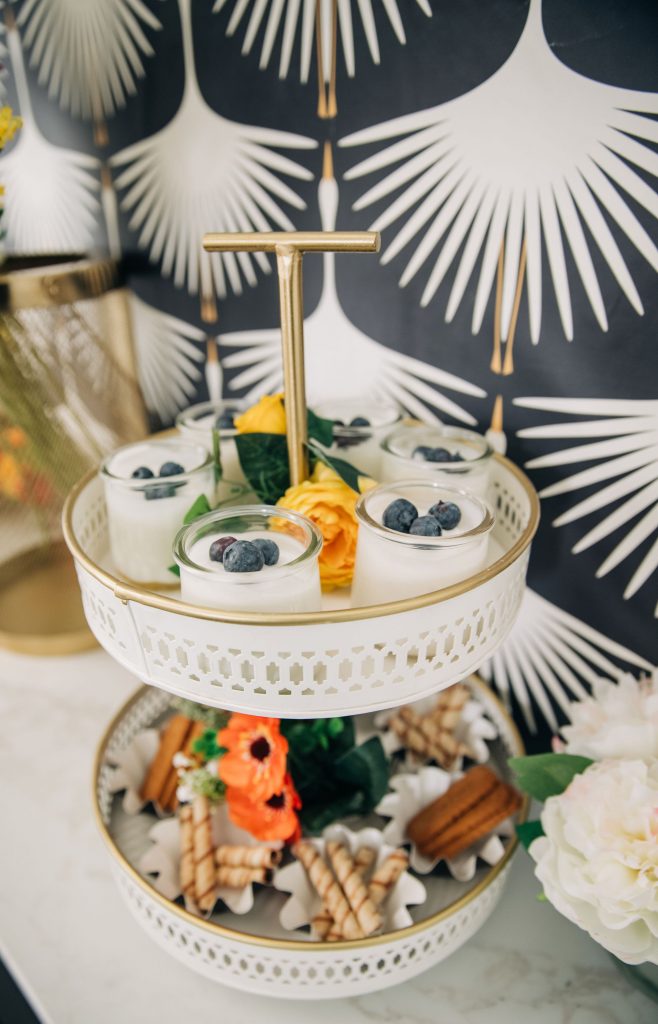 Issues We Encountered
It's also important to note that many items on our original shopping list for both the dining and the living room were replaced due to delays caused by COVID-19. Like many, we experienced back orders and even cancellations throughout the year. Grateful for Jenny, our Loteria Lifestyle designer, who had back up options and suggestions. Did anyone else also experience items being out of stock and back ordered during 2020?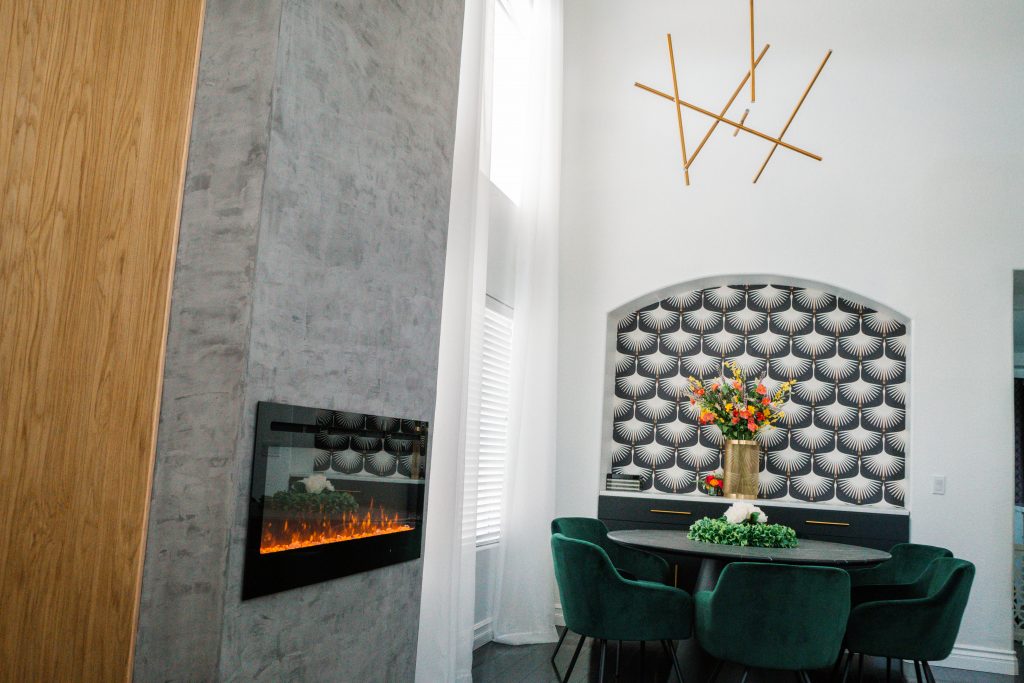 Our Dining Room DIY Renovation Was A Success!
Being in this "fancy room" as our kids call it, having dinner with the family or just simply drinking my warm cup of coffee here, reinforces our decision to purchase this house. We still have a few more items to check off and add to the living room and can't wait to update you on them so please stay tuned! We'll also be sharing exactly how we DIY'd our high-ceiling faux fireplace as well! In the meantime, stop by our girl's modern animal themed bedroom which has the cutest bed!