Girls Modern Animal Bedroom Tour
True story, It only took me about 5 months to transform this simple room for our girls. If you haven't sensed the huge sarcasm let me let you in on a little secret. This adorable mini house bed was ordered back in November 2017. It was suppose to be the girls Christmas gift and I had envisioned it being all done and set up by December 25th, 2017. Ha! Well that project certainly took a back seat.
So what happened? In a nutshell, the company we ordered the bed from never emailed letting us know the bed was backordered and they also had shipping issues. So as the holidays drew nearer, I emailed them worrying the bed wouldn't get to our house in time. And guess what? Crickets. I started to get worried that the site might not be legit. More like complete panic mode. So I followed up with a call. Someone picked up, phew! They then mentioned they didn't have it in stock until the first week of January. I know, total bummer. So we told the girls about their gift, bought a few other toys for them to open on Christmas and that was that.
Come January, we received an email (finally!) letting us know that the bed was on its way and would arrive towards the end of the month. Say what??? Another month without the bed? Geez! So long story short when the bed finally did arrive (early February), we were so busy we didn't have time to open all the boxes and put it together until around Valentine's.
And in case you're wondering, we made the decision to transition our girls into one room and turn Lexi's nursery into a playroom (still working on it). The idea came in hopes to find a solution to the toy mayhem. Anyone else relate? Happy to report the toys are staying out of their bedroom and ours for the most part. It also helps that I created the "Garbage fairy." Any toys left outside the playroom or family room will be taken by the garbage fairy (wink, wink). Trust me, it's working so far over here.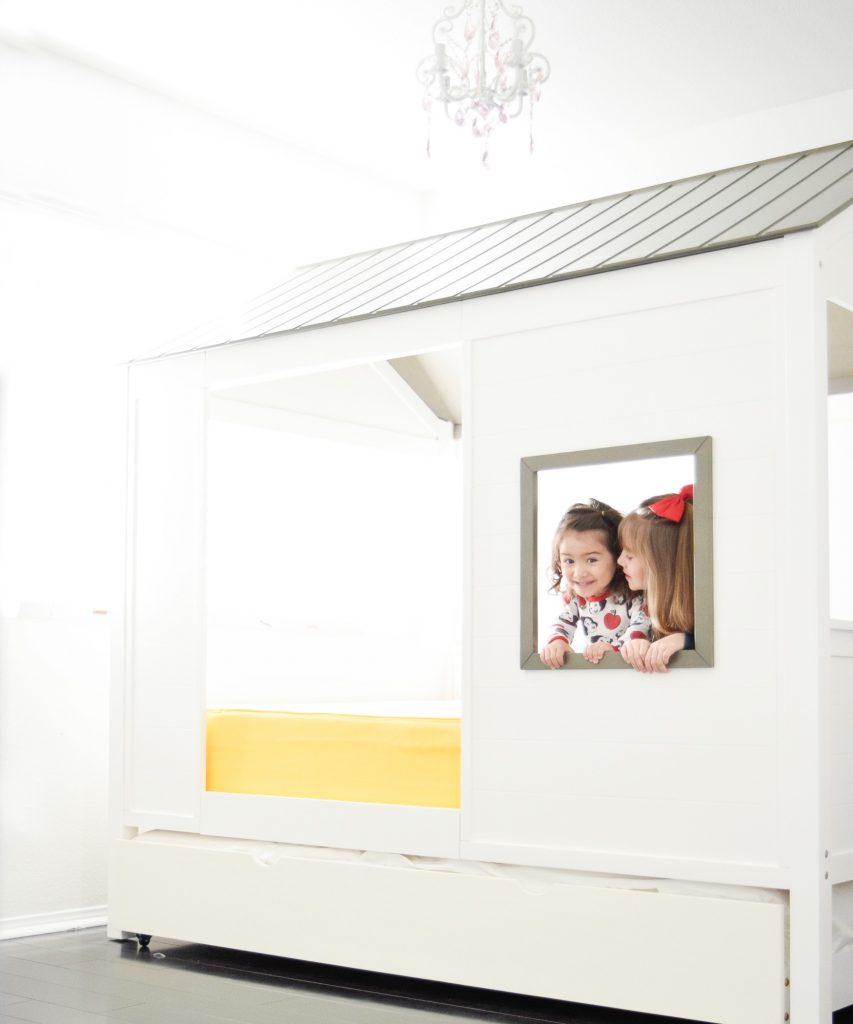 Now let's talk about this adorable full size w/twin pull out bed. When I was looking for beds for the girls, I knew I didn't want the typical bunk beds they sell at the furniture stores nor the single princess twin beds. I wanted something more fun. And bigger but with options. Love that we can have them sleep together on the full size mattress or separate with the twin pull out option. Same goes for their new ultra dreamy evesleep mattress. It's very different, functional and ultra comfortable. I'll admit, I fall asleep in their bed at times and wish I had this mattress in our master bedroom too!
I'm also loving all the bits of animal decor we've added to the girls room. If you follow us on IG, you already know that our girls are big animal lovers. So much so Mia, our oldest, asked us to buy her a zoo one time. So since we can't buy the girls a zoo, we wanted to add all their animal favorites into this sweet space.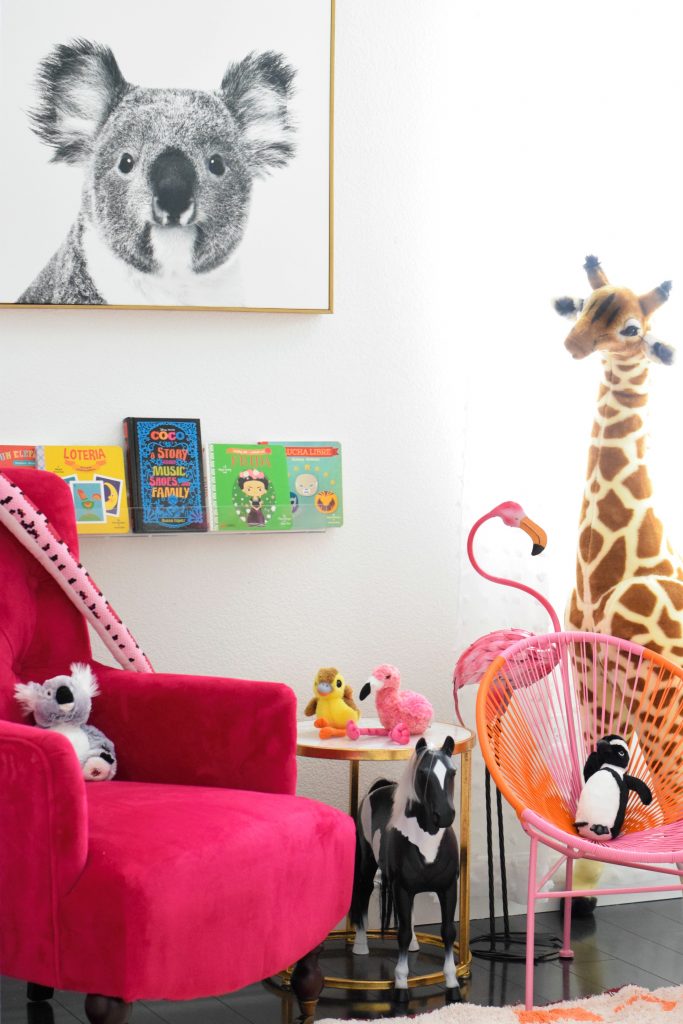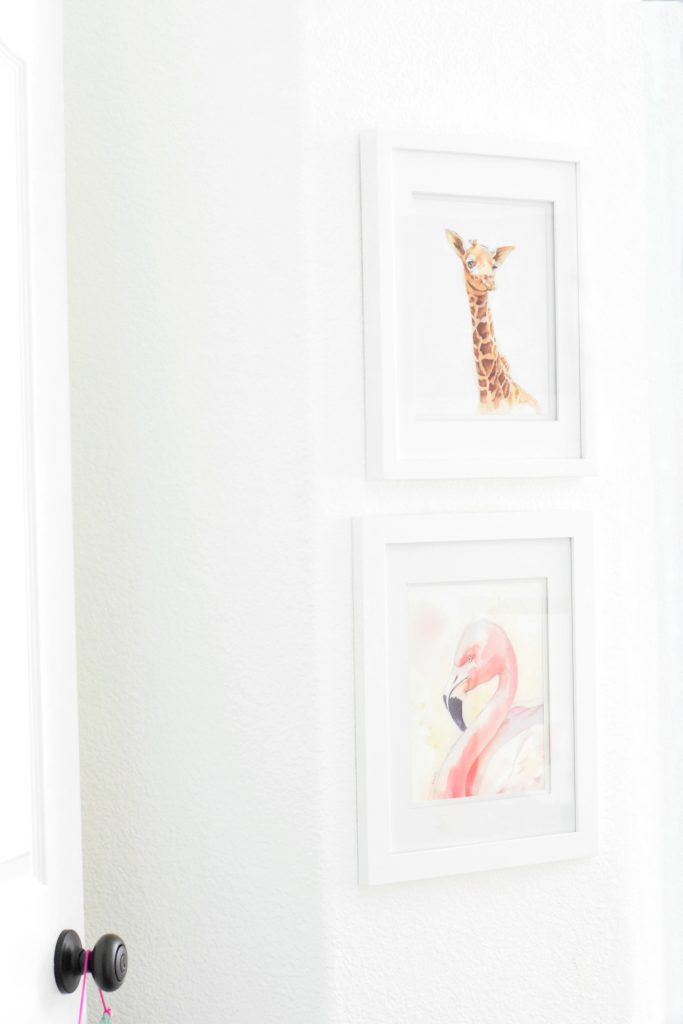 These unique and gorgeous prints were hand painted and delivered by the very talented owner, Kathy of little splashes of color. Mia and Lexi absolutely love giraffes and flamingoes so you can just imagine how excited they were to see this in their new room. Check out all the beautiful animal prints on the little splashes of color site. They are all beautiful and very affordable with tons of options to choose from.
Speaking of options, what if I told you that you could machine wash your kiddos bedroom rug?  This beautiful Lorena Canals Saffi rug has all the pretty colors and it's also machine washable. Yes, machine washable! Moms, you all need this in your lives! Trust me on this one. Because who has the time and extra money to take rugs to the cleaners, anyways right?
And if you're wondering about this cute chair, marble & gold side table, Koala artwork and wall planters, they're all from one of my favs, Homegoods!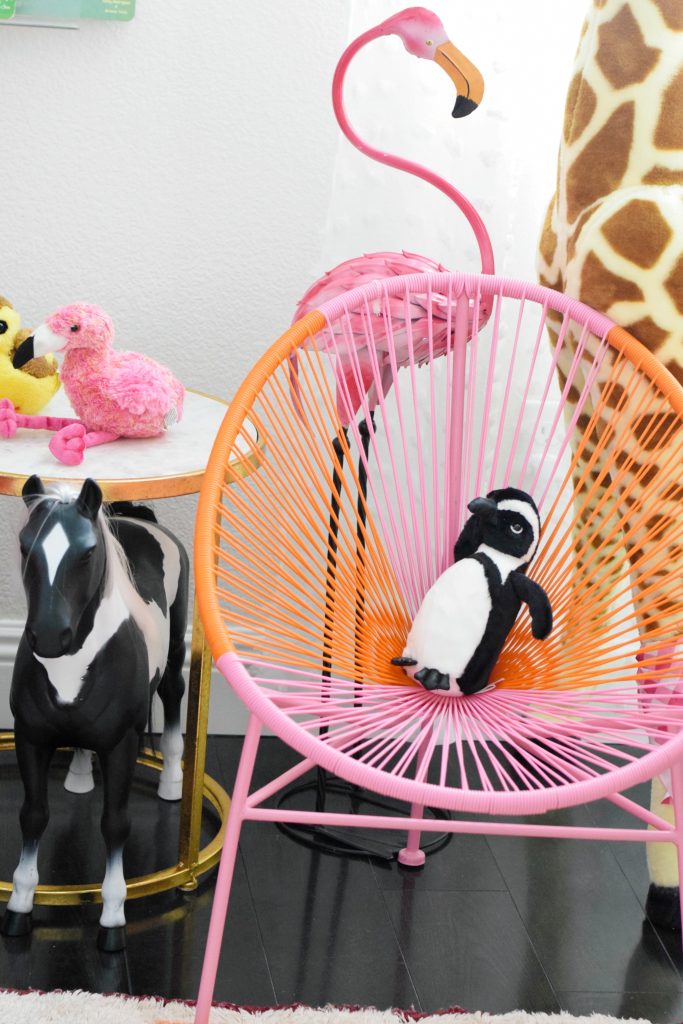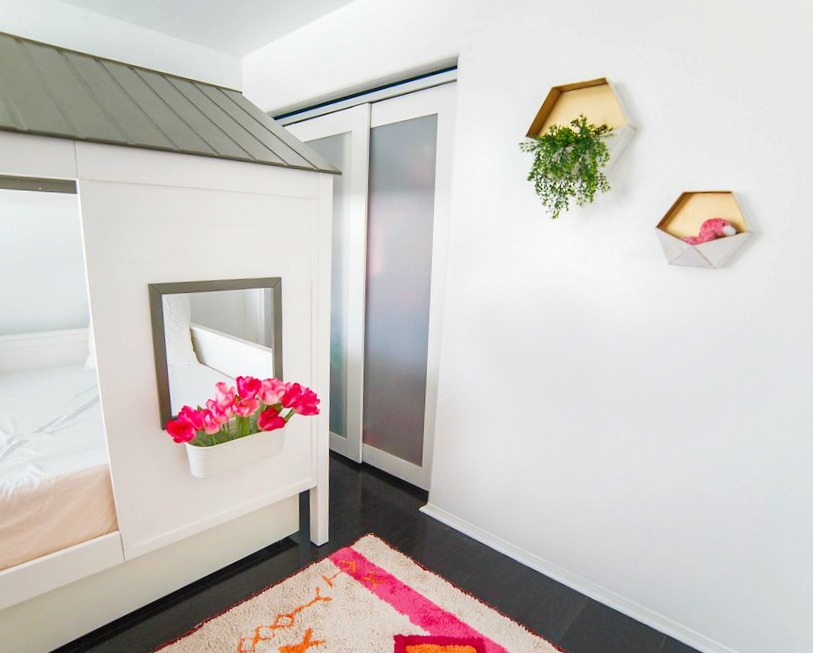 This cute window planter is from ikea! We just added artificial pink tulips for spring. Definitely looking forward to decorate their cute house bed with fun seasonal items all year round.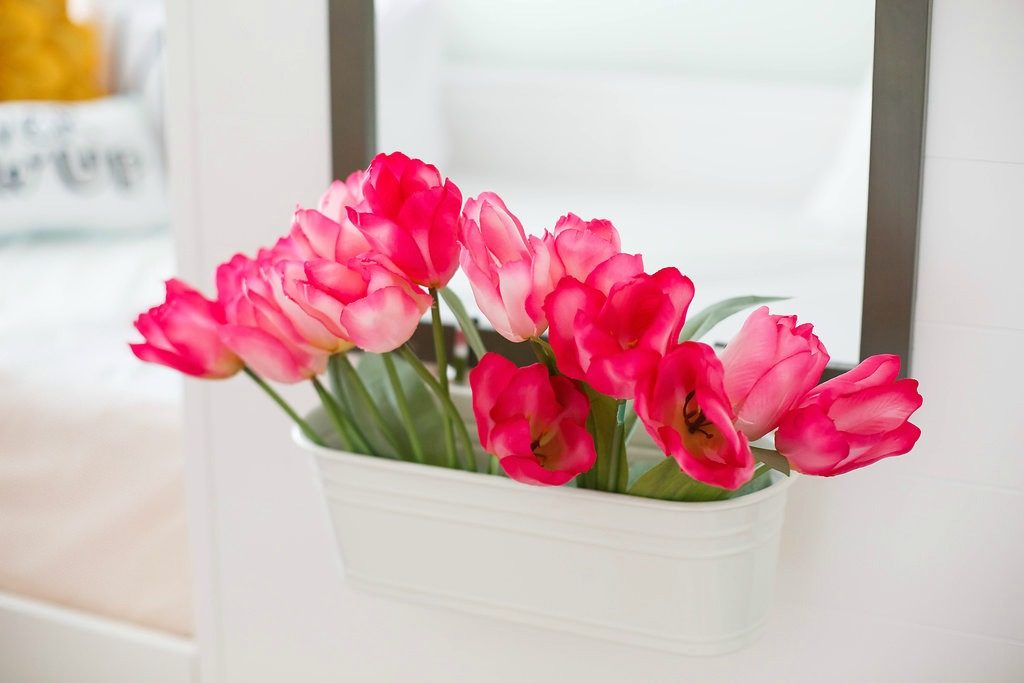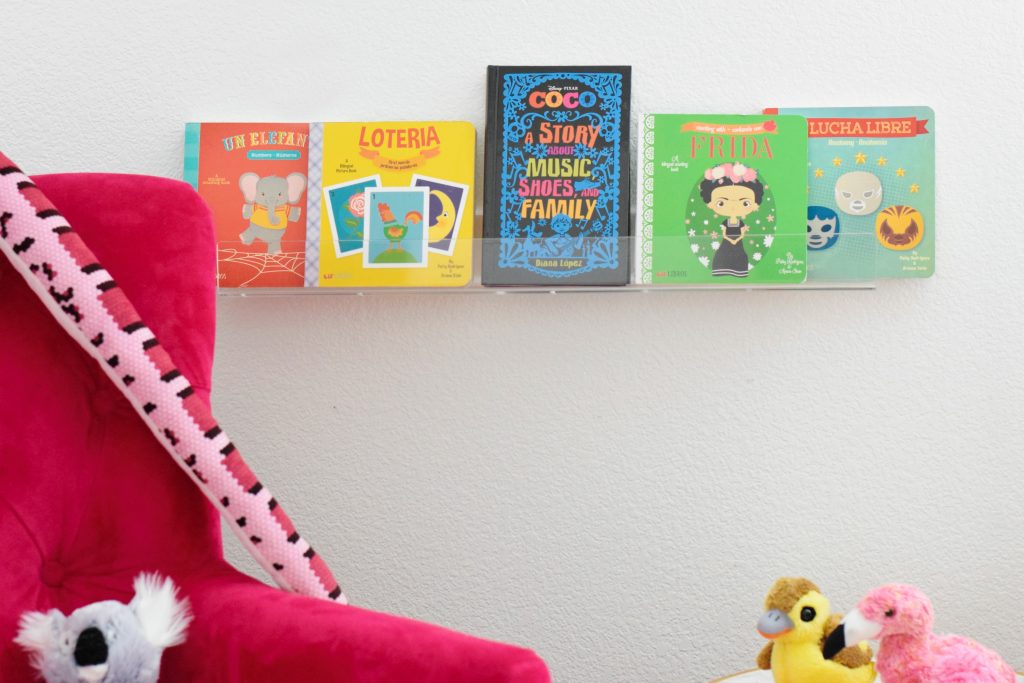 If you love this post and think a friend would too, please pass it along. Sharing is caring! Also, if you find any cute animal home decor please let us know. 😉
Abrazos (hugs),
Gladys