Avengers fans, it's time to ASSEMBLE!
Last week, our familia was beyond grateful to be invited to preview the Avengers Campus at Disney California Adventure Park in Anaheim, California. We were so excited to see that the new campus, formerly occupied by A Bug's Land, had so much to offer! From a brand-new Spider Man attraction to delicious themed food and drinks – the new campus is the only place where you can see the MCU super heroes in one spot! There is so much to share about our experience there, and so today we'll start with our Avengers Campus TOP 10 Parent Tips.
WEB-Slingers: A Spider-Man Adventure Is Perfect for the Entire Family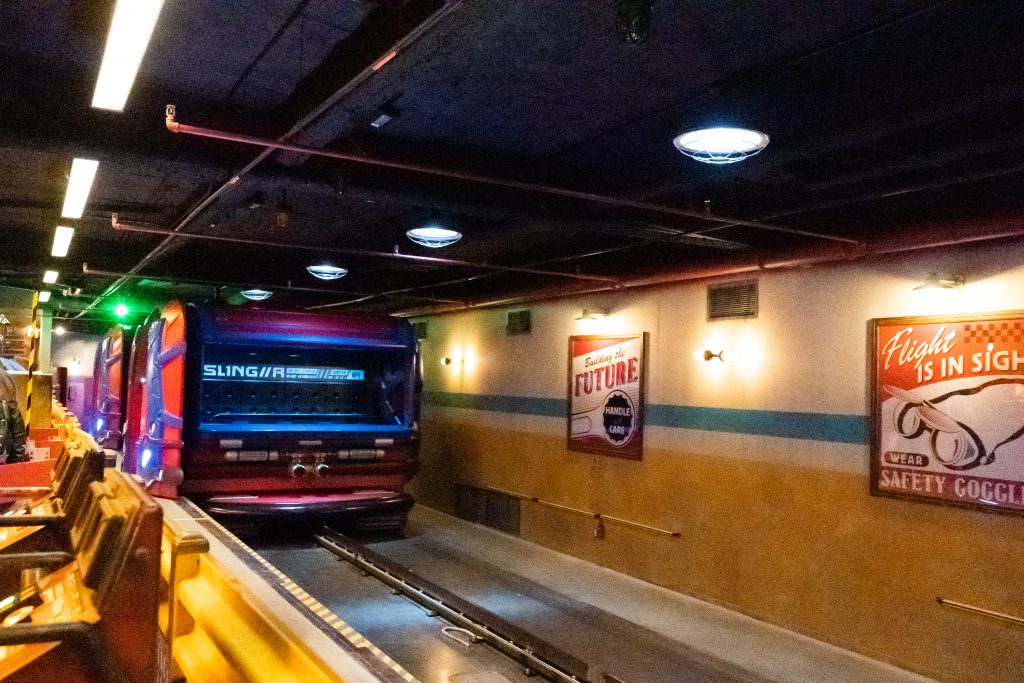 The new attraction at Avengers Campus has no minimum height requirement, and hence is a great family activity which everybody can participate in.
WEB-Slingers, similar to Toy Story Mania, uses machine-learning and computer vision technologies (through the magic of Walt Disney Imagineering.) The four infrared cameras installed on each side of the vehicle analyzes the actions of guests at an incredible speed of 60 times per second to track eye position, shoulders, elbows, and wrists! Thus, they enable you to sling webs at spider-bots using your own wrist!
Your mission? To help Peter Parker capture the Spider-Bots that have wreaked havoc on the Avengers Campus! Each guest is handed 3D glasses prior to entering the WEB-Slingers vehicle. Also, be prepared to see Tom Holland make an appearance during the pre-show!
Tip #1: If you want to score more points, be sure to shoot at the gold spider bots first as these are worth more. The green, blue and red bots will also score you points but not as many (high-to-low in the listed order). Also, consider purchasing spider bots and web shooters/repulsors at the Avengers Campus WEB Supplies, as they will help your team score additional points during the attraction. And be ready to get a work out in!
A WEB-Slingers Virtual Spot: Best Way to Enter Avengers Campus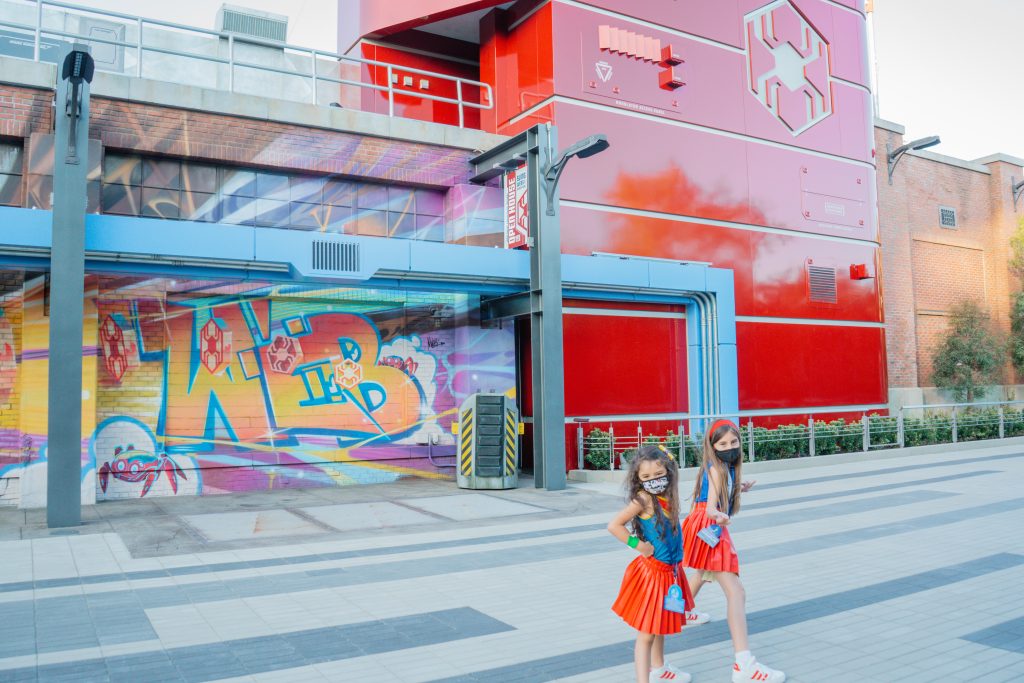 With new attractions and park additions, new visitors are bound to experience longer wait times. Furthermore, when Avengers Campus reaches full capacity, the entrants form a standby queue to the right of its main entrance by the Worldwide Engineering Brigade (WEB). As mentioned, they can be extremely long, and so we strongly recommend securing a WEB-Slingers virtual spot instead, especially with little ones in tow. This way you can make the most of your time and enjoy all the other attractions housed at Disney California Adventure Park.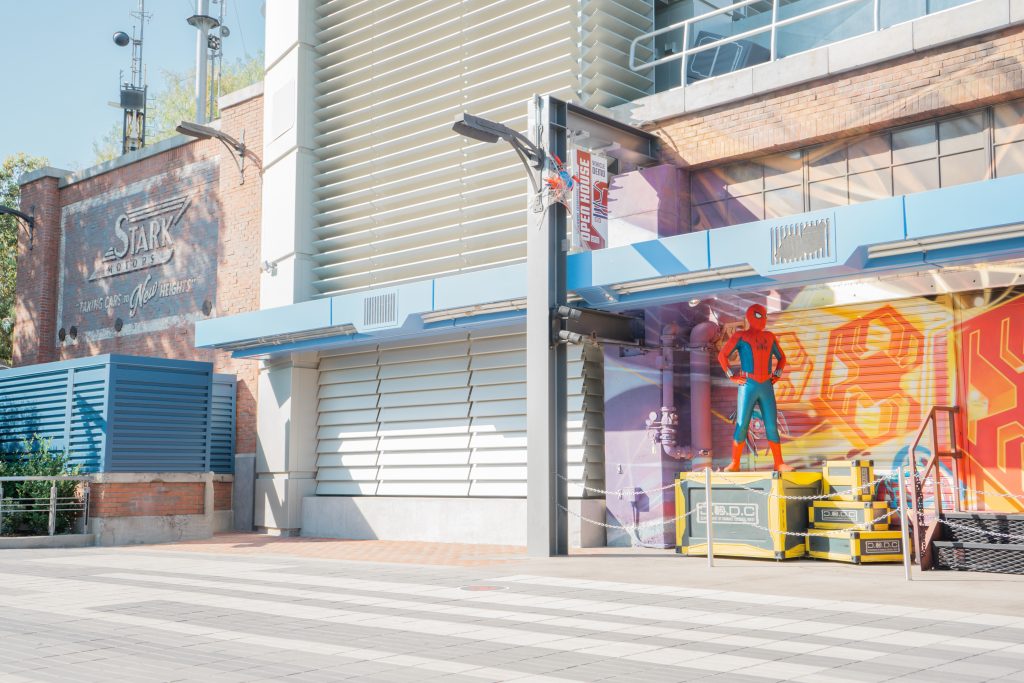 Tip #2: Enter the WEB-Slingers virtual queue from the comfort of your own home (or anywhere for that matter) at exactly 7 am PST or 12 pm PST. A boarding pass will also grant you easy access to enter the campus preventing you from having to wait in a long standby line. Remember to get on the app a couple minutes before the queues open to secure a spot on time!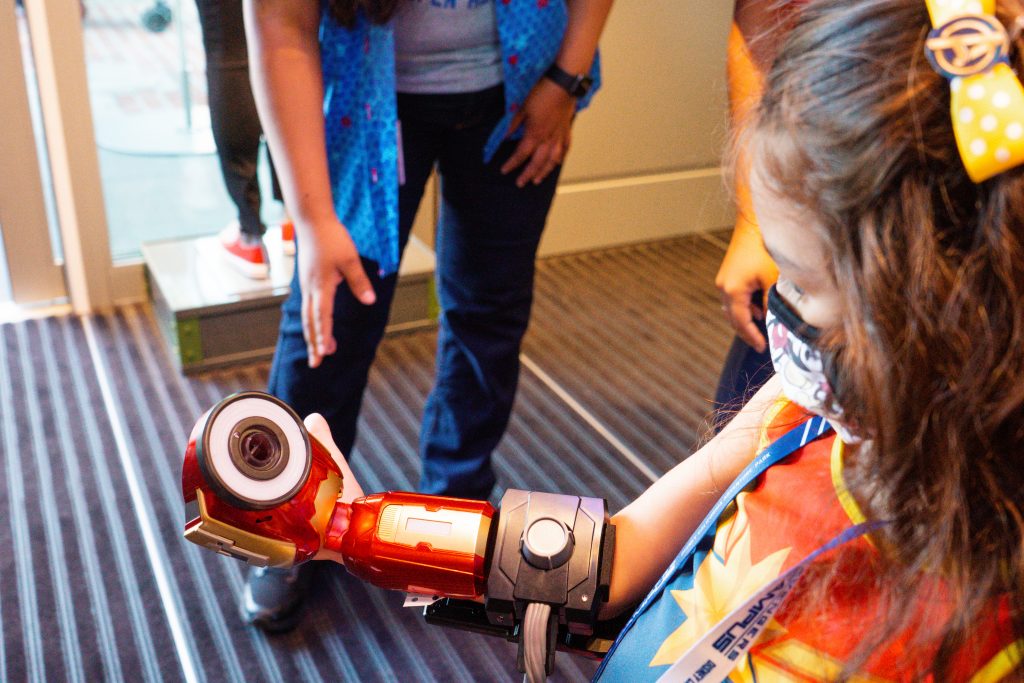 What to Bring During Warm Weather Days?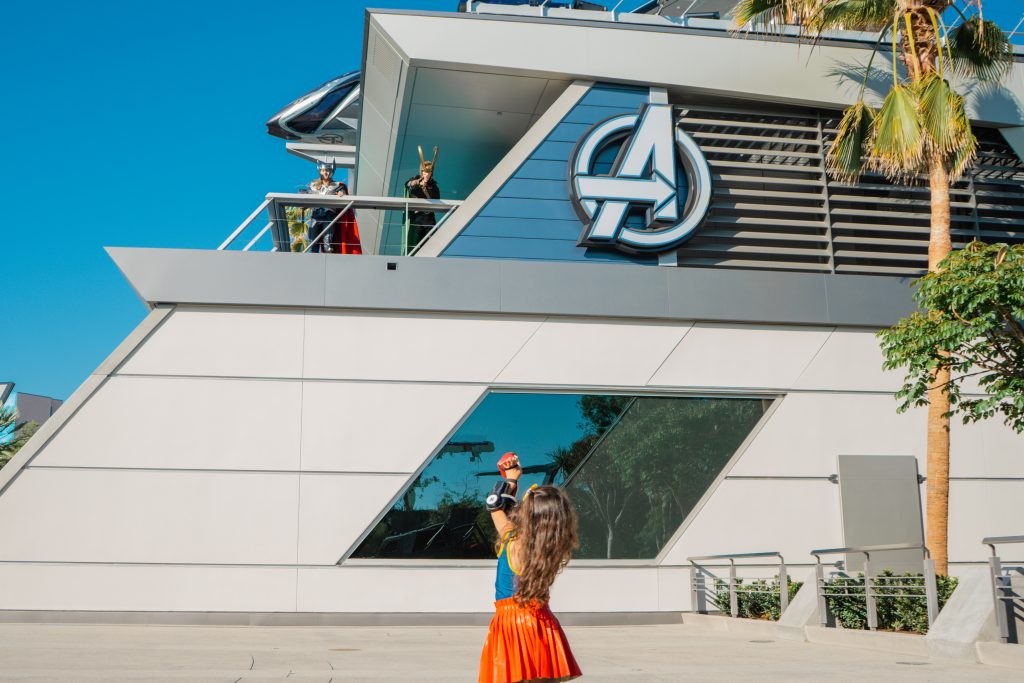 Tip #3: Speaking of long lines, now that the weather is warming up and mask coverings are still required for guests ages 2 and up, we strongly recommend bringing the following items:-
Sunscreen
Insulated Water Bottle/Container (fill with ice)
Umbrella (there aren't many shaded areas inside the Avengers Campus)
The Disneyland App is a must!
Due to health and safety measures, Disneyland has gone mobile-friendly.
Tip #4: Make the most of your visit by downloading the Disneyland App before entering the parks. You'll be able to order food, drinks, see attraction wait times, link park tickets, join virtual queues and more!
Mobile Order Food and Drinks Ahead of Time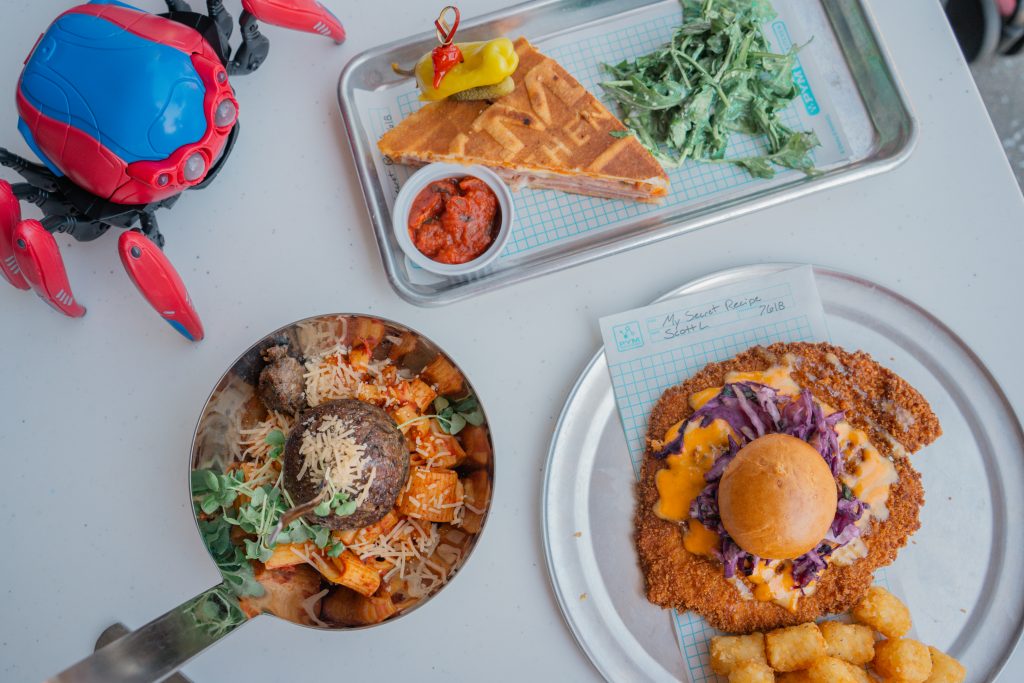 Tip #5 You can mobile order food and drinks ahead of time; however, you must be physically present inside the Avengers Campus to pick up mobile orders at the PYM Test Kitchen or the PYM Tasting Lab.
We loved the PYM Kitchen's massive and inventive-sized entrees, Ant-Man and The Wasp, and their tiny treats and shareable bites. It was also great to see that the Avengers Campus offers plant-based and dairy-free options too! The Spoonful Impossible Meatball which is a plant-based dish (even the cheese is dairy-free!) was SO good, and might I say, our favorite. We also loved The Not So Small Chicken Sandwich and the yummy Shawarma wrap (plant-based option too)!
And as for drinks, oh my word, the beer cocktails at the PYM's Tasting Lab are SO refreshing and delicious! Our favorite was The Regulator which has tequila, wheat ale, lime juice, mango habanero syrup, and mango flavored-filled boba. Check out our IG reel to see all the food and drinks!
Tip #5: Remember to check out the unique beer taps at the PYM Tasting Lab. Visit the space to watch the glasses fill from bottom up! For all the food and drink offerings, check out the Foodie Guide from Disney Parks Blog.
Interact with MCU Superheroes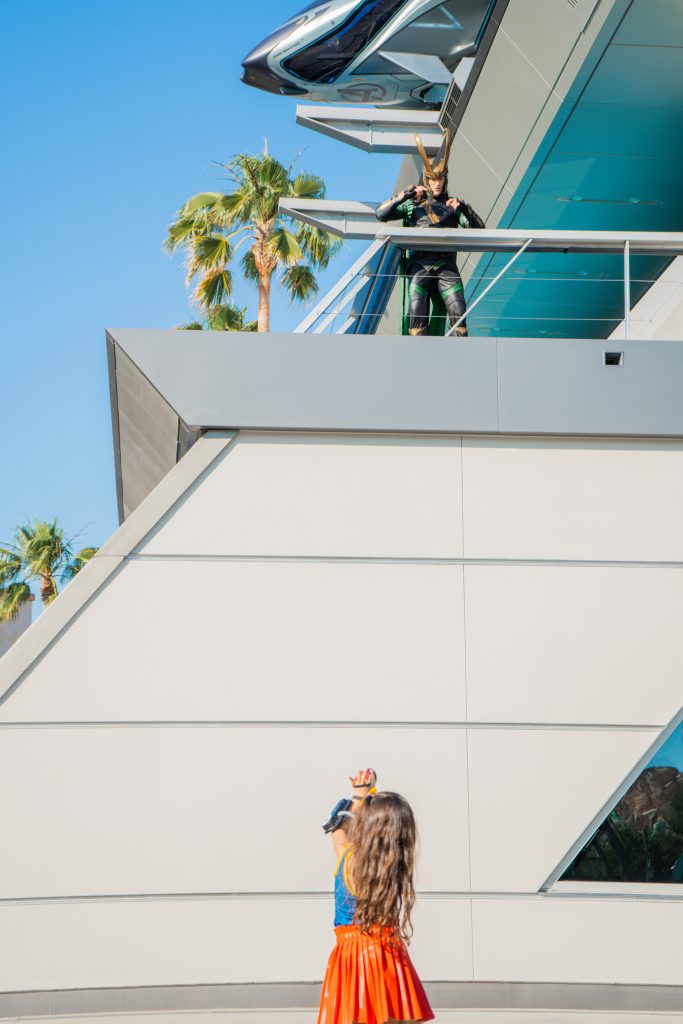 An impressive Quin Jet is parked atop the Avengers Headquarters where, throughout the day, you can find superheroes battling villains or interacting with guests. At night, head to Doctor Strange's Ancient Sanctum where he demonstrates his mystical abilities. We were not able to see this ourselves, and so we're already planning a trip to head back and catch this.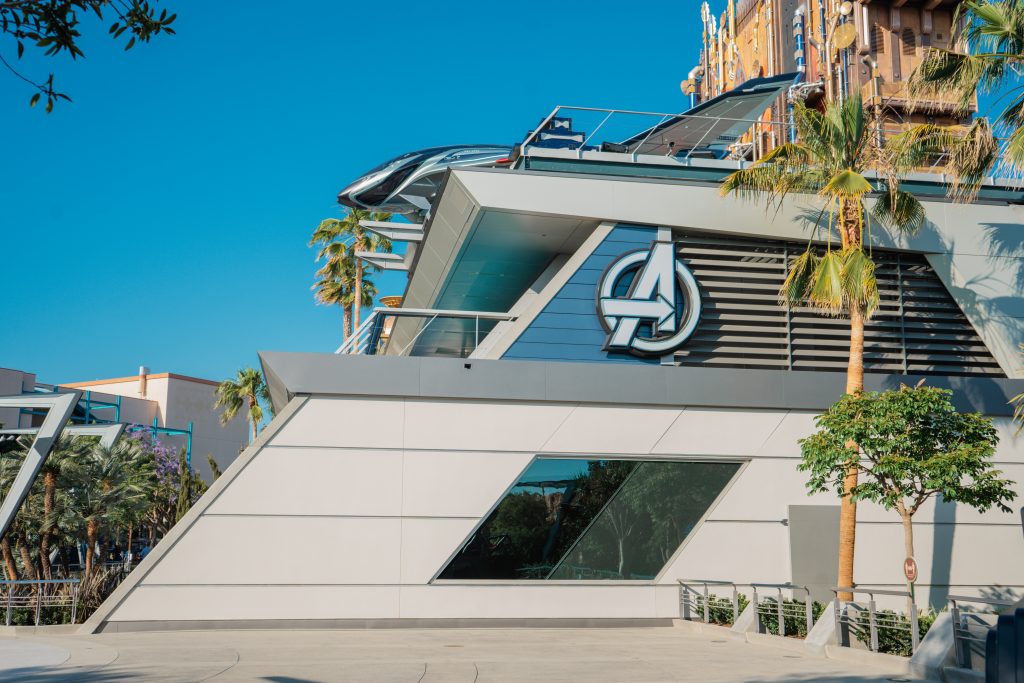 Tip #6: Take time out to meet the MCU super heroes and watch the impressive Spider-Man stuntronic acts with live-action elements! This is not to be missed. You can also catch this from the current entrance of the campus (near Cars Land). Although, keep in mind there are a total of 3 ways to enter this new campus (near Guardians of the Galaxy — Mission BREAKOUT!, near Cars Land, and one near Grizzly Peak and Buena Vista Street).
Rescue Guardians of the Galaxy
Avengers Campus also has a second attraction, Guardians of the Galaxy – Mission: BREAKOUT! This attraction was built in 2017 using the same infrastructure and ride system as the previous attraction, The Twilight Zone Tower of Terror. Visitors must be 40" (102 cm) or taller to participate in this ride.
Tip #7: Use the "rider switch" option. If your child doesn't meet the boarding requirement, one adult can stay back and then switch roles with the other to allow the supervising adult to experience the attraction without waiting in the regular queue again. This also allows the child riding to experience the attraction twice!
Be Patient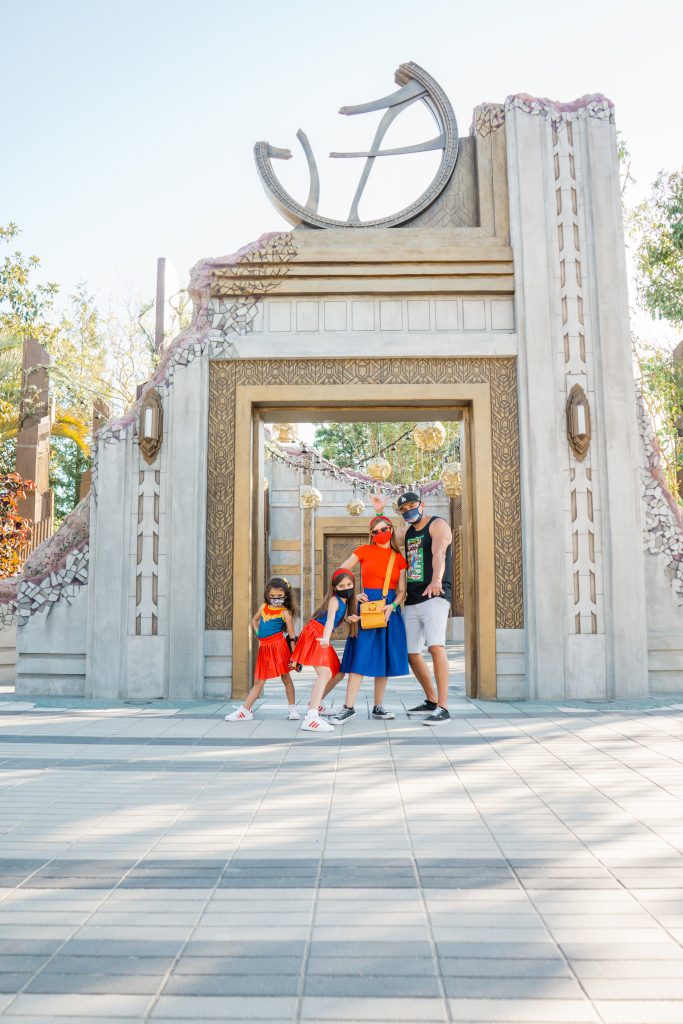 Tip #8: And of all the the Avengers Campus Top 10 Parent Tips, the number one goes to exercising patience. As mentioned, with new attractions and new lands visitors are bound to experience hiccups. We highly recommend that you carve out some time during your stay to take breaks, sit down, eat, drink or even just snack on something. Also, if you have those mini portable fans, you won't regret bringing them if you plan to visit during the summer!
Bring A Stroller
There are strollers you can rent at the Disney parks; however, we saw lines for this too.
Tip #9: Bring a light-weight stroller for young children. Truthfully, even our 9 year old was not used to walking so much and the stroller came in handy for both our kids. It's also perfect for parents to hold merchandise purchased at the parks (or any heavy items for that matter).
Bring Portable Chargers
As mentioned, Disneyland has gone mobile-friendly and with that goes the life your phone battery as well.
Tip #10: Bring portable phone chargers as you'll be using your phone more than usual (mobile ordering, linking park tickets, attraction wait times, virtual queues and all the character selfies!)
Why We Can't Wait To Go Back?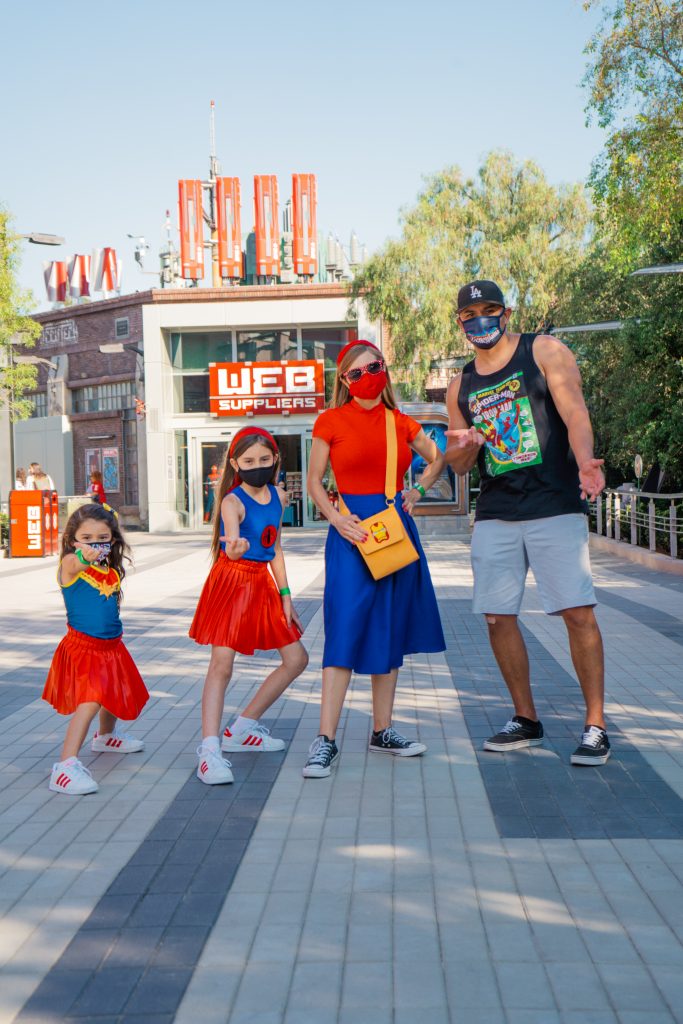 The character interaction at Avengers Campus was so memorable and exciting, that we'll surely be back soon. We'll never forget when Loki and Thor were playing hide-and-seek with our toddler, Lexi. Loki even came out with a rag surrendering to Lexi as she continuously blasted her Repulsor at him. That was the funniest thing to see!
The food and drinks are another reason why we can not wait to go back to the Avengers Campus. We look forward to trying additional items at PYM Testing Kitchen and the PYM Tasting Lab. Everything we had was so good (with the exception of the Particle Fizz. Not a fan.).
And last but not least, we can't wait to go back on the WEB-Slingers to try to get a better team score!
So there you have it – we hope these Avengers Campus Top 10 Parent Tips come in handy when visiting the parks. Also, if you're planning a Disney family vacation soon, be sure to visit our Top 10 Reasons to visit Aulani, A Disney Resort and Spa 2021.