Nearly 10 years ago, we purchased our first home and to be honest, the only thing that I loved about it was the fact that it had a high ceiling living/ dining room. As mentioned in our previous post, Easy Modern Dining Room DIY Renovation, the house needed so much work; however, this room kept me dreaming of all the potential it had to make a beautiful home entrance. So after nearly 10 years, and thanks to all the time spent at home this past year, we finally made my dream come true. Today, we're sharing our 8 ways to update a high ceiling living room. And side note, one of the most dramatic transformations we did to this space was a complete DIY!
Here's a before of our living room space for reference.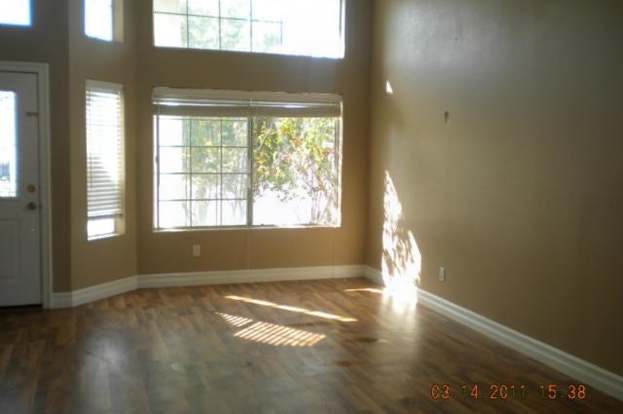 Set The Stage
First things first, at the very start of this project, we created a Pinterest Board for inspiration and as a place to house all of the living room images we absolutely loved. We also brought in a designer (Jenny from @loteria_lifestyle) to help us recreate our vision and create mood boards, color and finish palettes, renderings plus a full list of items to purchase for our renovation. This helped us stay focused on the project and spend less time researching.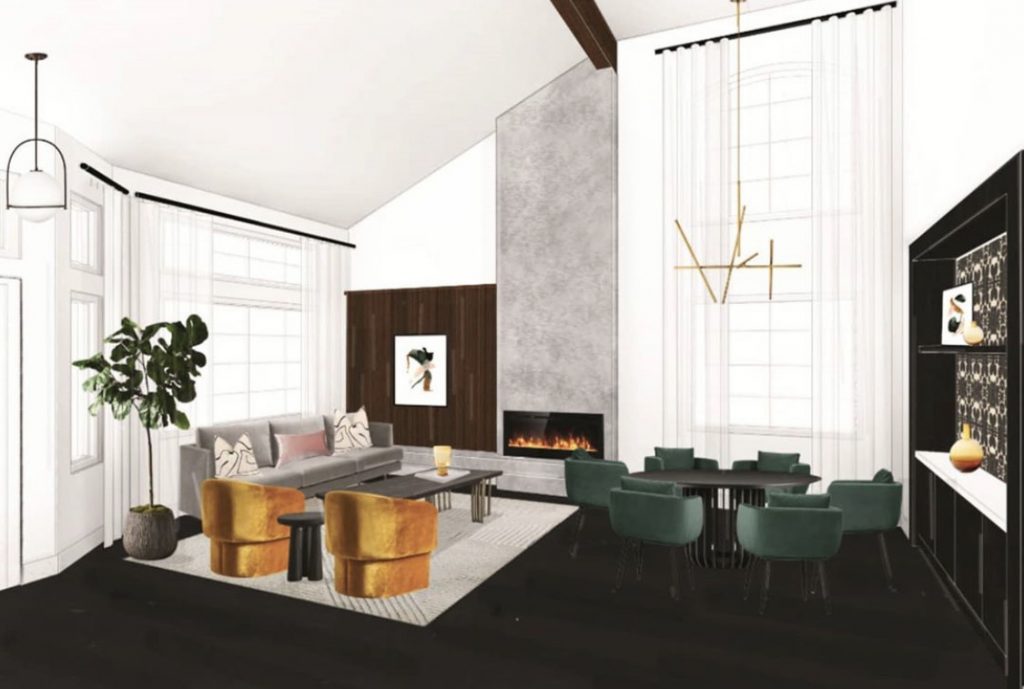 Add Drama To Your Space
Since our living room is the first room that welcomes our friends and family, we thought it would be fitting to build onto the high ceiling drama via a fireplace that extends up to the ceiling – automatically drawing the eye upwards as you walk in. But here's the thing, this room did not have a fireplace to begin with and getting a real high ceiling fireplace installed was just too pricey.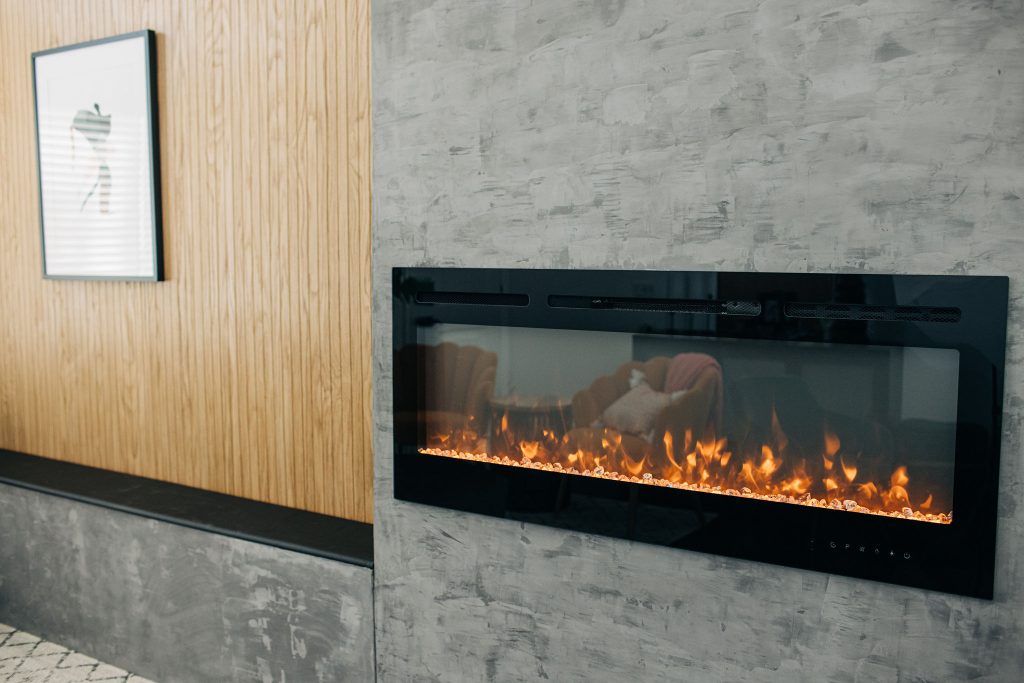 Faux Fireplace
So we created a faux concrete modern fireplace with an industrial feel. Here's the steps we did to create our beautiful new fireplace.
We rented a scaffold at the Home Depot for a week as our ceilings are over 14 feet.
Created 4 boxed wooden frames, stalked them on top of each other and nailed them to the wall.
Covered the large wood frame with drywall and added metal frame to the two corners.
Used three 4.5 gallon joint compound buckets with three separate cement colors mixed in (we used Quikrete charcoal and diluted to create three tones; dark, medium and light to mimic the look of concrete. Tip: use medium color first using spatula in small strokes, wait for it to dry then add in darker color using spatula in small strokes and repeat with lighter and then medium until you get the color you prefer. We'll be sharing a video on our Instagram soon!
Cut a rectangle into the drywall and add an in-wall and wall mounted electric fireplace. Note, be sure to measure your unit prior to cutting drywall, giving a few inches off the sides. We also added an additional smaller frame (from floor to the start of the rectangle) and placed it inside the main frame to hold the fireplace unit preventing it from moving.
Cut a small hole off the bottom back side of the fireplace for the fireplace extension cord.   
Create an additional rectangular wood box to connect to the fireplace and use as a bench. And add drywall on the front side and joint compound to mimic the same look of the fireplace.
We love how the fireplace separates the living room from the dining room all while uniting the room at the same time.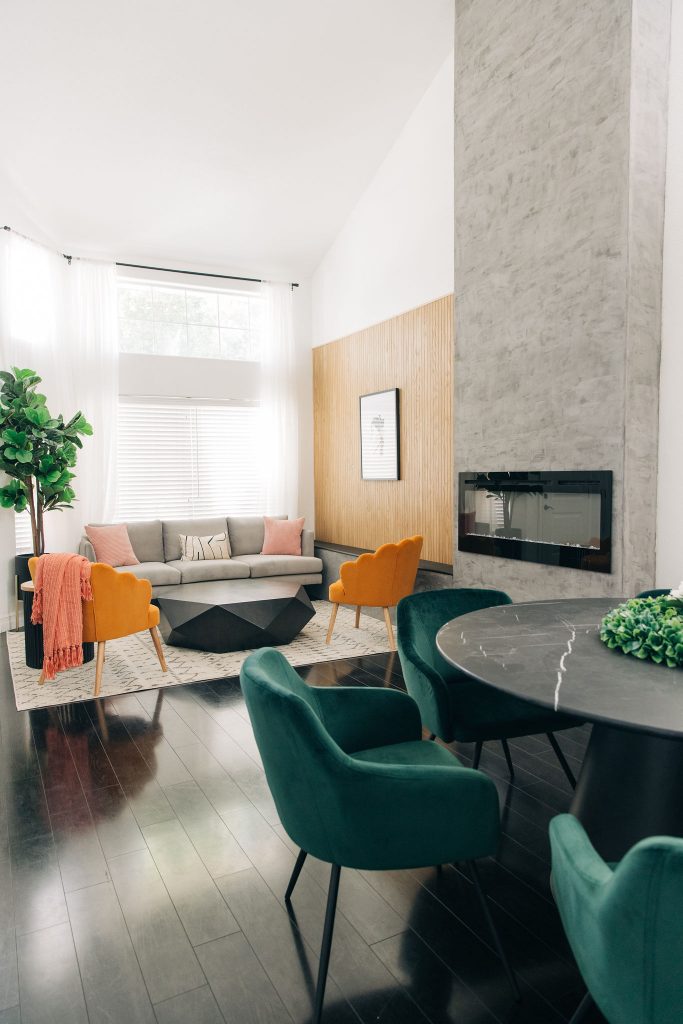 Draw The Eyes Upward
One trick we learned from our designer was to add things to the room that draw the eyes upward. For our living room, we added curtains from floor to ceiling. And although it did require a lot of fabric, we were fortunate to find some sheer curtains on Amazon at an affordable price point. We love how the curtains help create a very dramatic effect. Also, be sure to use a solid color for your curtains as a pattern will be a bit too overwhelming. If you're looking for an additional way to draw the eyes upward, we recommend adding a tall mirror in the entryway. As you can see, this arched mirror sits slightly above the halfway point of the wall vs having one at eye level. These two elements along with the floor to ceiling fireplace definitely draw attention to the tall ceilings in our beautiful new room.
Bring on the Lights
Another way to emphasize the beauty of having high ceilings is to incorporate light fixtures that act as art pieces or statement pieces. We love how our light fixtures bring this additional element to the room – especially the buckeye pendant light at the entrance and the eurofase antique brass chandelier that's on the dining room side.
Install A Beam
A really popular design for rooms with high ceilings are beams – especially exposed and painted wooden beams as they look great in modern and non modern designs. We actually have a beam but we're still in the process of figuring out if we should expose the wood or paint it solid black.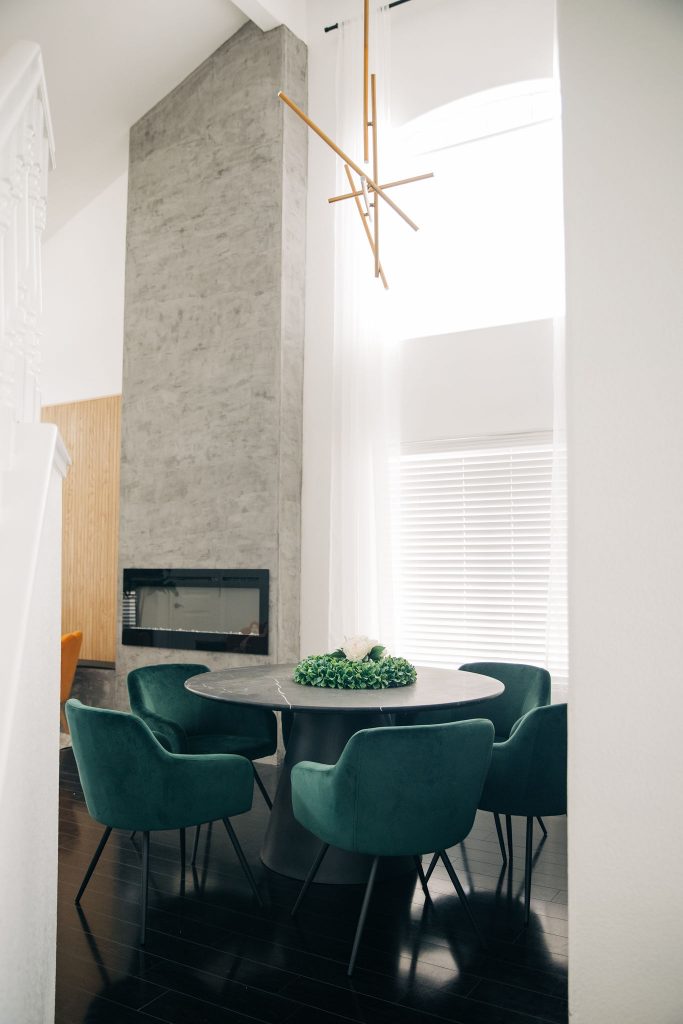 Create A Feature Wall
During our initial conversation with our designer, we were thinking of adding a black wooden wall next to the fireplace. However, once the fireplace was complete, we realized we needed something lighter to contrast with the concrete. After many coats of paints and stains, we opted for a white oak veneer tambour for a more earthy contrast. We finished it off with a DIY faux cement bench and this beautiful art piece that was gifted to us from Minted and tied the room together perfectly.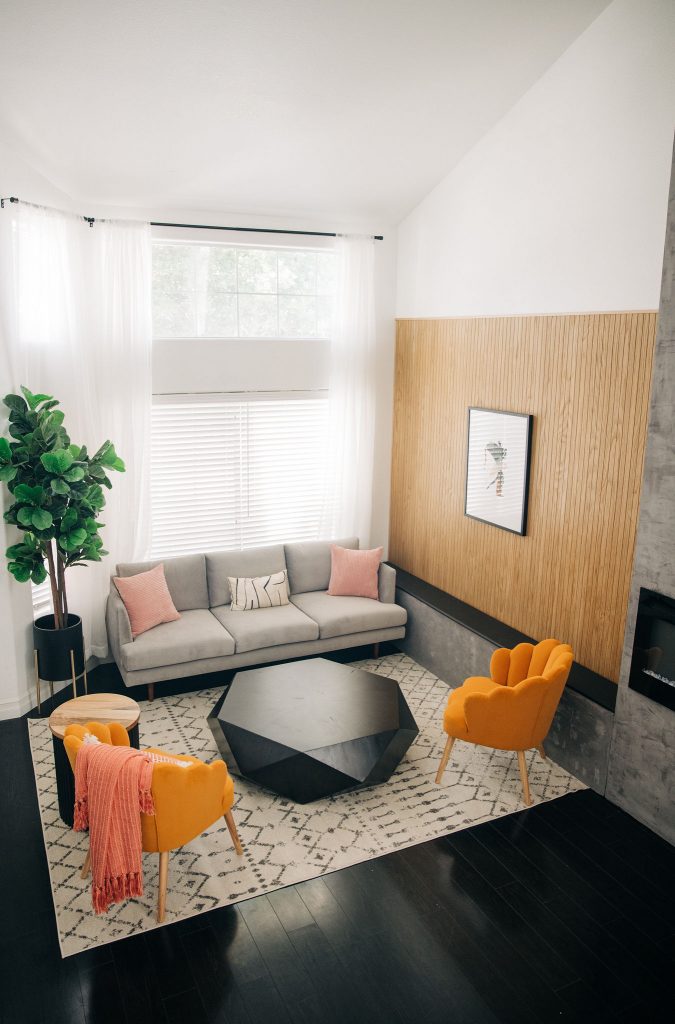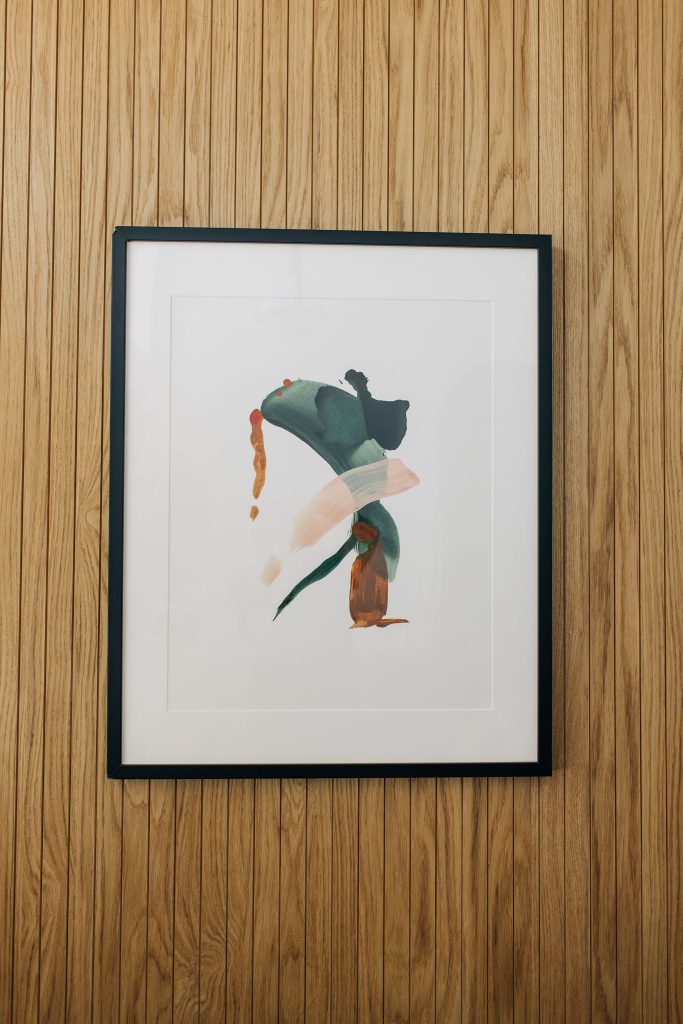 Statement Furniture
As with any room renovation or update, a key element to add is new furniture. Trust me when I say the only furniture we had in this space was an outdated 8-seat dining table along with some mirrors and a buffet table. I was ecstatic when we got rid of the dining table; however, we did end up keeping the buffet table. We switched out the hardware and are now using it as an entryway table.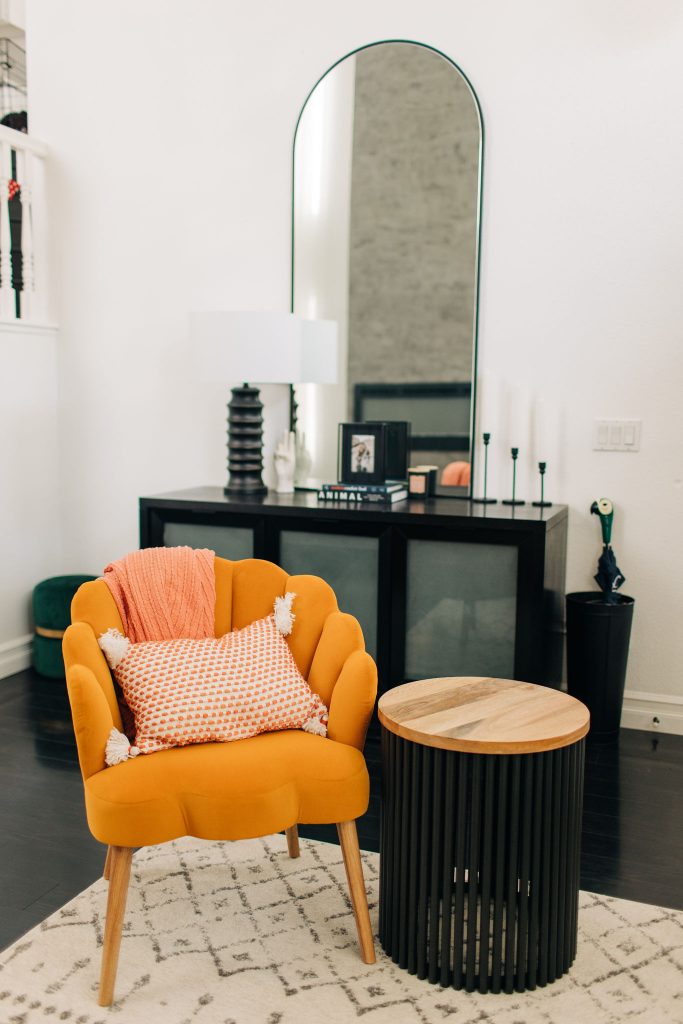 We also added a couple bright mustard chairs, statement pillows and throws from Homegoods. And the emerald velvet ottomans, side table and coffee table are from Wayfair. If you're wondering why we don't have many accents, well, it's hard to add as the kids have already turned our coffee table into a performance stage (ha!). For now, we're embracing it and are loving how all the pieces in this room complement one another and bring both the living room and dining room together.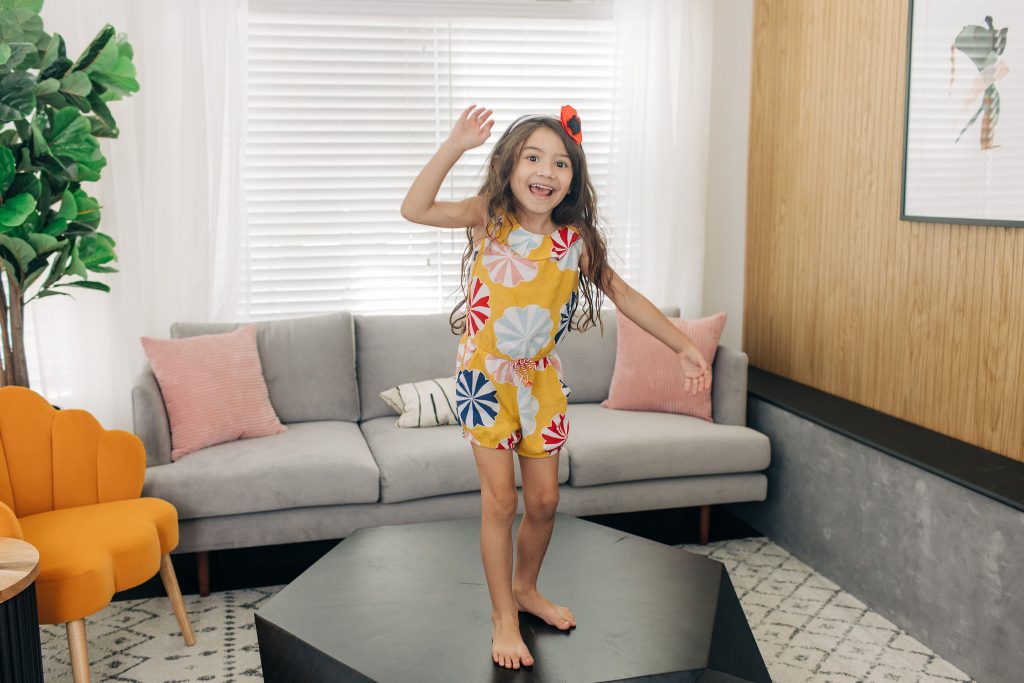 As you can see, rooms with high ceilings offer a lot of space to decorate and shift things around. It's not as intimidating once you have a sense of which elements compliment both your style and your room. Be sure to check out our previous post Easy Modern Dining Room to see the dining room side and another DIY idea!