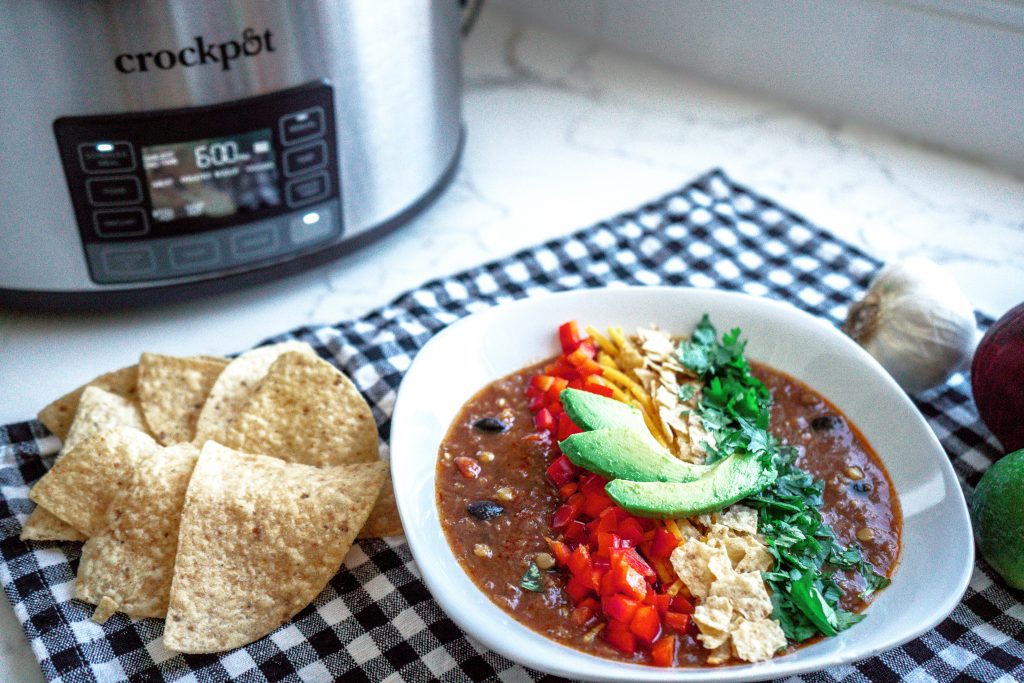 This post is sponsored by Crockpot™. All opinions are our own and as always, we only work with brands we love.
Lentil Tortilla Soup
Now that the weather in Southern California is finally starting to cool down, I'm beyond ready to check things off of our family's fall bucket list. For me, I absolutely love all fall activities plus creating new recipes for our family – especially soups that warm everyone up on a brisk day.
So today, I'm sharing my newest fall recipe, Lentil Tortilla Soup. This soup is hearty and just so happens to be vegan. I've been working on perfecting it so that it's super easy for us busy moms to make – especially with the help of our Crockpot™ MyTime™ 6-QT. It's a new programmer slow cooker that automatically adjusts the cooking cycle based on when you want to eat. All you need to do is add the ingredients, set your meal time and the slow cooker does the rest! Now how amazing is that?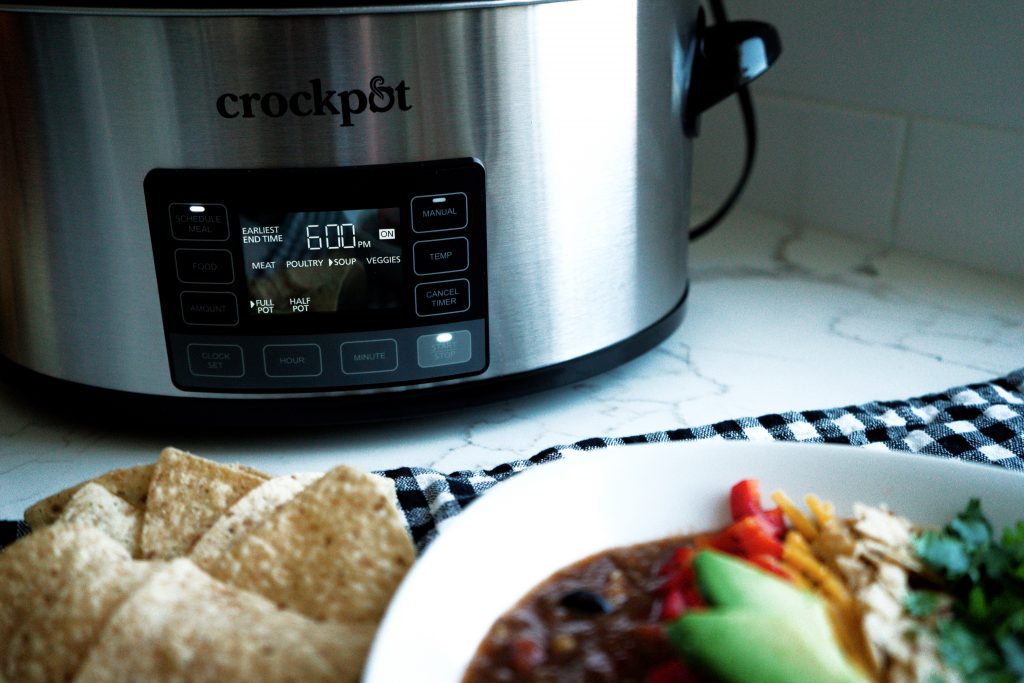 And speaking of our new Crockpot™ MyTime™, did you know it's Crocktober? It's the official kick-off to the Crockpot™ cooking season and we're here for it!
Lentil Tortilla Soup
Crockpot Easy Vegan Recipe
Ingredients
4

c

vegetable stock (or stock of preference)

3

c

water

2

c

red lentils

1/2

c

dry black beans

2

c

tomatoes, diced

1/2

c

red onion, diced

1

clove garlic

1

tsp

cumin

1

tbsp

salt

1

bag of lime tortilla chips, garnish

1

red bell pepper, diced, garnish

1

c

vegan cheese, shredded, garnish

1

c

cilantro, chopped, garnish

2

avocados, sliced, garnish

1

jalapeño, diced (optional)
Instructions
Soak black beans in water and salt overnight.

Set Crockpot to desired meal time.

Spray inside of Crockpot with avocado oil.

Add vegetable stock, water, cumin and black beans and lentils to Crockpot.

Add tomatoes, onion, garlic, (jalapeño optional), salt to blender and blend for a min. Pour mix into Crockpot and close the lid.

Once cooked garnish with red pepper, cheese, pieces of tortilla chips, (jalapeño optional) and cilantro.
We hope you join us during Crocktober to create some delicious meals. The new Crockpot MyTime™ 6-QT is now available at Walmart.