Choco-Coco Vanilla Bean Paletas
Summer is officially here and with that comes all the delicious bbq and popsicle recipes! So to kick-off all the summer yumminess, I'm teaming up with my sweet mama friend Lola from Lolas Cocina on her #PaletaWeek roundup by sharing one of my favorite popsicle recipes. My Choco-Coco Vanilla Bean Paleta recipe which reminds me of the paletas de coco I would eat as a kid but with a little twist to it. This recipe is dairy-free, vegan, gluten-free and so easy to make. And if you're looking for more recipes, we have over 100! Be sure to just click on the link below our recipe to view them all.
Choco-Coco Vanilla Bean Recipe (Dairy-free/Vegan)
A nod to the paletas de coco I would devour as a kid in Mexico. Plus, my love for all things Disney.
Ingredients
1

c

Organic coconut milk w/ unsweetened vanilla

2

tbs

Sweetener of preference. We used organic sugar.

1

Organic vanilla bean

1

c

Enjoy Life chocolate chips - dairy-free and can be found at Target baking aisle
Extras: Add organic unsweetened coconut flakes
Instructions
Add 1/4 c coconut milk into small saucepan. Warm up for a couple minutes then add in sugar and mix. Remove from stove immediately and set aside. Add 3/4 c coconut milk into a small mixing bowl. Add coconut sugar milk to bowl and mix. Remove seeds from vanilla bean.

How to remove seeds from vanilla bean

Split the vanilla bean down its length using paring knife. Scrape out seeds: Working with one half at a time, hold down the tip of the bean against the cutting board. Add seeds right into milk mixture.

Place mixture into Mickey Mouse Popsicle Mold. Recommend pouring the mixture onto the mold once it's sitting in freezer otherwise the liquid will leak over.

Freeze for 3-4 hours.

Remove from freezer and let sit while you melt the chocolate.

How to drizzle chocolate

In a small sauce pan add 1 c water. Place a small glass bowl over saucepan. Add chocolate chips to glass bowl and bring water in saucepan to a boil. Mix the chocolate chips continuously as it melts. Mix until chocolate chips are completely melted. Place chocolate into piping bag (or make your own with a zip lock bag). Remove popsicles from mold and place onto parchment paper. Drizzle chocolate back and forth staying within the same line direction. Place popscicles back into freezer for 15 minutes. Remove from freezer and enjoy!
Check out over 100 paleta recipes here! And follow along on social media #paletaweek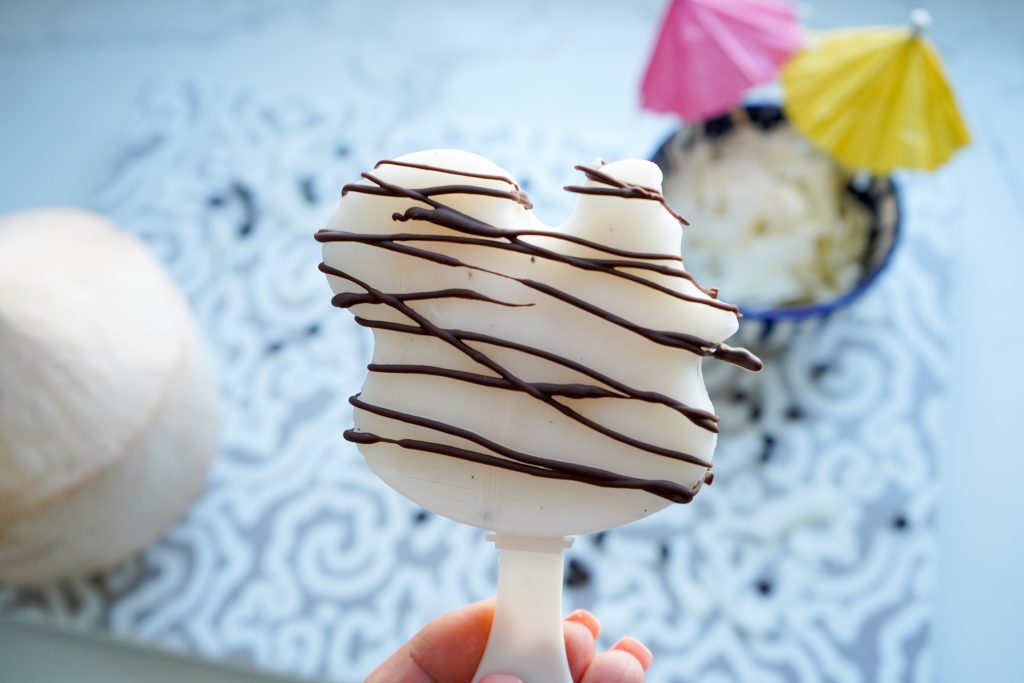 Abrazos (Hugs),
Gladys