Can you believe Halloween is just around the corner? We somehow managed to get all our family Halloween costumes and take photos before the actual holiday. Say what? Toasting to that. And I'm also super grateful that our little family agreed to wear yet another round of family themed costumes and photos. Ok, let me rephrase that. I totally bribed my crew into doing it yet again. Let's see how far I can keep this cheesiness going. But wait, there's actually a valid explanation behind it all. Just bare with me and keep reading. It's on the sweet side.
  How it all started
During 2016, my husband, Rey, agreed to wear family Halloween costumes so long as it was super hero themed. He picked the theme and I got to pick all the outfits. Because marriage is all about compromising, right? 😉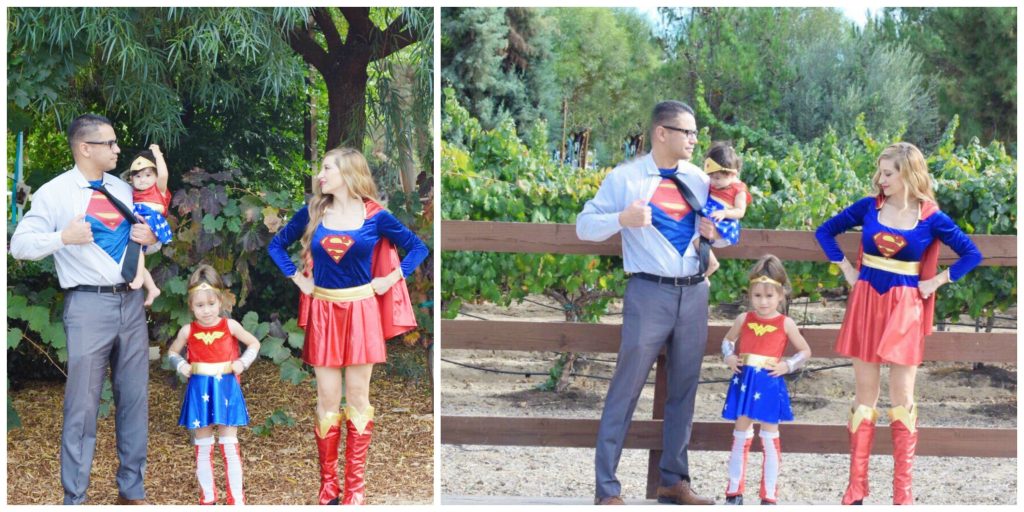 And last year, we tossed ideas back and forth for so long. Then out of nowhere our kiddo said, "Mom, I want to be Mavis." You see, for those that are not sure who or what that is, Mavis is a character in the Hotel Transylvania movie. And our daughter Mia is hooked on their Disney TV series. So much so she easily convinced us all to move forward with this theme (she has daddy wrapped around her little finger, ha!) and it definitely got our wheels spinning.
My husband found the perfect location to snap some pics. I mean look at this church. Yup, it's a church. I found all the costumes and thanks to my sister, we now have another awesome family halloween portrait in the books! Now this is where it gets sweet. I'm making albums for our girls of these yearly portraits so that when they grow up and leave the nest they can look back at them. It's going to be wild seeing how much they'll grow and/or change as the years go by and in costumes. I think they'll get a kick out of them too. What do you guys think?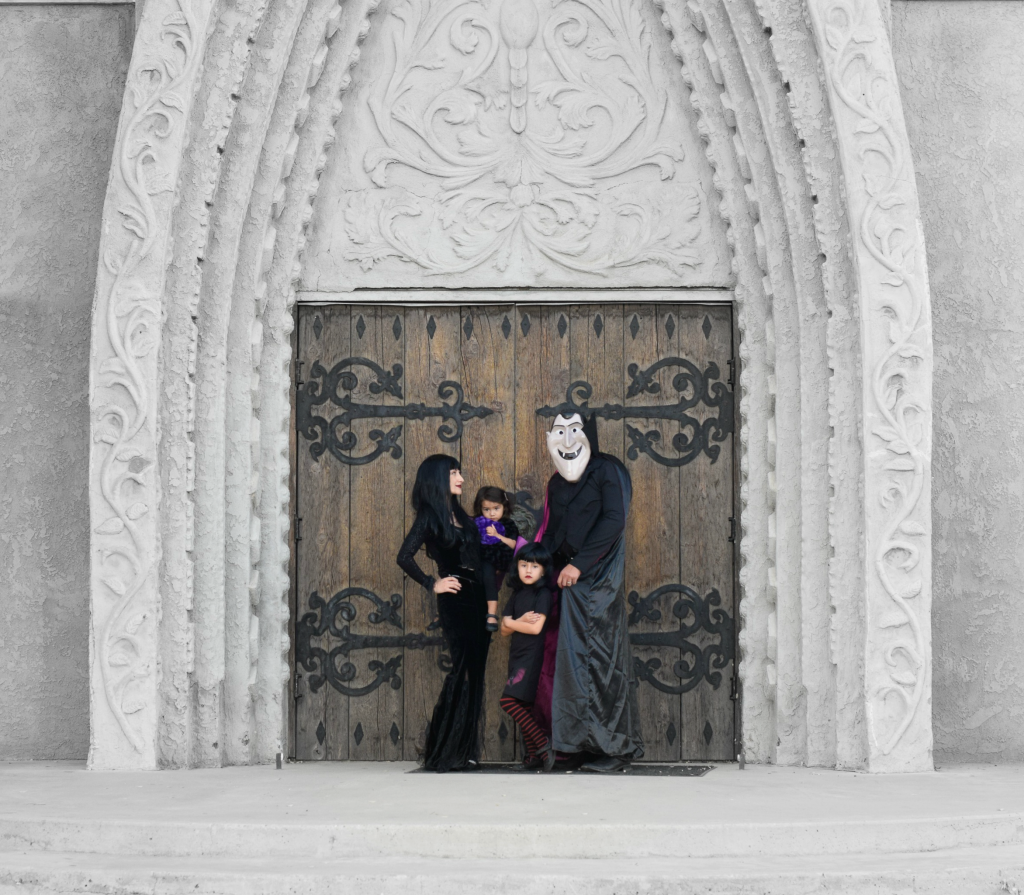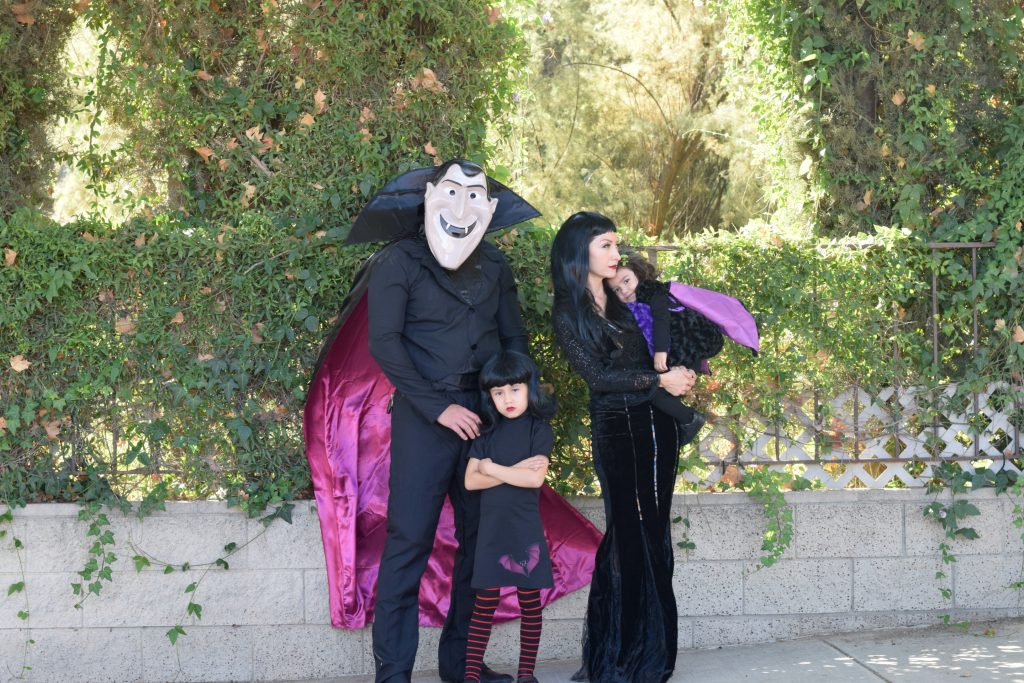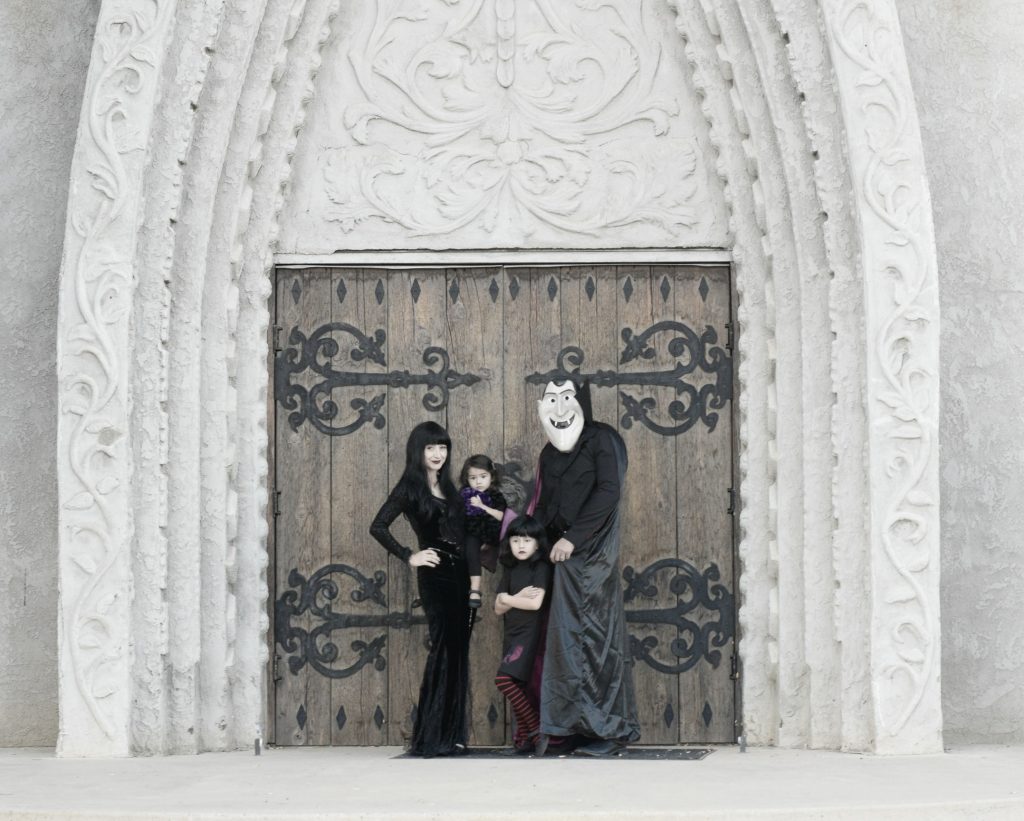 This year, we also tossed ideas around for a few months. And yet again, Mia claimed the theme by saying she wanted to be Rey from Star Wars. My husband did not push back one bit as apparently he's ALWAYS wanted to be Darth Vader ever since he was a kid. So we ran with it and searched for costumes first. Location was a tough one as we wanted to make sure it looked Star Wars-y and ultra realistic. Enter Vazquez Rocks, CA.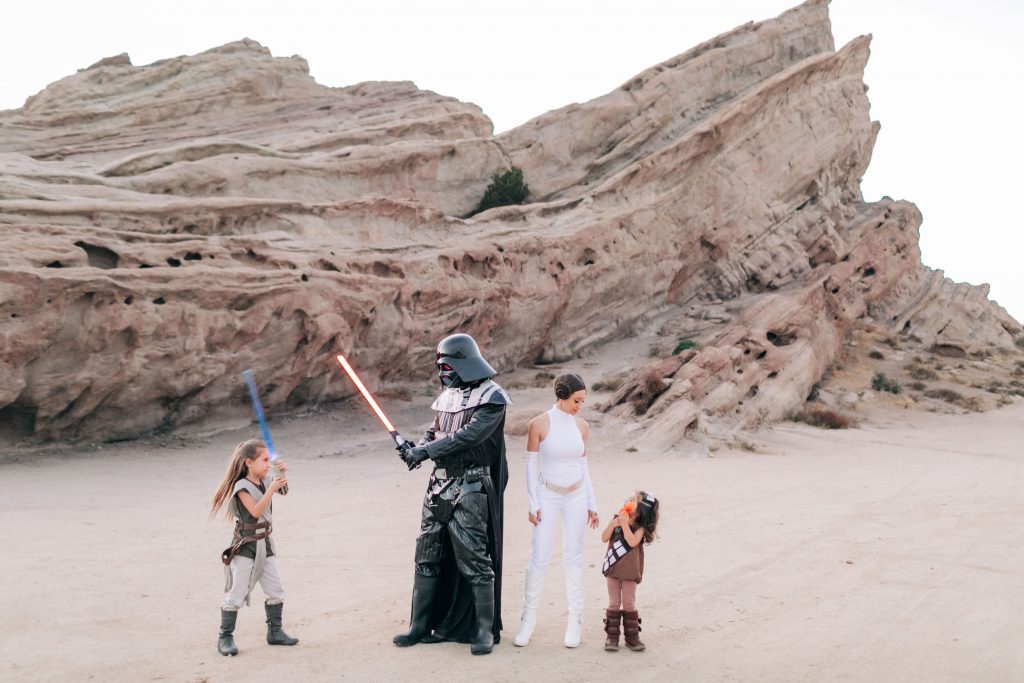 The Problem
Location is 2.5 hours away from home. Our transmission on our Tahoe blew out that same week and was in the shop. And then the issue of having to shoot on a Friday evening. If you're an LA native you know what that means. Major bottle neck traffic every which direction. Oh and the Dodgers were playing game 6 of the NLCS that evening and we're hard core fans. So yes, the odds were totally against us.
After 3 hours of driving, lots of snacks, a kid puking in the backseat, we managed to make our way into Vazquez Rocks. With literally 10 minutes to spare before the sun went down completely. I know, took way longer to just get to the set vs shooting but after seeing all these photos that our talented friend and photographer took, I think it was well worth it. And not sure we'll ever be able to top this year's halloween family photos ever.
Where We Got Our Costumes
Darth Vader
Rey
Chewie
Princess Leia
Photographer
And if you're also into Halloween Family Costumes, be sure to check out our Pinterest Board to see 100 Family Costume Ideas!! The board has something for a household of two, four or even 9! Update: And be sure to see our 2020 Family Halloween Photo Shoot behind the scenes here!