Growing up in Southern California, I remember visiting a one-of-a-kind Christmas themed park for the holidays. Santa's Village to be exact. It was a cute alpine-themed park nestled up in the San Bernardino mountains near Lake Arrowhead.
The proof is in these few 1980's photos my folks were able to snap and save. And boy did my little sister and I have a blast visiting the park. Which is why we were sad to hear the news that they were closing their doors during the 90's.
Yet, year after year, my sister and I made comments about all the fun memories we had at Santa's Village well into our thirties. And how we wished they would open it back up again. Little did we know, that very same wish would come true.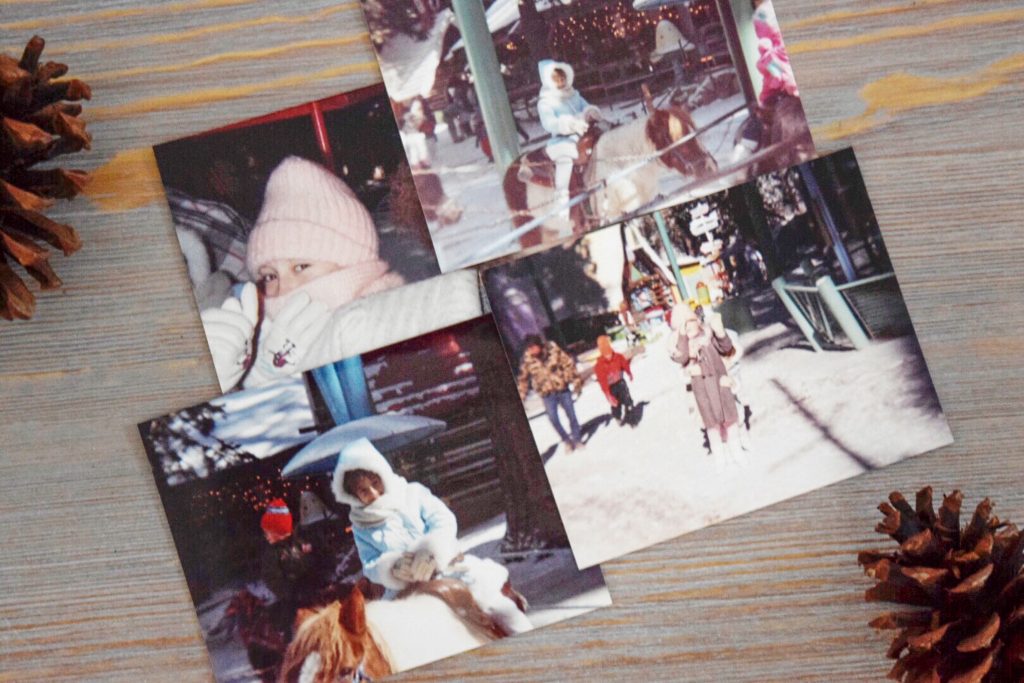 Fast forward to last year, December 2016, when we heard the news the park was reopening and now called SkyPark at Santa's Village, we were ecstatic. But when the park reached out and invited our family to check out the park first hand, that's when the excitement reached a whole other level. To be able to take my own two little ones to a park that brought back so many great memories was a dream.
SkyPark is definitely all that we remembered to be and more. Absolutely love how they were able to restore 18 of the original Santa's Village buildings. And today, I'm excited to share everything this magical Christmas themed park has to offer. So sit back and let us walk you through some of our favorite reasons to visit.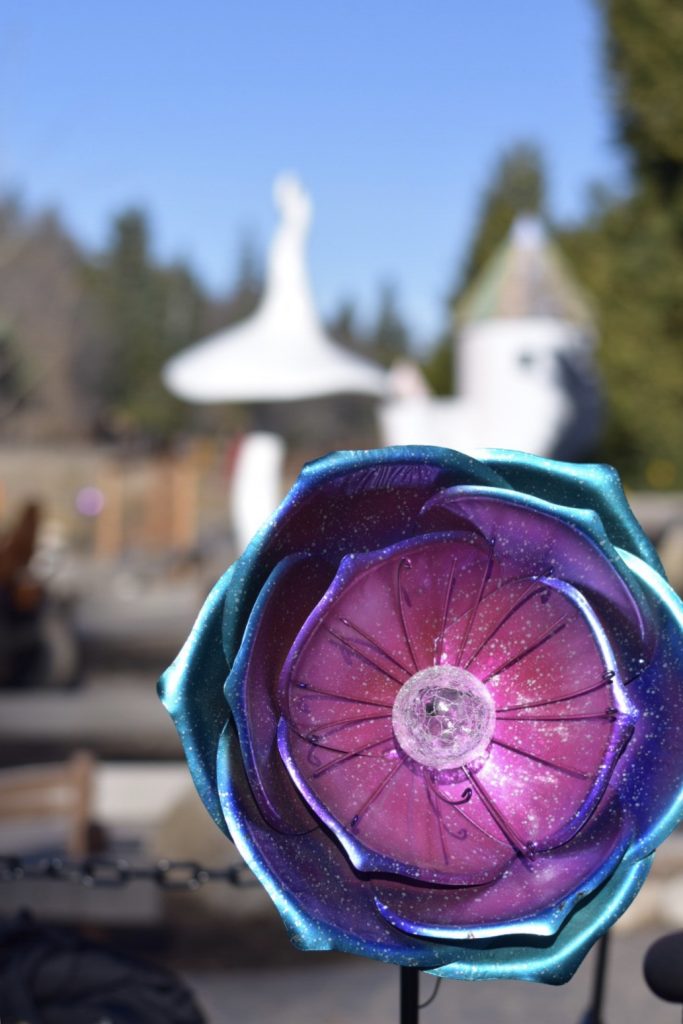 Top 7 Reasons to Visit SkyPark Santa's Village
The Food
If you're a foodie, this park for sure has you covered! From delicious baked goods (hello giant gingerbread cookies from The Gingerbread House), to specialty coffees and hot cocoas, mouthwatering burgers and chicken/beef tacos with avocado. Did somebody say tacos? Yes, and let me tell you they were delicious. The only draw back was that the food took awhile to get served last year but I'm happy to report we went back again this year and the service was quicker. We noticed they added additional food stands throughout the park such as sourdough bread bowls with hot soups to-go (the most delicious chili and french onion soup ever) as well as pre-made sandwiches and burritos. And if you're looking for more of a "fine dining" experience, check out their Gatherings restaurant. Everything on the menu sounds delicious! Also new this year is the Pedal Pub which offers a full bar overlooking a meadow.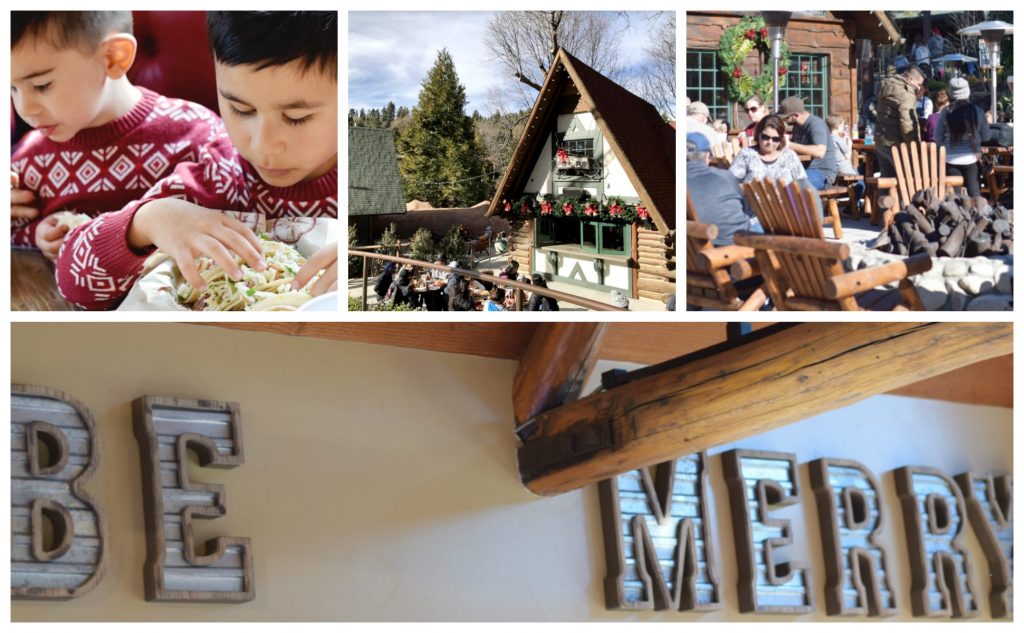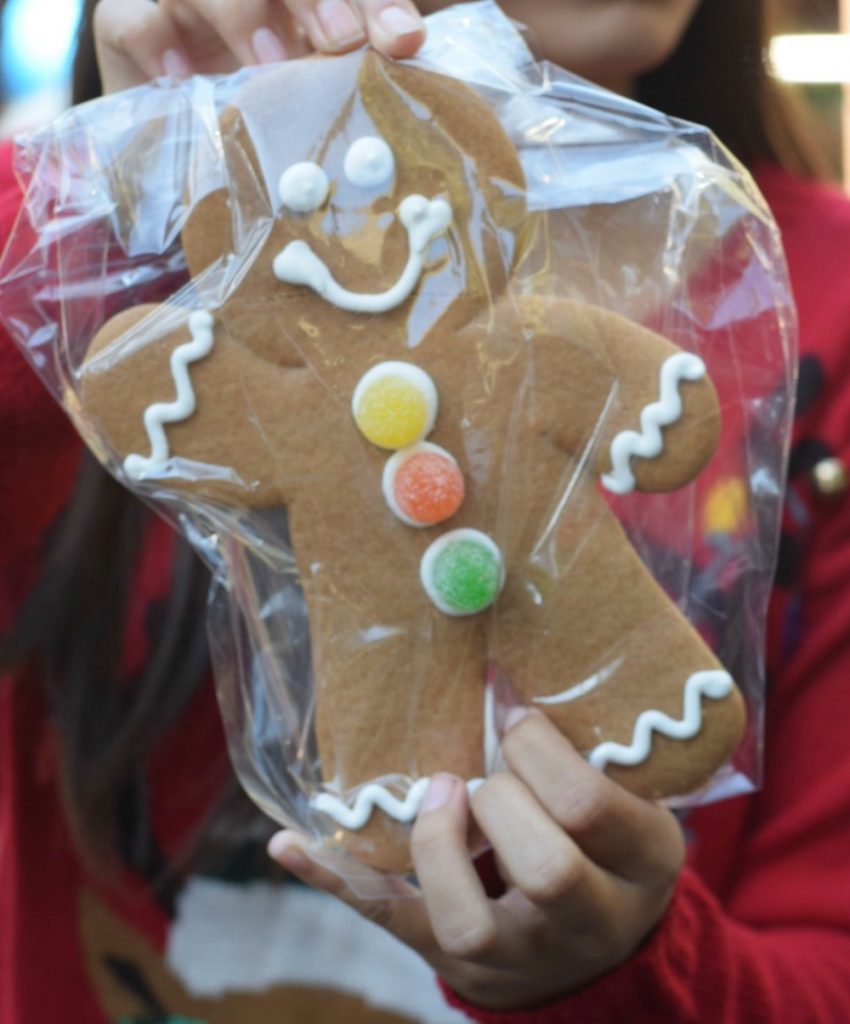 The Attractions
There are many fun thrill-seeking attractions at the park. Ice skating, archery, rock climbing, ziplining, hiking, bungee jumping and even peddle family cars. But you might not know that the parks "goal is to entertain visitors all year round by featuring attractions that encourage guests to get active and embrace the nature around them. The park has now evolved [even] further with the opening of an internationally recognized bike park.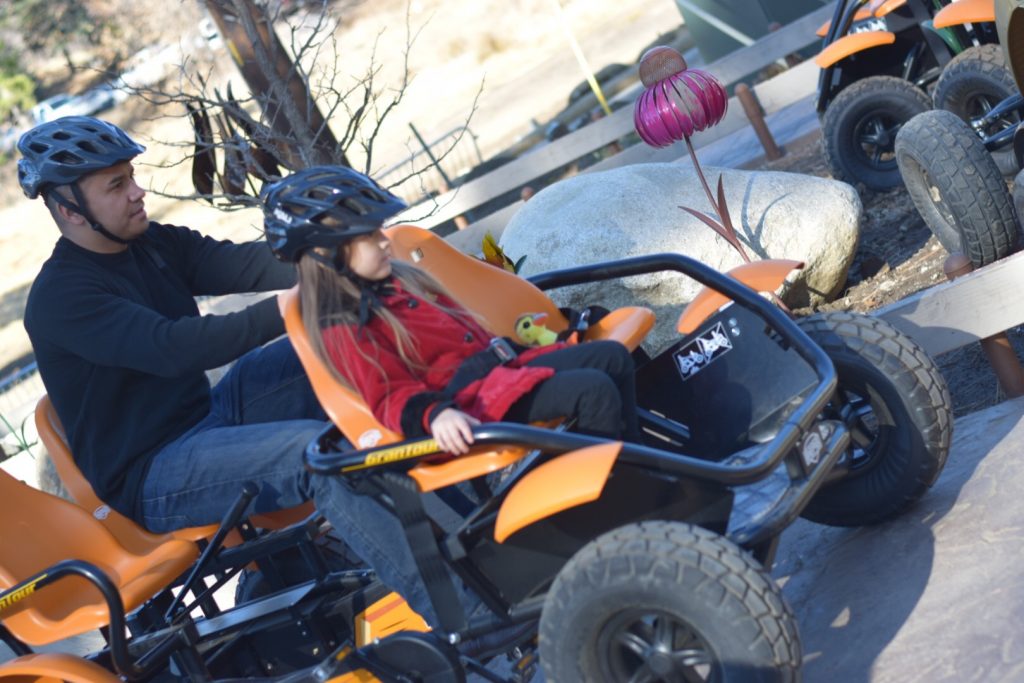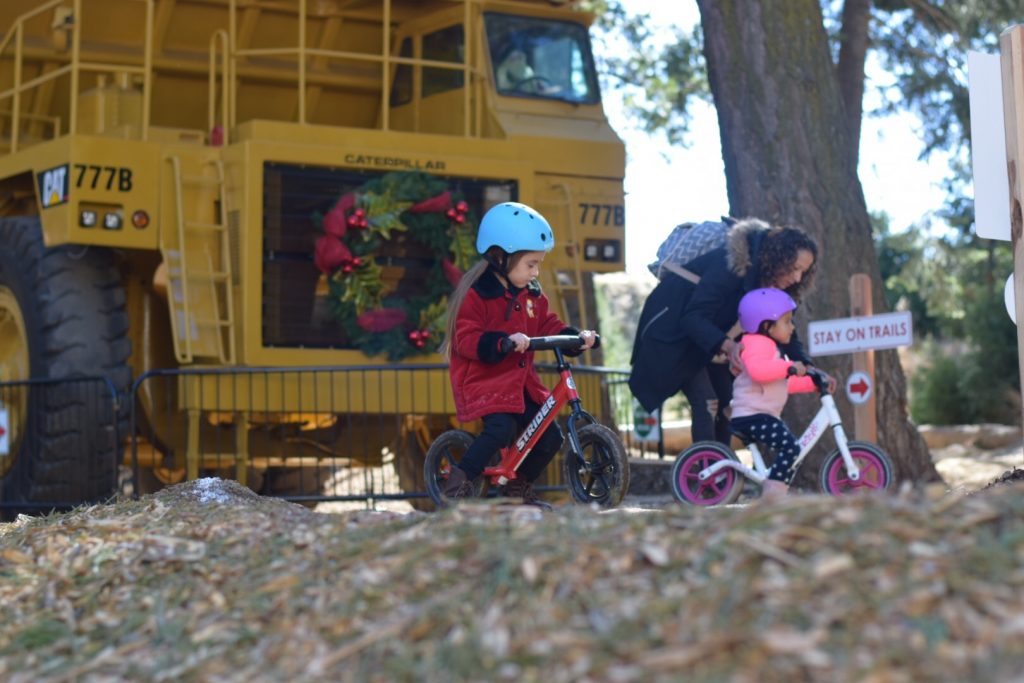 The Entertainment
Skypark also offers a variety of entertainment for all ages. From storytelling, meeting the Northwoods Characters, cookie decorating, live music, magic shows, to a character parade. But at the top of our list was obviously visiting Santa's house and his workshop. The girls signed up to take their very first snow globe class at the workshop. And our oldest could not wait to attend but unfortunately came down with a fever before the class started. Good thing we brought our radio flyer and a blanket. She laid down to rest while little sister and I helped her create her snow globe.
New this year: Breakfast with Santa and tea with Mrs. Claus for an additional cost. Click here to get more info.




The Staff
Skypark Santa Village has stellar customer service! Not just saying that to say it. We have visited the park twice and every single staff member has been extremely helpful, kind and super energetic.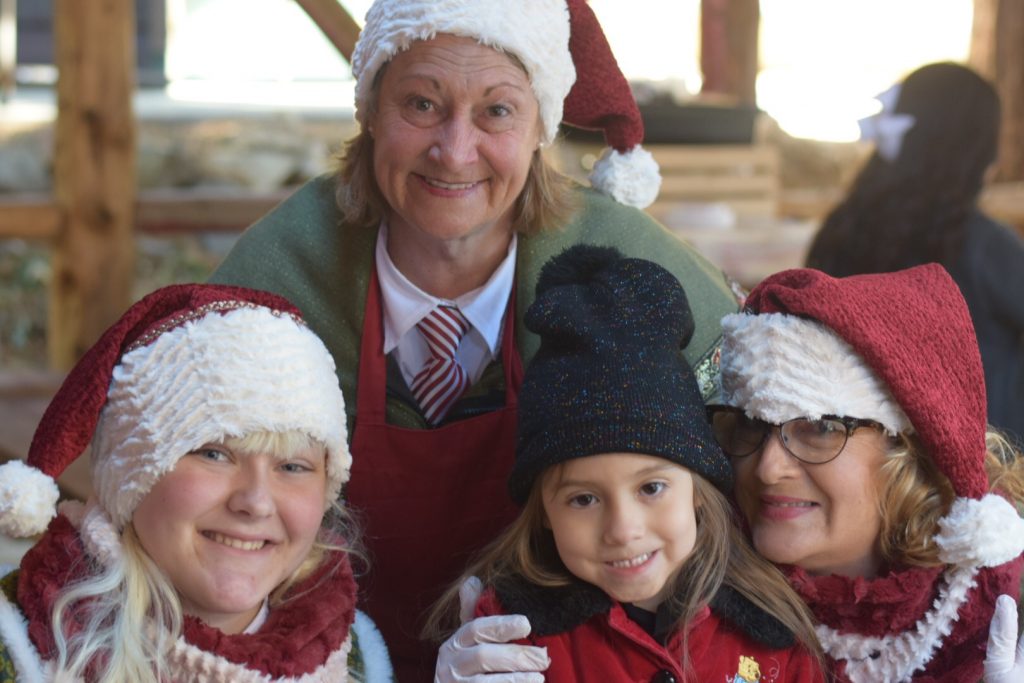 Photo Op With Santa
This is a given, right? But this experience is like no other. Most photo opportunities at other places feel rushed and usually the photos are just ok if that. At SkyPark, not only is Santa's House legit looking, our girls got to spend a few minutes chatting it up with the big guy about why getting a real dog for Christmas is all Mia really wants and how they're working hard to be on the 'nice list' most days. Followed by a few rounds of say cheese!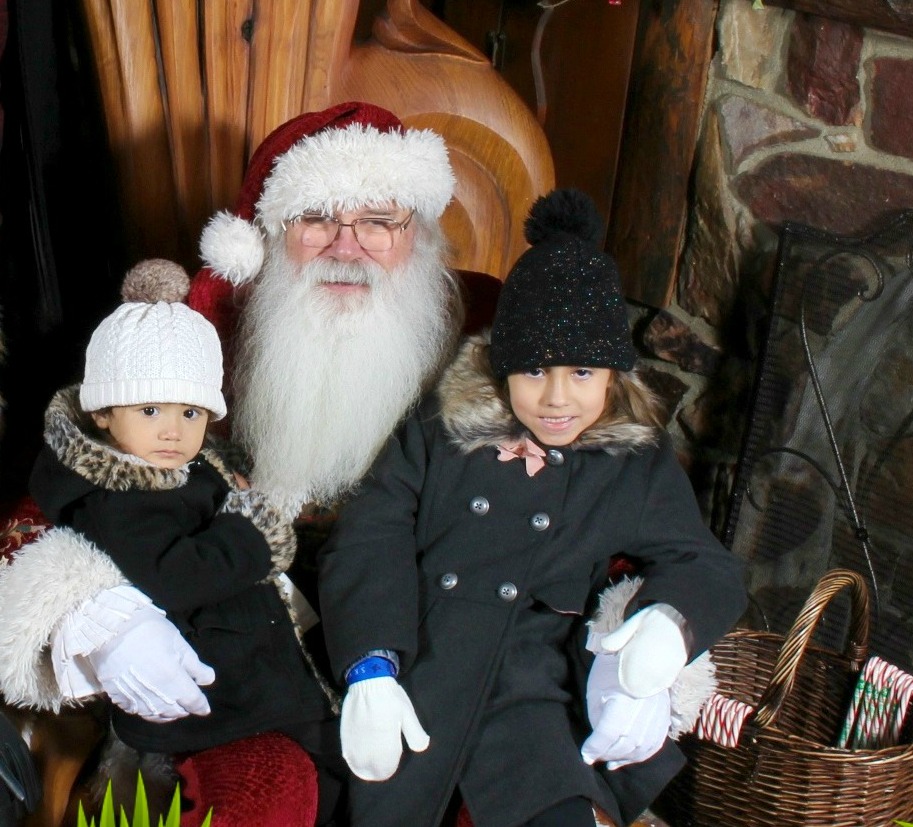 Celebrate Something Special
This year we got to celebrate Lexi's 2nd birthday at the park with a few cousins, aunts, uncles and grandparents. I mean how adorable are these elf tables? They're located to the right of St. Nick's Patio and Grill. Perfect location to sing happy birthday and have the kids eat birthday cupcakes and treats. SkyPark is beautifully decorated throughout the entire park. The majestic mountains and trees serve as a beautiful backdrop for family photos and even weddings. 
And speaking of, we were fortunate to have our super talented friend, Lily from LilyRo Photography capture some sweet birthday moments plus our family adventures at SkyPark. Loving every single photo! She's beyond talented.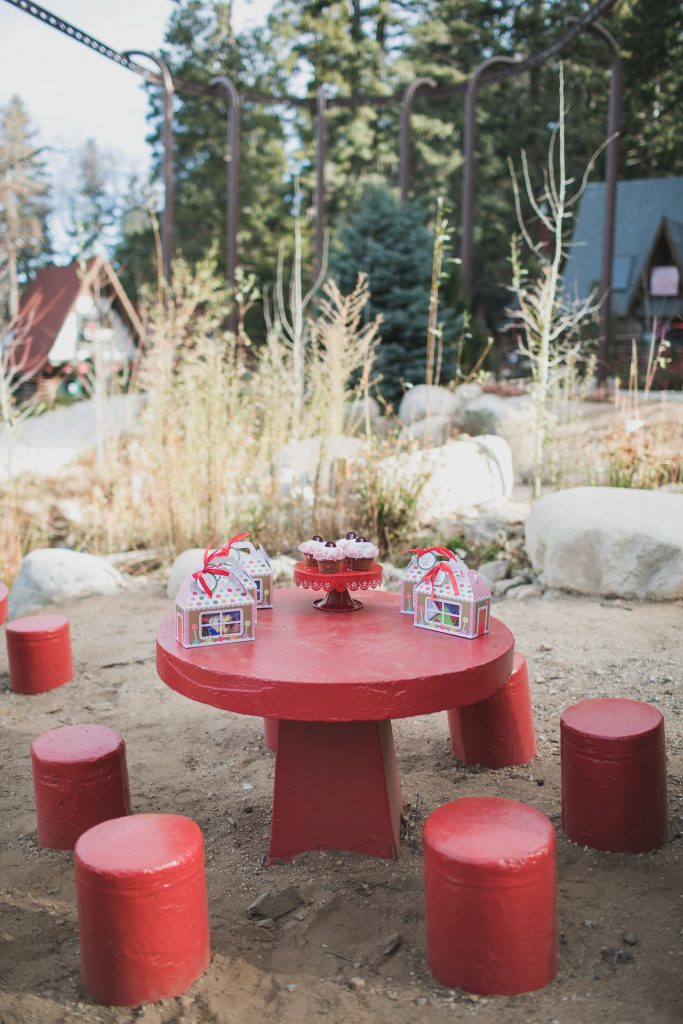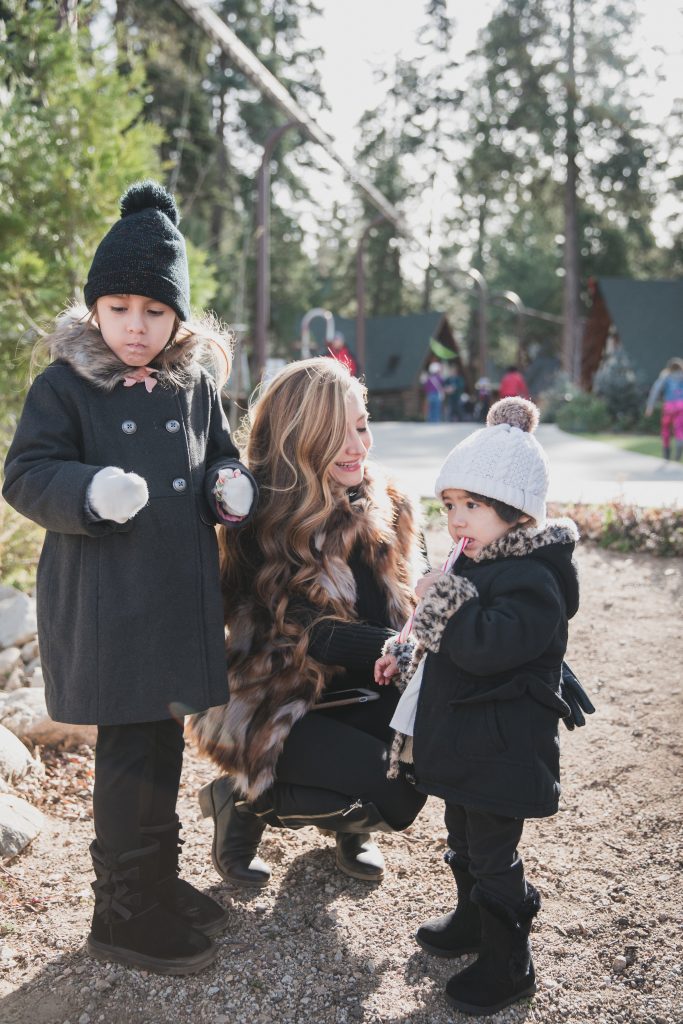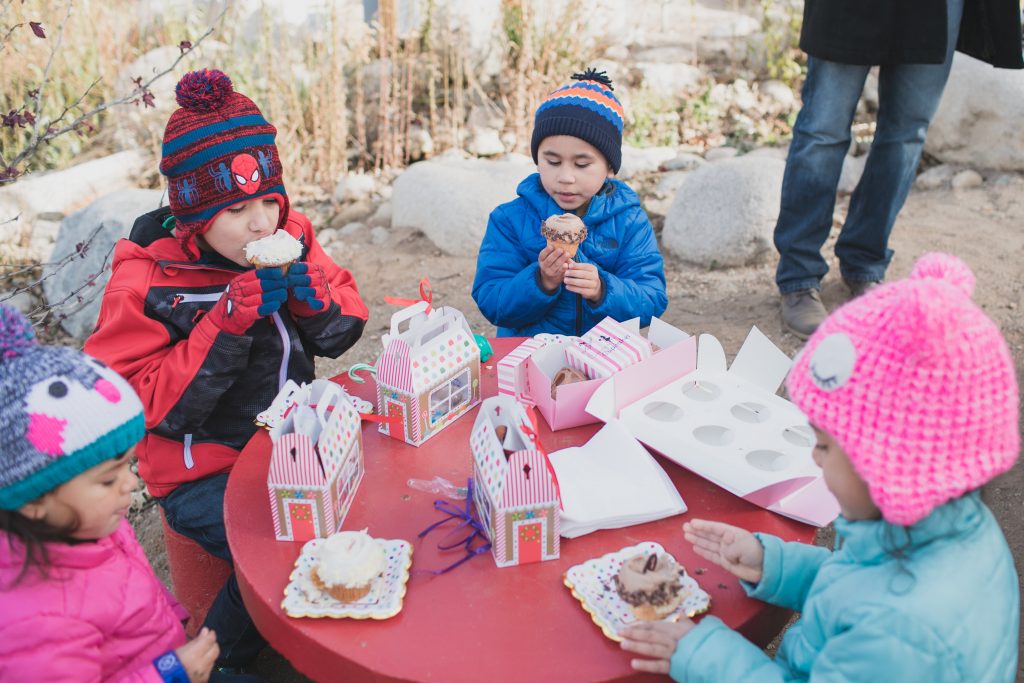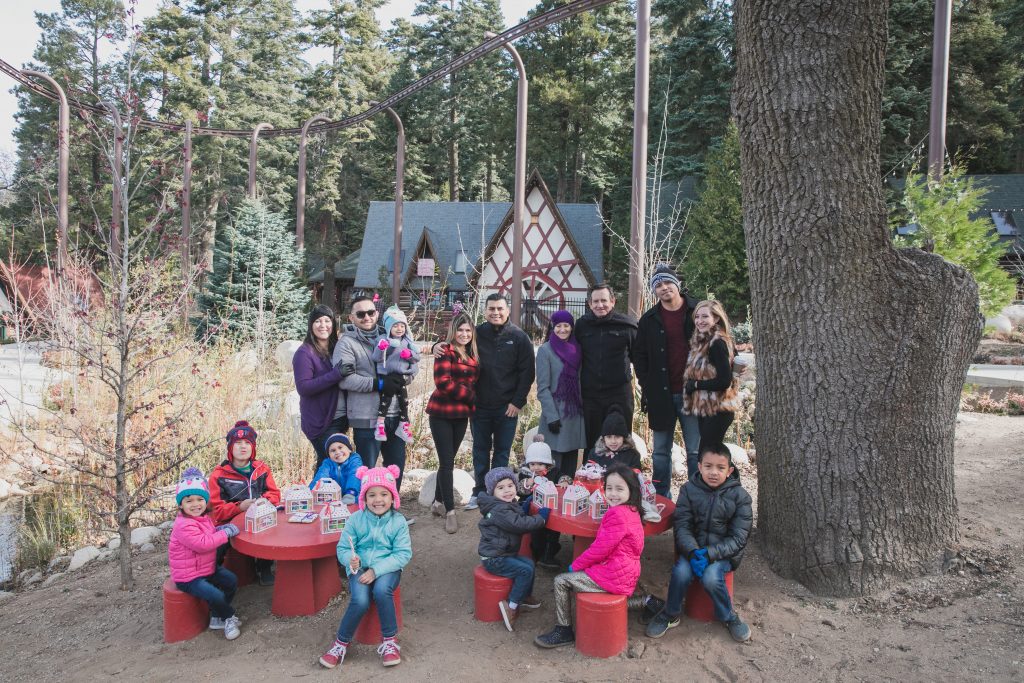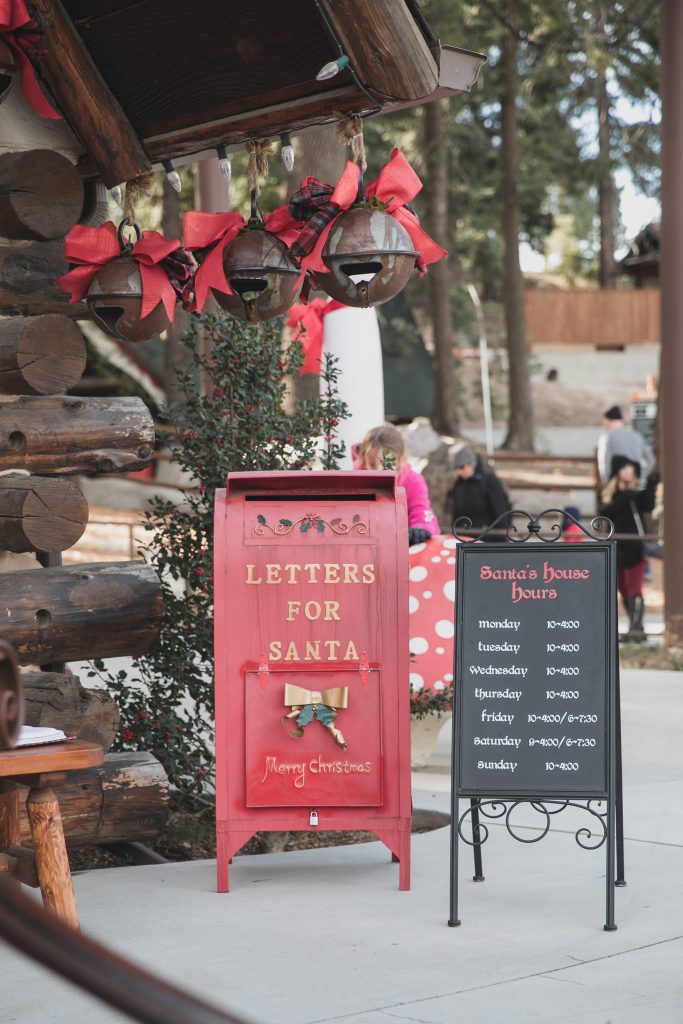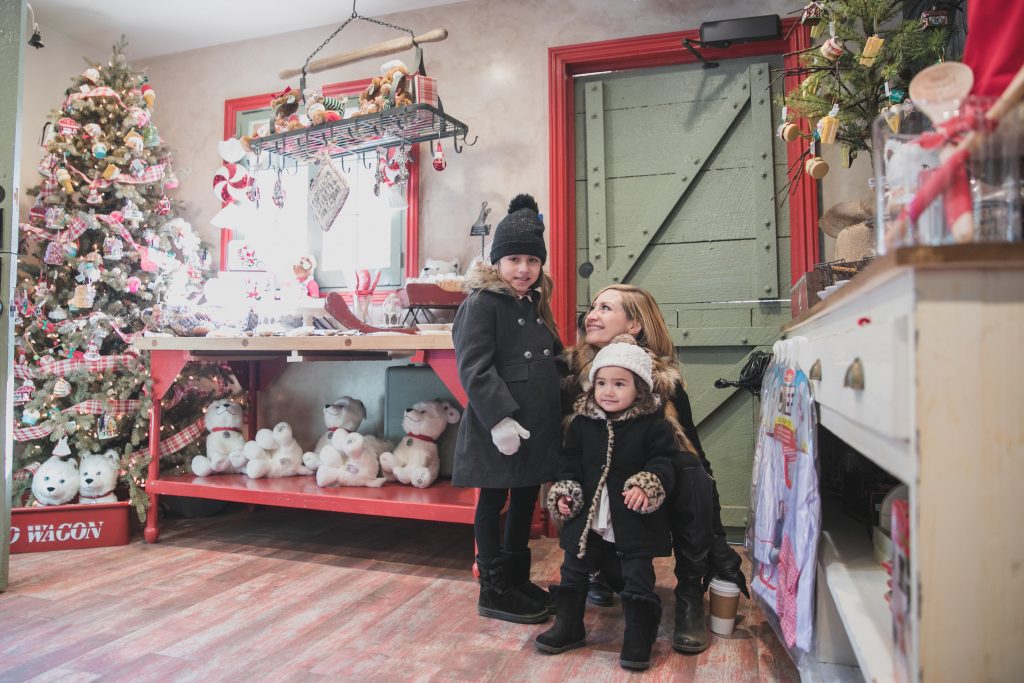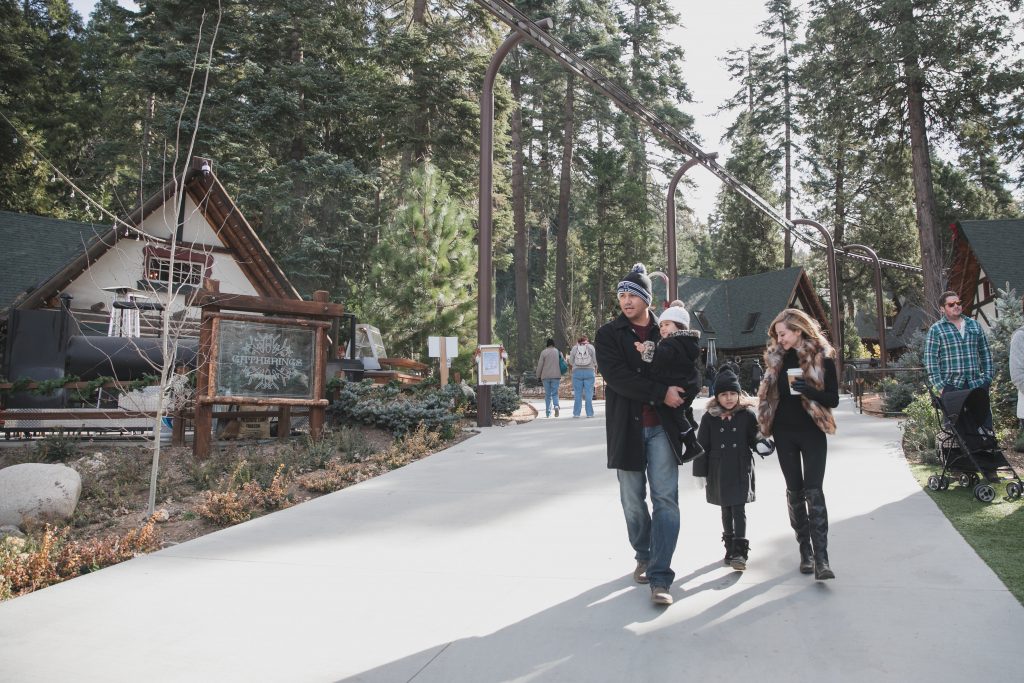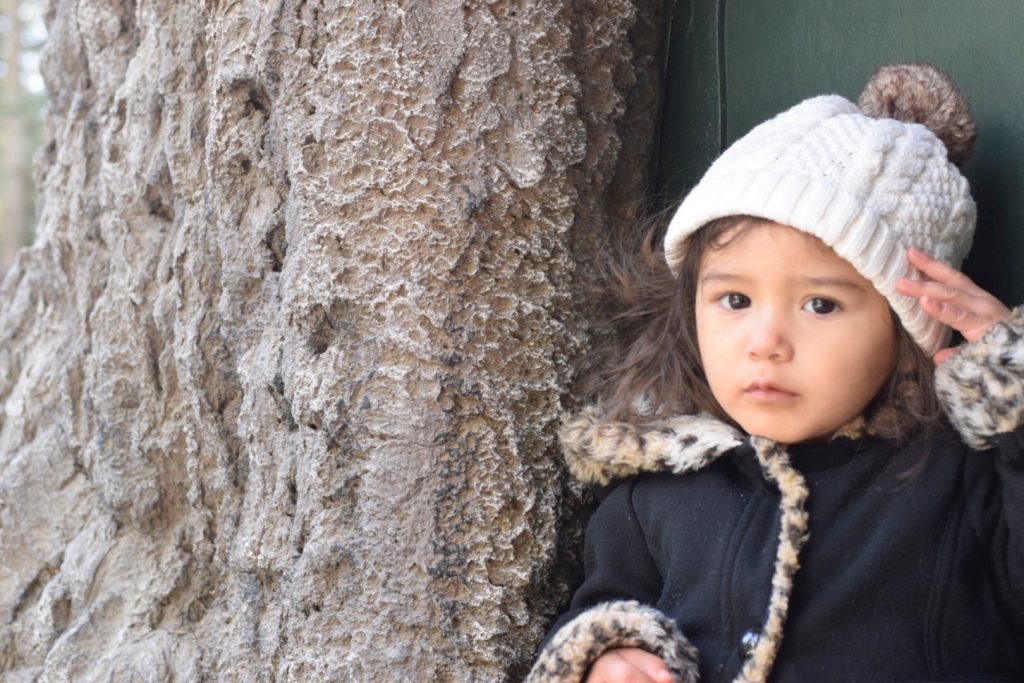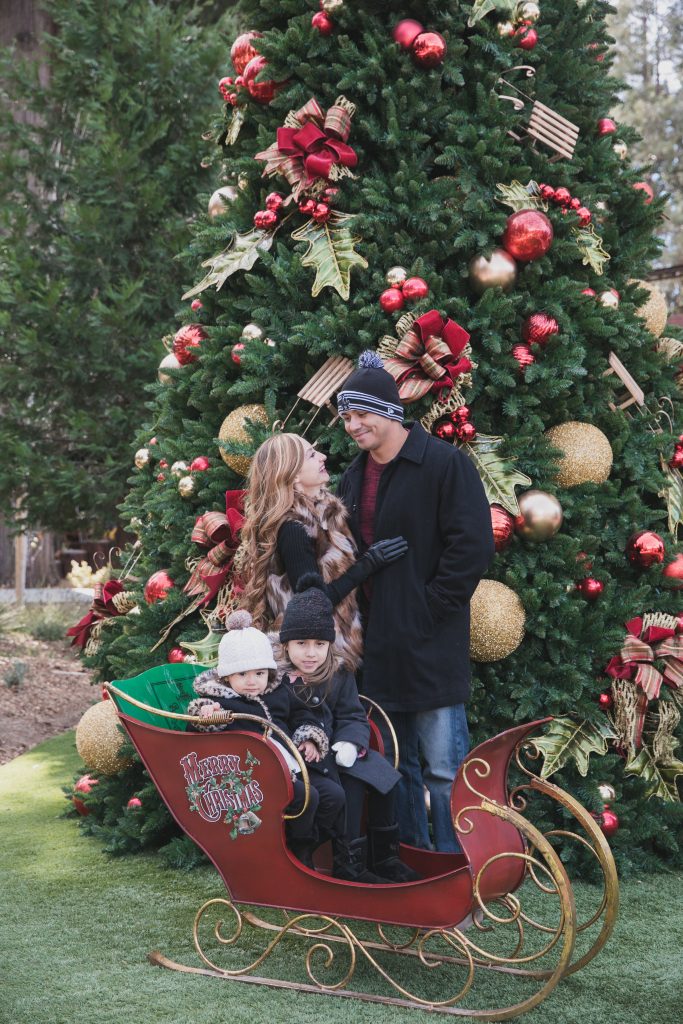 Running Into Your Favorite Singer
Last year, while entering the park, my little sister spotted her all-time favorite singer/song writer/fashion designer, Gwen Stefani. She was walking over to the peddle buggy ride. I love love Gwen too but my sister has go to be her #1 fan. She's got signed and framed vinyls in her home and front stage selfies with Gwen and band members from No Doubt. Best day ever meeting her and her sweet kids in person. She's just as beautiful inside as she is outside.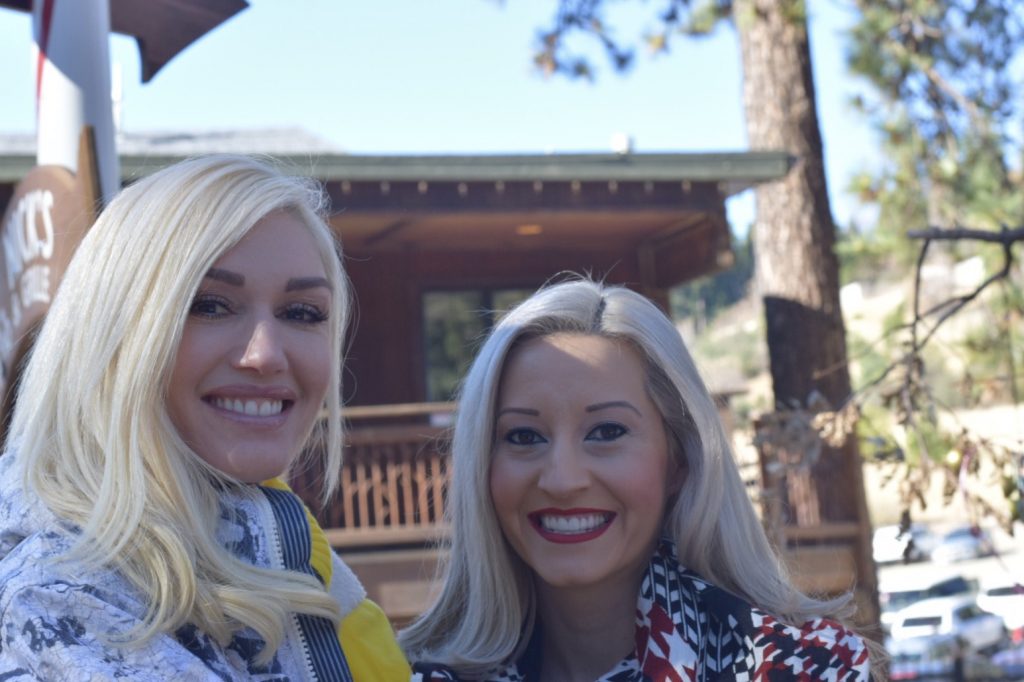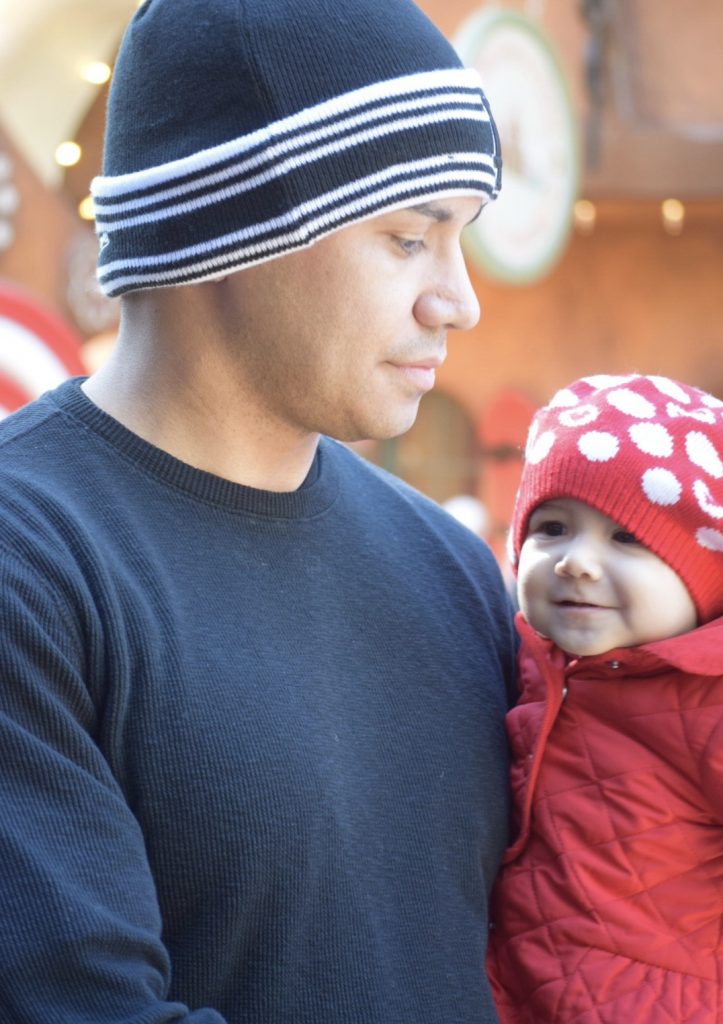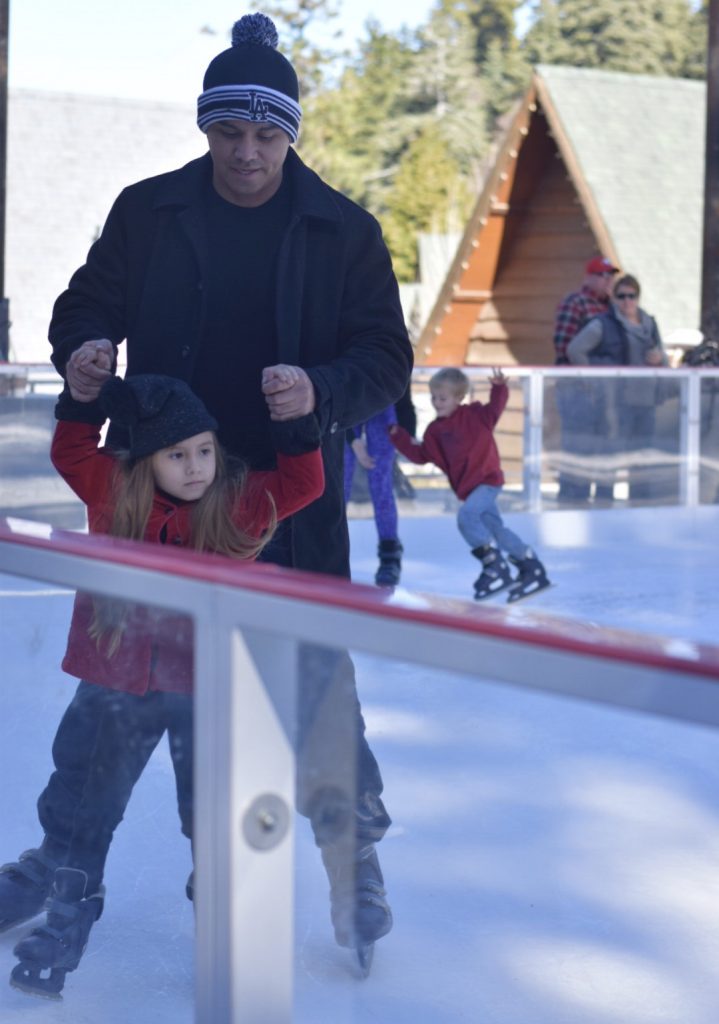 So there you have it. Our top 7 reasons to visit SkyPark Santa's Village. For additional info on tickets, weather, road conditions, hours and all park info visit skyparksantasvillage.com/