This post is sponsored by Crockpot™. All opinions are our own and as always, we only work with brands we love.
Growing up, I vividly remember looking forward to all of our family holiday traditions. Which is why it's so important for me that I keep our Mexican traditions alive and that I pass them down to our kids. So in that traditional holiday spirit, we're getting ready to celebrate Día de los Muertos with our loved ones. This year, we will be adding a Café de Olla (Mexican coffee) to our drink list. Café de Olla is perfect to drink during cooler days as it gives off a fragrant scent from the piloncillo and cinnamon – not to mention warms you right up!
Why We Celebrate Día de los Muertos
And in case you're wondering what Día de los Muertos is, it's "a holiday celebrated on the 1st and 2nd of November. It originated and is mostly observed in Mexico but also in other places, especially by people of Mexican heritage elsewhere. Although associated with the Catholic celebrations of All Saints' Day and All Souls' Day, it has a much less solemn tone and is portrayed as a holiday of joyful celebration rather than mourning.[3] The multi-day holiday involves family and friends gathering to pay respects and to remember friends and family members who have died." – Wikipedia
So in honor of Día de Muertos, we're making our aunt's delicious Café de Olla recipe.
Adding to our traditional recipes
The Café de Olla recipe below includes the traditional version from our tia's (aunts) recipe; however, we cooked it in our NEW Crockpot ™ Design Series®. Not only is the coffee easier to make in the Crockpot ™ Design Series® but it's also a great way to keep it continuously warm for any get-together. The new Crockpot ™ Design Series® features a streamlined design and modern-vintage aesthetic. It's available in 3 qt, 4.5 qt, and 7 qt sizes in new colors and styles!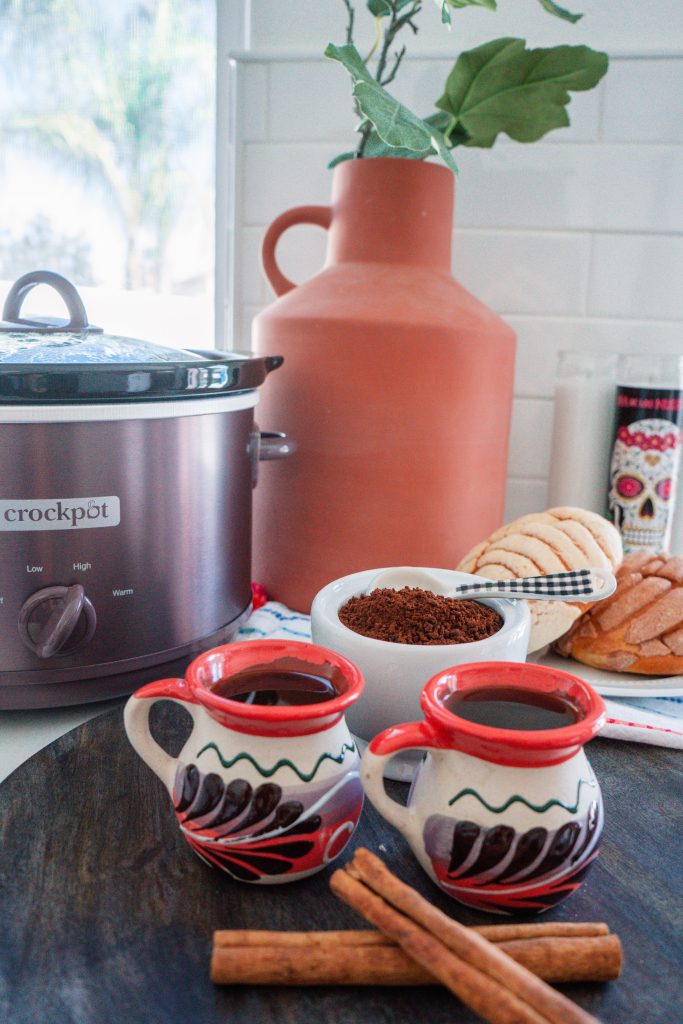 Café de Olla Holiday Crockpot Recipe
Café de Olla Holiday Crockpot Recipe – Dia de los Muertos Drink Beverage
Equipment
Crockpot ™ Design Series®
Ingredients
10

cups

water

10

tsp

instant coffee (or 1 tsp per cup of  water)

1

piloncillo

1

stick of cinnamon
Instructions
Turn Crockpot on to high.

Add all ingredients and give it a good stir.

Cook for 1 hour and set to warm. Serve with a cinnamon stick.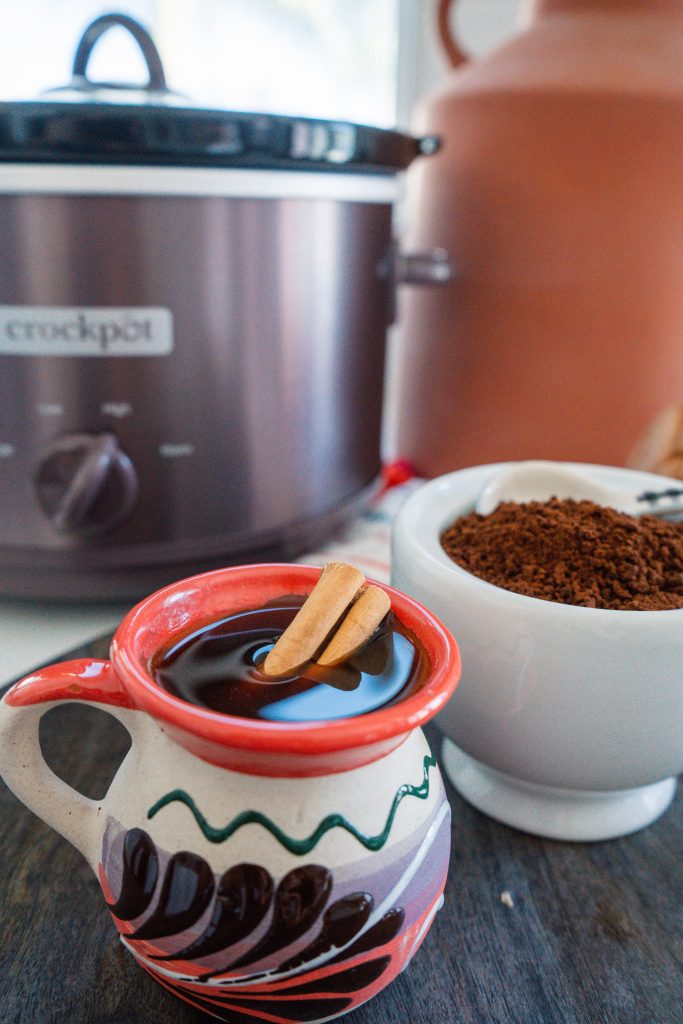 Café de Olla Holiday Crockpot Recipe
Join us in celebrating Día de los Muertos by making some Café de Olla or another Crockpot recipe such as our Arroz con Leche de Coco (both are so good!)