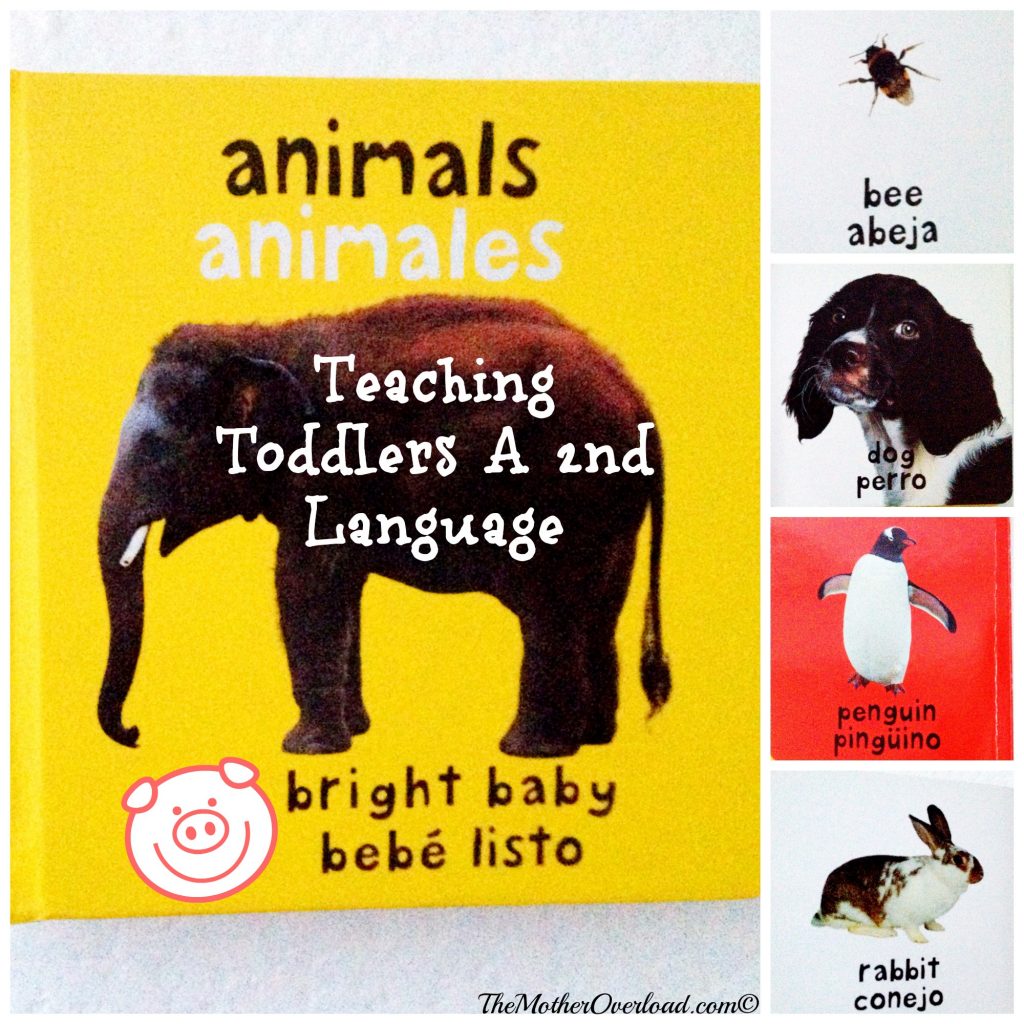 During my pregnancy, my husband and I agreed that we would speak two languages to our little one. Naturally this was a given as we both already spoke Spanish and English at home. But fast forward to my now 2-year-olds vocabulary and let me just say that it has been such a challenge for us to teach her both. The hubby and I noticed that we tend to communicate better with each other in English and therefore speak more English than Spanish at home. Not sure how this happened but we caught it and are trying to get back on track.
Sure – we want our daughter to speak, read and write in both languages. But it's definitely easier said than done! I mean it's hard enough to teach our 2 year old daughter English let alone a second language. Please tell me we are not the only ones experiencing this?!  But never the less, we both agreed that two languages would help our daughter with her brain development and also become a good multitasker. This isn't just our theory though. Apparently, this was confirmed in a study made by Pennsylvania State University. This study mentions that having the ability to easily switch between different structures, also known as "Mental Juggling," allows bilinguals to be good multitaskers. Wow – who knew we are teaching our daughter to become a mental juggler?!
It's definitely a challenge for us but it's an important one to take on. So for now we will continue to push forward on a daily basis and speak both languages. I've come to find a few solutions on how to teach Mia both Spanish and English over these past few months. Hope some of these work for you!
Bi-lingual books: Having the option of switching from one language to another seems to be an effective way to continue teaching both languages in our home.
Bi-lingual flash cards: I like mixing up the English and Spanish flash cards so that Mia can figure out in her mind what the object is in either language.
Spanish kid movies/ TV shows: If we've caught ourselves talking more in English we'll have our little one watch for example Finding Nemo in Spanish. She loves singing Dory's part "Nadaremos, Nadaremos En El Mar." Whoever invented Language options on DVDs is a genius! There are also TV shows such as Plaza Sesamo, Dora La Exploradora or even Sesame Street that teach them both languages. These TV shows are always in our DVR.
Word of the day: Pick a word of the day and print out a picture of it for Mia to color. Repeat the word in English and Spanish while she colors it as well as mention it throughout the day. Note: The internet is full of free spanish coloring pages. Here's a link to a simple one we've used. Alphabet Coloring Pages by Mrprintables.com
Youtube Spanish/ English Videos: I like having Mia watch educational kid songs in both languages. Youtube has a great selection from teaching them colors and numbers to rhymes and riddles.
Visit Family/friends: We are fortunate that both of our immediate families/close friends speak both languages and are driving distance from us. Having them speak both languages to our little one helps contribute to her "mental juggling" skills.
By the way, Mia's first word at 9 months was agua (water) followed by the word fan so we must be doing something right, right? Ok – I'm trying to give ourselves some credit here (insert burst of laughter).
Cheers to brain development!