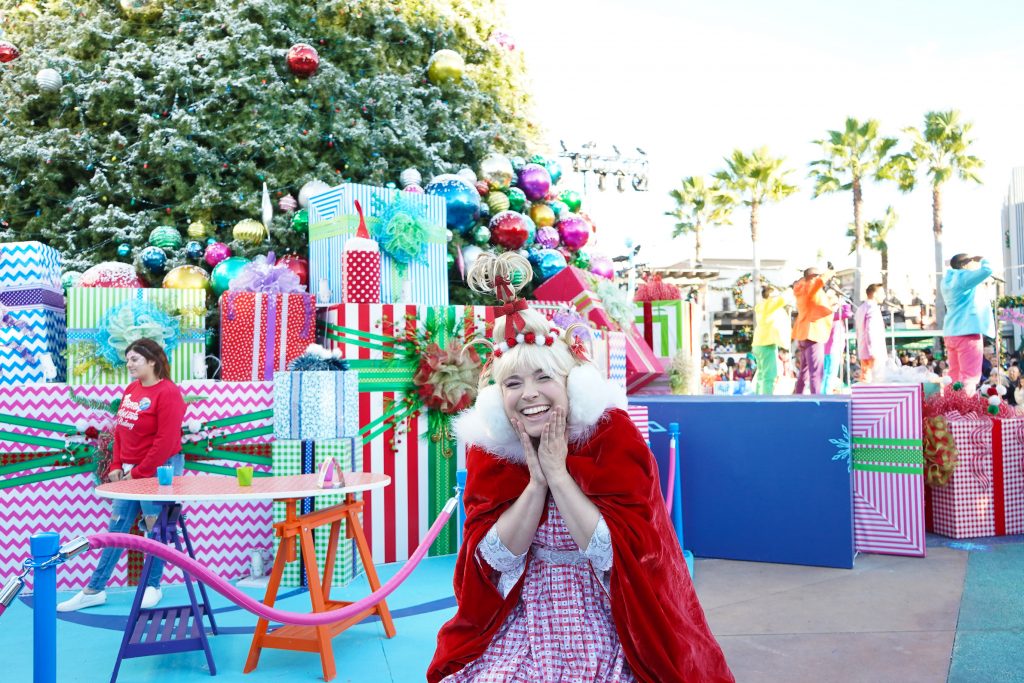 This post is written in collaboration with Universal Studios Hollywood. All opinions are our own and as always we only work with brands we love.
The Full Scoop on Universal Studios Hollywood Grinchmas + Harry Potter Christmas
Last Sunday, we were invited to join all the holiday fun at Universal Studios Hollywood. And you can just imagine the excitement that occurred in our home as Rey and I haven't been in years and the girls have never stepped foot into the park. Yes — First-timers! We wanted to see and do as much as we could during our trip — and that we did!
Starting with the "Grinchmas" Who-lebration. The movie has been on repeat in our home. So when the girls met Cindy-Lou Who for the first time, they were beyond ecstatic.We also saw the Who-liday Singers perform, the Grinch himself, his faithful dog Max and a few other Who-ville characters. Plus my fav, the 60′ whimsical Christmas tree! And here I was thinking our 15′ Christmas tree was ginormous. I mean, look at this beauty below!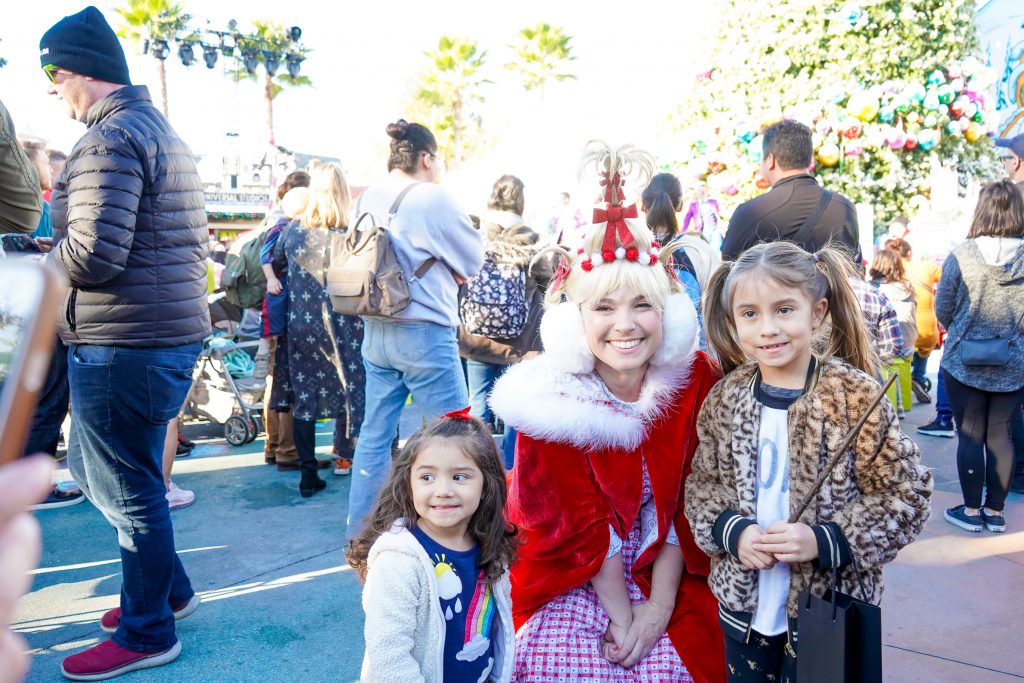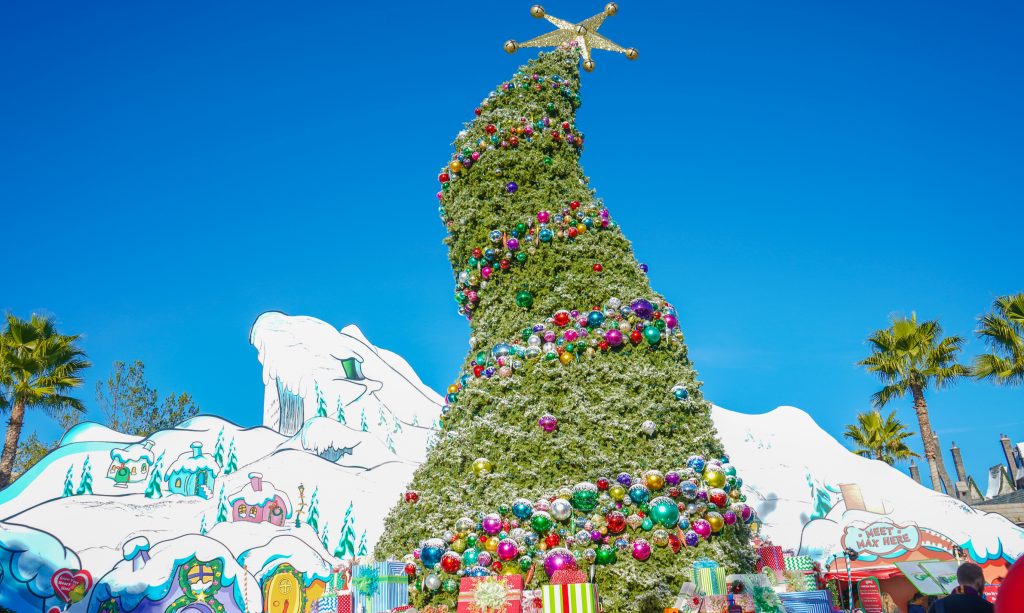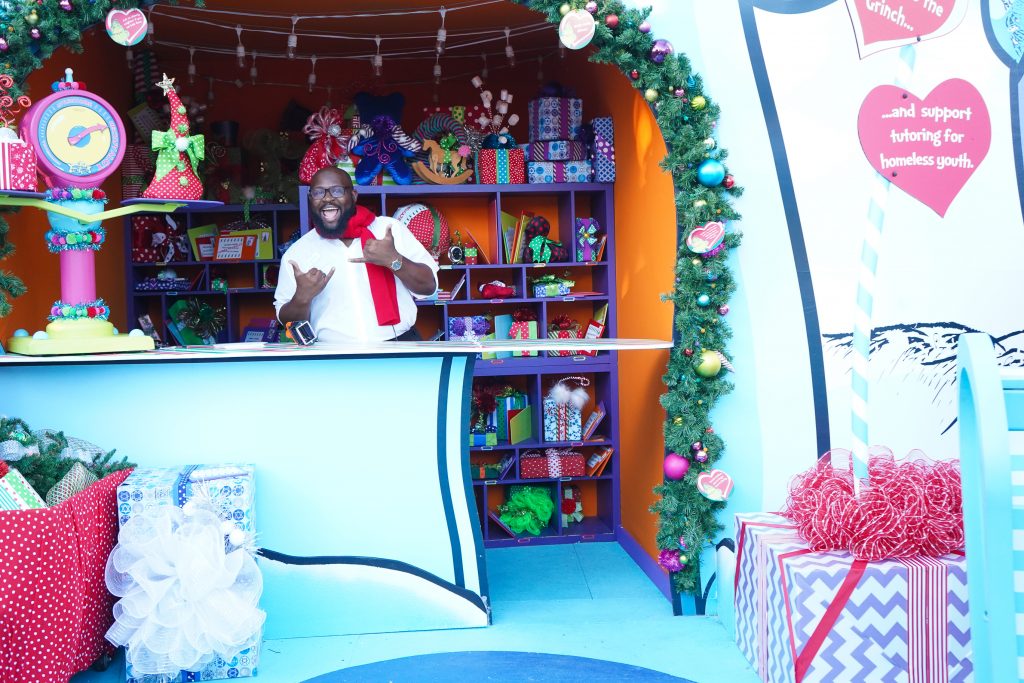 If you're thinking about visiting Universal Studios Hollywood, keep in mind that "Grinchmas" runs December 1-2 & 8-9, and daily from December 14 – December 30.
What to expect:
A towering 60 foot tall whimsical "Grinchmas" tree.
Join the Who-lebration and meet The Grinch, his faithful dog Max and a roster of Who-ville Whos.
Martha May Who-vier and the Who Dolls will take center stage performing energetic musical sets to usher in the Christmas season in style.
The Who-liday Singers—a hip boy-band ensemble—performs a cappella concerts featuring a mix of Christmas favorites and pop rock.
Cindy-Lou Who – storytelling show of Dr. Seuss's How the Grinch Stole Christmas.
And we were excited to also check out for the first time the Wizarding World of Harry Potter. The village is nothing short of spectacular. Our oldest, Mia, was casting spells with her new wand and even showing little sis the ropes soon after. Check out our stories and highlights on The Mother Overload IG.
But a biggest highlight of our trip was the Harry Potter and the Forbidden Journey Ride. Mia met the height requirement and best of all, Rey and I were both able to ride with her individually using their "child switch' program. In case you're wondering what that entails — If any child in your party cannot ride an attraction, one of the adults can wait with the child that does not meet height requirement in the attraction's "Child Switch" room. When the other parent returns from the ride, they can switch with the parent who was waiting in the room, without having to wait in line again. This is genius! Be sure to ask any team member at the entrance of each attraction and they will be happy to assist you. By the way, the Harry Potter Forbidden Journey was such a cool ride!
Christmas in the Wizarding World of Harry Potter runs November 17 – January 6. 
What to expect:
For the first time ever, guests can experience glistening snowfall in the land at night.
Hogwarts castle transforms into a dazzling light projection spectacular and the quaint town of Hogsmeade village shines brightly with décor uniquely themed to each of the individual storefronts.
Newly introduced holiday-themed fare and hot Butterbeer.
The annual holiday a cappella Frog Choir, comprised of Hogwarts students and their giant throaty frogs, who return to entertain guests with their harmonized holiday themed songs.
Collectible merchandise including a variety of decorative Hogwarts castle snow globes.
"The Magic of Christmas at Hogwarts Castle" will illuminate Hogwarts School of Witchcraft and Wizardry with colorful imagery and impressive dimensional animations that dance across Hogwarts castle in tandem to a musical arrangement from the Harry Potter movies.
And guess what? For a limited time you can buy a 1-day ticket and get a second day free! Offer valid through 12/19/18. For additional Universal Studios Hollywood information be sure to check out their site here.
Cheers to experiencing the holidays like never before!
Abrazos (hugs),
Gladys