This post is sponsored by Melissa & Doug. All opinions are our own and as always we only work with brands we love.
Aaand — we're back from NYC! I'm so excited to share with you all some key takeaways and tips discussed during our Melissa & Doug informative roundtable around less screen-time and the power of play. Plus, an awesome giveaway you don't want to miss!
As you might have read in our previous blog post, it's been a struggle in our home (and now realizing in most homes, as well) with limiting screen-time for our kids. And moreover, to find other ways to keep them entertained. So if you're also in the same boat, or know parents going through this same struggle, then this blog post is a must-read.  
Informative notes from our roundtable
Let me start off by saying how this entire family trip to NYC was a dream come true. And it was such an honor to be invited as guests of Melissa & Doug, especially as we truly love all their toys and their mission.
Our first day started with a roundtable conversation over breakfast with play experts, Parents Magazine, the Melissa & Doug team and a handful of parent influencers. We got right into the topic of the Power of Play and what that actually means. As a mom of two little ones, for me this topic is a huge one. I always notice the difference it makes on my kids' moods when they pretend play vs are on an electronic device. And I was surprised to hear that most parents are experiencing this, as well, even with teens.
Another topic of discussion was whether or not play should be prescribed. Most of us agreed that it just depends on every household situation. The idea of being forced to do play time might seem more like a burden and another thing to check off of our never-ending to-do lists. Instead, we should be arming parents with ideas that help destress or just something to look forward to doing with their kids after a long day. Something as simple as a walk outside and a quick scavenger hunt. I loved the idea of collecting seasonal items to use for arts and crafts the next morning when the kids wake up.
One of the key takeaways I learned from Dr. Kim The Parentologist, was how important it is to incorporate 30 minutes a day of intentional play. Yes, that means adding it to your calendar if need be and actually playing with your kids, too! And absolutely no devices. I realized I was saying no phone or T.V. to my kids, meanwhile I was catching up on emails or social media on my phone. Definitely a double standard I need to work on.
Also, we all agreed how hard it actually is to make time as we're all pretty exhausted by the end of the day. Anyone else relate? Well for that, I love these next two ideas!
Dr. Kim also suggested that even watching them play for 30 minutes counts! So long as it's intentional and 100% device free. If you're overly exhausted, this next idea is for you! Dr. Kim mentioned that her daughter had the cute idea of a pretend spa day! Her daughter gave her a massage, added cucumbers to her eyes and pretended to paint her nails and toes. I mean this pretend play doesn't get any better, right? Sign me up for this one!
Beth from Days With Grey suggested that we create something she termed "breakfast invitations." They're basically set ups of activities for the kids to do right before they wake up. This is genius! I love how she also gives ideas on her site for what to do and how it doesn't necessarily have to be done during breakfast. It can be done before nap time or even before dinner. Whatever works best for your family. The key here is to try to stay consistent and schedule them in Monday – Friday. Love how these invitations allow us parents to make a meal or even to sip on hot coffee while the kids are busy playing. But most importantly, helps to get them off of the electronic devices.
How much is too much screen-time?
The next big topic discussed was centered around screen-time. How much is too much? Again, varies per family and kids' ages (most teens have to submit their homework online now, etc.), but we unanimously agreed that too much screen time across any age can overstimulate and bring on negative behaviors.
I can certainly attest to this first hand and with both of our girls. I also noticed their need for immediate gratification and how low their tolerance became when it comes to getting frustrated and bored. I read an article from Dr. Nicole Beurkens that mentioned this as a cognitive skill issue. Plus, how dangerous screen time can be and how it can affect them in the following 7 areas.
Sleep problems

Mental Health Issues (i.e. Depression, Anxiety)

Physical Health Issues

Vision Issues

Poor Relationships/ Communication Problems

Cognitive Skills issues

EMF Exposure

Learning Challenges  
How can we limit screen time?
This was certainly a topic of big discussion during our roundtable. Many of us shared our thoughts and what seems to be working so far. I jotted them down below.  
Have a screen-free day once a week (and yes, that includes parents too!) Put away all cell phones and tablets for the day or during dinner, past 3pm, etc..

Keep all chargers put away so that the kids don't have access to recharge them. If the device isn't working, they can't use them and instead have them play or do a fun activity.

Charge devices only a bit so that when the batteries die it serves as a timer to get off of them.

Add a parental timer to the device with allowed screen time.

Check on the kids/teens every now and then to make sure they are not overstimulated. And if they are, have them take a break from the devices.
The Power Of Play
Believe me when I say it's certainly a quick fix to hand over electronic devices to our kids more so when we ourselves are busy and need time to get things done. However, it's important to keep a healthy balance as mentioned before, electronic devices can bring about other issues. Instead, try to focus on ways to incorporate play into their day as it has long-term benefits.
According to thegeniusofplay.org, "Play isn't all fun and games — it's also an important teaching tool! Through play, kids learn how to interact with others and develop critical lifelong skills.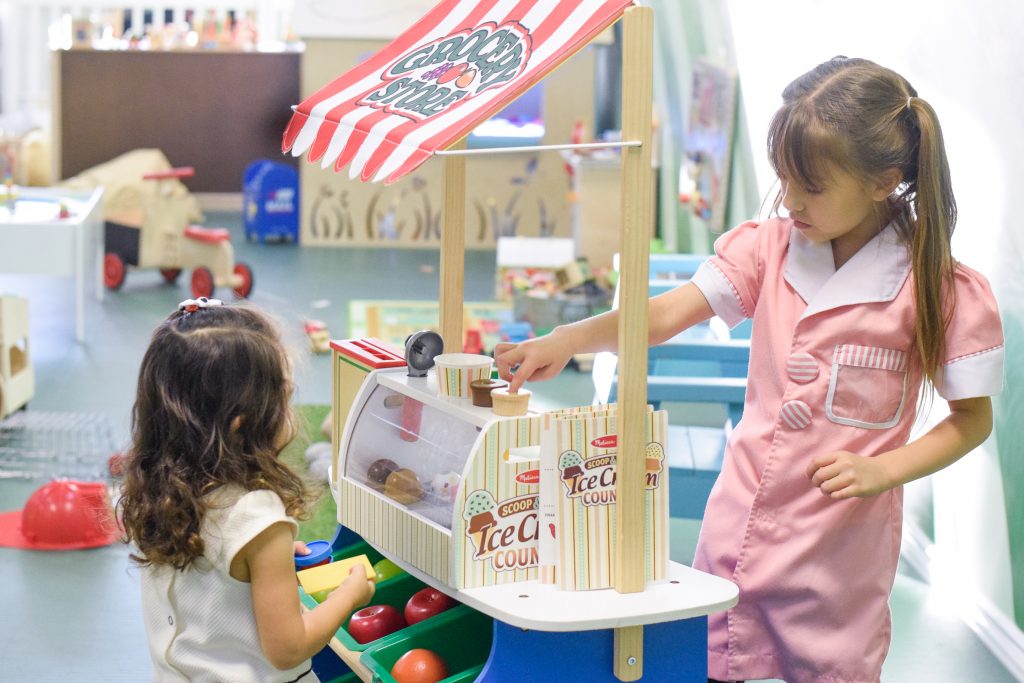 Benefits of Play
And speaking of the power and benefits of play, we love that Melissa & Doug started the importance of play movement and that they're helping parents, caregivers, teachers, etc. more effectively encourage and facilitate play in our very busy, screen-dominated lives. Be sure to check out their blog to find additional play ideas, activities, advice, and more!
We ended the roundtable conversation by sharing ideas for how Melissa & Doug could further, help us parents out. I mean, this brand is beyond amazing, amiright? There were a few ideas mentioned, such as having one-sheeters added to their toys to give parents tips or suggestions on how to play with their kids and the toy purchased. Genius!
The Melissa & Doug Showroom NYC
So after our amazing discussion, our family was given an exclusive look at the Melissa & Doug Showroom on 5th Avenue. To say the girls where in toy heaven would be understatement. They had a blast and asked to put some of the toys onto their holiday wish list. Including this adorable dinner which has a cook side and a guest side. And the cutest snack cart and grocery store. All three are perfect for both our girls to play with each other.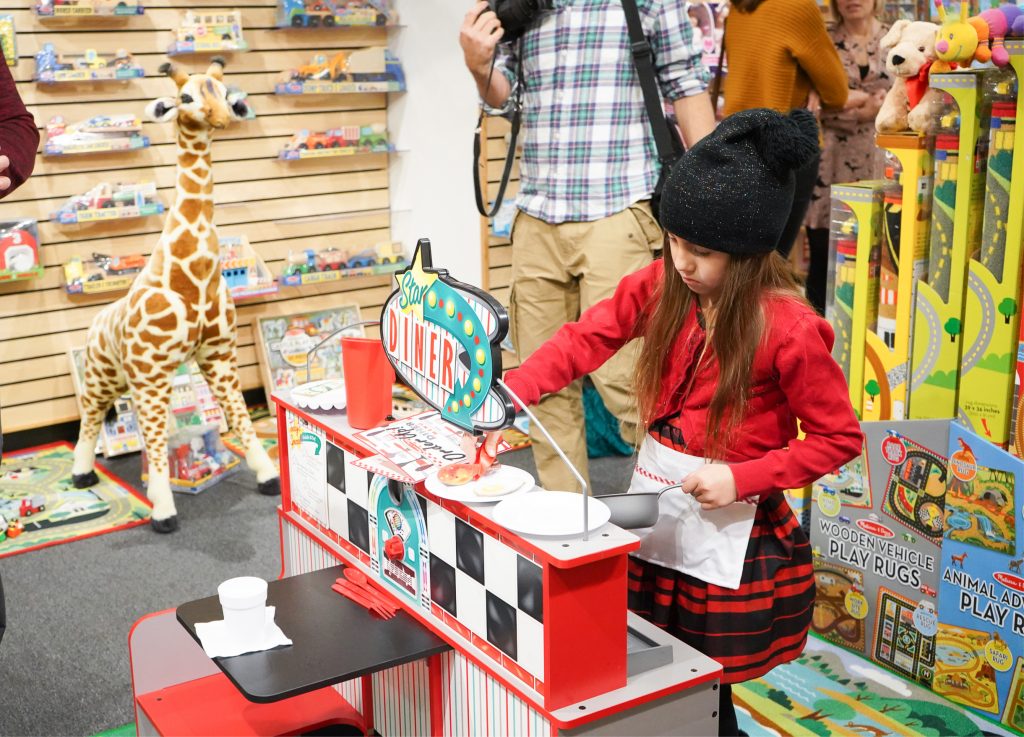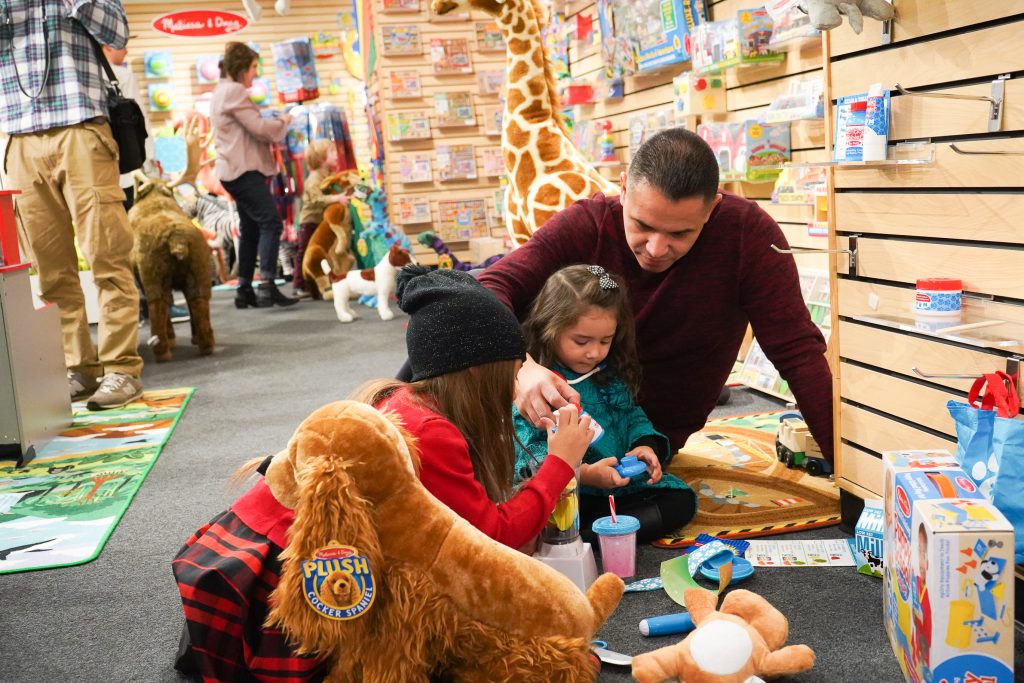 FAO Schwarz NYC
We also got the opportunity to see the brand new FAO Schwarz at 30 Rock! Such a dream to be there and see the cutest Melissa & Doug interactive grocery store with play food, carts, and registers.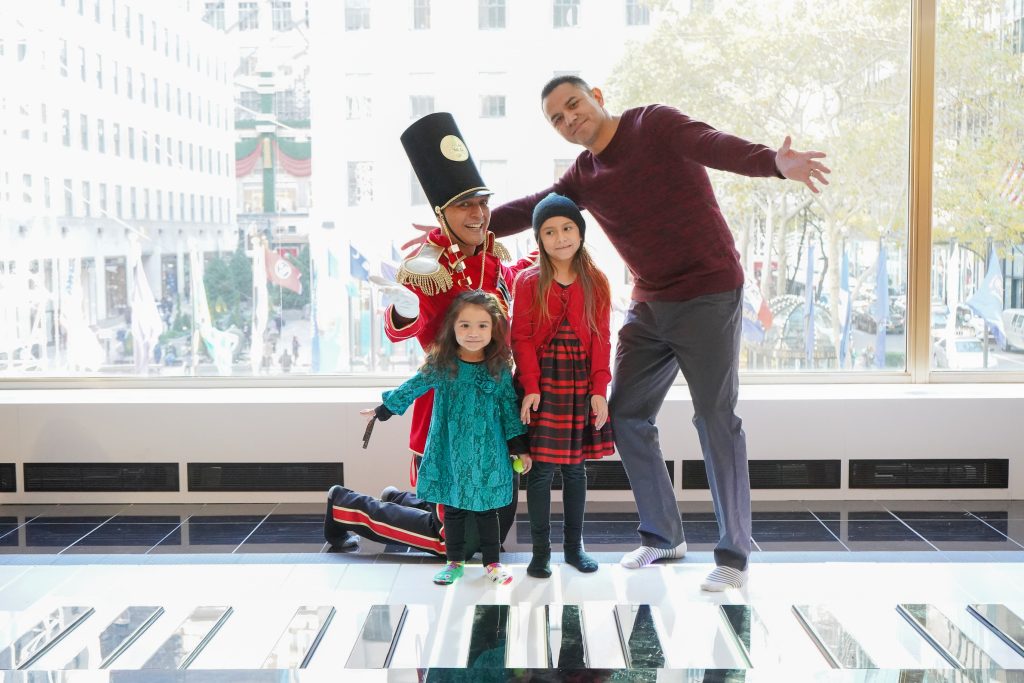 And speaking of, you all have the opportunity to get these awesome toys in your home, too! We're teaming up with Melissa & Doug to give one lucky winner $250 towards products of their choice. Just head to our Instagram account @themotheroverload and enter to win.  
This amazing giveaway will surely help jumpstart your holiday shopping!
Abrazos (hugs),
Gladys