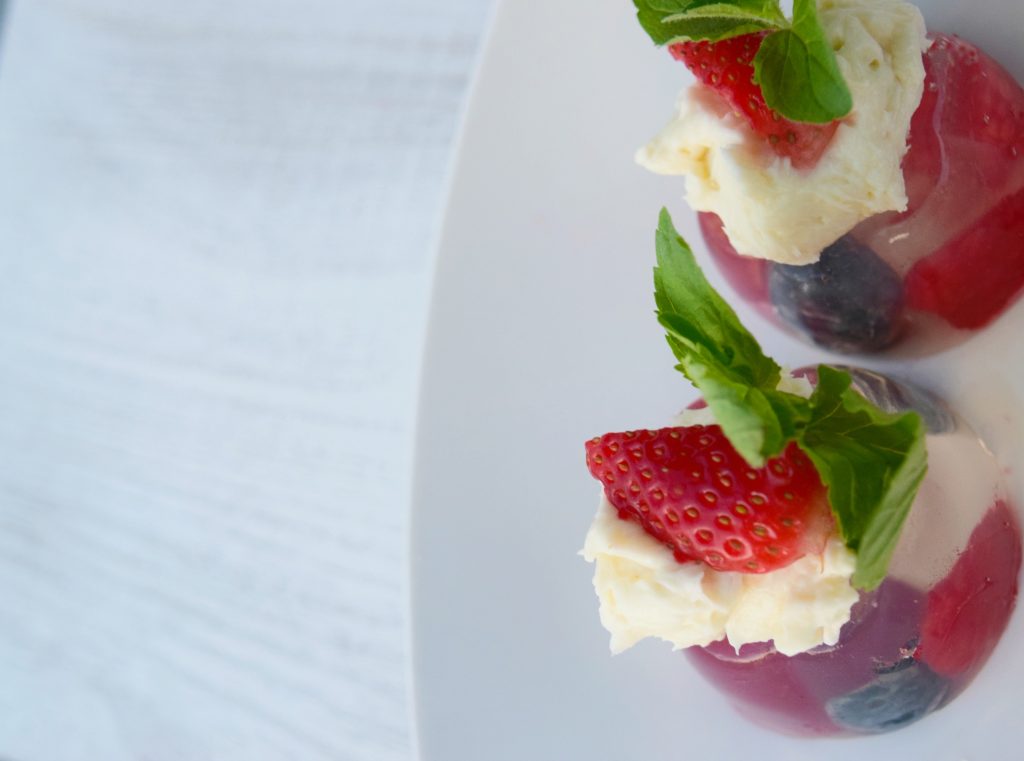 With Memorial day being around the corner, I wanted to share this quick red, white and blue dessert that not only looks pretty neat on the outside but also contains some healthier ingredients on the inside. Ok – crème fraîche frosting aside. But really, who doesn't love fresh berry desserts?? Not to mention making this recipe with my little one was tons of fun. We unintentionally turned it into a science experiment as Mia had never seen how jello is made. Love watching her learn new things. This recipe is a must!
Coconut Crème Fraîche & Berry Gelatin
Ingredients
Berry Gelatin:
2 pouches Unflavored Gelatine 
1/2 cup cold water
1/2 cup boiling water
1/3 cup fresh squeezed Meyer lemon juice
2 tbsp organic sugar 
Fresh berries (raspberries, blueberries, and strawberries)
Silicone cupcake molds
Coconut Crème fraîche Frosting:
1 (14 ounce) can regular coconut milk, pre-chilled the night before
1/2 tbsp organic butter
1/4 cup confectioners sugar
1/2 tsp vanilla extract 
fresh mint leaves
Instructions
Berry Gelatin: Sprinkle the gelatin over the cold water and, without touching it, let it soften for 5 minutes. Heat a 1/2 cup of water in a small pan until very hot and stir the softened gelatin into it. Stir this mixture over a low heat until the gelatin dissolves. Remove from the heat and stir in Meyer lemon juice. Pour a layer of gelatin into a mold and arrange some of the berries in this layer. Refrigerate for an hour. Repeat for additional layers. Before you try to invert it onto a serving plate, place the mold in hot water. If you're not serving it right away, be sure to keep it chilled.
Coconut Crème Fraîche: Carefully open pre-chilled can of coconut milk and remove firm, white coconut cream layer from top, avoiding coconut water. Only the cream will be used. In a mixer, whisk butter for a couple minutes. Slowly add in confectioners sugar and coconut cream on high for a minute or until well blended. Add vanilla and blend for an additional minute.
When serving, add a dollop of coconut crème fraîche, a strawberry slice and fresh mint leaves.
https://themotheroverload.com/coconut-creme-fraiche-berry-gelatin/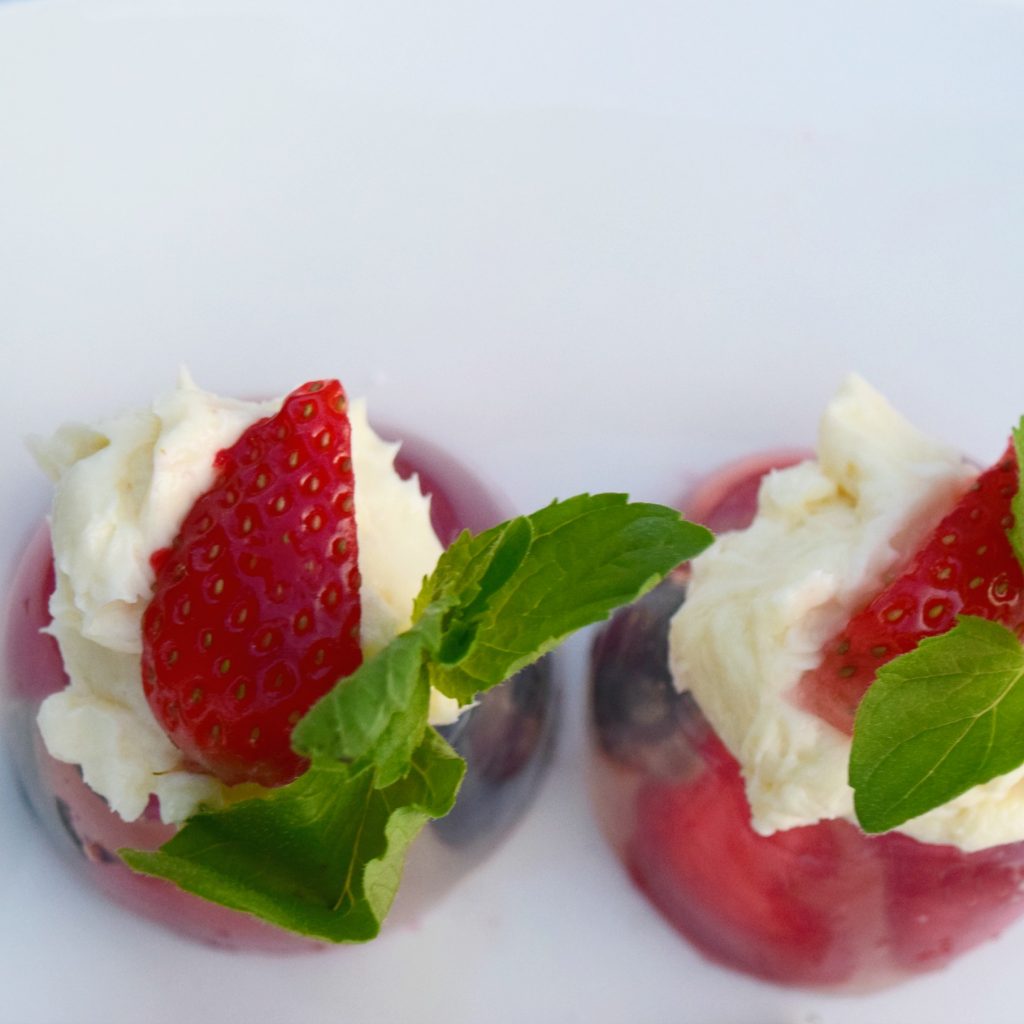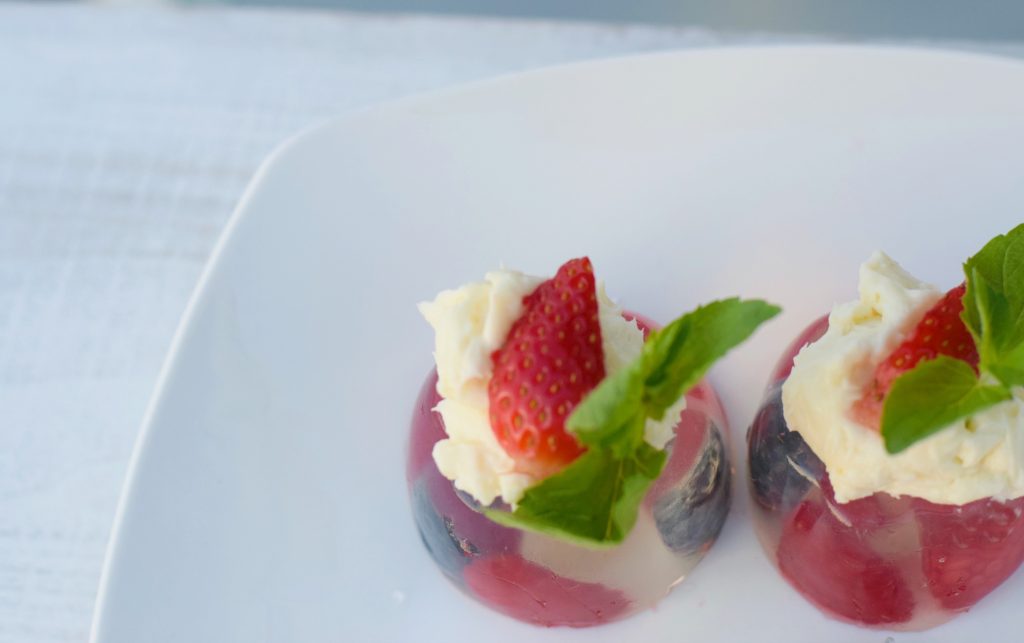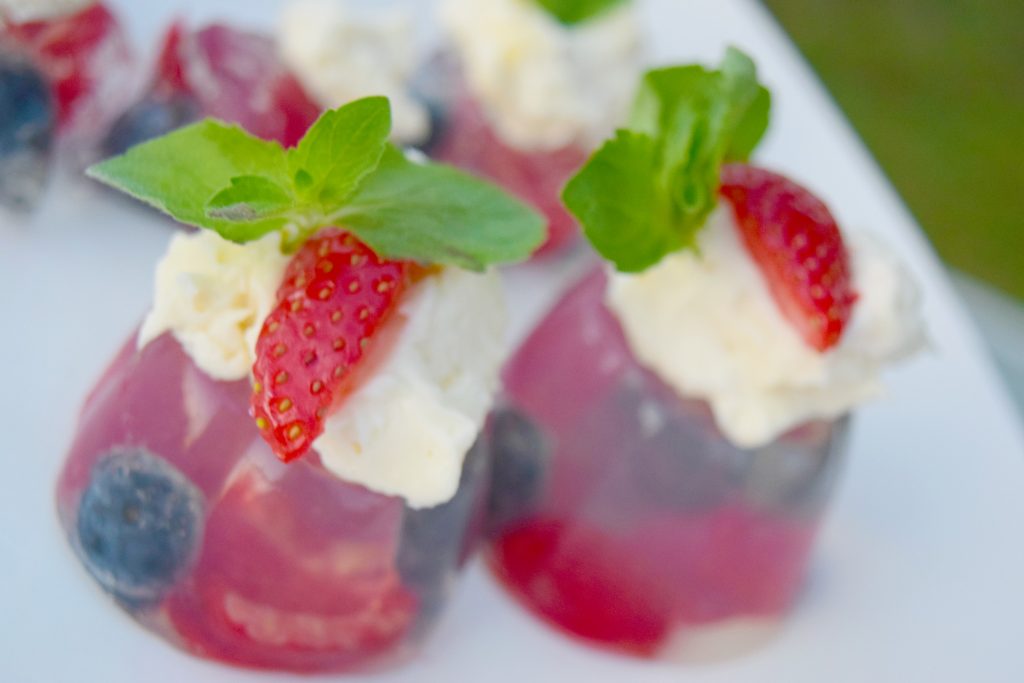 Abrazos (Hugs) — Gladys