Summer is arguably my favorite season of the year (fall, a very close second). Why? From pool parties, to tropical vacations and outdoor fun, count me in for it all – especially all the cute refreshing drinks. Speaking of, a summer staple in our home is coconut milk horchata. It's a refreshing drink and dairy-free. If you've never heard of horchata here's what it is and where it originated.
"It originated at least as far back as 13th-century Valencia, where it is known as 
horchata de chufa
. In Spain it is made with soaked, ground, and sweetened tiger nuts, but in Mexico and other parts of the Americas the base is white rice. In West African countries such as Nigeria and Mali, it is known as 
kunnu aya.
 Different varieties can be served hot or cold, and it is even used as a flavor in other beverages, such as frappé coffee." —
Wikipedia
As a daughter of Mexican immigrant parents, our version of it is with white rice (from Mexico). I remember as a kid, we'd always look forward to family gatherings as horchata would be included in our meals. It's sweet yet somehow really refreshing. Over the years, my body wasn't able to tolerate dairy. I began slowly removing it from my diet and from it came this idea to switch out the cow milk for coconut milk.  After all, the original horchata recipes never included cow milk in it. Sharing our delicious coconut milk horchata recipe below! Hope you enjoy it as much as our family does.⠀⠀⠀⠀⠀⠀⠀⠀
Coconut Milk Horchata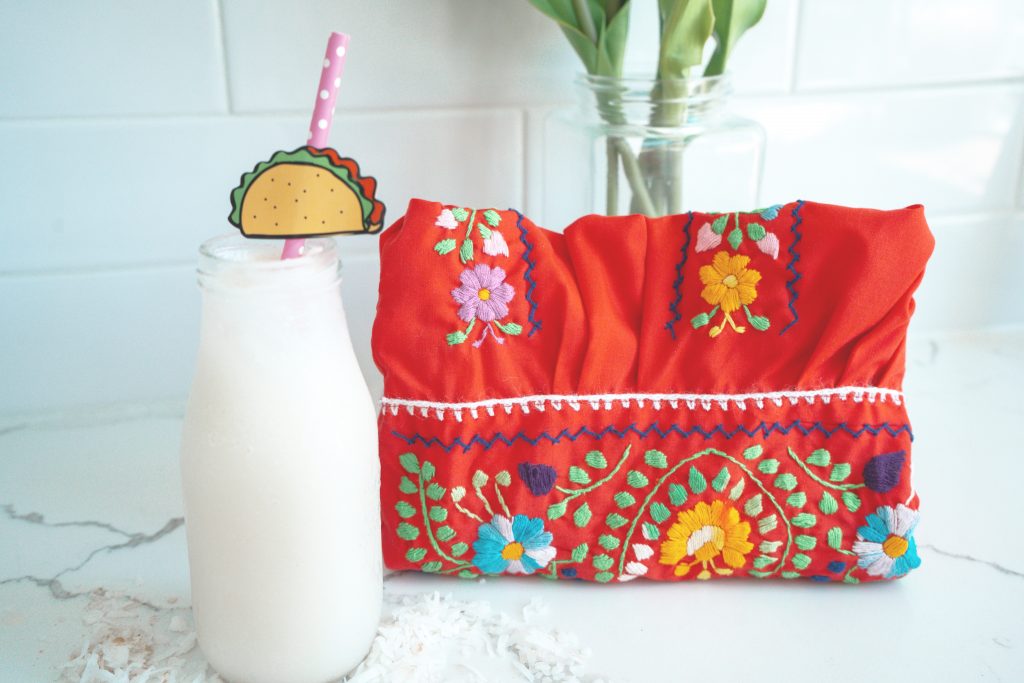 Coconut Milk Horchata
Ingredients
1 1/2

c

white rice

6

c

water

1

can

coconut milk

1

tsp

cinnamon

1

tsp

vanilla

3/4

c

sugar

1/2

c

coconut flakes
Instructions
Soak rice in 2 c water min 1 hour (preferably overnight.

Add rice, 3 c water, vanilla, cinnamon, & coconut milk to blender.

Strain the mixture through a fine sieve.

Add the sugar; stir until it is dissolved and chill. ⠀⠀⠀⠀⠀⠀⠀⠀⠀

Add brown sugar/ cinnamon to rim. Serve over lots of ice. And sprinkle cinnamon & coconut flakes, if desired. Our kiddos prefer it without the flakes. And we (the adults) like to add rum to it. Enjoy!
Additional Coconut Milk Recipes
Be sure to check out our choco-coco vanilla bean paletas! Also, dairy-free, vegan and perfect to make during warm summer days. Plus our eggless Mickey waffles! Both are huge hits in our home.