How To Create A Soccer Viewing Party At Home: Team Mexíco
We're getting ready for the big soccer tournament that brings the world together. And if you're wondering who we'll be rootin' for since USA did not qualify, we'll be screaming "¡Si se puede!" into our TV screens. Team Mexíco all the way!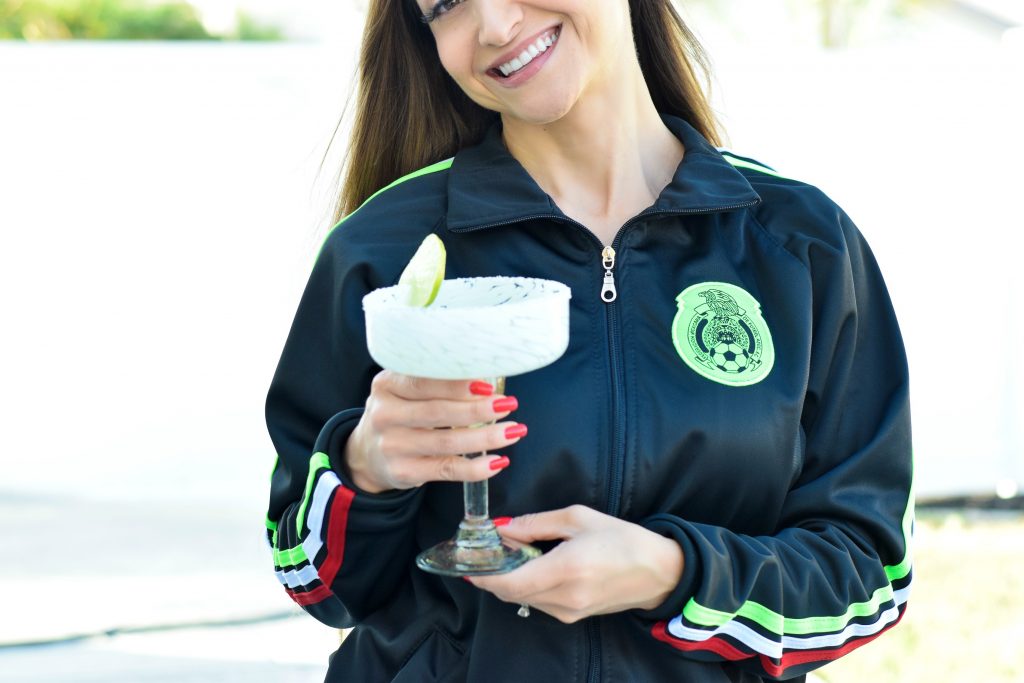 Many of you might not know this but I'm a daughter of immigrants. My parents came to the states when they were teens. Years later, they ended up meeting one another at a mutual friends wedding in Los Angeles, CA. They danced the night away and found out their families were both from the same exact small town in Mexíco. And both set of parents actually knew each other. I mean what are the odds of that happening? It was definitely meant to be. They got married and had two kids (my younger sister and I).  
Ever since I can remember, my parents have always loved watching soccer matches. I have so many fond memories of us screaming like crazy at the TV when our team, Las Chivas Rayadas de Guadalajara, scored a goal. I'm sure the entire neighborhood knew what we were watching and who we were rootin' for. But the best part was gathering with friends and family to eat all the delicious Mexican food and drinks we had at our cozy home in South Gate, CA.
Fast forward to me having a family and home of my own. It's now my turn to keep this tradition going and definitely loving the entertaining part of it. Which is why I wanted to share some ideas on how you too can entertain for the big soccer tournament.
If you caught our stories last week, we went shopping at one of my absolute favorite stores, Cost Plus World Market in Temecula, CA. I found so many awesome international food and decor options for game day and I'm so excited to share them all with you!
Fresh Fruit Cookie Jars
First things first, you all know I'm all about making quick eats on the healthier side. So the first thing that caught my eye was these adorable cookie jars. But instead of adding cookies, I thought of adding fresh fruit. What do you think? Aren't they the cutest? I grabbed two jars because fruit is so perfect for warm days, amiright?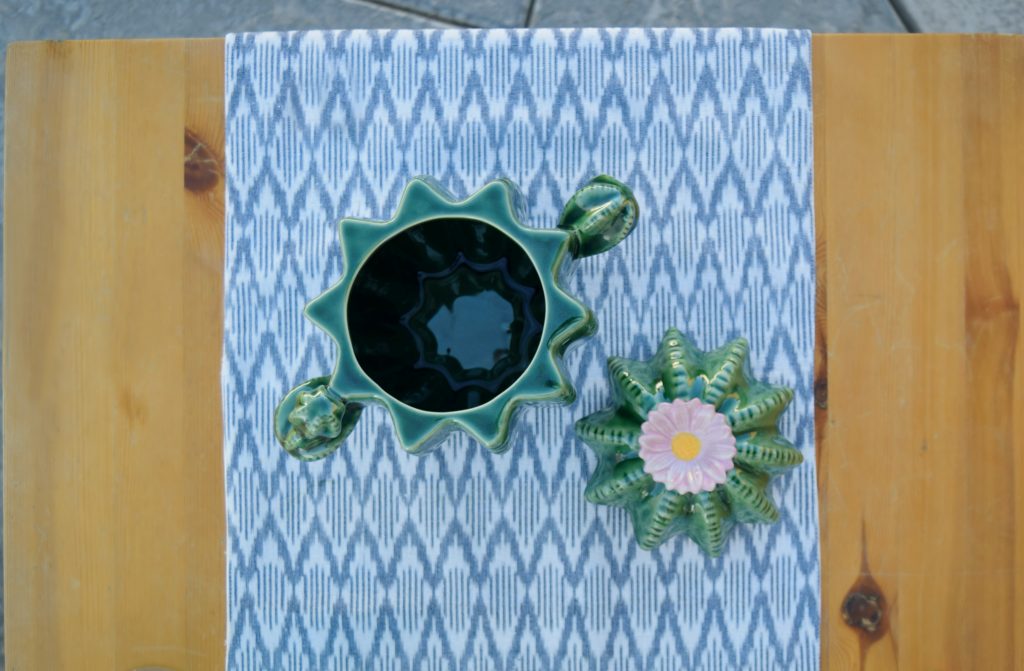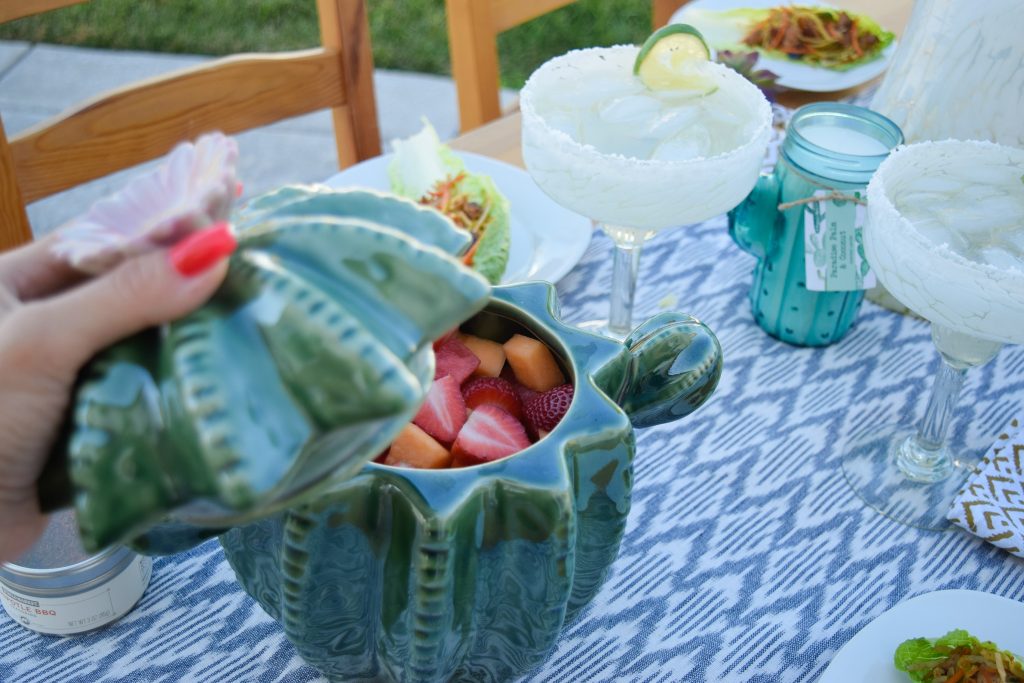 Margaritas
Second thing that caught my eye was this Organic Tres Agaves Margarita Mix. Love that it's all natural and only has 68 calories per serving! Add salt to rim. For every 2 oz of Tequila mix with 3 oz of margarita mix. Poor over ice and add a lime garnish. Salted rim optional.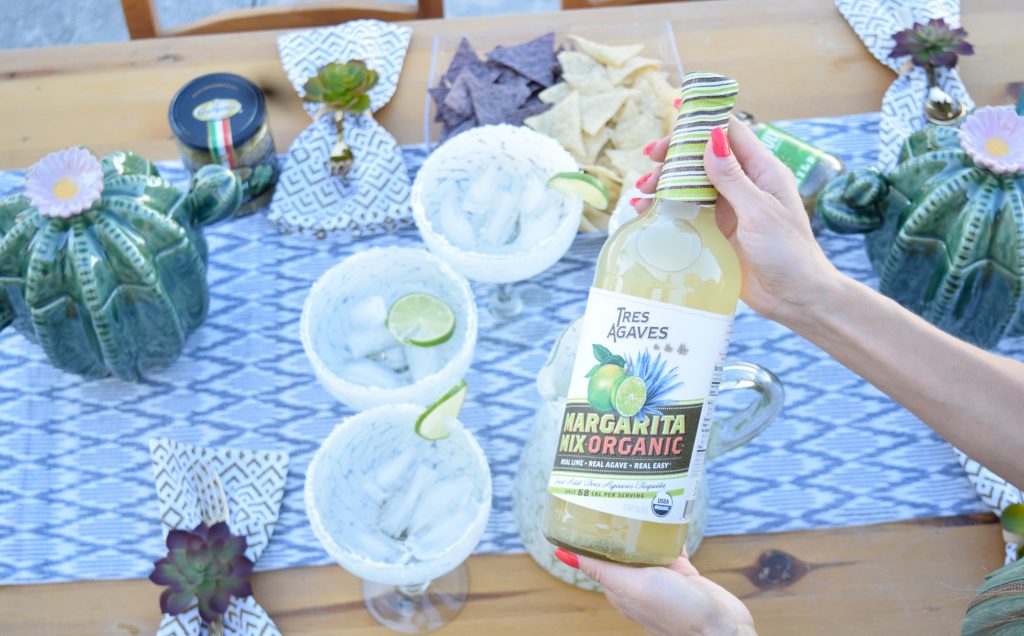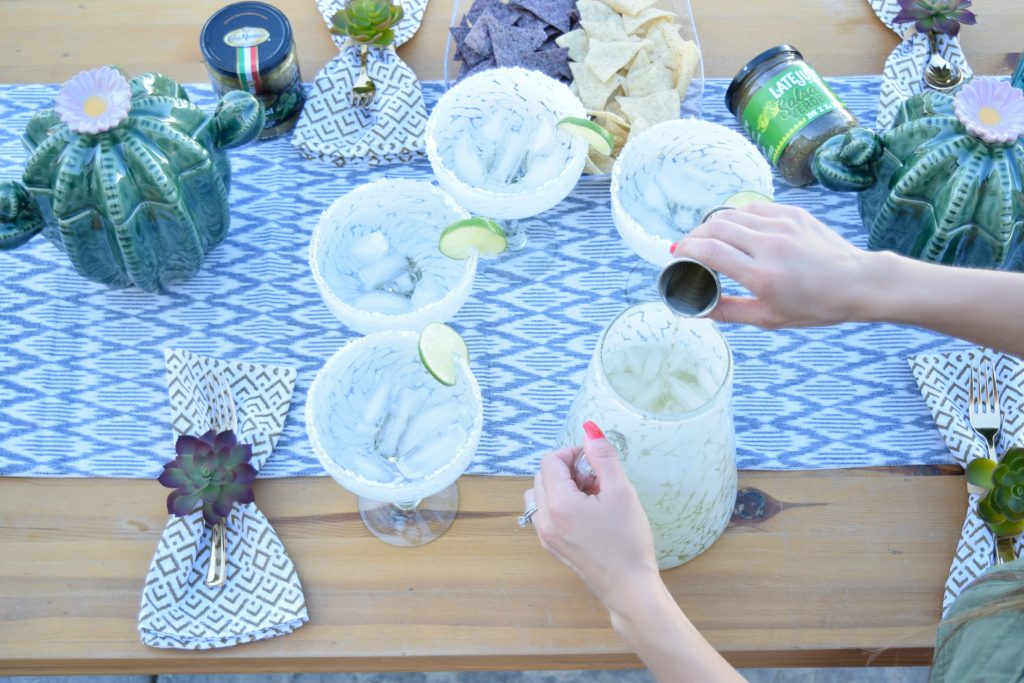 And what's a margarita without a proper margarita glass? These marbled Carmen Margarita glasses set of 4 and pitcher are the prettiest. Love that they're clear and white which goes with so many other colors. Perfect for entertaining multiple themes and gatherings.  
Table Linens
With my cute fruit jars and margaritas in hand, it was time to get some table linens. I love how these prints compliment one another and I'm a tad obsessed with the succulent napkin ring holders. I mean, seriously?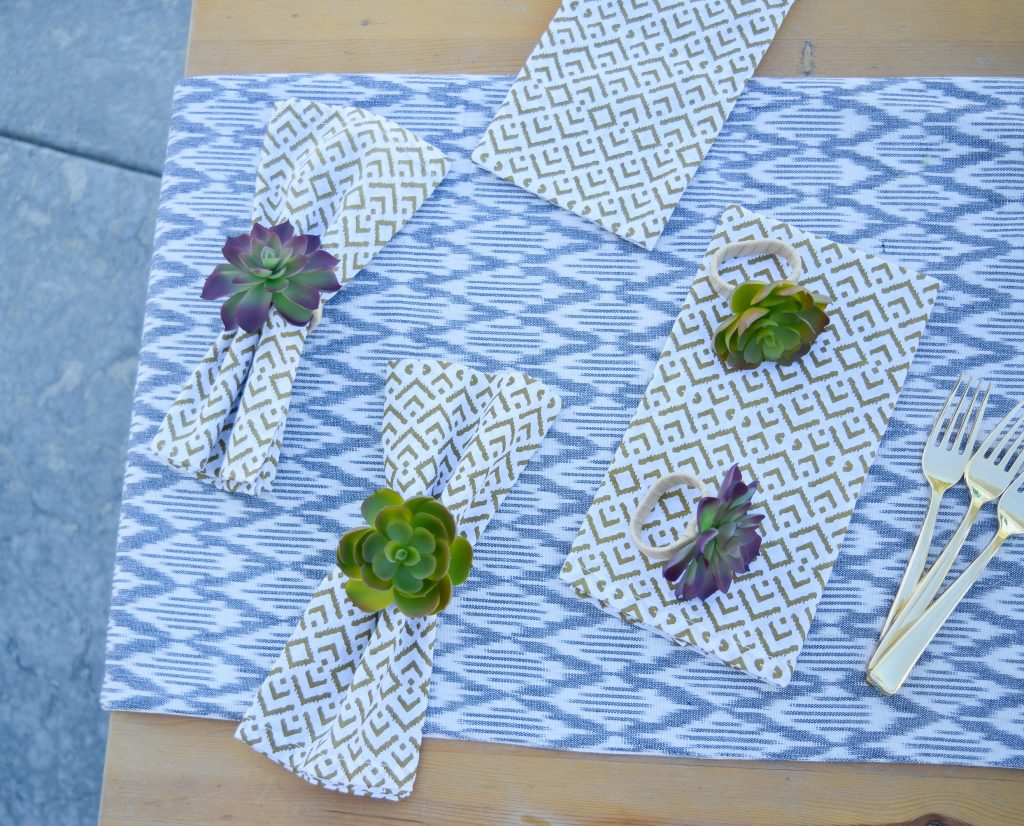 Also, since it's starting to really warm up outside, I'm loving these chipotle chicken lettuce boats. The easiest to make too!
Chipotle Chicken Lettuce Boats
Ingredients
1 lb Grilled Chicken diced
1 tsp World Market Chipotle BBQ seasoning (Kosher certified and Gluten-free)
1 tbs EVO
Romaine Hearts
1 ½ c Sliced veggies (carrots, cabbage,  red cabbage, cauliflower)
Instructions
Take apart Romaine Hearts, rinse with water and set aside to dry.
In a large saucepan, add chicken, veggies and Chipotle BBQ seasoning. Mix well and stir for a few minutes until hot.
Place mixture into individual romaine hearts and serve.
https://themotheroverload.com/how-to-create-soccer-viewing-party-team-mexico/
Organic Chips & Salsa
Next up on the menu is chips & salsa. A no-brainer on this one but did you know that Cost Plus World Market offers yummy organic options such as Late July Organic Salsa Verde and World Market Blue Corn and Flaxseed Tortilla Chips? And they're so delish!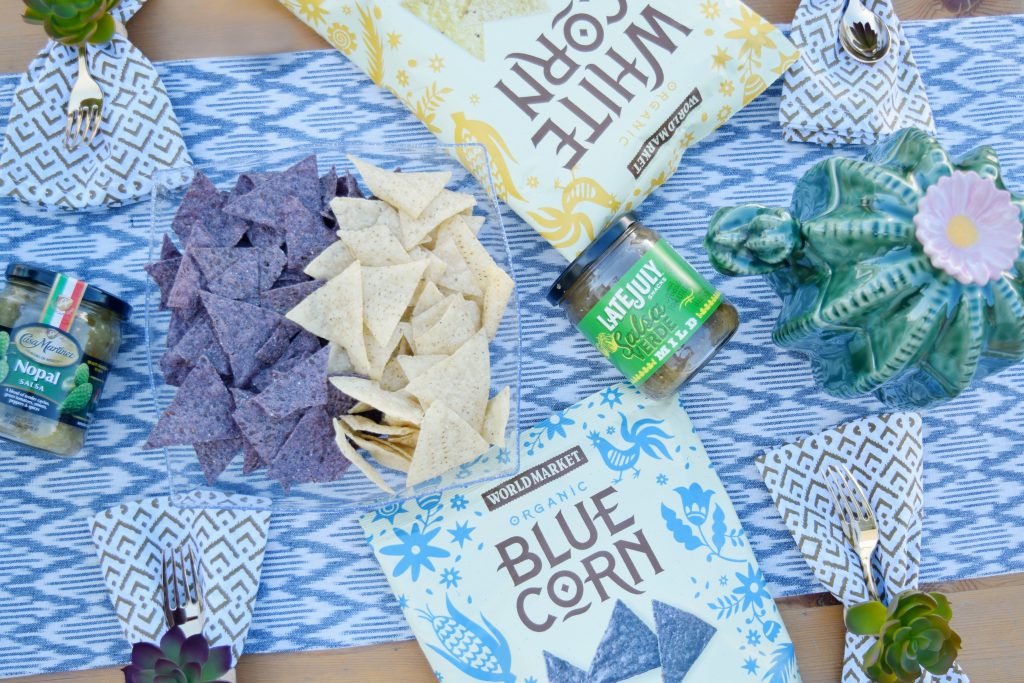 So there you have it. Some quick ideas for entertaining your friends and family during the upcoming soccer games. And regardless if you're Team Mexíco or not, be sure to stop into your nearest Cost Plus World Market or shop online for all your international food and game watching needs. 
Shop Our Post
Check out all the items of our entertaining essentials below.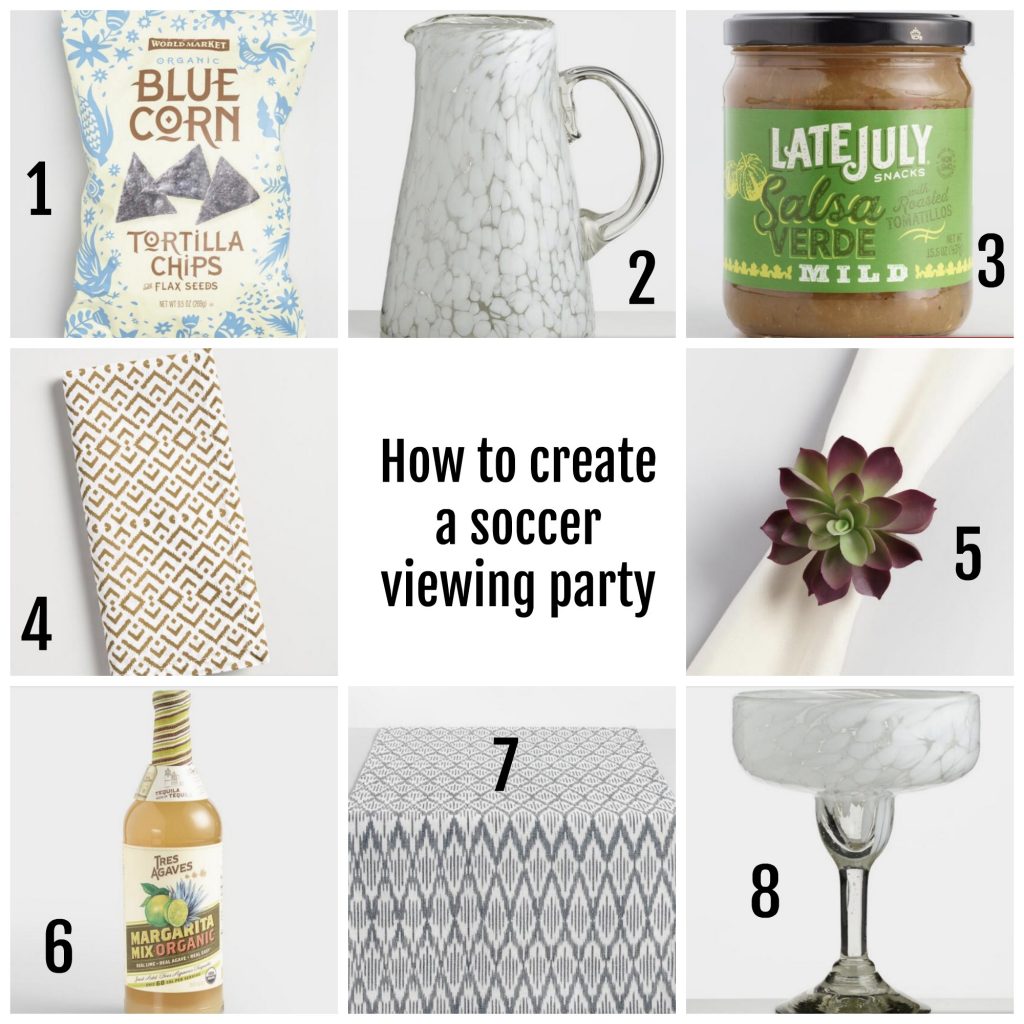 1 World Market® Blue Corn And Flaxseed Tortilla Chips
4 Napkins
6 Tres Agaves Organic Margarita Mix
And last but not least, these cactus candles smell so good they're so perfect for our gathering.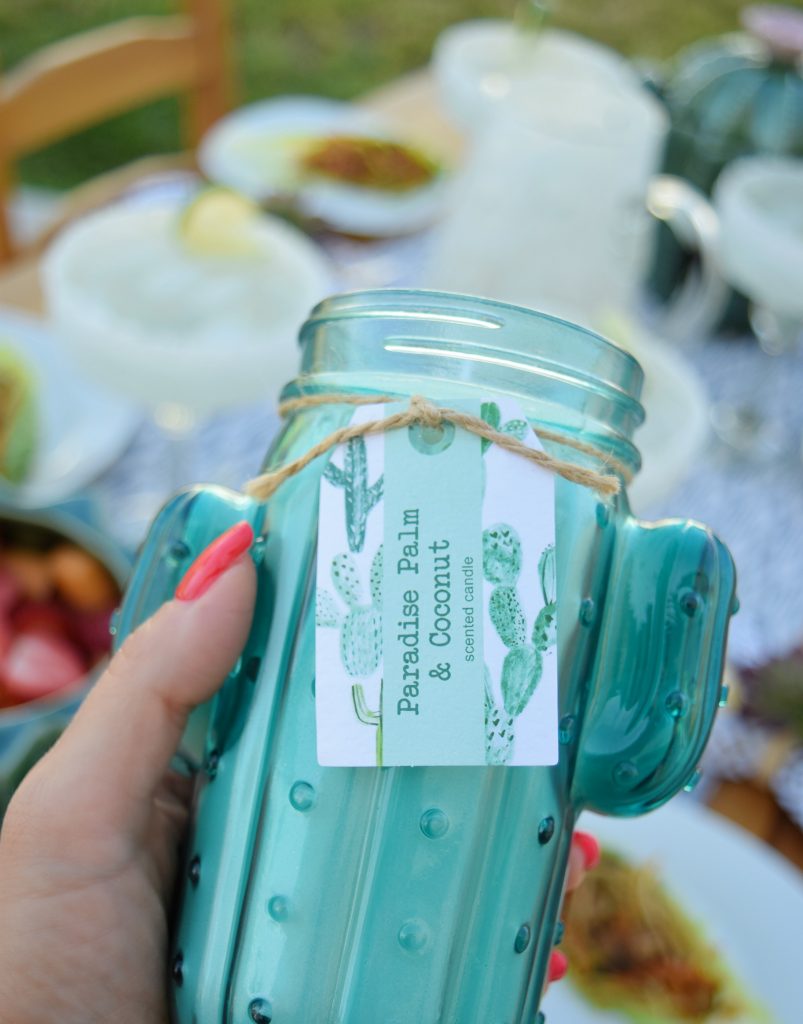 Cheers to making special memories with loved ones. 
¡Vamos Mexíco sí se puede!
Abrazos (Hugs),
Gladys