Sponsored and compensated by Care/of. All opinions expressed within are entirely TMOs.
I've always been a real skeptic when it comes down to taking vitamins. More so as there are so many different types to choose from. But my biggest issue is not knowing which brands actually have high quality ingredients and more importantly, which types of vitamins I should be taking. Because surely I'm not lacking in everything most multivitamins have in them, right? So why take them?
Well, the Care/of Vitamins quiz uncovered so many answers to my skeptical questions. The quiz itself asks questions about goals, lifestyle and values. And once you answer the questions, Care/of makes a recommendation with the right vitamins and supplements for you to take backed with research info for us skeptics to read up on.
And it gets better.
Care/of is focused on three things:
Honest guidance.
Better ingredients.
Personalized for you.
They promise complete transparency.
Which is so refreshing to hear because I'm tired of reading false labels and asterisks. Love their complete honesty.  
And they've also made it a point to deliver the most effective, bio-available ingredients. Everything is encapsulated and tested in the United States.
Also, one thing you'll notice once you receive your vitamins is the attention to detail and personalization. Every daily packet has a unique quote or even a thought provoking question. Absolutely love this idea!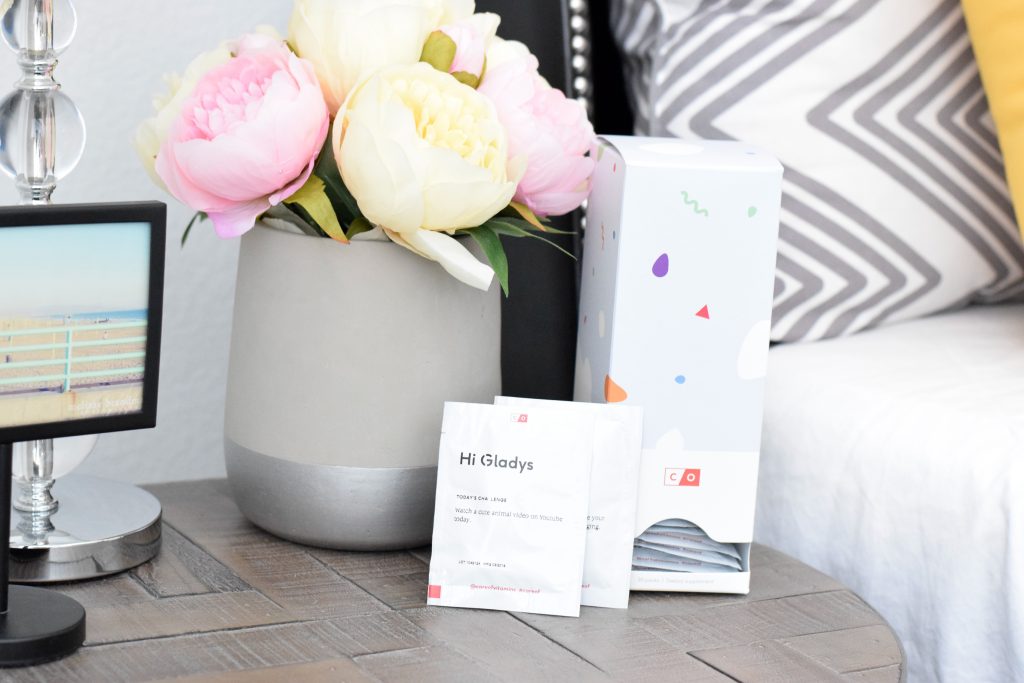 Price Comparison
In addition to their superb quality and awesome personalization, you can also save around 20% just by switching to Care/as as they do not have brick-and-mortar costs nor retail markups and are able to pass those savings back to you. And if you use our code GLADYS at check out, you'll save an additional 20% on top.
My quiz results
After taking the quiz, I learned that as a mom of two little ones I'm always feeling burnt out and a goal of mine is to avoid getting sick at all costs. Because moms can't afford to get sick. AmIright? So my personalized packs include rhodiola and B-complex. I've been taking them for a week now and can already tell a difference with my energy level. No need for a second cup of coffee in the afternoon.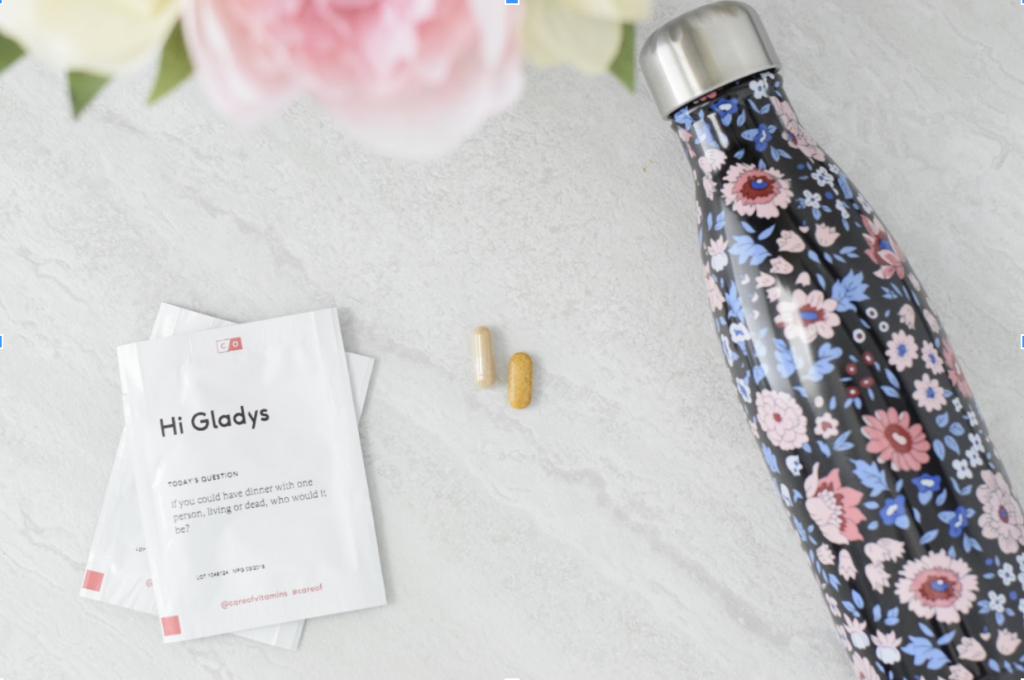 And if you also tend to forget about taking your vitamins, here's a couple suggestion to help with that.
Put them in your kitchen where it's visible and near items you use regularly such as a coffee machine.

Download the Care/of free iPhone app to unlock savings, set reminders, and learn how your vitamins boost your health along the way. Seeing the alerts will remind you to take your vitamins.
So if you'd also like to know what vitamins you should be taking be sure to take the free Care/of quiz and use our code GLADYS during check out to receive 20% off your first purchase!
Abrazos (hugs) — Gladys