"What is that amazing smell? Mmm! Chocolate!" – Disney's Frozen
This is honestly one of my favorite scenes from the Disney movie, Frozen. In fact, my little one and I always reenact the scene. As you can probably tell, my mini me is also obsessed with chocolate. What can I say, it's addicting. Who's with me on this one?
A couple months ago, I purchased a Navitas Natural product I simply can not live without. Rest assured this is not a blog post ad. This is something I've been wanted to share with all of you for quite some time but summer 2014 got in the way. 🙂  It's a Mayan Superfood. An organic cacao powder to be exact. I've used this in cakes, shakes, breakfast food and even to make chocolate truffles. Post on truffles coming soon!
"Cacao is a top source of antioxidants, and it contains an abundance of magnesium and iron." – Navitas 
Who knew chocolate could be so good for you? If you'd like to know where I purchased this just click here.
Organic Mayan Cacao Chocolate Cake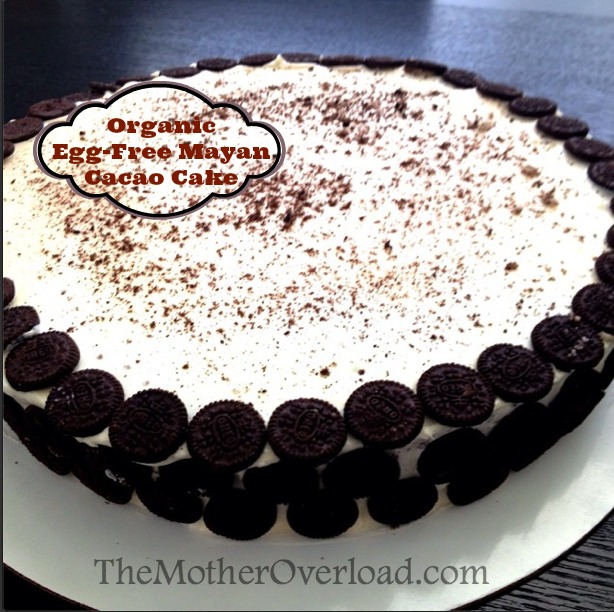 Cake Ingredients*:
2 1/2 cups of all-purpose flour
2 cups of sugar
2/3 cups of Navitas Organic Mayan Raw Cacao Superfood powder
2 tsp baking soda
1 tsp salt
2 tsp vanilla extract
2 tsp apple cider vinegar
2/3 cups vegetable oil
2 cups warm water
*All ingredients listed above can be replaced with 100% organic products. I've just listed these out for reference.
Toping Ingredients:
Mini Oreo Cookies
Pillsbury Whipped Supreme Fluffy White Frosting
Preheat oven 350 degrees. Spray coconut oil or oil of preference onto a non-stick round 10 inch baking pan. Mix dry ingredients in a bowl (flour, sugar, cacoa, baking soda and salt). Add wet ingredients (vanilla extract, vegetable oil and warm water). Once the ingredients are mixed well, add the apple cider vinegar and mix for about a minute. Place into baking pan. Bake for  30 minutes or until baked throughly (insert toothpick in center to test).
Once cake is cooled off, add frosting and decorate cake edge with mini oreo cookies. Dust a bit of raw cacao on top of cake and Viola! All done. Cut, serve and enjoy!
Cheers to superfood cakes!