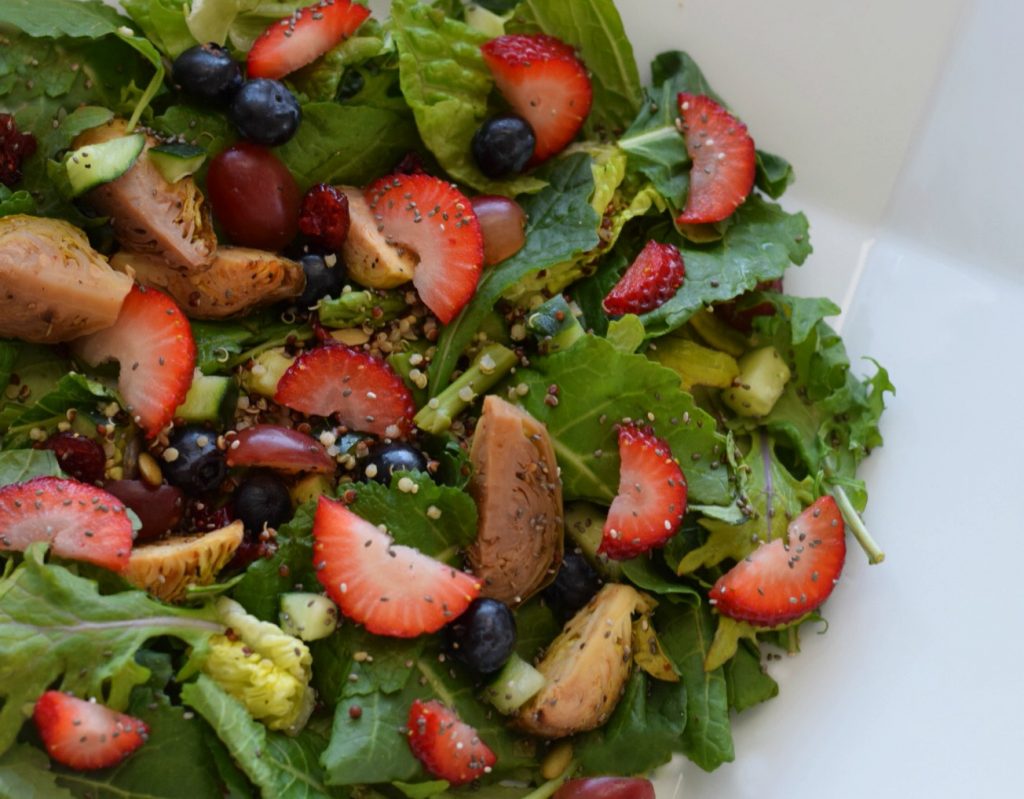 I absolutely love the holidays for so many reasons; however, one thing I don't love is the overload of holiday sweets and high-calorie fatty foods so readily available to eat. It seriously makes it nearly impossible for me to stay on track with eating healthy. And it sure doesn't help when my family and my husband's family both cook delicious traditional Mexican meals and we attend both dinners on Christmas eve. I mean, how could I say no to all the yumminess? Am I right? For this reason, I always feel like I need a detox from it all afterwards.
And, I know what you're thinking. Really a salad? Puulease. Get outta here with that rabbit food. Well, this salad is not like any other salad. It's surprisingly really delicious, filling and better yet, it's jam packed with antioxidants. Perfect to prevent all those pesky colds that are making their way into everyone's homes this winter.
So what's in?
baby kale
Great source of fiber, protein, thiamin, riboflavin, folate, iron, magnesium and phosphorus, and a very good source of vitamin A, vitamin C, vitamin K, vitamin B6, calcium, potassium, copper and manganese
romaine lettuce
Also a great source of fiber, riboflavin, vitamin B6, calcium, magnesium, phosphorus, vitamin A, vitamin C, vitamin K, thiamin, folate, iron, potassium and manganese.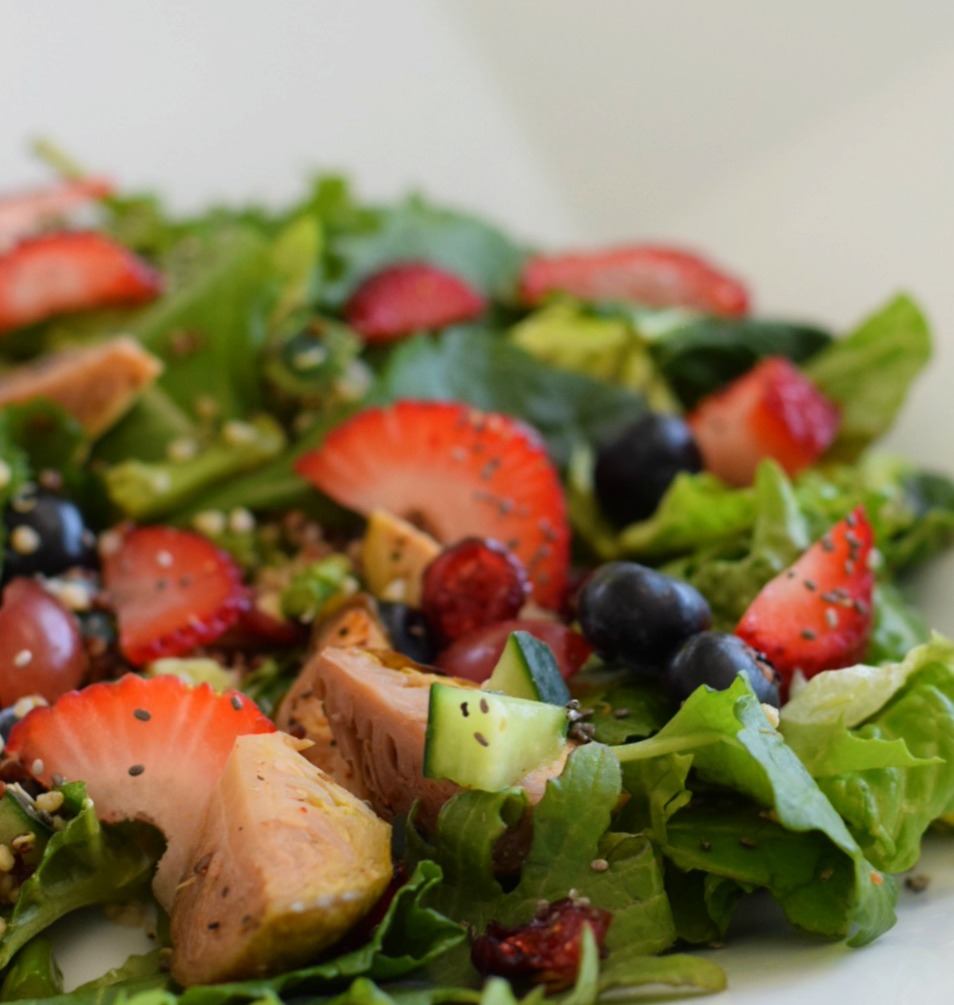 quinoa
Great source of protein plus it's gluten-free! Great source of fiber, manganese, magnesium, phosphorous, folate, copper, iron, zinc, potassium, vitamins B1, B2 and B6, calcium, B3 (niacin) and vitamin E.
fresh blueberries & strawberries
Infection-fighting vitamin C and vitamin K. A very good source of Fiber, Folate, Potassium, and Manganese.
crisp jicama
High in fiber, vitamin C and iron. Since this root contains low calories and it's rich in fiber, it's a great item to use for weight loss, for lowering cholesterol and stabilizing blood sugar levels.
diced cucumber
Vitamin K, vC, B5 manganese, potassium and magnesium.
roasted brussels sprouts
Fiber, protein, vitamin A, C, B-6, iron, magnesium and potassium.
red grapes
Vitamin A, C, B-6, iron, calcium, magnesium and potassium.
dried cranberries
Although these contains carbs, we only add a teaspoon so it still keeps the salad light and sweet.
toasted pepitas & chia seeds
Protein, fiber, potassium, calcium, iron, magnesium and Omega-3
Ingredients

baby kale - 1 cup
romaine - 1/2 cup
quinoa - 1/4 cup
diced jicama - 4 tbsp
roasted brussels sprouts - handful (left overs from previous night)
toasted pepitas - 1 tsp
sliced red grapes - handful
sliced strawberries - 1/4 cup
blueberries - 1/4 cup
cranberries - 1 tsp
diced cucumber - 3 tbsp
*tossed in a homemade orange vinaigrette (6 tsp freshly squeezed navel orange, 1 tsp apple cider vinegar, 1/2 tsp evo oil, 1/2 teaspoon honey).

https://themotheroverload.com/super-detox-salad/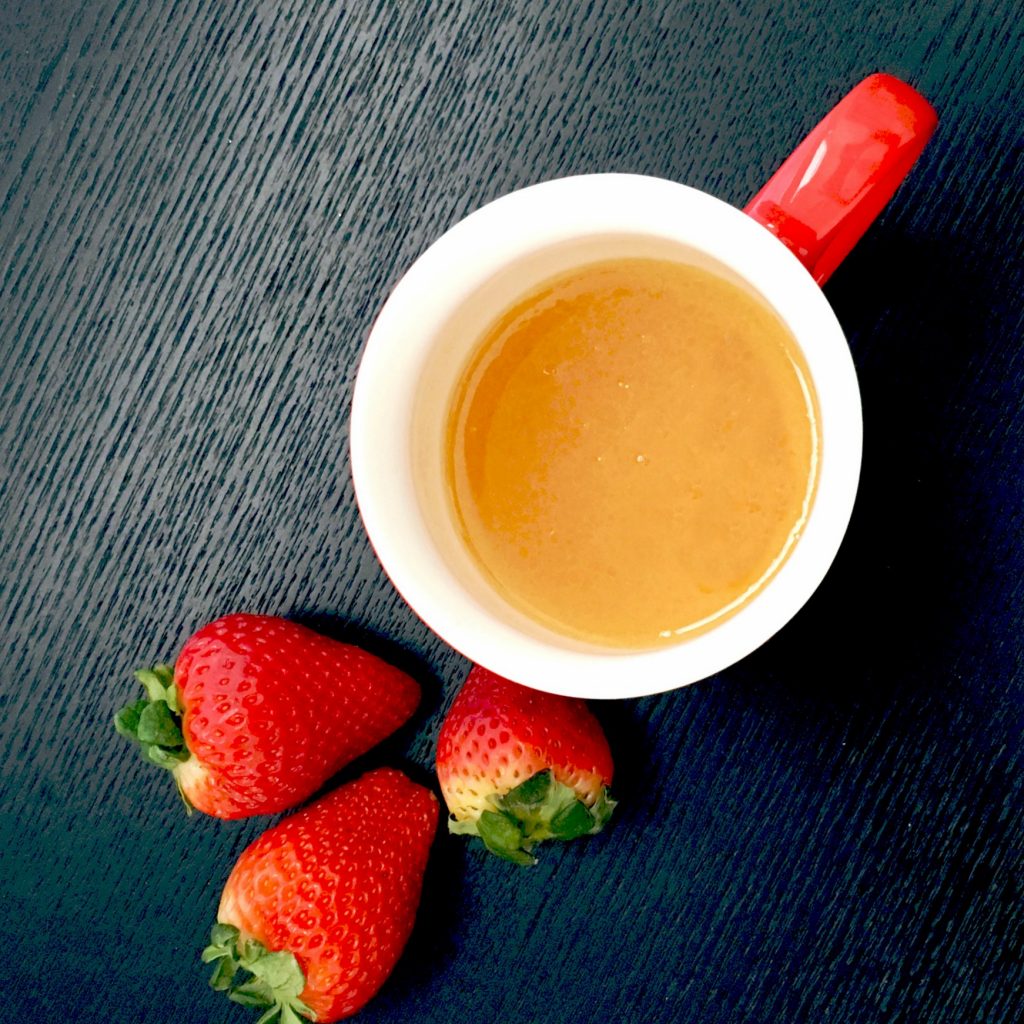 Abrazos (hugs) — Gladys