After purchasing our home 11 years ago, and focusing on renovating the kitchen, living room and dining room – we failed to neglect our outdated bathrooms entirely. Yet our primary bathroom is where we spend most of our time getting ready and unwinding from a long day, it only made sense to finally start with our primary bathroom renovation dream project! But before we dive right in to share all of our ideas, here's a before of our bathroom (post adding in a skylight).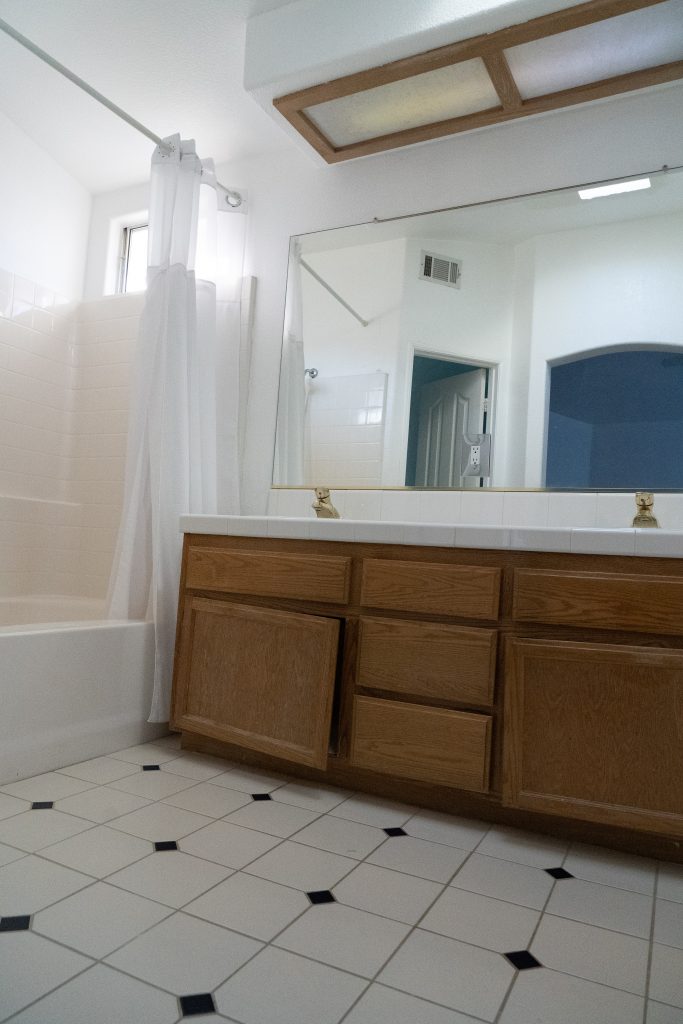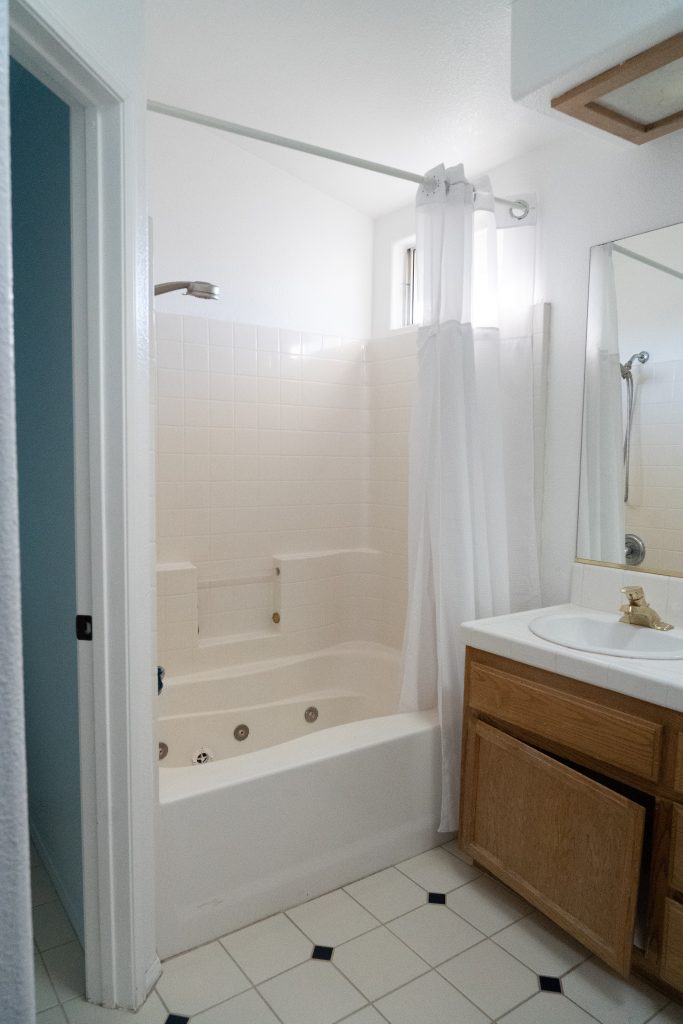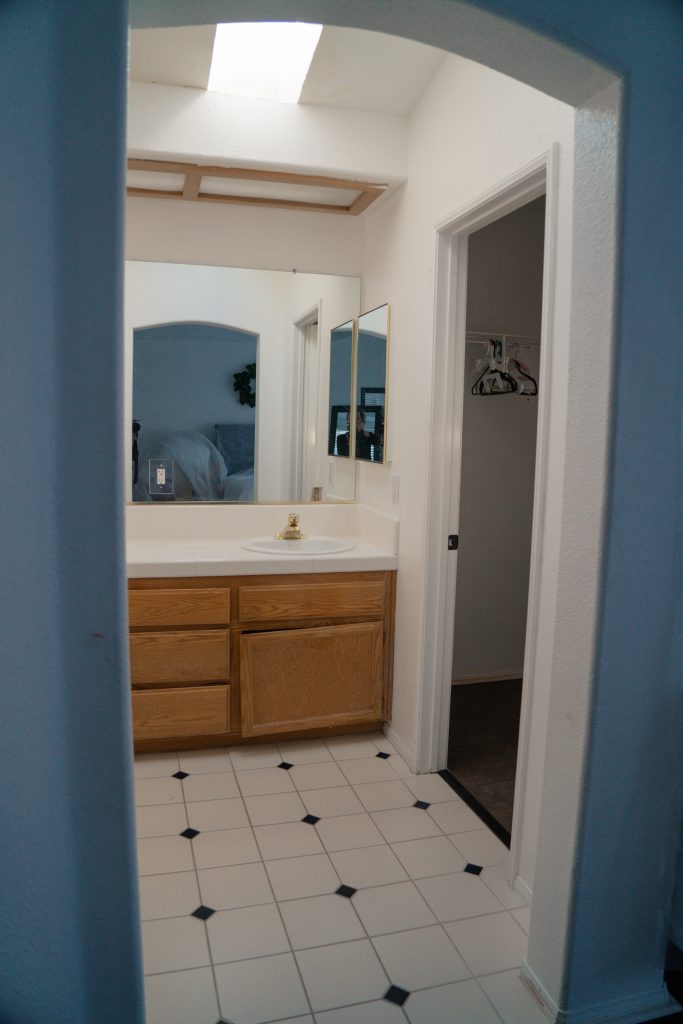 1. Making Use of Natural Light
One of the most important and simple ways to renovate a bathroom is to paint the walls in a light shade creating a reflective effect. This helps immensely to optimize the natural light coming in and in return makes the room feel bright and open.
We opted for a slightly wider window in the shower area – more so to center it with our new walk-in shower width plus we can't say no to extra natural light, right? We also added a skylight which sits right above a custom vanity with tall mirrors – reflecting the natural light from the skylight.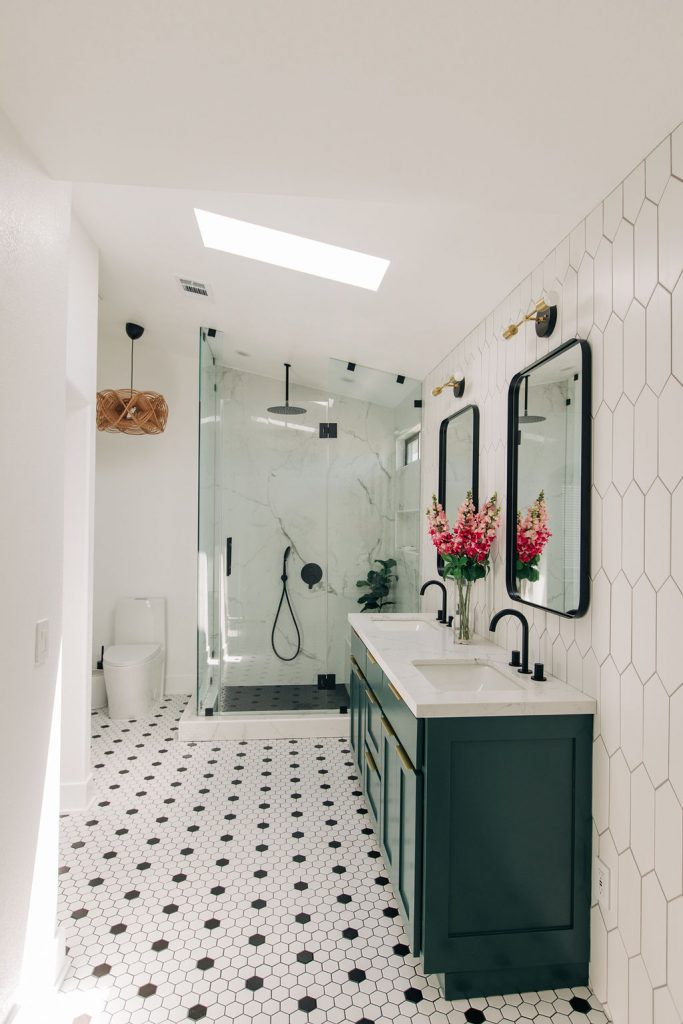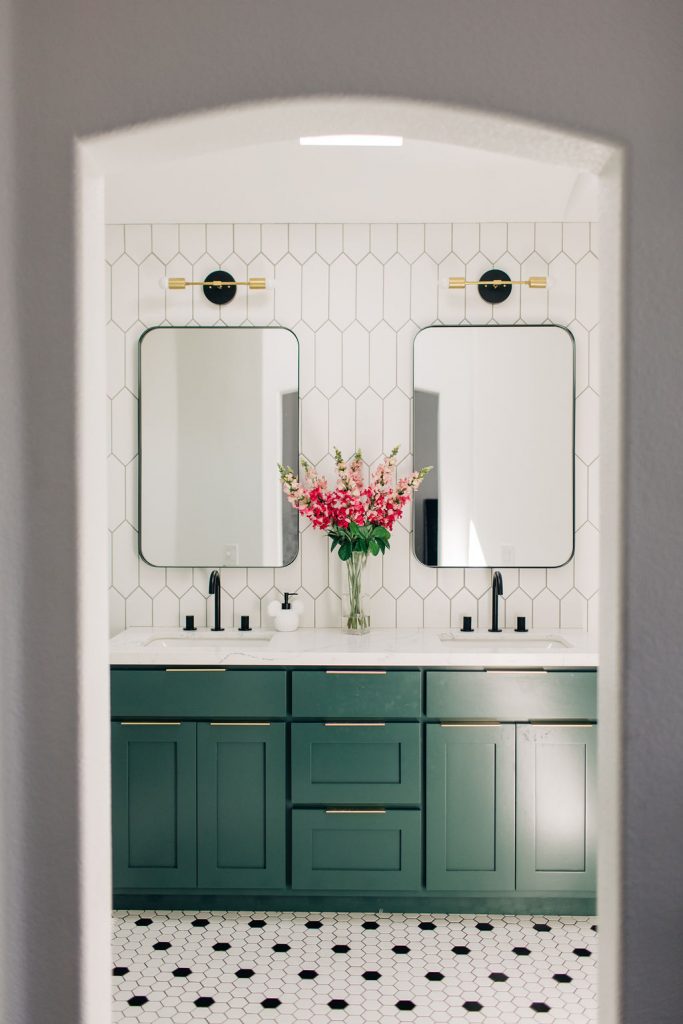 2. Adding a Custom Shower Glass
There are only a few items we splurge on during this renovation – a custom shower glass was one of them. Glass doors and panels don't obstruct any natural light this was by far the best choice. We also wanted to give the illusion that the room was taller by incorporating floor to ceiling glass all around (with the exception of the door to prevent mold from growing). A perk? It really feels like a sauna once you turn up the hot water! I can confirm that I feel refreshed and energized even after a glorious 5 minute shower.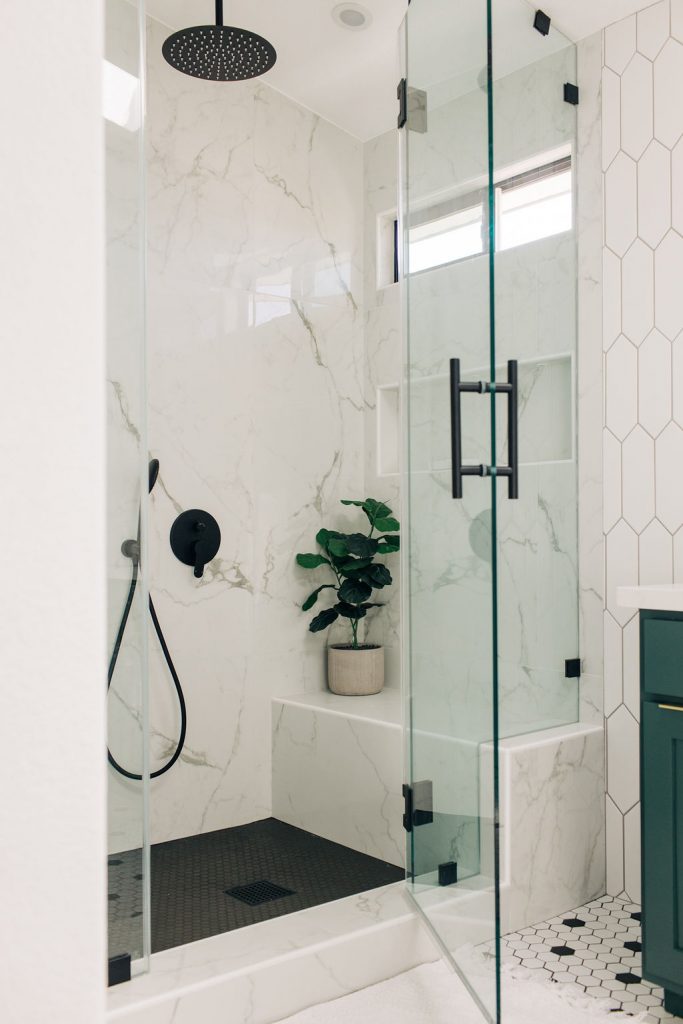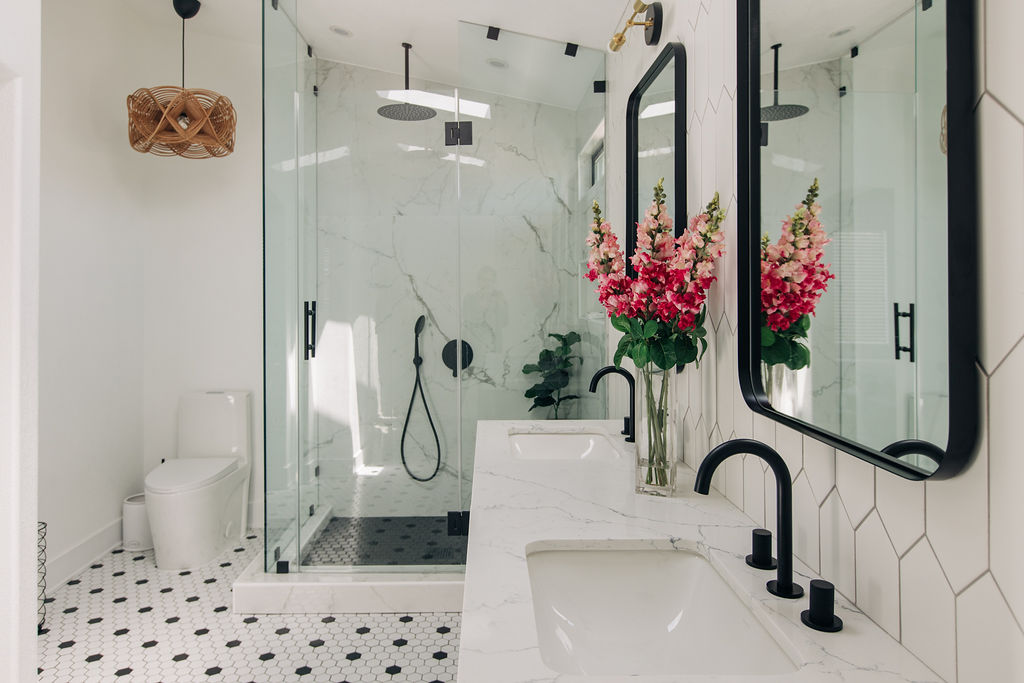 3. Mixing Bright Tiles
We included three different patterns of tiles for our small bathroom renovation. The first tile we chose was an extra large white porcelain tile for the shower area. You'll notice the white picket fence tile placed above the vanity goes into the ceiling – again making the room look bigger and drawing the eyes up. Lastly, we wanted to add a pop of color to the floor so we added a black and white pentagon pattern which gives our custom vanity a bigger pop of color in the room.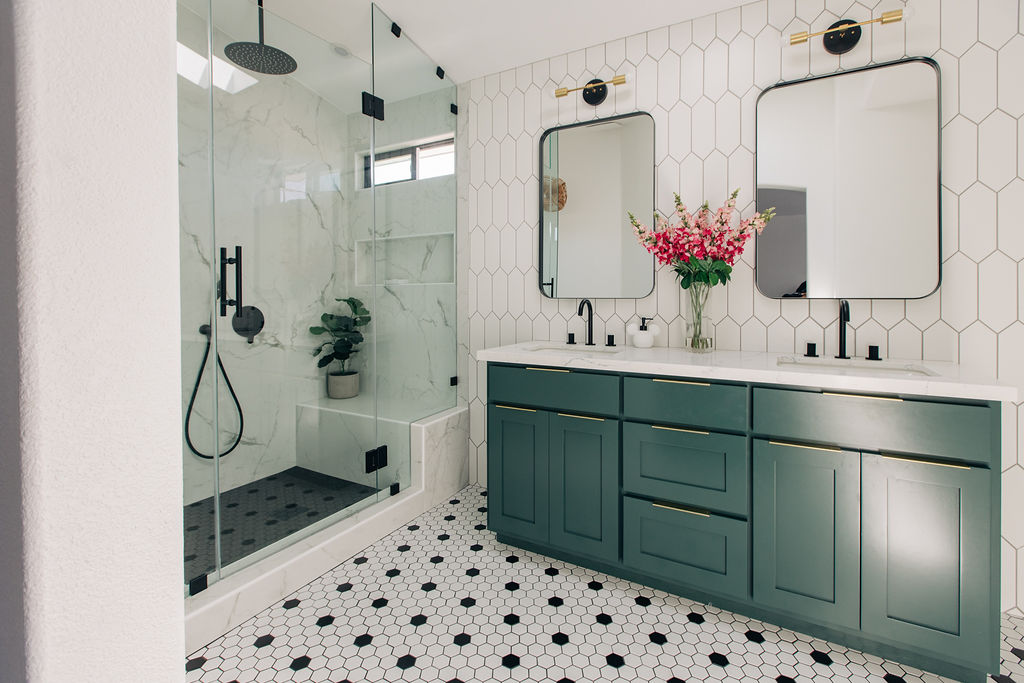 4. Bright Custom Vanity
Another item we splurge on was a custom vanity. I've always wanted a timeless Hunter Green color with a built-in outlet for our electric toothbrushes. It's a pet peeve of mine seeing the toothbrushes charging all over the bathroom counter, anyone else? No, just me?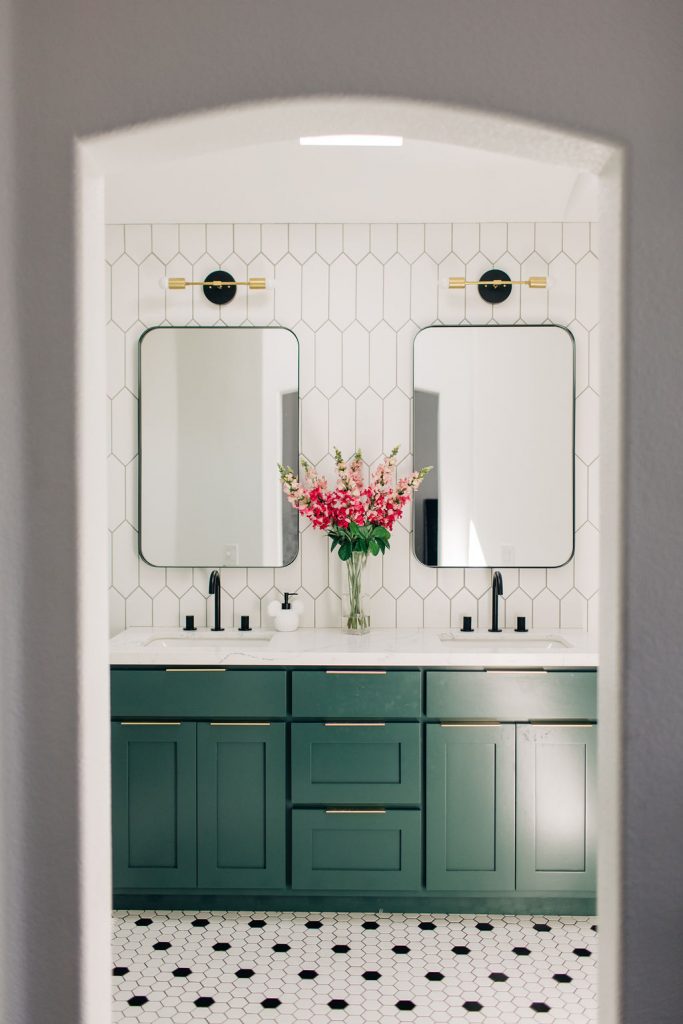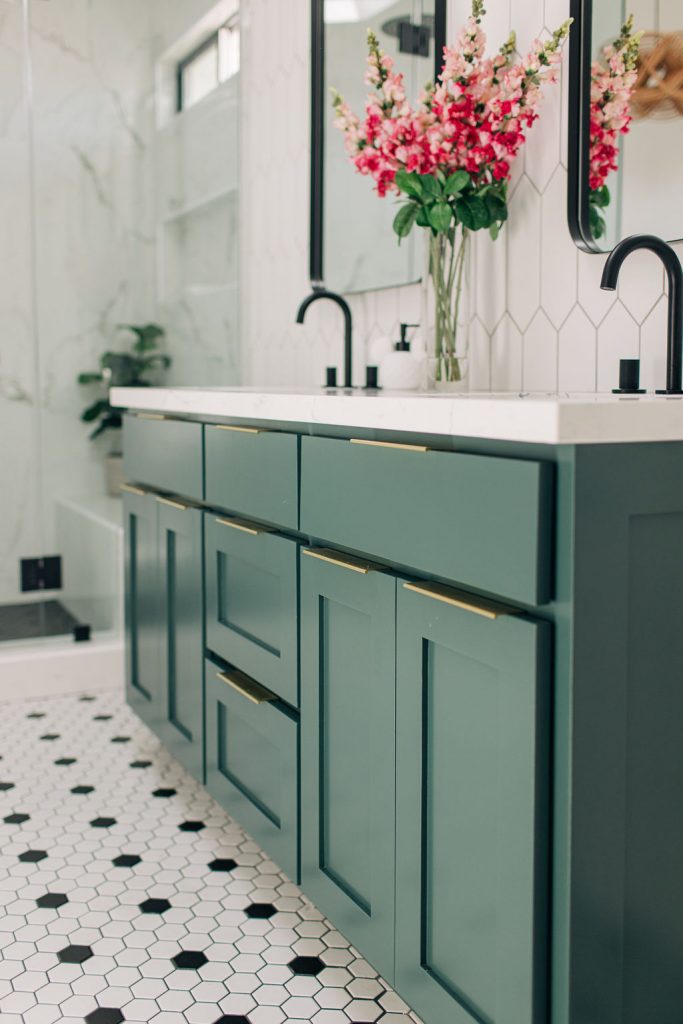 5. Raise the Ceiling
Hear me out on this one, since our bathroom is on the second floor there wasn't a way to expand sideways and actually make our bathroom bigger. We were; however, able to increase the ceiling on the left side of the room. Our bathroom had a wall separating the toilet from the bathtub/shower which we managed to knock down. We noticed the ceiling in the toilet area was much lower than the shower so we opened the area up entirely creating a high ceiling. This along with the skylight in the middle of the room and floor to ceiling shower enclosure turned our small bathroom into our new favorite room in the house!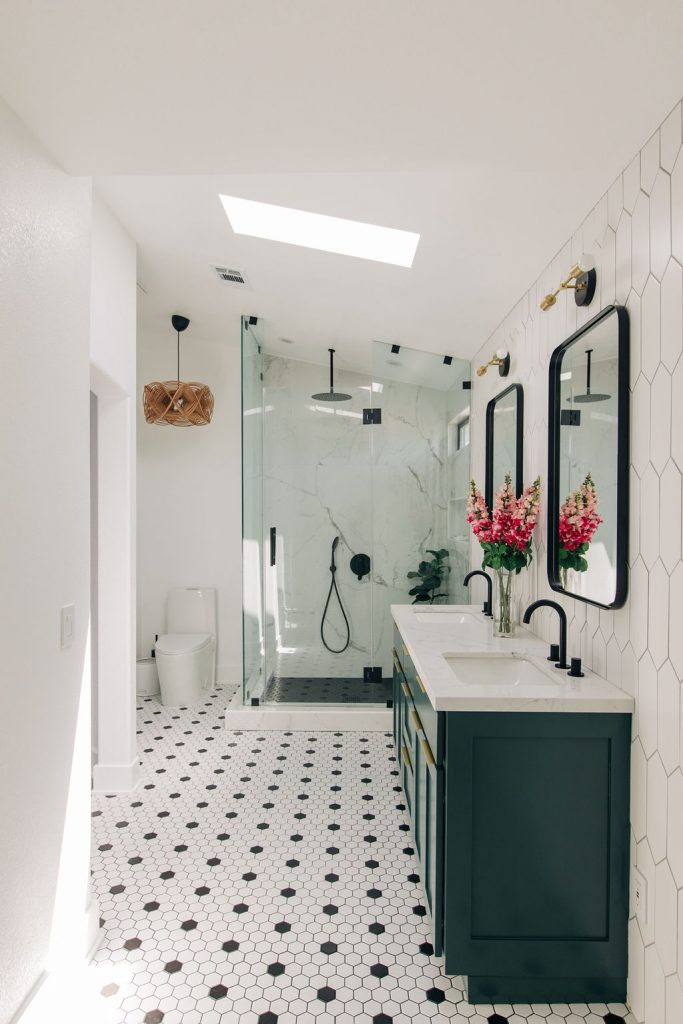 Small Bathroom Renovation Extras
The extra touches such as the quartz marble lookalike counter top, black faucets and shower head, brass vanity door handles, HomeGoods decor, unique sconces and light fixture, all really elevated this space. We're also loving the slim and modern toilet which seems to take up less space. Find all our Home Revovation Favorites here.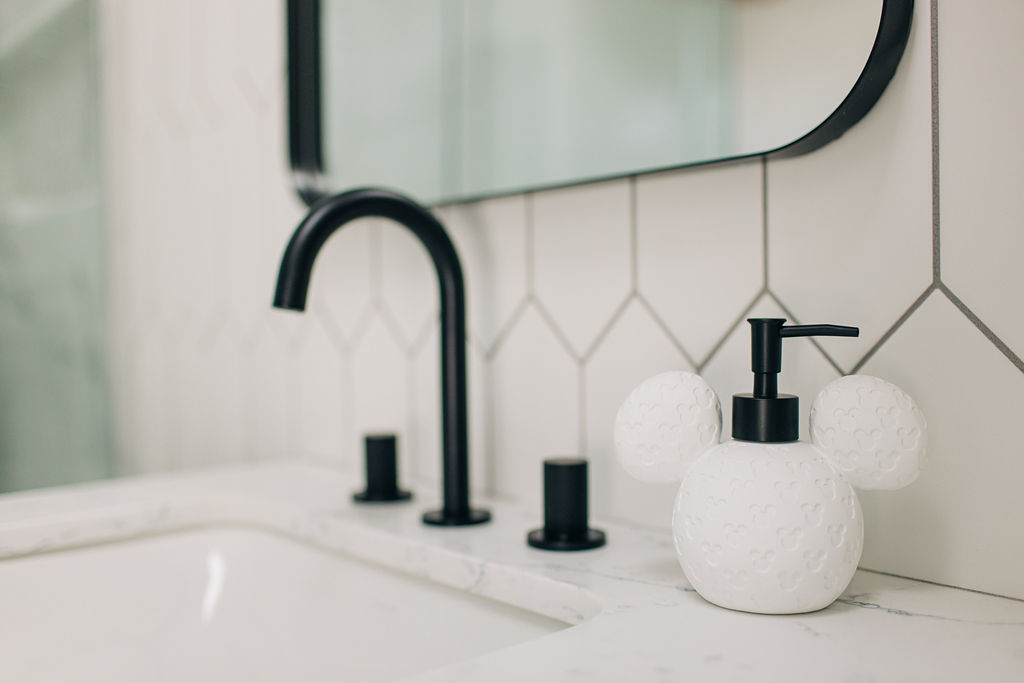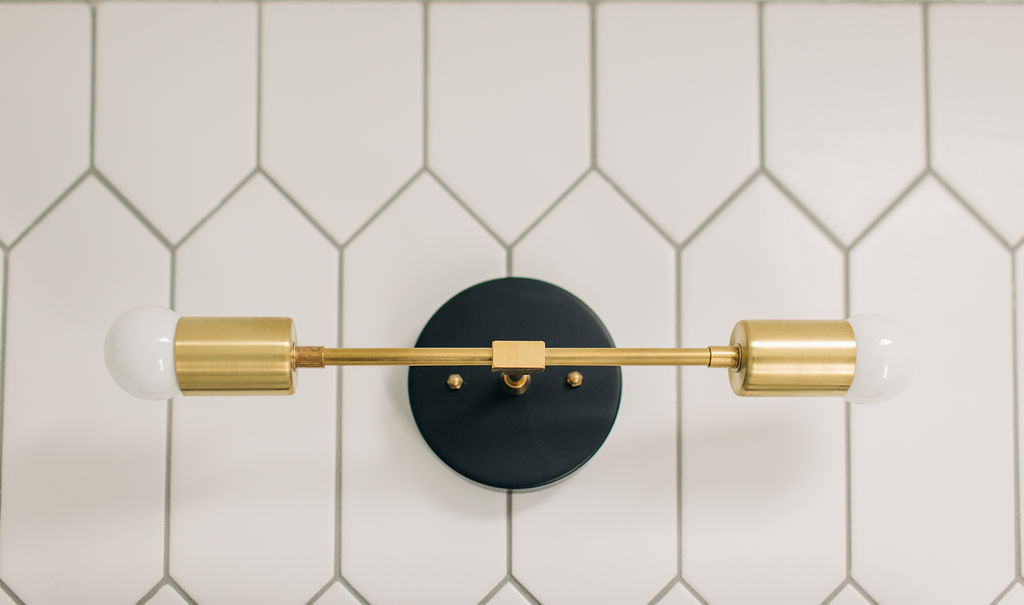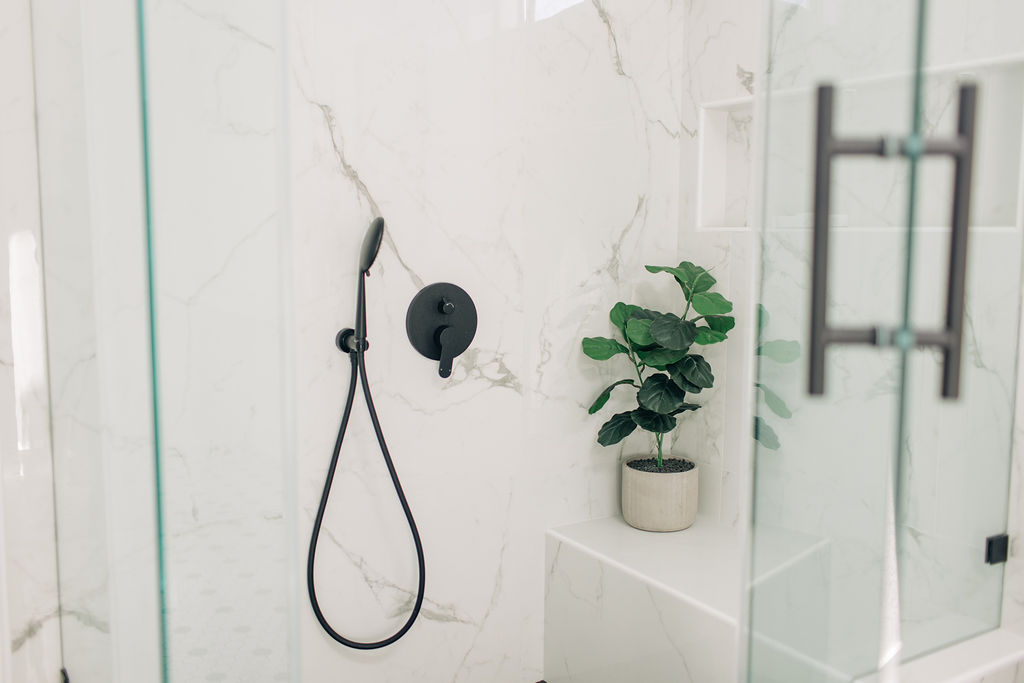 Join us in renovating your small bathroom to create your own beautiful space to come home to. Start by building a light and airy color palette, make use of natural light as much as possible, find your one-of-a-kind bathroom pieces, and go from there. Happy renovating!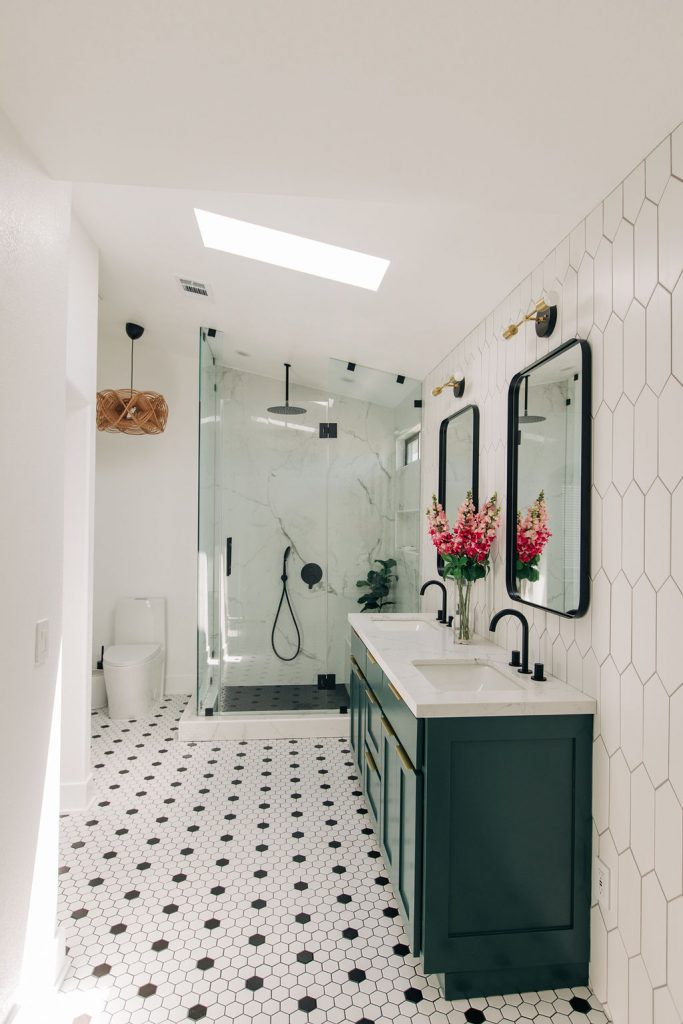 Be sure to check out our previous post Easy Modern Dining Room to see the dining room side and another DIY idea!