I'm beyond excited that Fall is finally here. Absolutely love decorating our home during this season but most of all eating and drinking pumpkin spice everything for the next couple months. Who's with me on this? Although, apparently southern California missed the memo that it's no longer summer. Folks, we're still in the 90s over here. And since all things pumpkin are already sitting in our neighborhood store shelves, I can't help but want to eat them all and pretend like it's big chunky sweater season over here already.
In the meantime though, you can find me making these healthier No Bake Protein Pumpkin Apple Pie Bites because the thought of turning on the oven right now is making me dread the whole baking thing. And since you all know I'm all about making recipes with a healthier twists, I wanted to let you in on a couple ingredients I'm currently obsessing over. Coconut flour and almond flour to be exact.
Both flours are healthier options when baking or in this case no baking-baking (ha!). But all things considered, "neither of these flours are "better" than the other. Coconut flour is high in fiber, protein, and healthy fats and is free from wheat and other grains. It is also low in sugar, digestible carbohydrates and calories, and has a low score on the glycemic index. Almond flour is extremely healthy, but has a bit more calories and fat, while having fewer carbs and grams of fiber. The higher calorie and fat content isn't a bad thing, and this makes it a great choice for those on a low-carb, ketogenic, or higher fat diet. So you can see, it really comes down to your specific needs and preferences." — Dr. Axe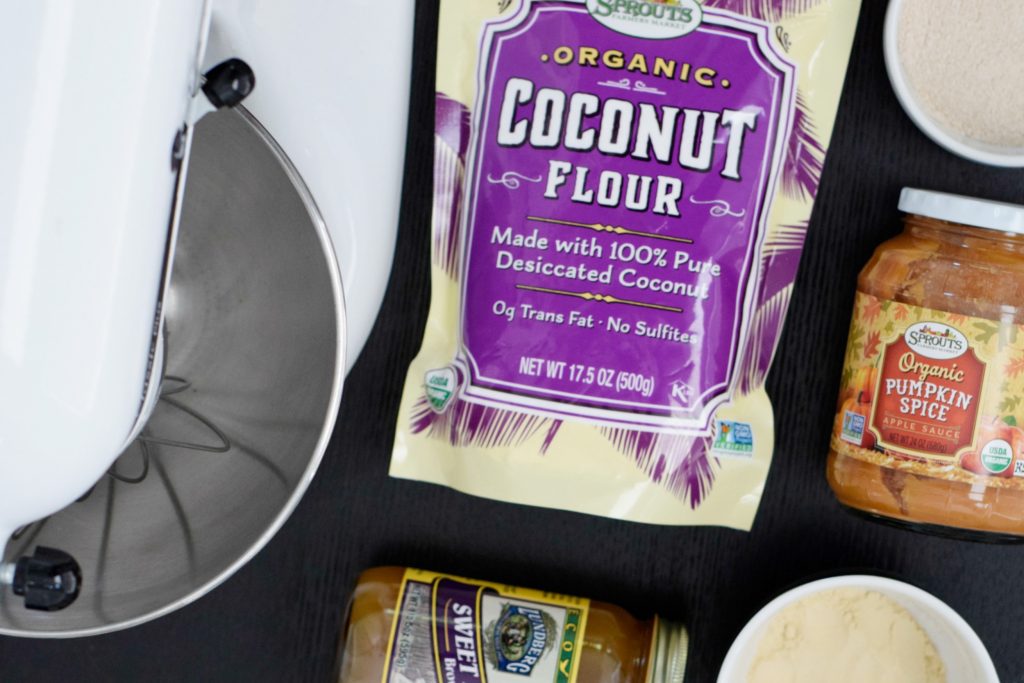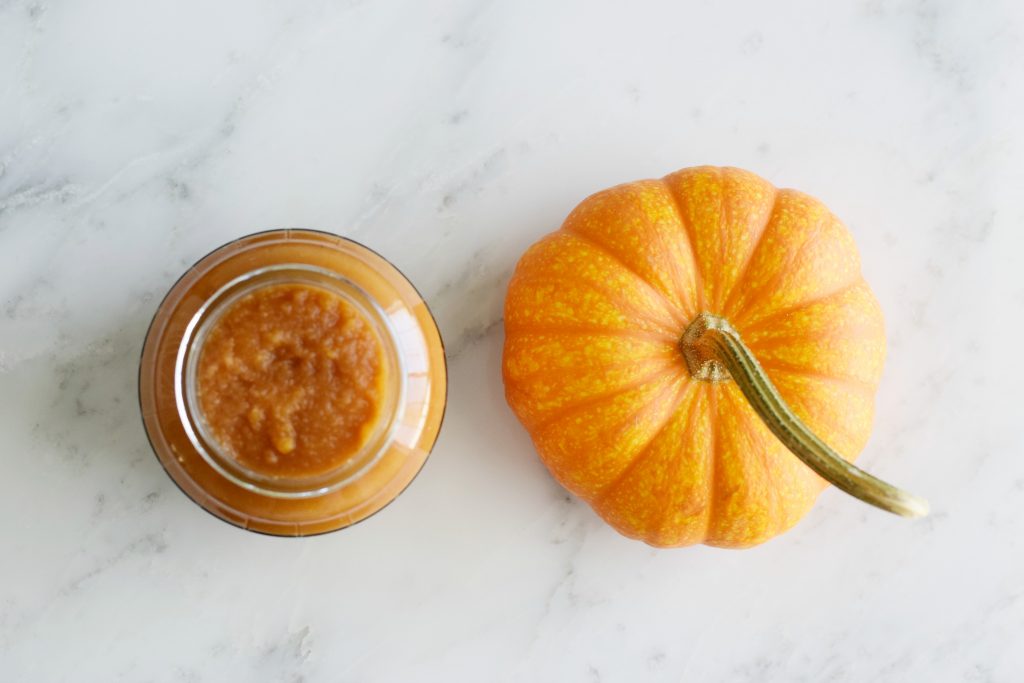 Also, wanted to note that if you're not a fan of having a coconut after taste in your pastries or treats, almond flour is a great alternative. So I've created this recipe with both flour options.
No Bake Protein Pumpkin Apple Pie Bites
Ingredients
2 c oat flour or coconut flour
1 c almond flour or coconut flour (replace 1/2 c w/ protein powder of choice to increase protein intake)
1 tsp cinnamon
1/4 c sun butter or almond butter
1 tsp vanilla
1/2 c Sprouts Organic Pumpkin Spice Applesauce
1/2 c honey or brown rice syrup
1/4 c sliced almonds
Instructions
Brush a layer of nut butter onto bottom and sides of baking dish and set aside.
Mix dry ingredients together (flour, protein powder and cinnamon) in mixing bowl.
Using a small sauce pan, warm up butter, vanilla and honey.
Using mixer, slowly add in warm sauce to mixing bowl with dry ingredients and mix together.
Add applesauce and mix until your mixture looks crumbly.
Transfer to baking dish. Top with parchment paper and use a small baking roller on top of paper to even out the dough. Top with cinnamon and almond slices. Refrigerate for 20-30 minutes or just leave it in over night. Slice into rectangles, store in ziplock bags and keep refrigerated.
https://themotheroverload.com/no-bake-protein-pumpkin-apple-pie-bites/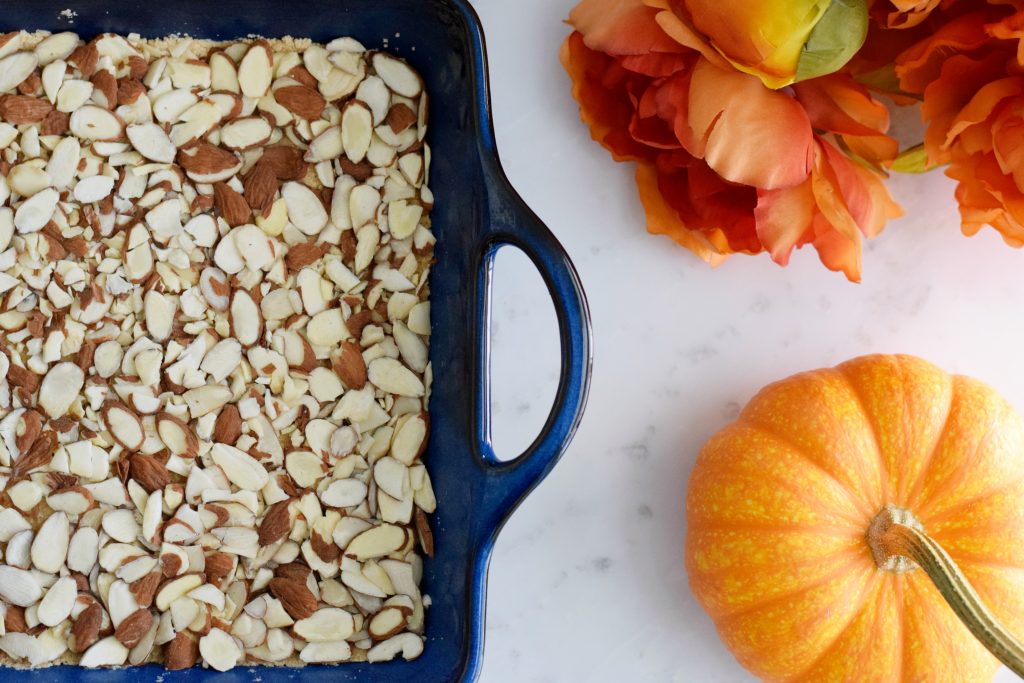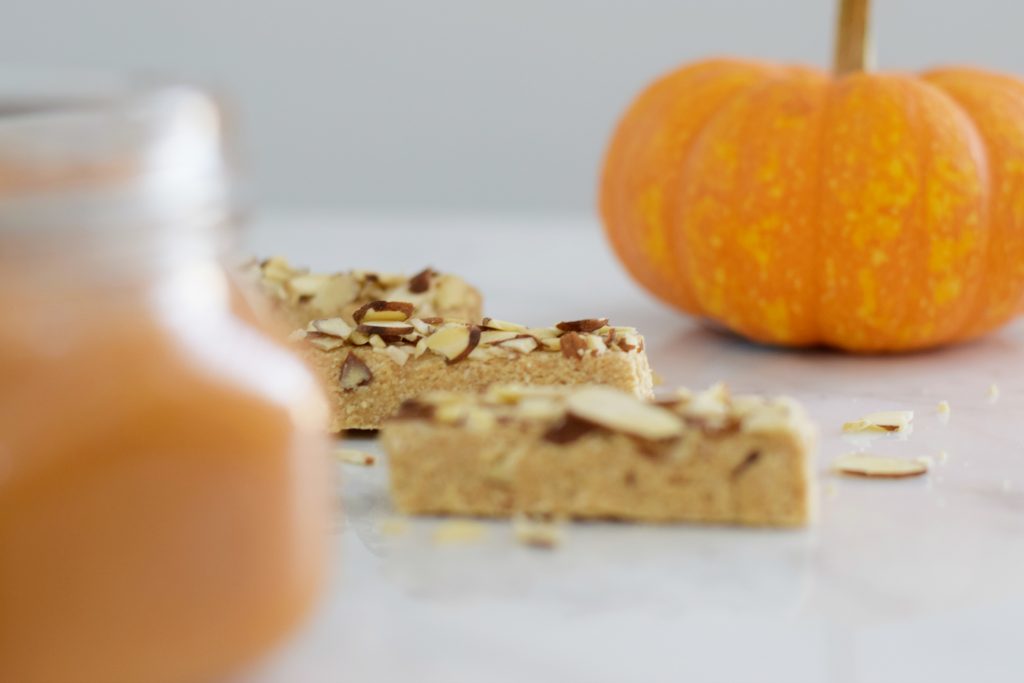 And super excited to share that I've teamed up with some of my favorite mama bloggers today to share a total of 7 amazing pumpkin recipes! Be sure to check them all out below.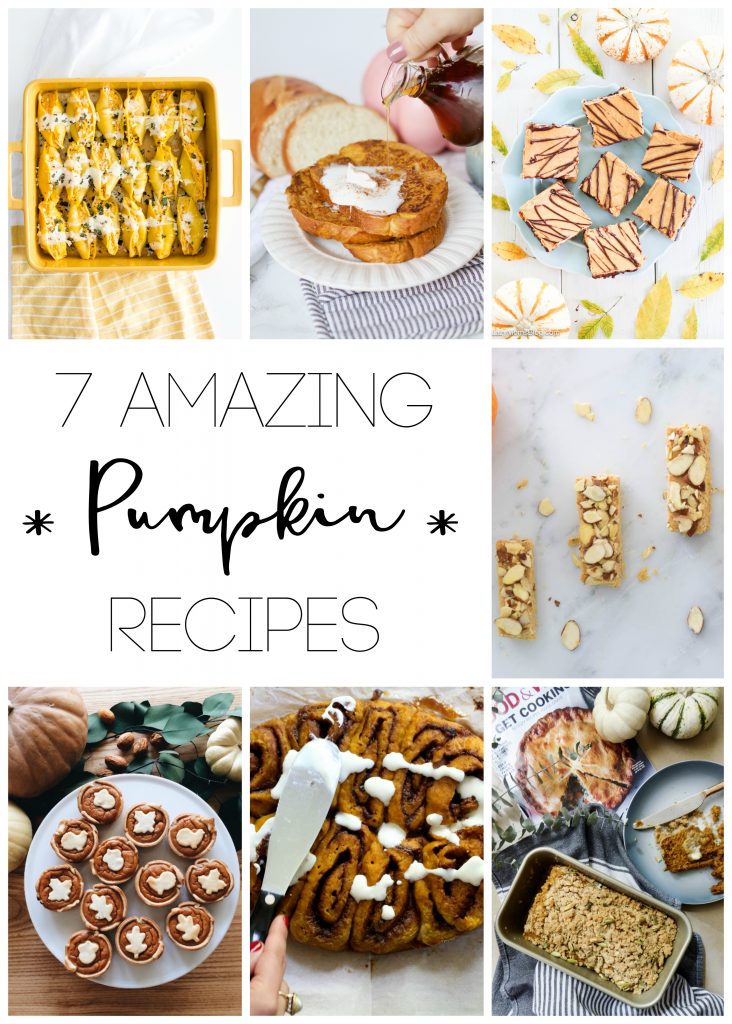 Pumpkin And Ricotta Stuffed Shells – Motherhood in Stilettos
Pumpkin Cheesecake Brownies – Lazy Moms Blog
Slow Cooker Pumpkin Cinnamon Rolls – Mom Wife Foodie
Pumpkin Spice French Toast – Amidst The Chaos
Mini Pumpkin Pies – Honeysuckle Blog
Pumpkin Bread With Brown Sugar Topping – Mom Beyond Mom
 Happy pumpkin everything season!
Abrazos (Hugs) — Gladys