A healthy meal can mean so many different things. For some, it can mean making it plant-based, Keto or even lowering a meal's carbs. My intent for this blog post is to give you some dinner ideas that are easy to whip up at home that incorporate healthier items for the whole family to enjoy. The best part? You can switch out ingredients to make them perfect for your family. These dinner ideas will also help with spending less time trying to figure out what to make and cook for dinner so you can enjoy more time with your families.
Let's jump right into these 7 Healthy Dinner Ideas for Busy Moms. I Love that they're super easy to make and kid-approved!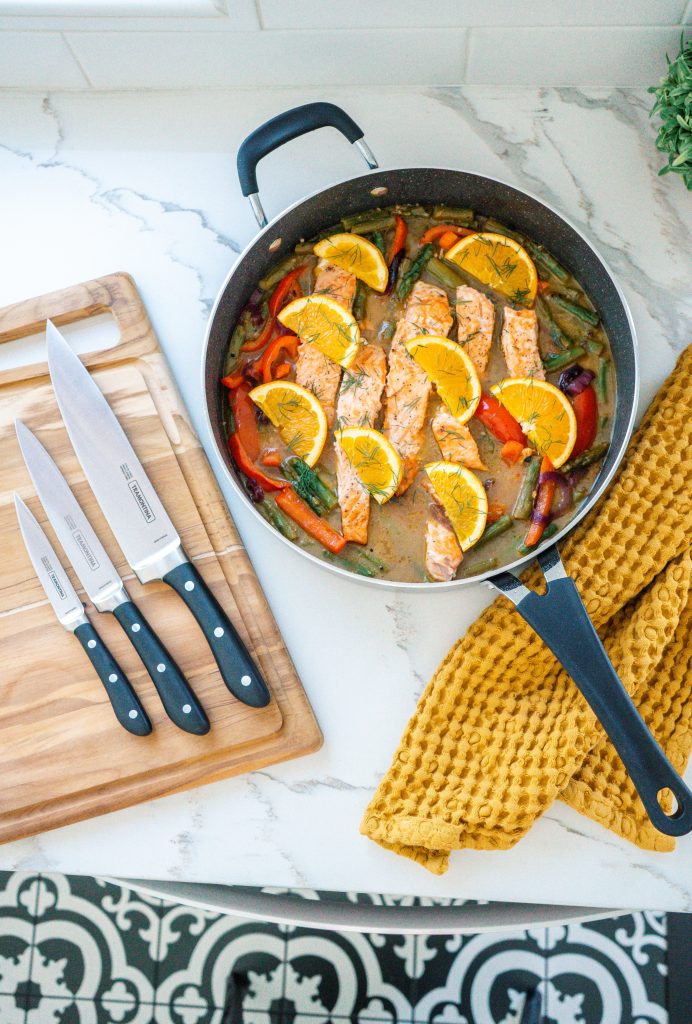 One Pot Citrus Salmon With Veggies
Serves 4
Ingredients:
4-6 fillets fresh wild salmon (if you're kids are not fans of fish, you can replace with chicken, shrimp, or a plant-based option.)
1 bunch asparagus, trimmed cut
1 c red bell pepper, thinly sliced
Directions:
Spray or add about 1 tsp avocado oil to a cooker. Add a dash of salt to salmon fillets and cook on medium heat for about 5 min each side. Remove salmon onto a plate and set aside. 
First, add a teaspoon of minced garlic to the cooker and cook until it's tender. Next, add in red onion slices, juice of two navel oranges and 1 cup vegetable broth with 2 tbsp coconut milk plus 1 tsp of salt and stir. Throw in the veggies (we used asparagus and red pepper and cooked on high for 10 minutes).
Place salmon back into the cooker and cook for 5 minutes. Top with fresh dill and orange slices.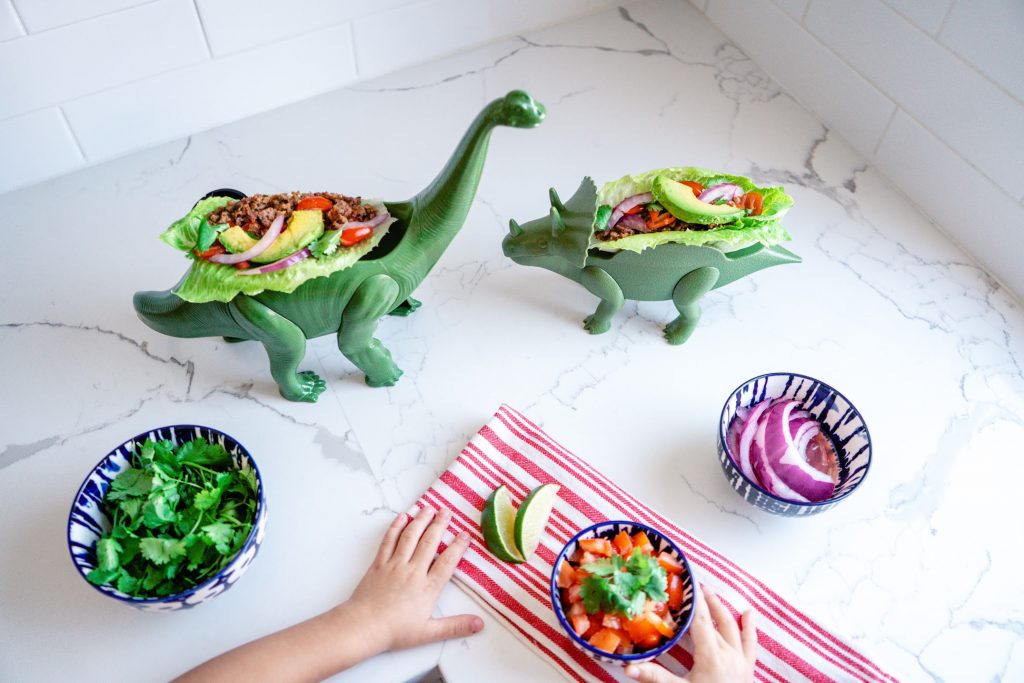 Tacosaurus Lettuce Wraps (meatless option)
Taco Tuesday just got a little cooler around here with these kid-friendly Tacosauraus Lettuce Wraps.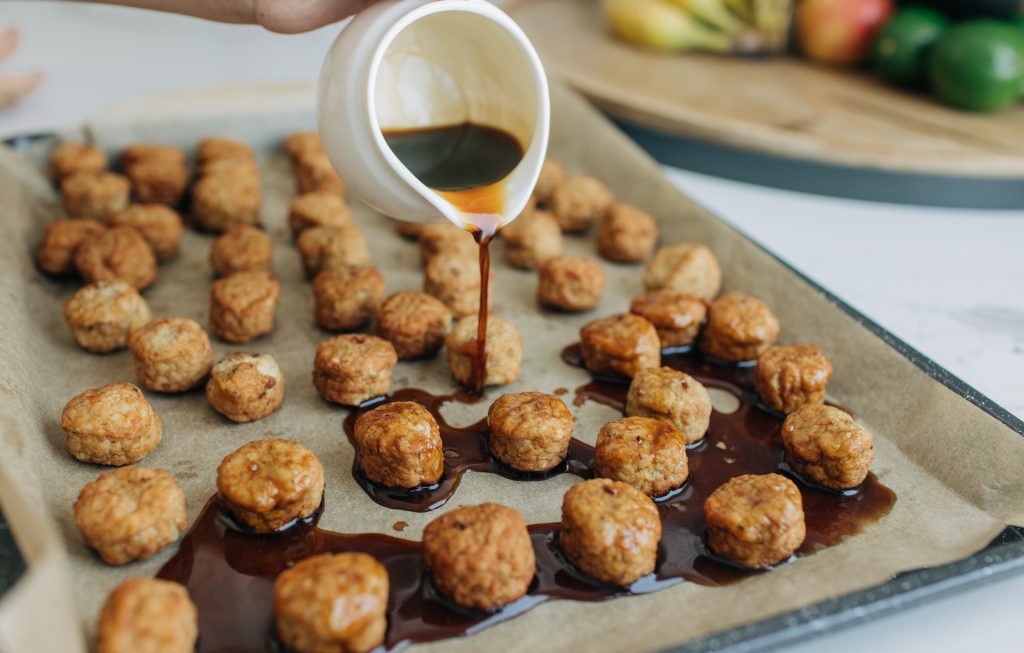 Teriyaki Veggie Meatballs
Serves 4
Ingredients:
1 bag kidfresh Chicken Meatballs (are delicious and have hidden veggies!)
4 cups cauliflower rice 
2 cups frozen veggies of preference
Directions:
Preheat oven to 350°F. Line a sheet pan with parchment paper and add frozen meatballs. In a separate sheet pan coat with avocado oil and add cauliflower rice and veggies. Bake until fully cooked, about 12-15 minutes (We have a Whirlpool range that has a Frozen Bake™ Technology to bypass preheating – game changer!)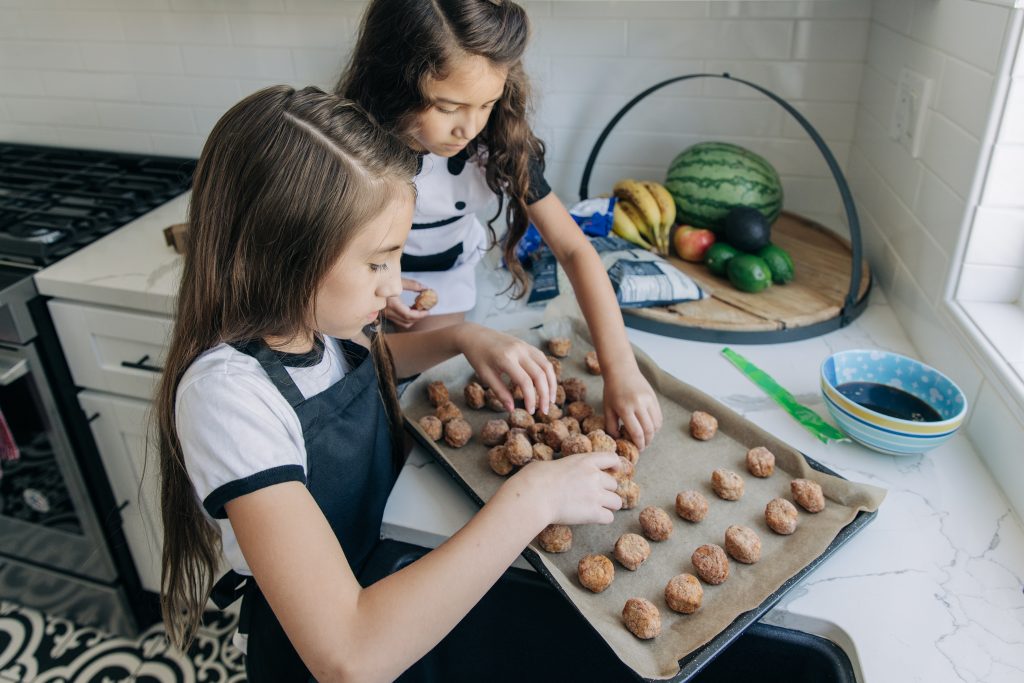 While meatballs are in oven, create your own teriyaki sauce.
Homemade Teriyaki Sauce Ingredients:
1/2 c pineapple juice
1/4 c soy sauce
2 garlic cloves, minced
1/2 tbsp ginger
1/4 c brown sugar
Directions:
Add all ingredients to saucepan and heat until sugar dissolves. You can also add chopped green onions for extra flavor.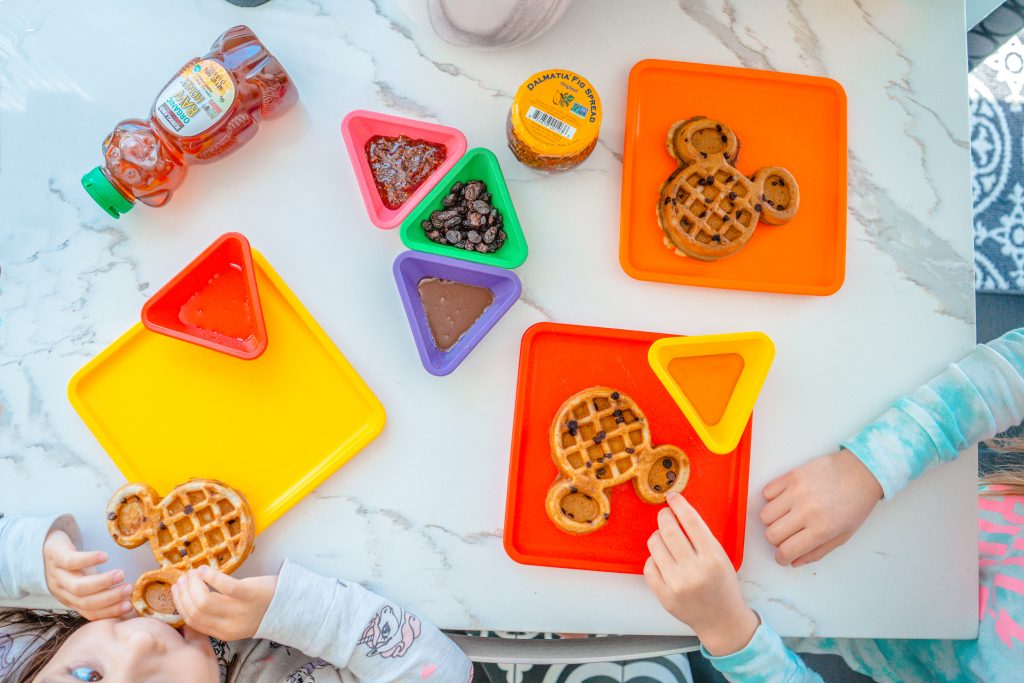 Fiber Waffles/Pancakes
If your kids like the idea of having breakfast for dinner this ones for you! This fiber waffle recipe is a simple and fun way to incorporate fiber to your kids waffles/pancakes without them knowing. No eggs needed. 
Serves 4
What You'll Need:
Mickey waffle machine (or any machine/ pancake pan)
2 c flour of preference (used organic flour on these)
2 tbsp ground flaxseed (acts as an egg replacer and has Omega-3)
1 tsp cinnamon (bypass if you're kids don't like cinnamon)
1/4 c dark chocolate chips
Directions:
Add all ingredients except for chocolate into mixer. Mix for 2-3 minutes. Add chocolate and stir in with spoon. Spray inside waffle maker with oil of choice and add batter. Cook for 3 minutes or until waffle is fully cooked or cook on stove top as pancakes for 2 minutes each side. Serve with fresh fruit and syrup or honey.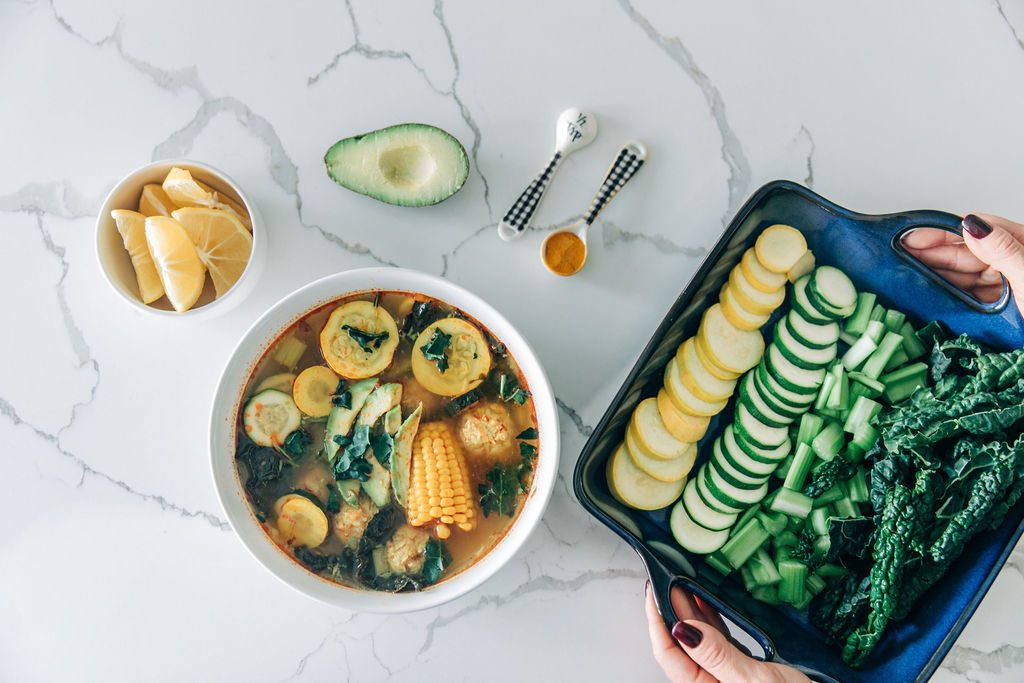 Mexican Meatball Soup
I've made this hearty mouthwatering traditional Albondiga soup and added healthier ingredients to it. But most importantly, I've been perfecting it so that it's super easy for us moms on-the-go to make. For those days when you just need to run errands all day with the kiddos and don't have time to make a decent dinner, this one's for you! Plus, you can freeze the leftovers for a month.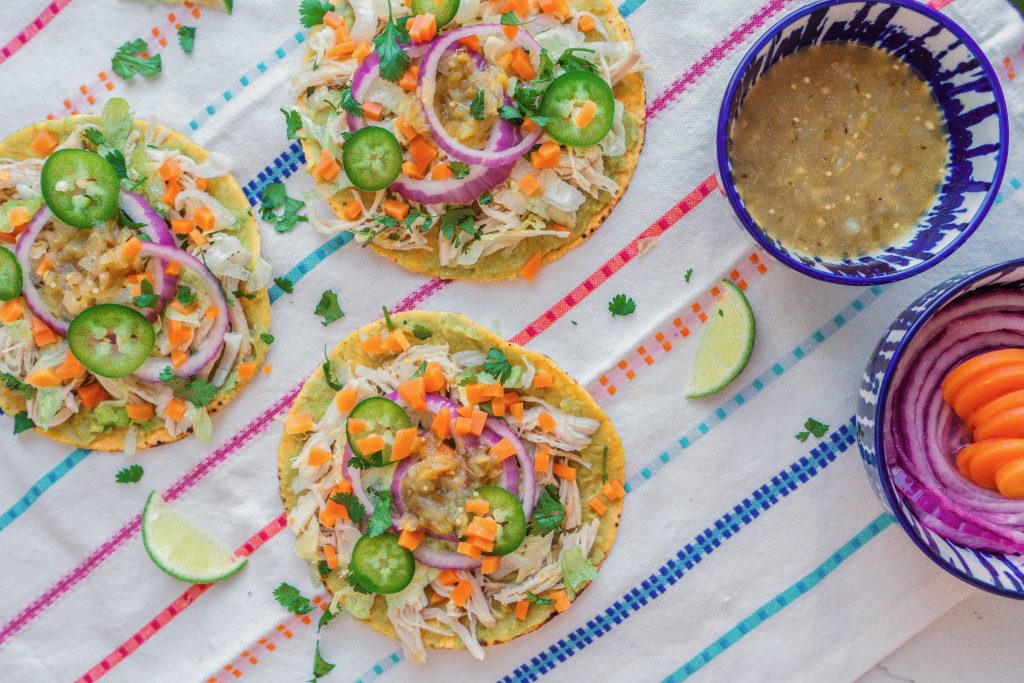 Easy Salsa Verde Chicken Tostadas
A flexible meal that can also be used in other recipes by using the leftover salsa verde chicken to make tacos, a salad, enchiladas – the options are endless!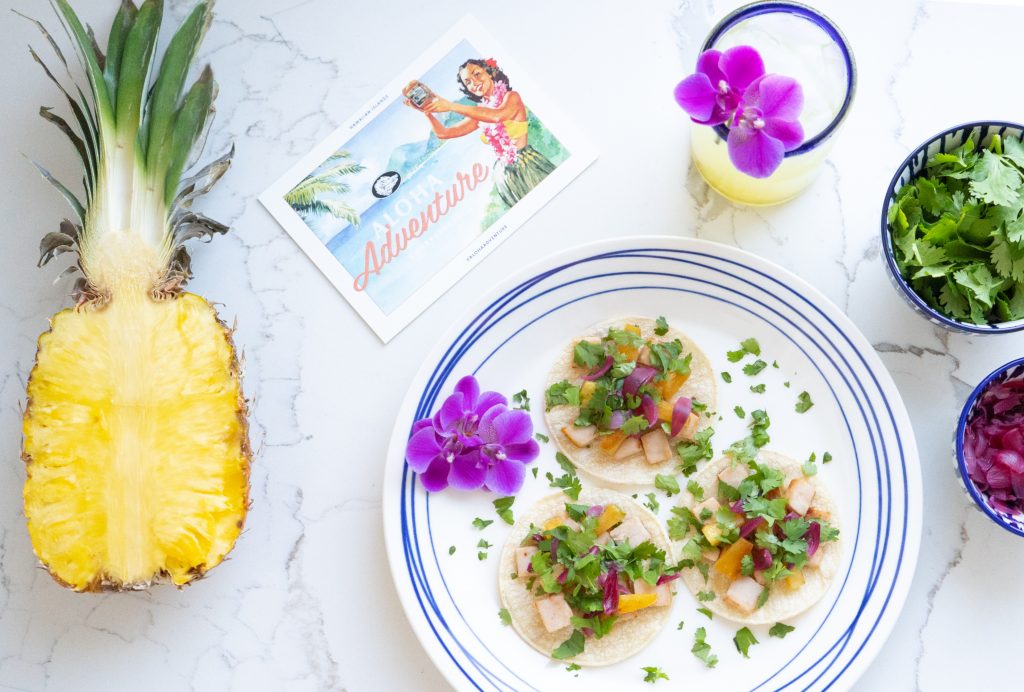 Pineapple Chicken Mini Tacos
Serves 4
Ingredients:
mini street style corn tortillas
½ c red onion
5 tsp white vinegar
½ tsp salt
1 tsp sugar
1 lb diced chicken, cooked
½ c diced pineapple
½ c cilantro
Directions:
In a medium bowl, add vinegar, onion, sugar and salt. Toss all together on low heat until sugar/salt are dissolved. Set aside.
In a large pan, lightly coat with avocado oil. Add chicken and pineapple into the pan. Cook on medium heat until slightly brown. Warm up tortillas. Add chicken, pineapple, pickled onions and top with cilantro.