This post is sponsored by Crockpot™. All opinions are our own and as always, we only work with brands we love.
Did you know January is National Slow Cooking Month? Pull out your Crockpots and join us in celebrating this National holiday.
We thought it would be fitting to share a NEW recipe – Healthy Mexican Hominy Kale Soup. It's my abuelitas (grandmothers) Mexican Pozole recipe but with a healthier twist – and I kid you not, it's so good!
Mexican Pozole with A Healthier Twist
Many of you might be aware of the benefits of eating kale but are you familiar with the benefits of eating Dino kale and hominy?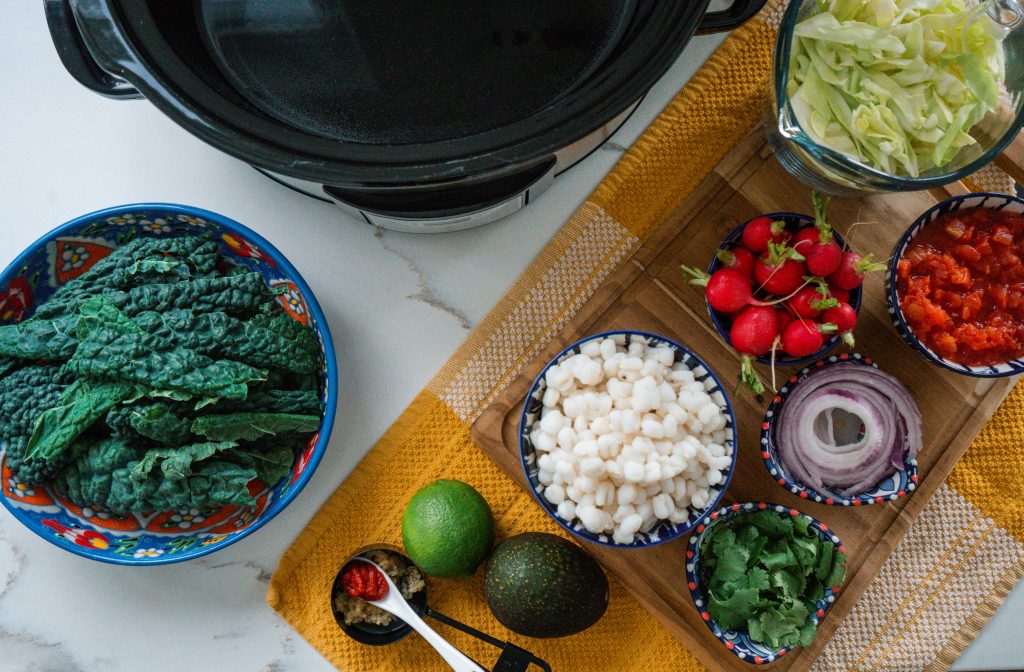 What is hominy and its benefits?
"When served whole, hominy looks like fluffy, large kernels of corn. It's fairly chewy and often retains the flavor of any liquid in which it's been soaked. It's frequently used in pozole, a Mexican soup, but can be incorporated into many foods, from stews to ceviche. One cup (165 grams) of whole, canned white hominy contains 17 percent of the recommended dietary allowance (RDA) for fiber and 5 percent of the RDA for protein. " – LiveStrong.com
According to Dr. Lama, White hominy is a good source of omega-6 fatty acids. It also has fiber, zinc, calcium, Magnesium, Manganese, Phosphorus and Selenium.
Aside from hominy, one of the most important ingredients I always add to our soups is lacinato kale (also known as Dino kale). This type of kale is surprisingly not known by most which is why I had to share my love for it. Lacinato is my go-to for pretty much most of my cooking recipes. Here's why.
What is Lacinato kale and its benefits?
"Call it what you will: Tuscan kale, Dino kale, black kale, Lacinato kale, this variety goes by many names! With long leaves and dark, crinkly skin, it contains many of the nutritious benefits of regular kale – tons of vitamin A, vitamin C and vitamin K – but with a milder, sweeter taste that's more palatable. Helps reduce the risk of high cholesterol and inflammation, fight risk of cancer and it's high in phytonutrients." NutriLiving.com
What I love the most about Lacinato kale, aside from its health benefits, is that its bumpy thick leaves are perfect for soups as its texture tends to hold its own even when cooked in high temperatures.
A Plant-based Alternative
Our Healthy Mexican Hominy Kale Soup is a flexitarian-friendly recipe can be altered to suit your family dietary needs. For us, we like to make it plant-based some nights and other nights add 1.5 lb of shredded chicken breast. You can also add beans instead of the chicken as an additional protein. The Crockpot™ Choose-a-Crock Programmable Slow Cooker makes this dinner recipe all the more easy to prepare – allowing us more time to spend with the family while it does all the cooking for us.
A Versatile Slow Cooker
This Crockpot™ is a versatile slow cooker with interchangeable, 6-Quart, 2.5Qt split stoneware, so you can choose how much food you want to cook! I love that this kitchen appliance is also perfect for parties, and entertaining at home or on-the-go.
It's stoneware conveniently nests when not in use (making it ideal for compact storing). While the stoneware and lid are dishwasher-safe, the stoneware is also oven-safe (up to 400 degrees F). The best part? We love that our Crockpot™ does all the cooking for us – leaving us with more time to hang out with our friends and family while it single-handedly prepares our meals from start to finish. The CrockPot™ Choose-a-Crock Programmable Slow Cooker is available at Crockpot.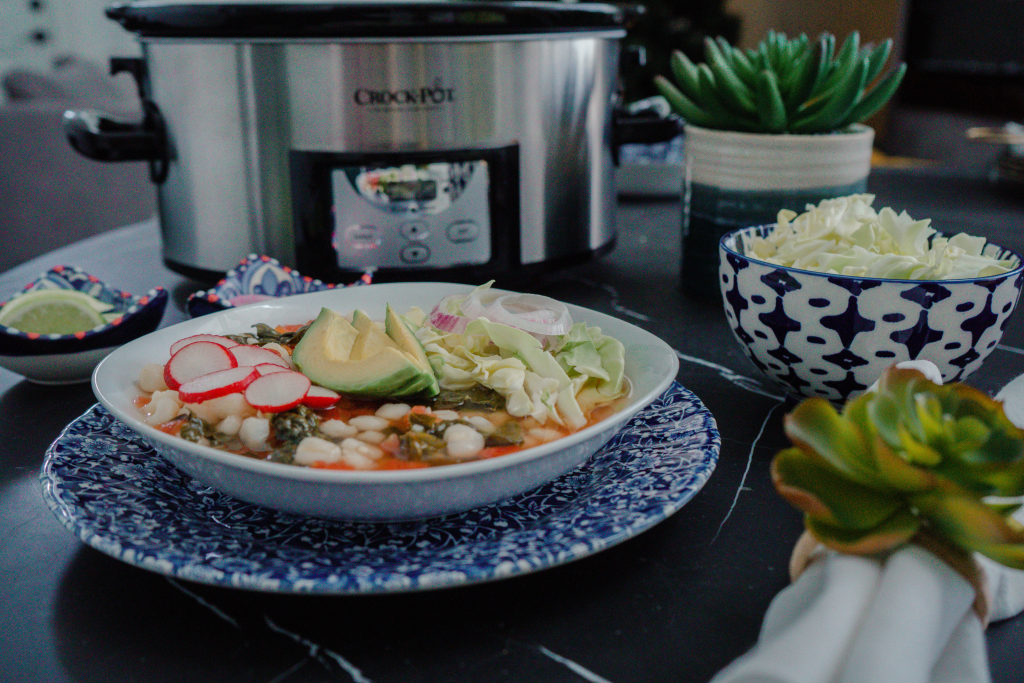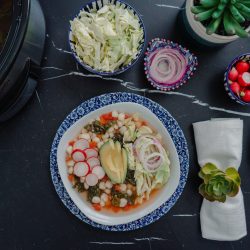 Healthy Mexican Hominy Kale Soup Recipe
Equipment
1 CrockPot™ Choose-a-Crock Programmable Slow Cooker
Ingredients
4

15.5 oz

cans hominy

4

c

Dino Kale, chopped

4

c

cabbage, chopped

1

c

radish, sliced

2

limes

1/2

c

red onion, sliced

1

c

tomato, chunks

1

avocado, sliced

1

tsp

garlic, minced

3

tsp

tomato paste

8

c

water

3

tbsp

seasoned salt
Instructions
Add water, hominy, kale, tomatoes, garlic, tomato paste and salt.

Serve and garnish with cabbage, radish, onion, avocado and lime wedge.
For additional Crockpot™ recipes, check out our Mexican Meatball Soup and Lentil Tortilla Soup which are all delicious and so easy to make as well.